Editor's Note: While travel is complicated right now, we can still dream of future adventures. Here are some of the top world journeys from around the globe. Enjoy!
Travel opens our eyes to new experiences, people and ways of life. The best world journeys stretch us and teach us, enriching our lives.
Gustave Flaubert once said, "Travel makes one modest. You see what a tiny place you occupy in the world". But travel also makes one hungry for more. Every new travel experience feeds a traveler's wanderlust. READ MORE: Top Travel Quotes
Don't Miss These Top World Journeys
Most people who are passionate about traveling dream of a magical round-the-world journey or a breathtaking travel experience.
You can travel on your own or visit the most beautiful hidden corners of the world on private tours or tours organized by a travel agency. The choice depends on whether you want to have a tailor-made itinerary or leave it to an experienced travel agent.
For high-quality travel experiences, it's essential to know if you prefer large-group travel or small-group travel. Many travel agencies have specialized tours so that you can go on a rail journey, take an ocean or river cruise, tour national parks or discover continents like South America or Africa.
These days, with the help of the internet, it's easy to plan your own world journey. You can easily arrange a safari in Africa, plan an island-hopping adventure in the Maldives or find the best Alps to climb for beginners. You can plan a quick family vacation or a year-long adventure.
But regardless of how you travel, there is an entire world to explore. Here are our picks for some of the best world journeys.
A Journey to Iceland, Land of Fire and Ice
Located at the site of the overlap of large tectonic plates, Iceland has incredible natural resources, hot springs, geysers and volcanoes. As part of a multi-day tour, you can easily visit Thingvellir National Park, the beautiful Gullfoss Waterfall, Lake Myvatn, Jokulsarlon Glacier Lagoon, Geysir hot springs and Eyjafjallajokull volcano.
Iceland is also convenient for touring by car so you can visit it with a small group of friends. Be sure to go to Husavik to watch the whales. Also, you can go searching for the Northern Lights.
Spice up this incredible journey through the land of fire and ice by visiting the Icelandic capital Reykjavik, a great cultural center. This city has numerous museums and galleries, excellent restaurants and outstanding nightlife.
READ MORE: 6 Top Destinations in Europe
Catch a Ride to South America
Some travel experiences can completely change your life. That is the case with the grand tour of South America. To visit the most beautiful places in South America, you need at least 15-30 days.
Travel in Peru
In the mountains of Peru, Machu Picchu is one of the most attractive destinations in the world. The Incas built this stone settlement in the 15th century, and, since 1983, it has been protected as a UNESCO World Heritage Site.
There is another fascinating place in Peru, the village of Ollantaytambo on the Urubamba River, in the Sacred Valley. You can explore ruins of massive Inca fortifications with cobbled streets and numerous terraces.
Travel in Ecuador
Ecuador attracts tourists with its lush forests and many trekking trails. The Galapagos Islands are known for their exceptional wildlife, giant tortoises and the many species of birds.
You can also visit Quito, Cuenca and Guayaquil. Cajas National Park is close to Cuenca, and you can also explore the Amazon jungle near Tena. There are organized tours for kayaking, canoeing and rafting.
Travel in Ecuador often includes a visit to the beautiful beaches on the Pacific coast. Salinas, near Guayaquil, is especially worth mentioning, as well as the area Bahia de Caraquez.
Travel in Chile
You can continue exploring this part of the world in Santiago, the capital of Chile, as well as the coastal city of Valparaiso. Chilean wines are among the most prized wines in the world, so don't miss the opportunity to taste them.
Chile also has beautiful scenery: Lauca National Park, Puerto Varas with waterfalls and forests, as well as Pucon, an outdoor paradise.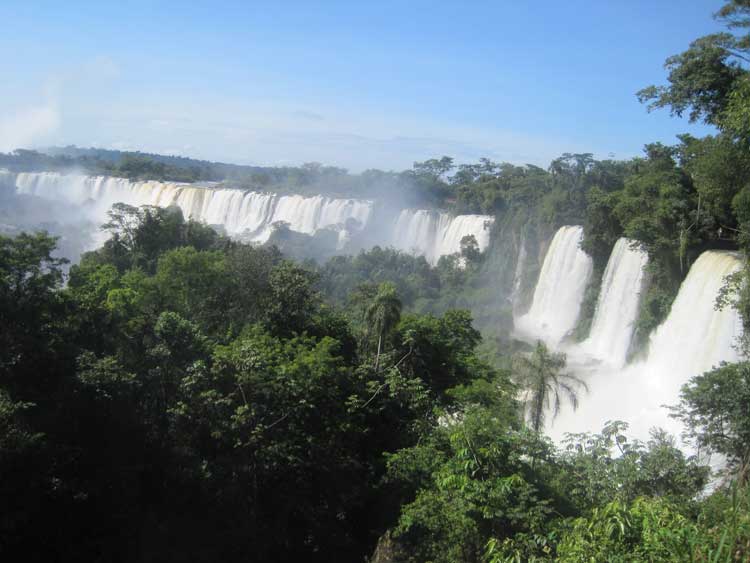 Travel in Argentina
On the border of Brazil and Argentina, you will be impressed by the largest waterfall in the world – Iguazu Falls, which are 80 meters (262 feet) high and 2.7 kilometers (1.6 miles) wide.
The Argentine capital Buenos Aires will delight you with its lively lifestyle. Visit the Plaza de Mayo, a famous square in the city center, where many important events in the history of this country took place.
In the city of tango and football (soccer), you can visit the Tigre, an exciting place near Buenos Aires, the Museum of Fine Arts, San Telmo Market and the botanical garden in Palermo. Be sure to see La Boca district and La Bombonera stadium.
If you have time, visit the Cordoba, the large university center, or take a winery tour in the city of Mendoza. READ MORE: Top 10 Things to Do in Argentina
Travel in Brazil
Leave Brazil's exciting Rio de Janeiro for the end of this wonderful journey. You can visit the statue of Christ the Redeemer on Corcovado Hill and famous Maracana Stadium, as well as Copacabana Beach.
Don't miss the Sugar Loaf rock peak, and places like Pedra do Sal district, known for samba, and Jardim Botanical garden. For the best travel experience, you can plan your trip to Rio de Janeiro during the carnival.
Take a Journey to the End of the World
Travel in Australia
You've heard of Sydney and Melbourne, but do you know other exciting places you can visit in Australia?
You can explore the Great Barrier Reef Marine Park, an incredibly gorgeous coral reef and one of the seven natural wonders of the world. It is located on the east coast of Australia and it's an excellent place for snorkeling.
There are beautiful places in inner Australia as well. One of the most attractive is Uluru, a huge red rock in the middle of the desert. Kakadu, the Blue Mountains and Daintree national parks, as well as Fraser Island, are also worth visiting.
Take a few days to enjoy Sydney as well. See the most famous building in Australia. You can visit the Sydney Opera House, Sydney Harbor Bridge, the Royal Botanic Garden, numerous museums, beaches and the beautiful Hyde Park.
It takes 3 ½ hours to fly from Sydney to Auckland in New Zealand.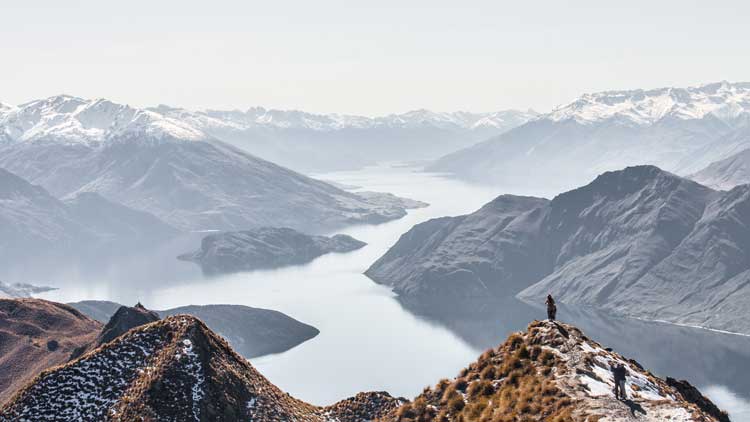 Travel in New Zealand
New Zealand is a geothermally active region. That means you can see incredible natural resources there, like those in Iceland.
Some of the most attractive places are Rotorua, with its geysers and volcanic craters, Tongariro National Park, Lake Taupo, Fiordland National Park and Milford Sound. Also, you can visit the Bay of Islands, an archipelago with 144 smaller islands that attract many visitors.
As for city tours in New Zealand, we recommend a tour of Queenstown and Auckland.
Train Journeys to Enjoy the Natural Beauty
Rail journeys can be fantastic experiences, especially if the road is long and the landscapes you pass through are stunning.
Rail Travel in Japan
Japan has a well-organized public transport by high-speed trains – Shinkansen. The so-called bullet trains connect the most significant Japanese cities, from the north to the south of the country. (Learn more in our Japan Travel Guide.)
The bullet trains in Japan move at an incredible speed of 320 kmh (198 mph) and are very quiet and comfortable. The most famous line is Tokaido Shinkansen, which connects Tokyo and Osaka.
Rail Travel in Switzerland
The Swiss Glacier Express runs through beautiful mountain areas and connects the famous mountain resorts Zermatt and St. Moritz. During this 8-hour travel, you will be amazed by the Swiss Alps, numerous mountain peaks and unique landscapes.
The highest point is the Oberalp Pass at more than 2,000 meters (6,561 feet) above sea level, and the entire route has 91 tunnels and as many as 291 bridges.
The famous Trans-Siberian Railway has existed for more than 100 years. It's 9,288 kilometers (5,771 miles) long, and it will take you up to seven days for the entire route. It connects Moscow and Vladivostok, in the far east of Russia, and it goes through eight time zones.
One of the most beautiful places is the bridge over the river Amur, 2,616 meters (1.62 miles) long. Along the way, you can see the rivers Volga, Ural, Ob and Yenisei, then Lake Baikal, and finally the Sea of Japan.
Experience Africa with Your Kids
African Safaris
Exploring Africa is one of those life journeys that can change your outlook on life. Also, you can take your kids. Many safari locations are exciting outings for kids.
These locations, such as the South African reserves of Madikwe and Kwandwe, as well as Kruger National Park, are considered safe and malaria-free. You will get to see lions, elephants, and other wild animals in their natural environment.
Visiting national parks in Kenya and Zimbabwe are unique experiences. There are also great places for safari tours in Tanzania, such as the Serengeti National Park, as well as in Zambia and Mozambique.
Some areas are specially adapted for kids, such as the Okavango Delta in Botswana and its UNESCO World Heritage Site.
Many camps have planned activities for children, such as cooking classes or lessons on how to survive in nature. Along the way, you will visit beautiful places such as Victoria Falls, the Zambezi River, Lake Manyara or the beautiful beaches on the shores of the Indian Ocean.
All these locations are just a fraction of everything there is to see around the world. There are numerous attractions you can discover in North America, Cuba, Costa Rica and Cambodia, as well as many other destinations.
Don't limit yourself. Whatever world journeys you decide to embark on, take your time. Try to get to know the destinations as well as the people who are living there. That is a valuable and equally impressive experience.
Author Bio: Based in Serbia in Europe, Marija Stojanovic Petkovski worked as a journalist but realized writing about the most beautiful places in the world is something that inspires her. She is sure that a pint of good craft beer perfectly accompanies a tasty homemade lasagna. In her spare time, she enjoys playing with her children and spending time outdoors with her family.