A traveler goes off the beaten path on an eight-day voyage aboard the Motor Yacht Tucano, exploring the Rio Negro and going deep into the rain forest.
Sometimes the best way to see a destination is from the water – especially when it means a river cruise in France.
VeggieHotels®️appeal to those who want to maintain their healthy lifestyles while traveling around the world.
Texans are crazy for bluebonnets. The Bluebonnet Festival and "Wildflower Watch" pay homage to this love affair.
An interview with Chef Umberto Bombana, of three-Michelin-starred 8 1/2 Otto e Mezzo Bombana in Hong Kong.
Join luxury travel writer Freddy Sherman for a whirlwind weekend of fine dining and luxury hotel stays in the Japanese capital.
A traveler's journey through the Suez Canal, the artificial sea level waterway connecting the Red Sea and the Mediterranean.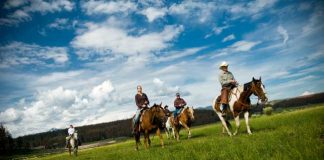 During the summer, most dude ranches are all about riding. But these year-round Colorado ranches offer a wide variety of activities that are sure to please the family.
Sheraton Grand at Wild Horse Pass is a luxury hotel honoring its owners, the Gila River Indian Community of Arizona