Dear Readers: This article may contain affiliate links, which means we may receive a small commission, at no cost to you, if you make a purchase through a link. All opinions are our own and we only share things we recommend. Thanks for your support.
I'm beginning to wonder if I've landed in a country of maniacs. At least, that's the impression I get while walking through the narrow avenues of Queenstown, New Zealand.
The alpine region looks tranquil enough at first glance. Tiny Queenstown, population 17,000, sits nestled on the shores of beautiful Lake Wakatipu in the middle of a lush valley. The mighty Remarkables Mountain Range surrounds the small community, rising up like sharp-edged giants from the rich, dark earth. It's a stunning geography that any city would envy.
Queenstown, New Zealand
Queenstown itself has an Aspen-like feel, a fashionable community with a small-town heart. Chic resorts sit among modest hillside homes with window box flowers and tidy yards, and the active city streets reveal orderly shops and outdoor cafés.
But a closer look uncovers a unique side of this mountain community, for tucked in between small restaurants and tourist stores are dozens of "adventure companies" offering everything from heli-hiking and hang-gliding to skydiving and jet boating.
Although well-known for its peaceful sheep-ranching and rural tradition, this island nation of 3.8 million has been called the "Adventure Destination" of the world. Thousands flock to the southwestern tip of the South Island each year, where tiny Queens-town (aka
"Adventure Capitol") serves up experiences never to be forgotten.
While my parents and I peruse the "adventure vendors" in Queenstown, a local salesperson, sporting a friendly grin and proper Kiwi accent, regales us with tales of jet boating. Later, another vendor offers to shoot me into the air in a rocket-like contraption. It does sound like fun and I start to ask for the price, but the horrified look on my mother's face tells me to forget it.
My parents, vacationing with me far from their farm in Windsor, Colo., are looking for a more "serene" way to enjoy the natural beauty of New Zealand's South Island. We're eager to experience the extreme geography that this land has—we just don't want to do it from a bungee cord.
Still, it's hard not to get into the spirit when you're surrounded by adventurous people. We decide to bypass all activities that propel you into the air, and ask several of the locals for their advice. "Go to the Sounds in Fiordland," they say. "You'll be stunned."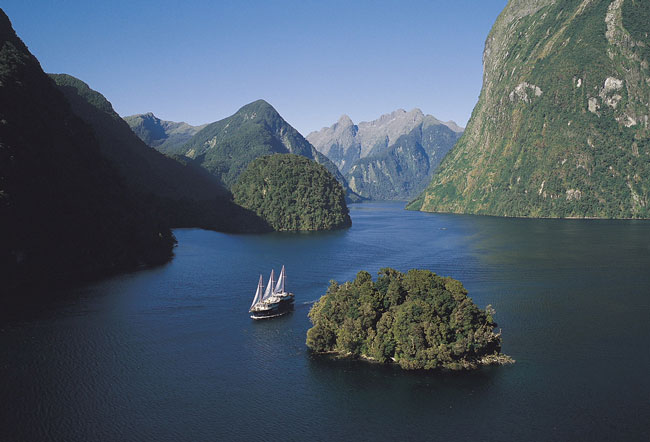 Fiordland National Park
Fiordland National Park is an isolated area known for its awe-inspiring fjords, dramatic mountain peaks, tumbling waterfalls and abundant wildlife. In this "Switzerland of the South Pacific," tall mountains drop dramatically into the dark seas in a stunning display of nature's majesty. No wonder so many movies, including "Lord of the Rings," have chosen to film here.
The park is located in a remote region of the island, and we wonder how to get there. Should we drive? Take a bus tour? Eventually we decide on a two-night boat cruise on Doubtful Sound, one of the less-traveled regions of the park. The cruise company will provide the transportation.
But Doubtful Sound is not easy to reach. It takes four hours and a well-orchestrated journey involving two buses, a boat and a van for us to reach the deep waters of the Sound. By the time we reach our ship, the Fiordland Navigator, civilization is left far behind.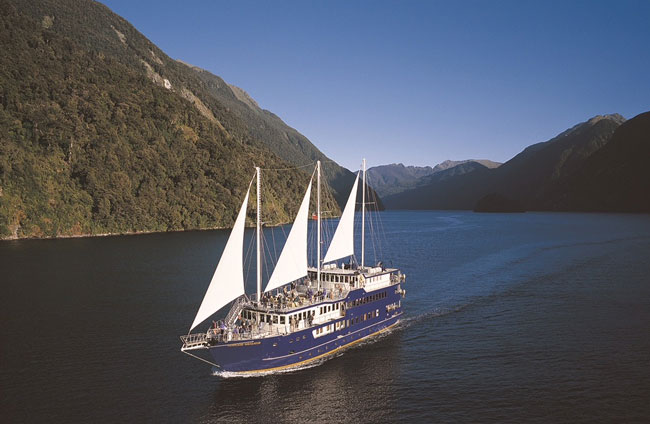 Real Journeys Cruise on Doubtful Sound
Today, there are 40 passengers on the Fiordland Navigator, which is operated by Real Journeys, the only commercial company allowed to overnight in the Sound. The small crew is made up of fit, young people whose jovial manners put everyone in a good mood.
Within minutes we're tossed room keys, shown our simple but shipshape cabins, and given safety instructions. Then it's time to head into the fjords. A light rain is falling, but the air is not cold as we stand on deck, watching nature's most incredible show pass by.
Lush green mountains rise majestically from the water. Dreamy white clouds drift along their massive midriffs, while the peaks reach above the cottony mass toward the sky. It's like living in a beautiful postcard.
Occasionally, dolphins swim near, jumping and leaping, while tiny penguins float nearby. The ship is in search of a calm inlet so we can drop anchor and go out in kayaks, allowing us more intimate contact with nature. It is almost dusk when we find a protected cove and the ship drops anchor. A warm rain falls with dreamlike stillness, while a thick haze covers the sea, giving the water a heavenly quality.
Kayaking Doubtful Sound
"I know it's wet out there," says our guide, Terri, calling us together like a team before the big game. "Don't let that stop you from getting out there on the water. It's even more beautiful in the rain because it starts up the waterfalls." She is right. The mountains have sprung leaks, and dozens of waterfalls stream from their sides.
The crew urges us on. They pull out dozens of kayaks as well as two tender boats. Those who want to explore on their own will use kayaks; others will explore in the craft. My parents opt for the boats; I head toward the kayaks.
"The rain will keep the sand flies away," says one of the crew cheerfully as he hands me a rain poncho and guides me into my kayak. I've never kayaked before, and it takes me a few minutes to get the rhythm of paddling, but soon I'm following the others. While my poncho keeps the rain off my face, it seems to block my view. I pull it off, ignoring the rain.
Immediately, I feel overwhelmed by the stunning scene surrounding me. I stop paddling and coast, delighting in what I see. All is silent except for the in-and-out swoosh of kayak paddles.
Then it dawns on me: this is what brings people to this island nation-the chance to throw away cares and rediscover the thrill of nature, beauty and even life itself.
I hug the shoreline, awed by the vast numbers of green ferns and leafy trees. The vegetation is so thick on the steep mountainsides that I can't even see the earth below it. A bird flits from the shelter of one dripping tree to another, then disappears in the foliage.
Huge drops of water fall on my face as I paddle underneath tree limbs sticking out over the water. Moss covers the thick limbs. I can see the rocks below in the crystal clear water, and pull in closer for a look at the plant life that has grown together, giving the illusion of a thick green carpet covering the mountainside.
Eventually, I pull back out into the open Sound. I can see my parents in the boat, listening intently as their guide describes the local fauna. Even through the drizzle, I can see the smiles on their faces. My mom waves to me, nudging my dad and pointing me out. I laugh and signal back, content in my kayak. It is a shared experience that we will always remember.
I stare up into the torrential skies and watch huge drops pouring, one by one, into the sea. I feel tiny in this land of natural wonders. The experience is so powerful that I ignore the streams of water running down my face. Right now, it's unimportant. For now, I am in a yellow kayak, paddling through the protective cove of Doubtful Sound. I am in awe of the world and the gift that New Zealand has given me.
And for once in my life, words seem woefully inadequate.
If You Go to New Zealand
Real Journeys
Overnight cruises on Doubtful Sound and Milford Sound in Fiordland National Park
Helpful Travel & Shopping Information
Discount Hotels in New Zealand: Booking.com
Lonely Planet: Discover New Zealand Guide Book
Allianz Travel Insurance – Travel The World Knowing You'll Be Taken Care Of. Affordable Plans As Low As $17.
Need Luggage? eBags offers Free Shipping over $49 + Easy Returns
Author Bio: Travel journalist Janna Graber is a Colorado native who has a passion for exploring the world. She is the managing editor at Go World Travel Magazine