On that brilliant blue sky morning, there was a great deal of activity in the bustling Plaza San Francisco in Quito, Ecuador. I watched a small group of raucous men in a corner, apparently recovering from the festivities of the night before, an elderly indigenous woman petting her beloved dog, the requisite shoeshine man hard at work and two women in bowler hats speaking Quechua, the ancient language dating back to the Incas which millions of Ecuadorians still speak.
"May I take your photo," I asked them in Spanish.
"Claro que sí," they consented with a big smile. "As long as we can see the results! We don't have cameras." They shyly posed and leaned over to see themselves. "Gracias," they said to me happily.
Dating from the 1500s, the plaza fronts the opulent marble palace-like Casa Gangotena boutique hotel. The ornately decorated San Francisco Church and Convent lines one side of the enormous cobblestone-paved square. In every direction, at this sunny, crisp early hour, there were moms with their youngsters in tow, scurrying off to school – some while balancing their breakfast plates in hand.
Many people know little about Ecuador. They might not know that chocolate originated in Ecuador, not in Mexico. Or that it boasts 75 volcanoes (62 of them over 12,500 feet,) or that Ecuador is one of the world's leading producers of roses – and they are magnificent, aromatic specimens, as big as peonies. Ecuador is also from where those fine Panama hats (really named Toquilla hats) come from — they were called Panama hats because the laborers on the canal wore them.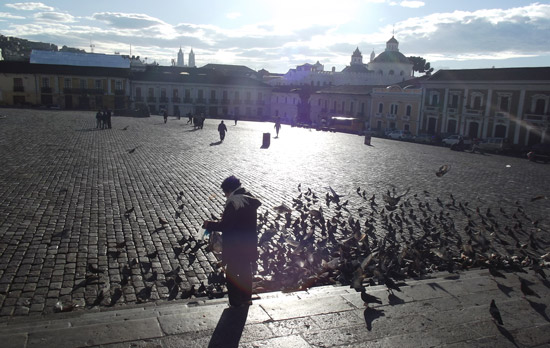 Travel in Ecuador
There are many other surprises that await travelers to Ecuador – and some handy ones at that: the U.S. dollar has been the official currency since 1999, and the electrical current is the same as in North America. In just a few hours from many major airports in the U.S, you can be in a whole different world, or as the Ecuadorean tourism campaign quips, in "FOUR worlds in the middle of Planet Earth."
It would be a shame to only visit the Galapagos, 600 miles off the coast, thus neglecting mainland Ecuador, as many do. Ecuador has four diverse and unique regions – the Amazon Rainforest, Highland Andes, the Coast and the Galapagos.  In 2013, this small country (only about the size of Colorado or England,) won the World Travel Award's World's Leading Green Destination and was nominated in four additional categories at the international level.
Few places on earth offer such wide diversity of ethnicities, landscapes, cultural and historical heritage and nature, as well as adventure. Indeed, this "land of eternal spring" received two of the first UNESCO World Heritage designations in 1978 – the only South American country to do so.
The Ecuadorian Amazon Rainforest makes up 40 percent of the country's territory and is home to 10 percent of the world's known species, and is one of the most spectacular biodiversity regions on the planet. Ecuador has 46 different ecosystems and is home to 62 percent of the total species of South America, including 1,695 bird species and a staggering 4,250 orchid species – with 19 percent of its territory designated protected areas.
Continued on next page