Traveling the world is just something that lives within us, a powerful urge that is desperate to get out. If you are the kind of person who gets drawn in by endless shots of international beauty on Insta or reads Lonely Planet books for fun, you know that draw, that yearning to jump on a plane and discover.
Combining travel with work is the best way to truly immerse yourself in any country. This gets you on the inside track, to see how locals live, to experience their way of life, discover the secret corners and enjoy authentic traveling at its finest.
Getting set up to work and travel abroad may seem daunting, but with help from world-renowned experts, it couldn't be easier. Since 2008, Global Work & Travel have arranged over 59,000 dream trips to beautiful parts of the world.
Their expertise is only matched by their enthusiasm and strong bonds with their international partners, meaning you have nothing at all to worry about. Your personal team will help you get there and get stuck in, with all the support you could ever wish for behind you.
But which kind of immersive travel experience is the one for you?
Earn Cash and Live the Local Life Before You Explore
Fancy working a ski season in Canada? How about working in the glorious hotel industry in the USA? A working holiday gets you right into the beating heart of a country. You will be living and working, commuting and partying in one particular spot, learning all about its flow, its hidden spots and engaging locals.
This type of trip allows you to work abroad on a special, government-issued 'working holiday visa'. You'll start earning in a completely different culture, which means you will have the money to explore the country for longer than the average tourist.
It's the perfect opportunity to travel, live like a local and immerse yourself in a beautiful corner of the world.
This kind of trip is for people who want to extend their stay, who want to discover how people of other cultures actually live, before heading off and discovering more of the country itself. It is a trip for people who want to add something impressive to their CV, showing that you can effectively live and work in a completely different country.
Through Global Work & Travel, they set you up with interviews before you arrive, so there is no wasted time on your trip. They arrange an immersive welcome, getting you settled with accommodation and acclimatization trips to get to know your chosen city before you start working.
You always get a Travel Concierge to help with your travel details and a Trip Coordinator to help sort out the logistics of living and working in a foreign country, so you can focus simply on getting a job you love.
There are opportunities all over the world, from exploring the vast natural beauty of Canada, crossing the border down to the USA and seeking out its cultural wonders.
You can head down under for epic working adventures in Australia and New Zealand or put down some working roots in the UK or Ireland before heading out to explore Europe.
To get yourself started on the road to working abroad, Global Work & Travel is step one.
Does a life-changing work travel experience speak to you? With our promo code: GOWORLD you can receive $50 off your trip.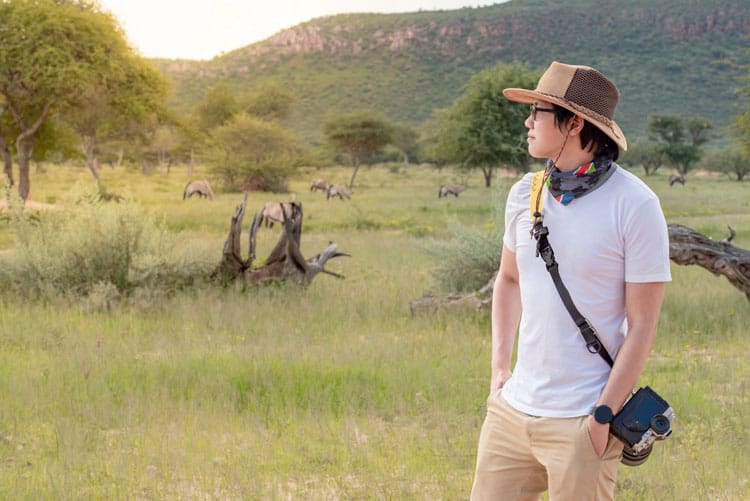 Open the Door to a World of Travel Opportunity with a Teaching Trip
It has been the classic way for years, get your TEFL and teach English in some far-flung corner of the world. Well, this life-enriching method of extending your travels is going stronger than ever.
Through helping others learn a valuable skill, you'll be earning a local living to fund your travels further and open doors to travelling in many more countries than you first imagined. With Global Work & Travel you get the chance to take part in a 3-4 week class-based TEFL or TESOL course where you'll learn how to teach English to foreign students.
Once you complete the course, you'll be awarded an internationally recognised accreditation which gives you the freedom to teach and travel all over the world and land a local teaching placement.
If you love to teach, or if you long to become an intrinsic cog in a local community, then this is the one for you. If you want to be able to work and travel until you find that perfect place to settle down, then this is definitely the one for you.
Gaining your TEFL or TESOL is almost a guaranteed form of work, year on year. For loads of countries, a teacher is still revered, so from private tutoring, classes full of enthusiastic kids or patient adults looking to improve their prospects, you can embed yourself in the local community and help make other peoples lives better.
From teaching in the enchanting Buenos Aires, to exposing yourself to the incredible culture of Japan, teaching English could not be easier. Global Work & Travel support you every step of the way, not only setting you up with accommodation and the course, but supporting you to get a job after the course is over.
The trademark customer service and support from your personal team are outstanding and a wonderful cushion to making this experience flow so much smoother.
Teaching can take you to some incredible places. There are Asian adventures to be had in Thailand, Vietnam, Korea and Japan, delving into cultures and customs completely unlike your own.
Teaching in a Spanish speaking country gives you the great flexibility of being able to teach in them all eventually, with offerings in Spain, Costa Rica and Argentina, or head to Europe to teach in stunning Italy or the hidden gem of the Czech Republic.
Learn to teach, enrich your life and find your place in the world. Get in touch with Global Work & Travel today to get started.
Check out more unique adventures and use our promo code: GOWORLD to get an additional $50 off of your trip.
Follow Your Passion and Make a Difference
Volunteering overseas gives you the unique opportunity to discover those corners of the world that you couldn't experience any other way. Living on the beaches of Costa Rica to ensure the healthy future of turtles, rehabilitating elephants in the dense jungles of northern Thailand, helping tiny communities in Zanzibar thrive and survive.
Each trip comes with the opportunity to do intense good to the world, to help make this planet a better place to live for its current inhabitants and those yet to join us.
Volunteering is a trip style for those who want to make a difference, and for those who want to make a big difference to themselves. Nobody comes away from a volunteering experience as the same person that started it.
Experiencing the joys of a close-knit community as you help with education, health or community care, or getting up-close to some of the world's greatest natural habitats and creatures, leaves its mark on every single person.
It also gets you right off the beaten track, whether that is physical, by escaping to a tiny corner of Africa, or in plain sight, by living and working in big city neighbourhoods that tourists never visit.
Global Work & Travel will deal with your whole placement, setting up the duration and location of where you want to work. They sort out your accommodation, your transfers and there are always some fantastic discovery extras to help you explore the country you choose to volunteer in. And as ever, they have your back every step of the way.
There really are some special volunteering options to choose from. If people and culture are your focus you can immerse yourself in communities in Tanzania, Costa Rica, Cape Town and Buenos Aires to name but a few.
If wildlife is at the heart of your passion, you will be blown away by the scope of volunteer trips available. Conservation trips with the Big 5 in South Africa, Sloths in Costa Rica or Elephants in Thailand. You can help look after street dogs in Thailand, delve into the phenomenal Peruvian Amazon or conserve wildlife in the home of Natural Selection, the incredible Galapagos.
Make a difference to the world, get involved with true travelling beauty by getting in touch with Global Work & Travel about their volunteer opportunities.
And if Those Don't Float Your Boat….
These three are the big tickets, but if you are looking for other ways to extend your travel time and get under the skin of your destination, there are plenty of other ways to do it.
Au pairing is one of the most immersive forms of travel. Living with a family in a foreign country, looking after their kids and getting to know your local area inside out is a complete joy.
Global Work & Travel eliminate any worries about not getting on with your host family with a guaranteed switch if you feel that it has been a bad match. You'll be generously provided with a wage, your own room in the family home and, typically, two to three meals per day and if the trip is not in an English-speaking country, you will have allowances for language classes.
This is a way to make friends for life, to put a root down in another country and touch the lives of one lucky family.
You can become part of European life with au pair trips to Italy, France, Spain, Germany or the UK. Avoid the language barrier by au pairing in Australia, New Zealand, the US or Canada, or experience China like no other traveller by looking after children in this complex and beautiful culture.
If it is a shorter, more fun-based experience you are looking for, then there is nothing better than Summer Camp. This staple of US life gets you out into the wilds to spend a joyous summer teaching kids life skills and forging bonds with your fellow camp leaders.
With just about every expense covered, plus a wage, you can revel in the experience of summer camp and then head out to explore the highlights of the US once you are done.
If you are at university and want to get a head start on your career path, an International Internship could be the way to go. Being an intern overseas opens up more doors, gives you an insight into how other countries work in your field, giving you a platform to expand your ideas and experience.
You'll gain an international reference, worldwide connections and a huge competitive advantage while you immerse yourself in a whole new culture and explore the natural and cultural beauties of your chosen country.
Working and travelling is a life-changing experience, it will leave you with memories and experiences that you could not gain any other way and provide a massive platform for the future. Launch yourself into the world of work on travel.
A simple email to Global Work & Travel is your first point of contact to a future filled with potential.
Ready to plan an experience of a lifetime in a new exciting destination? Use our code: GOWORLD to get an additional $50 off of your trip.