With the help of a mountain guide, anyone in good physical shape can summit these five easy mountain climbs in the Alps.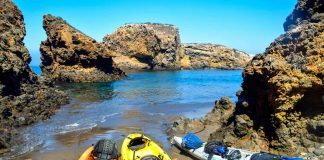 Just off the California coast, Santa Cruz Island is a perfect day trip for families who want to kayak, snorkel and see wildlife on this California island.
Escape the crowds and visit the sleepy town of Mira de Aire, then see the natural beauty of Serras de Aire e Candeeiros Natural Park in Portugal
St. Petersburg, Florida, on the western peninsula of Tampa Bay, provides easy access to good beaches and everything the "Other Bay Area" has to offer.
Just a few hours from New York City are the Adirondack Mountains, a scenic region that offers a wealth of outdoor adventure.
With less than two full days in Boston, what should you see and do? Here are our tips on the best places to visit in Boston if you only have two days.
Patagonia is home to some of the most popular hiking trails in the world. Here's our guide on the top hiking treks for beginner to advanced hikers.