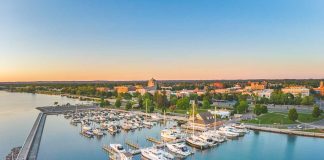 Located on Lake Michigan and with more than 180 miles of beaches, Traverse City, Michigan is a year-round playground for anyone who loves the outdoors.
Tokyo Tower is one of the top attractions in Tokyo. A knowledgeable local gives his advice on how to the most of your Tokyo Tower climb.
Extremadura is known for its culinary specialties, three UNESCO World Heritage sites, excellent birdwatching and rich Roman history.
In Hawaii, aloha is more than just a friendly greeting. It's a way of life. Head to the Hawaiian Islands to experience Hawaii's unique, welcoming culture.
The Dolomite Mountains in Italy are a top destination for via ferrata enthusiasts. From Val di Fassa to Cortina d'Ampezzo, here are the best via ferrata in the Dolomites.
From exploring caves under the city to visiting Ruin Bars and historic coffeehouses in Budapest, here are five unique ways to see the Hungarian capital
Iceland's landscape is dotted with roaring waterfalls. A visit to Iceland isn't complete without a stop at Seljalandsfos, Skógafoss and many others.