From marine iguanas that sneeze out salt to giant Galapagos tortoises and blue-footed boobies, the Galapagos Islands are filled with amazing wildlife. As a result of thousands of years of isolation, many animals in the Galapagos are found nowhere else on earth.
Visiting the islands and seeing these unique animals in their own habitat is an experience of a lifetime. The Galapagos transforms experiences that once seemed impossible into daily, bucket-list-encounters.
That's why it's so important that the Galapagos Islands are protected, not only by the government and those who live and work there, but also those who visit.
Protecting the Galapagos Islands

Annual tourism numbers to the Galapagos have grown from 40,000 in 1990 to more than 200,000 today. That popularity can take a toll, straining limited resources and threatening to damage fragile ecosystems.
Without care and special consideration, tourism can overwhelm and negatively affect a destination – especially those with a fragile ecosystem like the Galapagos. It's important to manage tourism carefully.
When done responsibility, ecotourism can have a positive impact on the Galapagos Islands. That's because tourism dollars help to fund conservation efforts in the islands. Every international visitor to Galapagos National Park pays a $100 entrance fee. This goes to help conservation efforts, such as a recent project that help repopulate giant tortoises throughout the park.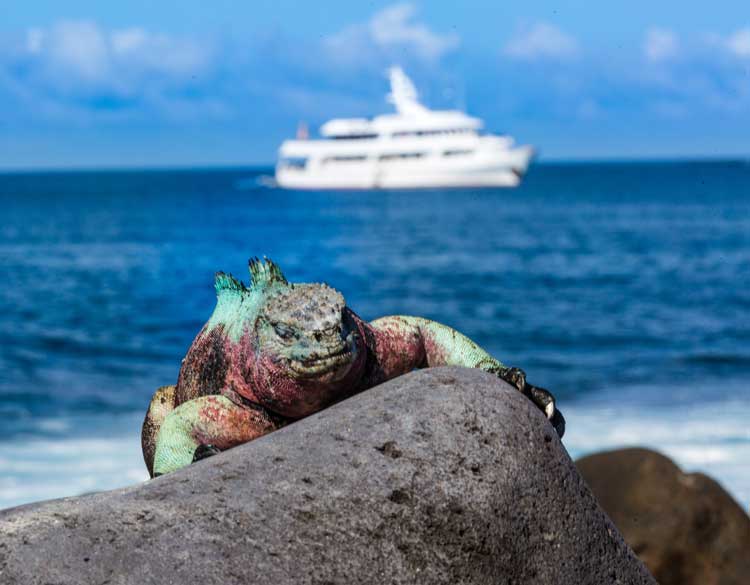 How to Travel Responsibly in the Galapagos Islands

The first and most important decision you must make when planning your trip to the Galapagos is how you're going to visit the islands — either by small ship cruise or on a land-based tour.
Small Ship Cruises in the Galapagos
In the past, the only way to visit the Galapagos Islands was on a small ship cruise. Many environmentalists believe that naturalist cruises on a small ship are still the best and most responsible way to visit the Galápagos.
That's because cruises in the Galapagos are highly regulated. Only a certain number of boats can visit at one time and they can only dock at designated ports. All cruises that visit the islands must adhere to certain eco-friendly standards.
Many of the small ships hold only up to 16 passengers. The itineraries are designed so that guests stop at locations or visit trails in small groups. A smaller group means less impact on both the land and the wildlife. A smaller group also provides more quality time with your guide. You'll be able to learn more about the animals and the Galapagos.
Land-Based Tours in the Galapagos
The second option is to book a land-based tour. It's important to note that land-based tours are not strictly regulated, so be sure to do your research. Book with a company that demonstrates a clear commitment to working with local operators who strive to lessen their environmental impact.  Groups should be small, no larger than 25 people on a tour. Smaller groups mean less impact.
When booking your hotel in the Galapagos Islands, make sure the hotel has a proper management system for all types of waste, including using biodegradable products and avoiding single-use plastics.
Tips for Visiting the Galapagos Islands
Once you've chosen how you will visit the Galapagos, here are a few things to keep in mind while on and around the islands:
Please avoid fishing and all water sports while in Galapagos. This can damage the ecosystem.
Be sure to follow the regulations set out by Galapagos National Park. Each visitor is expected to follow the park's 14 rules to minimize impact and preserve the environment.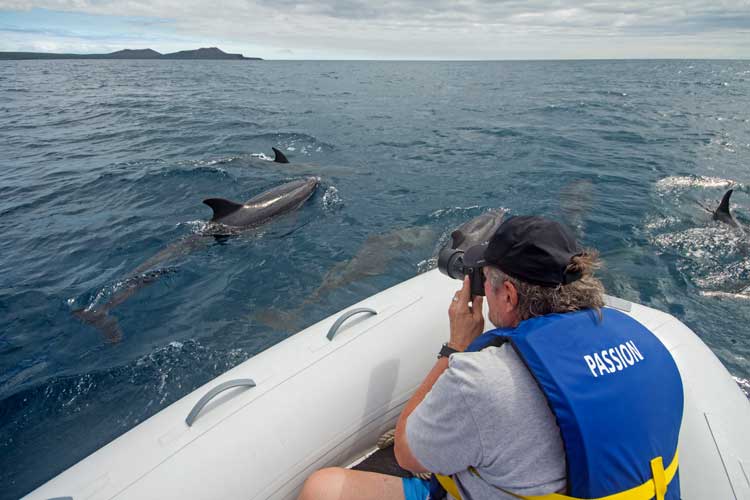 Keep Your Distance from Wildlife

Please keep your distance from the wildlife. In the Galapagos Islands, many animals are not afraid of humans. This can tempt visitors to get up close for a photo or even try to touch them. Please don't do it. Humans carry germs and diseases that can make the animal ill.
Even leaving a human scent near or on an animal can cause it harm. If you touched a baby seal, for example, your scent would transfer to the baby. Its mother would then smell your scent and be unable to recognize her own baby, leaving the young pup to fend for itself.
Don't Feed the Animals

This sounds like it should be a given, but still, some visitors are tempted to feed the animals. Please don't do it. If you bring any food, be sure to keep it tucked away in your backpack. If you have food out in the open, curious birds may take the opportunity to grab a bite.
Please Don't Litter

Trash and litter harms not only the environment but is a danger to the animals. Take care not to leave any litter or trash behind.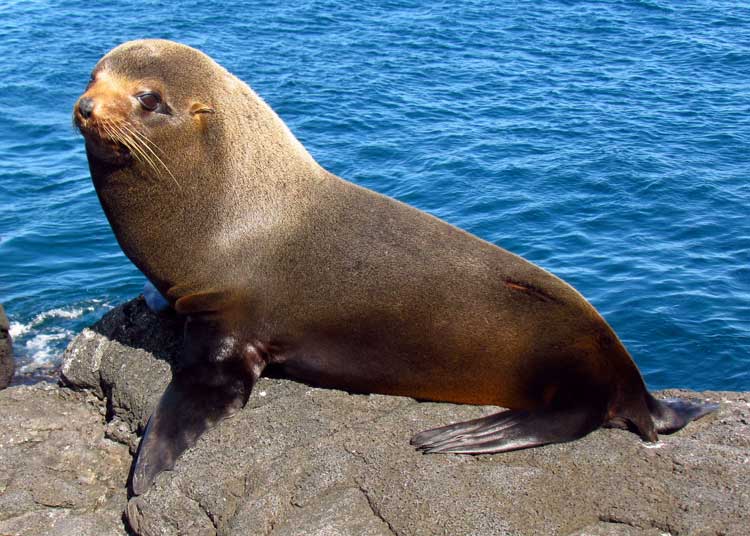 What to Bring to Galapagos
Bring along a hat, biodegradable sunscreen and a lightweight, waterproof reusable bag to carry your things. Be sure to bring a reusable water bottle to use instead of buying plastic bottles that create waste.
Please don't bring any kind of seeds or nuts on your trip (even granola bars), as these can harm the ecosystem
Shopping in the Galapagos Islands

When shopping in the Galapagos Islands, please don't buy coral, rocks or tortoise shells as souvenirs.
You Play an Important Role
Remember that your visit to Galapagos plays an important role in preserving the ecosystem and helping to support sustainable local businesses.
The Galapagos is indeed a special place, and supporting responsible tourism is the best way to protect this beautiful corner of the world. If we all do our part, we can help preserve this natural paradise for generations to come.
Author Bio: Eduardo Camarero is the marketing director at Andando Tours, a tour operator based in Ecuador that works closely with many communities and projects that help to conserve both the environment and the culture and cultural treasures of the many indigenous nations that live in the Ecuadorian highlands, the jungle, and the Galapagos. Andando Tours specializes in naturalist cruises in the Galapagos Islands.