Just a few hours up the coast from Lisbon by comfortable high-speed train, a taste of Porto awaits. It was here that my family and I had a few days to enjoy the local life.
Located about 200 miles north of Lisbon, Porto is a more laid-back and smaller version of the nation's capital city. The hills were certainly there but did not seem quite as steep. The Douro River—a bloodline for Spain and Portugal—flowed through the city and into the Atlantic.
Amazing architecture abounds, and the port wine was ever-present. Tourists were present as well, but there were fewer here than in Lisbon. As a result, lines were shorter, sites were less crowded and the streets and squares seemed more populated by locals than tourists. Furthermore, Porto was walkable at a leisurely pace.
Founded in 417, Porto has seen several rulers and owners. However, the Douro River, flowing into the Atlantic has always been a part of Porto life.
Much like Lisbon, Porto benefited from Portugal's age of discovery and the resulting spice trade of the 15th and 16th centuries. After that, port wine became the city's new lifeline and is still a huge industry today.
Our temporary home in Porto, Portugal was Cetu Terrace Suites, an apartment, just north of the Cathedral District. We were about a two-minute walk from the busy Parca de Liberdade (Liberty Square), a busy gathering place lined with stately buildings.
The apartment was clean and comfortable, with a Nespresso machine in the room for an any-time-of-day espresso. Made-to-order breakfast and a buffet overlooking a city view were included.
The best part of our flat, however, was being able to walk to everything. A stroll north of us took us to local neighborhoods which were tourist-free. Here we could explore the grocery store, shops, cafes and restaurants that the locals visit, if with a bit of a language barrier challenge.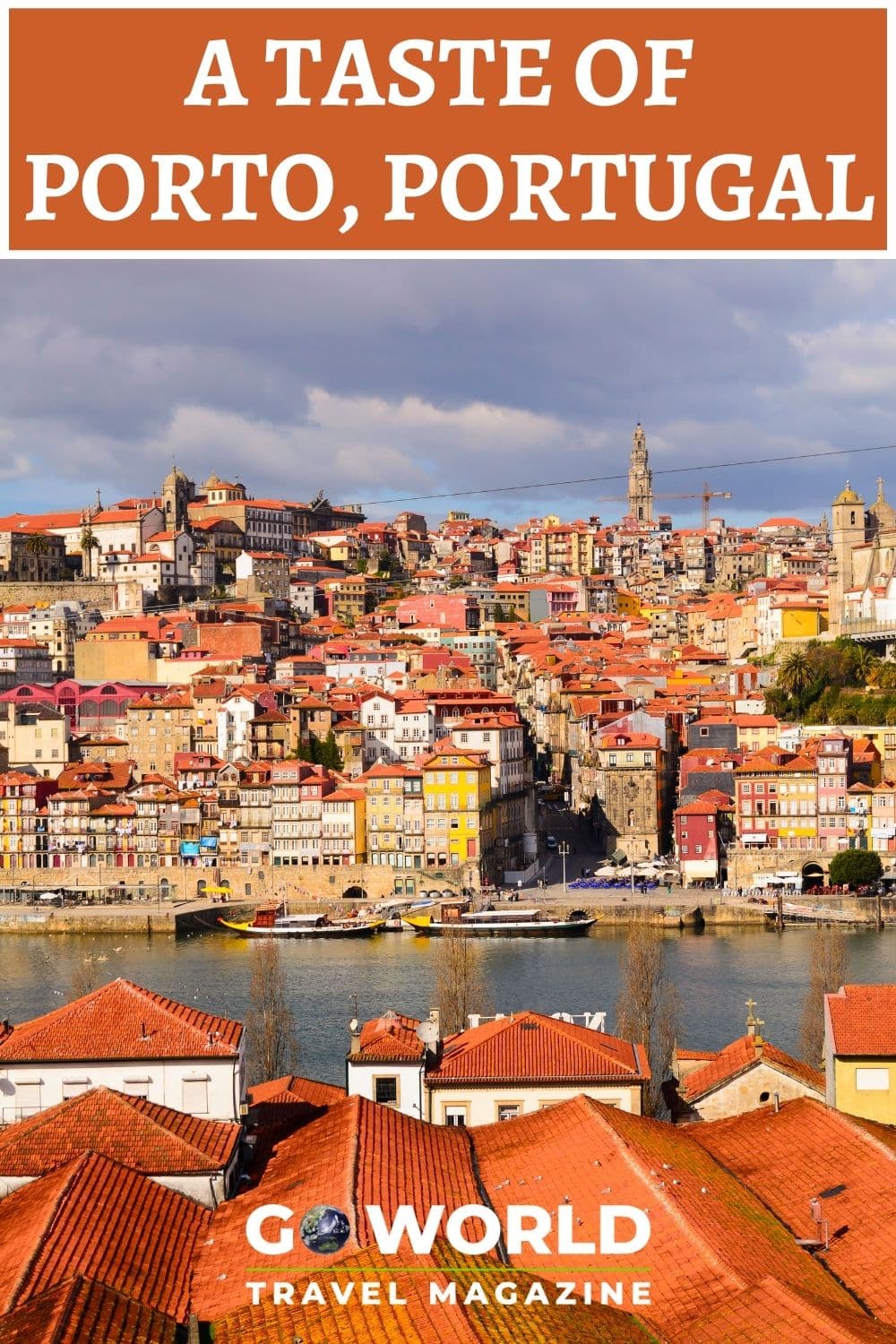 Deciphering the Menu
For our first culinary adventure, we found a place where locals were lined up to eat. We secured a table in the crowded little restaurant that reminded me of some of the tavernas we'd visited in Italy. The food was good. The caveat: they did not speak English and did not have a menu in English.
Thankfully, we were able to figure out what we wanted using our phrase book. However, when we went to place our order, we were told it wasn't possible.
"No, no, no," the waiter said dismissively. "Not today." He turned the page of our typed Portuguese menus. "Esta. This."
We came to understand that we could only order off certain pages on certain days. It took us a little more time, but we finally figured out that what we had originally wanted was also on these pages. But in different forms or portions.
We enjoyed the uncomplimentary bread and olives as we waited. Then moved on to green vegetable soup, salmon steak, pork rounds and seafood stew. It was all delicious and paired well with some dry, red Portuguese wine.
The Most Beautiful McDonald's in the World?
"Look, it's Garrett," Alex said as we strolled through Liberty Square. He made the reference because of a friend back home by the same name. At the square's northern end, just in front of the large City Hall, a monument honored the writer Almeida Garrett. They were also a poet, playwright, novelist, journalist and politician.
Walking from Liberty Square to Parca de Almeida Garrett, we stopped in an American restaurant. A place we typically avoid during visits to other countries.
"Nobody said McDonald's," I admitted, "but let's take a break today."
I'll admit that we did not place an order as we had already enjoyed some local cuisine. However, we could see why this McDonald's is often called the most beautiful McDonald's in the world. It opened in 1995, in what used to be a famous coffee shop called Café Imperial.
The dining space dates to the 1930s, with stained glass windows by Portuguese artist Ricardo Leone. There were also crystal chandeliers, friezes designed by Moreira and an enormous bronze eagle perched atop a metal "McDonald's" sign.
The most beautiful in the world? Perhaps. Although I remember visiting the McDonalds in Moscow back in the early 1990s and being stunned by the mosaic decorations and full decorative fountain inside.
You could tell the tourists from the locals by who was focused on the food and who was focused on the scenery. As we left, we saw the restaurant's most enthusiastic customers—a trio of pigeons—feasting on fries on an outdoor table.
Tiled Train Station
Although the monument to the great writer is in Liberty Square, there is an entire square named for Almeida Garrett just a short stroll from his monument. As we stood in the square looking around us, the diversity of the surrounding architecture was marvelous.
It included art deco and modern, gothic and arabesque, neoclassical and rococo. But the most impressive building here was the old Sao Bento Train Station.
The station still operates today, but this is a destination and not a portal for most of the visitors when we were there. People come to view the elaborate tile pictures in the main lobby. The tiled interior depicts modes of transportation and historic and festive scenes in huge tile murals that take up entire walls.
From the front balcony of the train station, we stopped and took another long look at the cityscape. This was our gateway into the Cathedral District. But first, a tower beckoned in the distance.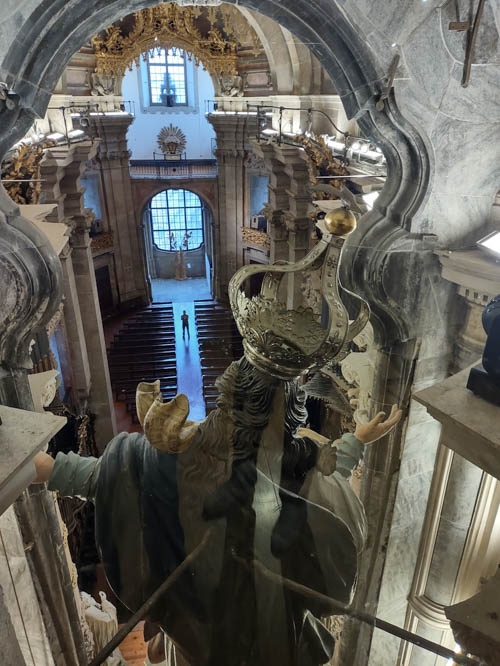 Clerics and Clergymen
About a ten-minute walk from Sao Bento Train Station stands the Tower of Clerics. It is one of the tallest buildings in Portugal and is made to seem even taller due to its hilltop location. Perhaps more amazing than its status is that it was built in the 18th century, before the modern age of sky-piercing buildings.
Climbing the 240 steps was a chore. But it paid off in scenic dividends with a view of Douro valley, river, coastline and city skyline.
The adjoining baroque Church of the Clergymen is also well worth a visit. Inside, we were surprised at some of the views offered, not only through the windows out but also the ones within.
The church also contains a museum that includes relics, artifacts, sculptures, paintings and jewelry. One room was filled with dozens of crucifix carvings and depictions. Another featured modern religious sketches and art.
After standing in the church and looking up at the altar, featuring an enormous scene of the crucifixion, we found ourselves upstairs, looking down from above the alter at the people looking up. It gave the impression of seeing the church from the crucified's point of view.
Oh, Se Can You See?
Many visitors come to Porto, Portugal for the riverfront area. That certainly was an enjoyable distraction. But for us, the most interesting place to explore in Porto was the Cathedral District.
At the center is Se, or Porto Cathedral. Built in the 12th and 13th centuries, the massive fortress has been modified several times, now boasting a baroque portal. A striking, 13th-century rose window of stained glass lights up the darkened interior. The gothic cloisters are lined with tile and the courtyard features a stone fountain.
Terreiro da Se, a small square next to Se, features a Manueline pillory, as well as a great view of the city. And just next door, along the square, is the Episcopal Palace, or Bishop's Palace, once home to the city's bishops.
The museum within the baroque and rococo Bishop's Palace is certainly worth a visit and was part of a combined ticket with the cathedral. Inside the palace are a beautiful grand staircase, domed ceiling, artwork, decorative tiles, antique furniture and decorative arts. The museum was a great supplement to the cathedral visit.
Just around the corner from the Bishop's Palace and down a curving street, is Casa-Museu Guerra Junqueiro. This little museum is in the former home of the poet. He was a collector of ceramics, tapestries and curiosities, all of which are on display.
The collection was nice, but nicer still are the Portuguese poet's words inscribed on his home's wall:
"Upon the jagged leaf of a sycamore tree,
Which, like a scavenger, on stones and lava feeds,
The gentle Dawn, compassionate and divine,
Shed an ethereal tear, huge and crystalline.
So perfect and so limpid a tear that it appeared
From afar, a star, a diamond, when neared.
With his splendid retinue, a king passed that way,
Helmets, spears, bugles, thirty banners on display.
"My crown," exclaimed the king, surveying the scene,
"Contains countless sapphires and gemstones that gleam,
Exquisite rubies of blood-red and gold,
Crystallized kisses of love set aglow.
There are pearl which are drops of immense agony,
Shed as tears by the Moon, frozen hard by the sea.
Yet diamonds and rubies and pearls from Ophir,
All this I'd forsake just to have you, oh tear."
Don't Judge a Book by its Cover
We had heard good things about Santa Clara Mannerist Church, a bit off the beaten path but still within the Cathedral District. We actually passed right by it more than once, wondering where it could be. Its modest exterior is hidden between a police station and a parking lot, behind a courtyard wall.
"Maybe this is it," Nataliya said, pointing to an open doorway in the wall.
We entered the modest doorway to an even more modest courtyard. To the left, policemen walked in and out of a doorway. To the right, a glass door was surrounded by a stone façade with spiral columns and statuary. Sure enough, this was the entrance to the most remarkable interior in Porto.
Inside, Santa Clara's walls, ceilings, altarpieces and chapels were covered in gold. The interior appears to be wood and stone. However, a historian pointed out that it is all carved wood, and the few areas that are not covered in gold are painted to look like stone and alabaster.
"I can prove it," the historian said, requesting that we follow him to the upper level. There, he showed us an upper room that overlooked the church's gilded interior. Here were individually carved benches, each with a face, animal, or another symbol of the seat's owner carved upon it. There were also not-yet-restored altarpieces on display.
"Do you see the damage?" he asked "The entire church was infested with and damaged by termites. That is why we only reopened last year after being closed for five years of restoration."
Indeed, the bare woodwork on the second floor was ridden with holes where termites had eaten away at the wood. After seeing the opulent interior below, it was hard to believe that it had been termite-damaged as well. Now, it looked perfect.
Once he saw that we were interested, the historian remained with us, joining us as we returned to the golden interior below for a closer look. The church was built in the early 1400s but was rebuilt several times.
The historian cracked a smile. "Santa Clara is the patron saint of good weather, so you can thank your pilgrimage to us here for the good weather we're having today."
The front altar and two long side walls of the church were covered in statuary, cherubs, angles, saints and decorations carved of wood.
"Santa Clara is the only church in Portugal that prominently features statues of two black saints," he pointed out.
In one carving, Saint Francis of Assisi stands in purgatory, above the fires of hell and below Christ in heaven. Two women reach up from the flames to hold the bottom of his robe.
"He wants to go to heaven," the historian said with a chuckle. "But, of course, he cannot resist the touch of women."
I looked around at the gold-covered interior. "If this is what purgatory looks like, it's not so bad."
Worship and Wealth
Leaving the Cathedral District does not mean leaving behind impressive churches. And St. Francis seems to have more than one gold-encrusted home in the city of Porto. Closer to the river, the gothic church of Sao Francisco was built in the 1300s. Its baroque interior is covered in more than 450 pounds of gold, primarily on the high altar, columns and pillars.
The church features catacombs and a vault of religious treasures. But, its highlight, on display in the center of one of the interior walls, is the Tree of Jesse, depicting the family tree of Jesus. Jesse is within the roots of the literal tree, with King David and Solomon in the lower branches.
Extending up the tree is Mary on one side and Joseph on the other. Jesus stands at the top of the tree. The entire tree is carved from wood. It was painted and gilded in the early 1700s.
Porto citizens of means worshipped wealth as well. As a testament to that other sort of worship stands Bolsa Palace, an old Commerce Palace that still operates as a chamber of commerce.
The guided tour of Bolsa Palace took us through the history of Porto's commerce while showcasing the building's impressive rooms.
Frescoes, tiled floors and ornate plasterwork decorate room after room throughout the palace. One room featured paintings of all the Chamber of Commerce presidents through the ages. Another room appeared to be made entirely of decorative dark wood but is actually painted plaster.
The crown of the palace is the Arabesque Room. Here are beautiful arabesque plaster, arches, domes and windows. It reminded me of the mosques of Dubai and Abu Dhabi. This is the room where they host diplomats and prime ministers.
In fact, the day prior to our visit, Bolsa Palace hosted an eastern European prime minister. The red carpet was still on the staircase from that visit. We took the far staircase but were sure to walk across that red carpet on the way.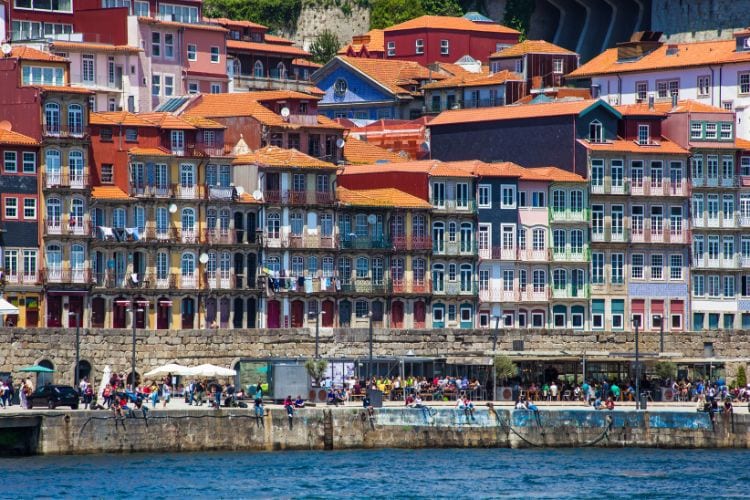 Down by the River
Ribeira, Porto's riverfront quarter, features twisted streets and arcades. Here you can find quaint hole-in-the-wall cafes, laundry hanging in the wind from upstairs apartment windows and shops that sell everything from groceries to cell phones to textiles.
We stopped in at a little yellow-awninged café for sandwiches and Super Bock beer (the number one choice in Portugal) to tide us over until dinner. Also, to fortify us for some fortified wine across the river.
Down at the side of the Douro River, the vibe becomes like that of a popular boardwalk. There are bustling outdoor restaurants serving food and drink plus crowds sitting on benches and strolling along the riverside. Bustling as the old city side of the river is, we preferred the less crowded far side. There we could find cafes, restaurants, street vendors, wine caves and port wine tastings.
There are ferries and boats that will take you from the north side of the river to the south and vice versa. But we opted to take the most scenic route—across the Luis I Bridge.
You can cross the bridge along the lower level, but more interesting is the top level, where it's mostly foot traffic with an occasional tram running across the center. The Luis I Bridge was built in 1886 by an apprentice of Gustave Eiffel and is one of the most recognizable landmarks of the city.
The south side of the Douro is less crowded, but there are still plenty of cafes, restaurants, and shops to occupy your time.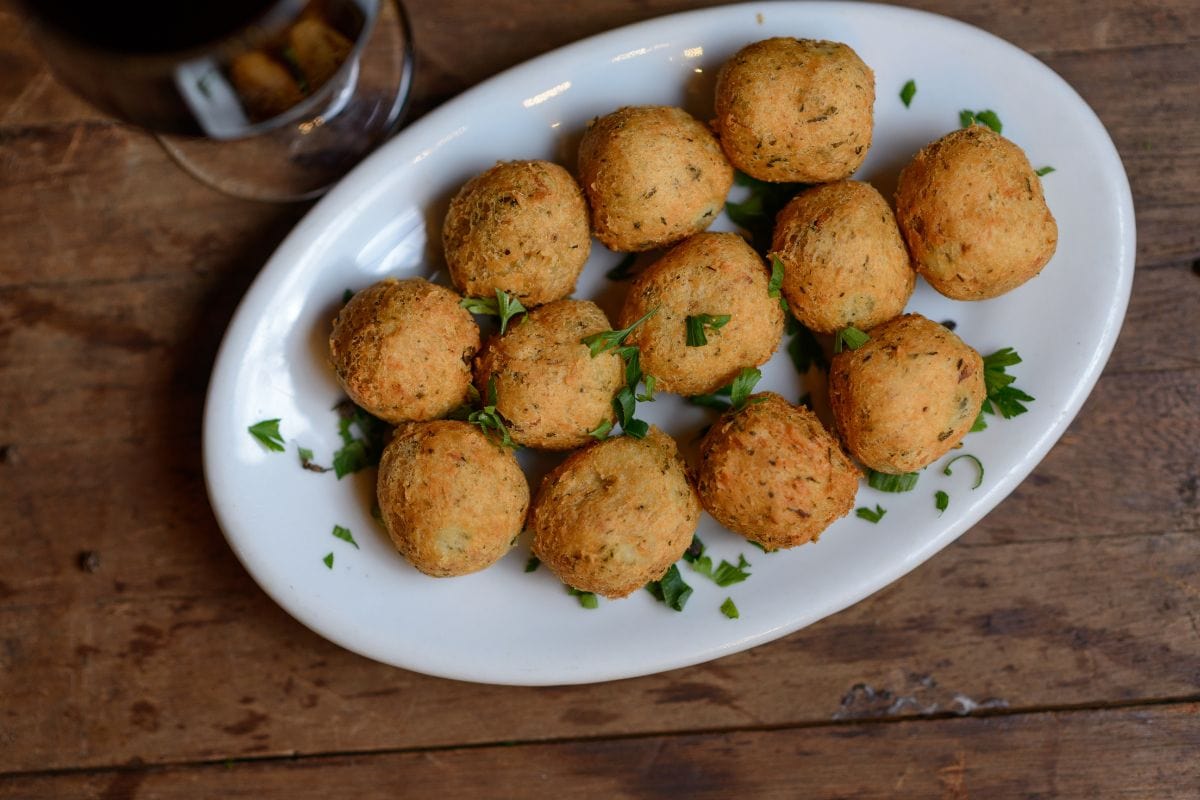 Something Wacky This Way Comes
Although a bit on the touristy side, Casa Portuguesa do Pastel de Bacalhau is worth a pop in. You'll most certainly be walking past it if you're on that side of the river.
The establishment manages to be stately, quirky and radiates a circus vibe all at once. As you walk along the river, you'll know it when you hear the carnival-like organ music playing.
Walk in, and you'll see an enormous library stocked full of antique books so high you may need to climb the rolling ladder to find the one you want. And if you'd like to relax on a leather bench to read, you're welcome to do so.
For about 15 euros, you can order a glass of port and a traditional cheese-filled cod and potato cutlet made in front of you. The cheese comes from their sheep farm. Take a walk up the spiral staircase for a display of older port wines.
Then take a seat upstairs or downstairs to watch the live organ concert—more carnival than cathedral. When we were there, the organist was in absolute ABBA mode. We would have preferred Fado or the soft Portuguese pop we'd heard in the nearby market.
Despite the enormous and beautiful library, decked-out staff, ironwork spiral staircases and beautiful organ, it somehow has a freaky carnival feel to it.
"This looks like something that would be in Something Wicked This Way Comes," my son said. After the spectacle, you get to keep your port wine glass to remember the experience.
The Port in Porto
The egg-sized cod, potato and cheese cutlet wasn't enough to make a meal, so we headed to one of the many restaurants along the south side of the river.
Unless you're a vegetarian, a visit to Porto isn't complete without trying their famous Franceshina sandwich. It is made of bread, cured ham, fresh sausage, steak and other roast meat.
Then it's all covered with melted cheese and swims in a pool of hot spiced tomato and beer sauce and topped off with a fried egg. You may want to consult your doctor before trying one. It goes well with Super Bock or Portuguese Green Wine.
Fortified by a full meal, we were ready to sample Porto's most famous export: port wine. In the same way that cognac and champagne only come from France, true port wine only comes from the Douro region.
Dozens of wine caves, cafes and restaurants offer port wine tastings where you can sample a number of them all in one sitting. We opted for an outdoor riverside café that allowed us to watch the river activity across the way as we slowly sipped our wines.
We were surprised at how generous the portions were. Each of us sampled five different types of port—red, white, rose, tawny and ruby. We also snacked a light cheese and meat platter. The glasses lined up like a sticky rainbow in the sun.
"To the port in Porto," I toasted with a ruby.
"And everything else in Porto, too," Nataliya added.
Our days in Portugal's second-largest city, from gold-filled churches to richly decorated palaces, cobblestone walks to riverside strolls, were coming to a close. This port wine sampling seemed a perfect dessert to our stay.
We all drank to that.
If You Go
If you're traveling from America, you're most likely visiting Porto from Lisbon. High-speed trains from Lisbon to Porto are inexpensive—we paid less than $50 per ticket each way.
The trip takes about three hours. An internet search for Lisbon-Porto train tickets will give you a variety of options. You can also brave the station and buy your tickets there easily enough.
Porto has public transportation and taxis are inexpensive, especially if there are two or more people getting in. But we found the entire city walkable. The best way to discover not only the tourist sights but also the everyday life in a place like Porto is to walk from place to place.
Along the way take in the sights of hanging laundry, people playing cards in parks and carrying their groceries through the pedestrian streets. Having GPS on your phone helps, but old-fashioned maps still come in handy.
We stayed at Cetu Terrace Suites. You can find accommodations on sites like AirBnb or Booking.com. We prefer flats to hotels oftentimes; this was sort of in between and recommended.
Best Tips & Tools to Plan Your Trip
Author Bio: Eric D. Goodman is author of six books, the latest being Wrecks and Ruins, set in Baltimore and Lithuania. His Thriller, The Color of Jadeite is set in China. Learn more about Eric and his writing at www.EricDGoodman.com