Sydney is a sparkling city of many hues, packed neatly in layers of well-preserved history and fascinating geography that revolves around its beautiful harbour.
This cosmopolitan city will immerse you in its radiant vibes – without doubt, there is much to see here for all age groups – there are galleries packed with art that celebrate its multiple cultures, restaurants offering world class food and wines, a plethora of museums that preserve opalized dinosaur fossils to stark reminders of the colony's convict past, and zoos packed with its marsupial fauna found nowhere else on earth.
And there's more – in particular if you are a flower lover, this green city has gorgeous gardens, some openly displayed in its best touristy thoroughfares, and a few very carefully ensconced in hidden folds of the city, regarded as best-kept local secrets.
Read on to discover the best gardens in Sydney to cater to your anthophilia the next time you land in the Emerald City.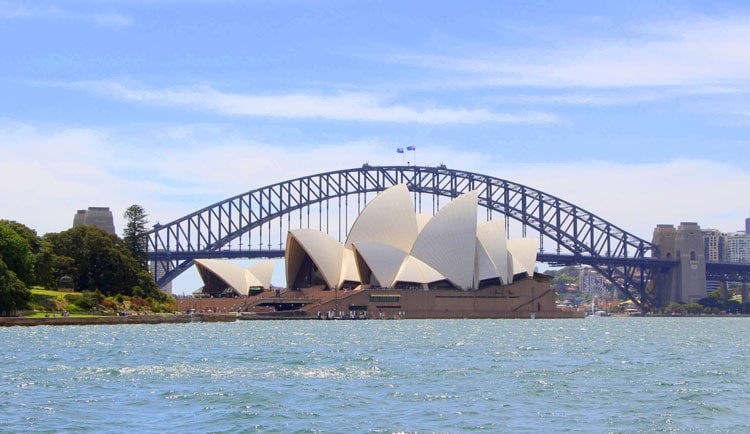 Royal Botanic Garden Of Sydney Gardens
Nourished right in the heart of Sydney, you will find it hard to miss the Royal Botanic Garden – its main entrance lies at a stone's throw's distance from the Opera House, ensuring not just a good lesson in botany but enviable and indelible Instagrams of Sydney's twin wonders – the Opera House and the Harbour Bridge in the background.
Established in 1816, it is the oldest botanical garden – and scientific institution – in the country, and is currently listed in the state heritage register.
But there is more to its origins than being a garden – it was here in 1788 that the first settlers from Britain established their earliest farm with hopes of cultivation to support a large colony.
Best Tips & Tools to Plan Your Trip
Though it failed (and farming efforts moved elsewhere including Parramatta – we will come there later), in later years Governor Lachlan Macquarie saw the land's potential in supporting botanical research and established the garden formally in the early 19th century.
Thereby, the Garden held multiple distinctions – it was the birthplace of the Australian wine industry with vine cuttings planted here from all over Europe; it was also the site of Australia's first zoo (the precursor to Taronga).
Today the Garden includes over 30,000 plants and trees from across 75 countries and receives over 5 million visitors annually. A walk along the waters admiring different angles of the Opera House is not negotiable while pilgriming all the way to Lady Macquarie's chair is also a must-do.
Convicts had carved a seat here for the Governor Macquarie's wife who would apparently stand here, waiting for ships – and news – from home wistfully.
Also, don't forget to look out for the world's rarest plant – the Wollemi Pine, also called the dinosaur tree, for representing the only extant species of an ancient genus that existed when dinosaurs roamed the planet.
A living fossil, once this pine tree and its cousins thrived in a wetter and greener Australia – today less than a hundred trees exist in the wild and the spot of its discovery, 150 km northwest of Sydney is still kept a secret, with an entire National Park – the Wollemi Pine National Park – set up to protect the species.
The Royal Botanic Garden has played an important role in the tree's preservation by cloning the species, stocking its seeds and setting up insurance stocks worldwide. What else?
The Garden is close to the historical heart of Sydney called the Domain – walk around the streets, admire the juxtaposition of old and new, have a pint at Sydney's oldest pub (The Fortune of War), visit the Art Gallery of NSW or the Museum of Contemporary Art.
Then have a hearty meal with world class views of the Sydney harbour.
Blue Mountains Botanic Garden
The success of the Royal Botanic Garden led to the establishment of two more sister gardens managed by the same trust – the Blue Mountains Botanic Garden (or Mt. Tomah Botanic Garden) set up to preserve cool-climate species that would not thrive in Sydney's warmer climes, and another one at Mt. Annan – Australia's largest botanic garden, but specializing in indigenous plants.
The Blue Mountains Botanic Garden was established in 1972 and is located 100 km west of Sydney in the UNESCO World Heritage listed Blue Mountains area. The journey itself is half the fun and takes one through the scenic Bells Line of Road, one of only two crossings across the Blue Mountains.
You can visit the historic towns of Windsor and Richmond, and go fruit picking at the orchard town of Bilpin while marvelling at breathtaking views all over the steep scenic highway.
Come autumn, private gardens on this road at Mt. Wilson and Mt. Irvine (along with Mt. Tomah) throb with tourists who seek to revel in the autumn colours at their very best.
Come spring, and there are flower festivals at the Botanic Garden itself – there are often special exhibitions of the resplendent waratah flowers (the state flower) which is a treat in itself.
Besides, there are plenty of peaceful walks all around the garden – with stunning panoramas, and thousands of blooms, helping you connect with nature and therein yourself, and in the process, perhaps discovering your ikigai.
Lex and Ruby Graham Garden
Sydney's harbour teems with short and beautiful walks that urge one to go and grace the outdoors. One of the most evocative of these is around Cremorne Point (one can catch a scenic ferry from Circular Quay to Cremorne Point).
While the short walk around the wharf is a lesser know attraction by itself, the nearby Lex and Ruby Graham Garden further add to the charms of this walk.
The story of how this magical garden started is a local inspiration – way back in 1959, local resident Lex Graham went for an early morning swim and discovered the bulb of an elephant ear in the waters.
He planted the bulb in the slopes of the future garden to be, which in those days were covered with weeds and trash. But the bulb blossomed, signaling Lex to continue greening the slopes.
Together with his partner Ruby and other local friends, Lex planted hundreds of saplings and almost anything he could find, letting the land do its magic.
And magic it did, over the slow course of time – for today the Garden, spread over a hectare, is filled with densely growing flowering plants, ferns and shrubs, and its narrow winding path leading downwards to the harbour waters and a rock pool will remind you of going down a magical rabbit hole of your own, right here in Sydney.
Once enchanted with this oasis, you can continue with your walk around Cremorne Point, past the antiquated Maccallum pool dating back from the 1920s, and keep staring at those gorgeous views of the Opera House across the harbour.
What else? You can take the ferry to its next stop and disembark at Taronga Zoo, Sydney's largest and oldest; if you love your Enid Blytons and Pamela Travers, head over to Nutcote, home and now a museum of legendary Australian children's writer and illustrator, May Gibbs, most renowned for her Gumnut babies, cute creatures of the Australian bush.
Wendy's Secret Garden Of Sydney Gardens
Not far from Cremorne, just across the Harbour Bridge near the famous Luna Park lies yet another story of conservation and creation – Wendy's Secret Garden.
Back in the 1990s, Wendy Whitely, suffering from personal grief, decided to clean the area close to her house, that was overrun with weeds.
Little by little, over decades, her efforts conquered the land, along with millions of local Sydneysiders' hearts, as she was able to create a veritable oasis of peace and nirvana right in the middle of the city.
Strewn with artwork from other local artists, Wendy's Secret Garden will urge you to walk along the harbour waters in Lavender Bay and admire the unique mix of tranquillity – letting you almost hear the earth breathe – and the sense of hustle that trickles in from the nearby rambunctious Luna Park, Sydney's most iconic theme park.
Take a coffee, stroll by the waters, feel the harbour wind in your hair, take a deep breathe under a gigantic Moreton Bay Fig tree and ask these magical lands yet again: 'Tell me how does your garden grow?'
Auburn Botanical Garden
In Sydney's inner west lies the Auburn Botanical Garden, which was established in the late 1970s and is a great place for nature lovers.
It houses a fecund Scented Garden and a gorgeous Rose Garden but is most renowned for its Zen-filled Japanese Garden, replete with turquoise blue lakes teeming with shimmering orange Koi, a typical red, arched, Japanese hashi bridge and the star attraction – Sakura orcherry blossoms.
Come spring, these gardens thrive with cherry blossoms that attract all of Sydney to come and partake in the Cherry Blossom festival and the Japanese tradition of hanami (or viewing of the blossoms).
The garden gets sheathed in soft pink and pastel white hues of flowers that seem to blossom everywhere and is a marvel to gaze at. And then, there are the magnolias and the azaleas for additional company.
Flora aside, the garden also houses a small faunal reserve that was set up in consultation with Taronga Zoo and houses kangaroos, albino wallabies, emus, bettongs and wombats that make it a sought-after attraction all year round.
What else? Not far from the Auburn Botanical Garden lies the suburb of Sydney Olympic Park – where the Millennium Olympics were hosted in Sydney.
Today, the suburb is an eclectic mix of shiny high-rises and artistic cafes that blend very subtly with large green reserves, and amazing walks along the Parramatta River nearby.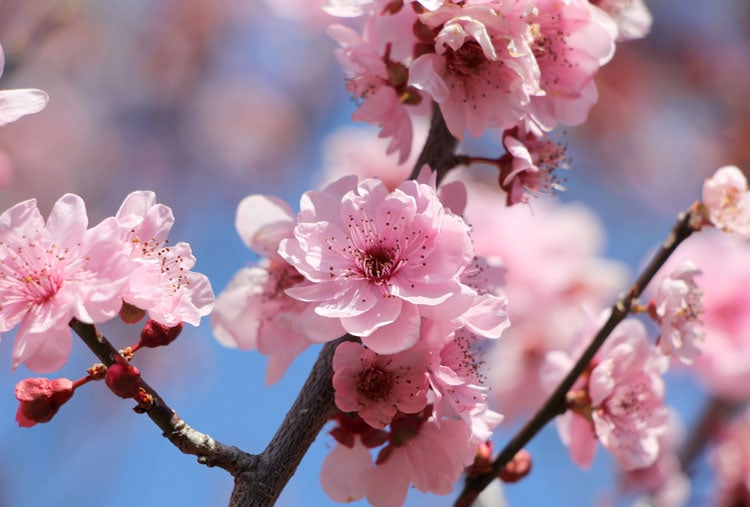 Parramatta Park Of Sydney Gardens
The second European establishment in Australia, Parramatta, is rich in history and has today unified within Sydney as another suburb.
Back in the early days of the colony, this was where the first governor Arthur Phillip decided to focus on agriculture after farming failed near the Sydney Harbour. In later years, the governors decided to shift their office from the harbour area which was increasingly getting squalid and impacted by crime.
Today, the Governor's House in the Park is a UNESCO World Heritage Site while numerous walks and gardens further add to its beauty, explaining why it offers a leafy lifeline to the otherwise busy thoroughfares of perky Parramatta.
But coming back to the topic of gardens, the Park houses the charming Rumsey Rose Garden which is home to one of the largest collections of heritage roses in Australia.
During early spring, the heady smell of rose-nectar intoxicates the garden, while late spring sees a cornucopia of purple jacarandas that explodes in the trees nearby.
A walk through the Park along the Parramatta River is a charming experience, with boulevards of jacaranda creating unforgettably purple archways (don't forget to look out for trees full of flying foxes!)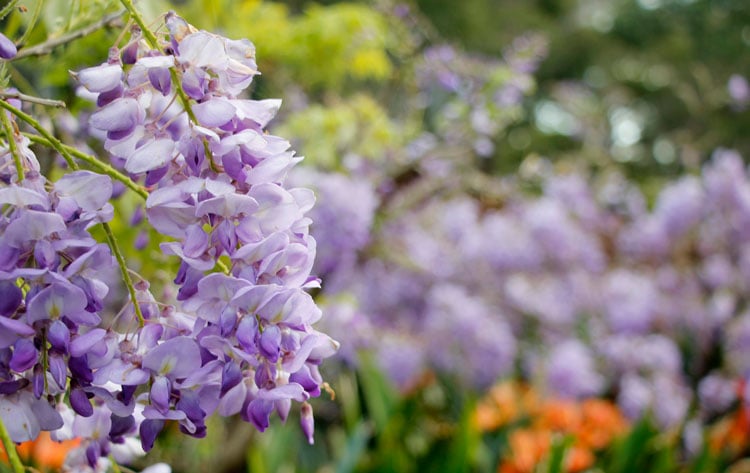 At the other end of the Park, the wisteria gardens create a fairy-tale finish to your exploration in the Park. Pillars of wisteria, sprayed in multiple colours, along with the soft tones of apple and cherry blossoms create yet another fairy-tale setting where one can spend a single evening clicking terabytes of multi-coloured memory.
What else? Parramatta is also a foodie's paradise with plenty of ritzy restaurants, cosy cafes and perky pubs scattered around heritage buildings, gardens, river walks and stadiums. Keep exploring to discover the many colours of Parramatta!
There are many more gardens to add to this list, each a first among equals – the Garden of Many Nations in Dural, the Roxborough Park Rose Garden in Baulkham Hills, the Paddington Reservoir Garden, and the gardens in Western Sydney Parklands are some of many more blossoms in this bouquet.
Sydney is a jewel box laden with scintillating gems. Though smaller in size compared to other world-class cities, it has wonders in every corner, and a bunch of friendly people, always ready to stop by for a chat and a bit of local knowledge that cannot be found in the best guidebooks.
For nature lovers – and seekers of flower power – there's plenty of refuge wherever you go, allowing you to indulge in a fair bit of 'Shinrin-Yoku' or therapeutic forest-bathing, all the while letting you smell the flowers and marvel at their colours, right in the middle of the city
Author Bio: Ayan A. Read more about Sydney and my travels at www.vagabonds-trail.com