Hilo, Hawai'i has the distinction of being the wettest city in the U.S. with an average of 276 days of rain per year. I can personally attest to this fact, having recently been to the city and experiencing intermittent heavy squalls and downpours during my visit.
The silver lining in all this "liquid sunshine," however, was all the spectacular waterfalls that thundered down from the cliffs of this beautiful Hawaiian island. Its official name is the Island of Hawaii or Hawaii Island, but it's also referred to as the Big Island.
Visit Hawai'i Volcanoes National Park
I was a first time visitor to the island of Hawai'i, the youngest and largest of the Hawaiian Islands, and Hilo was my first stop. Top on my list of sights in the area was Hawai'i Volcanoes National Park.
Located less than an hour's drive from downtown Hilo, the park, which was established in 1916, is designated as an International Biosphere Reserve and a World Heritage Site.
Biologically, the park comprises seven ecological zones and provides refuge for several threatened species. Culturally, its archeological record provides a link to the past, connecting today's Hawaiians to their ocean-faring ancestors, who made landfall on this island.
Planning a last-minute trip to Hawaii?
Top Experiences and Tours in Hawaii:
Where to stay and transportation in Hawaii:
The park spans across 350,000 acres and encompasses the summits of two of the world's most active volcanoes, Kilauea and Mauna Loa. The latter is earth's most massive mountain, with an estimated volume of 19,000 cubic miles and a summit of 56,000 feet above the sea floor. That's over 27,000 feet taller than Mt. Everest.
Volcanic features at the park include calderas, pit craters, cinder cones, spatter ramparts, fumaroles, pahoehoe(ropy) and aa (rough and jagged) lava flows, tree molds, black sand beaches and thermal sections.
If you're unfamiliar with some of these terms, you'll get a crash course in volcanic vocabulary through the exhibits and films at the Kilauea Visitor Center. You can also learn about the latest info on trails, ranger-led tours, road conditions and any safety precautions.
Hawai'i Volcanoes National Park also has numerous cultural sites such as historic foot trails, petroglyph fields, once-inhabited lava tube caves and ruins of coastal fishing villages.
Top Spots in Hawai'i Volcanoes National Park
Near the visitor center is an historic cabin that was the 1877 Volcano House Hotel, now converted to the Volcano Art Center Gallery. Inside you'll find a photography exhibit documenting the recent eruption, along with handmade Hawaiian arts and crafts.
Across the road from the gallery is the current Volcano House. Walk through the lobby towards the lounge area for a million-dollar view overlooking the crater.
Then start your tour at the Kilauea Overlook and head clockwise along Crater Rim Drive. Get out and walk the Crater Rim Trail, which goes about three-fourths of the way around the Kilauea Caldera.
As I viewed the steaming crater, I was reminded that volcanoes are monuments to earth's origin and evidence that ancient forces are still at work. They humble us, demonstrating that our planet is an ever-changing entity with processes that are far beyond our control.
Make sure to check out Thurston Lava Tube. You'll first descend into the rainforest before reaching the mouth of the 500-year-old lava tube.
A moat-like bridge leads you into the dimly lit cave. Inside, lights guide the way through the damp tunnel. Pinch yourself as you realize that you're walking through what was once a riverbed of burning lava.
Crater Rim Drive ends at Chain of Craters Road. You can take this road for almost nineteen miles until it reaches the ocean cliffs, stopping along the way to take short hikes to check out the many features of this surreal landscape.
Hilo Waterfalls are a Photographer's Dream
Back in Hilo, the waterfalls were as glorious as I had anticipated due to the rain. About ten minutes from town is Rainbow Falls, a gorgeous eighty-foot cascade that's know for the colorful rainbows formed in the morning mist.
It had been raining when I drove up to the parking lot, but as soon as I got out of my car, the sun decided to shine, providing that perfect photo opp. Take the path to the left and up the stairs for another view from the top of the waterfall.
There are several legends associated with Rainbow Falls. According to one, the large cave under the falls was the home of Hina, mother of the Demi-God Maui. One day, a scary dragon named Moo Kuna tried to block the gorge below the falls to drown Hina.
She realized that the cave might be submerged by the rising water level of the river and cried for Maui to help. Maui paddled his canoe to the mouth of the river and destroyed the rock, saving his mother's life and thwarting the dragon's plans.
At Akaka Falls State Park, about fourteen miles north of Hilo, you'll find a pair of picturesque waterfalls: 100-foot Kahuna Falls and towering Akaka Falls, the latter which plunges 442 feet into a gorge. Walk the paved loop trail, which takes you through a lush rainforest filled with wild orchids, giant bamboo groves and draping ferns.
You'll feel as if you've entered a primordial realm and immediately have that "Honey I Shrunk the Kids" sensation, as you are dwarfed by your surroundings. The hike offers good vantage points for seeing both waterfalls.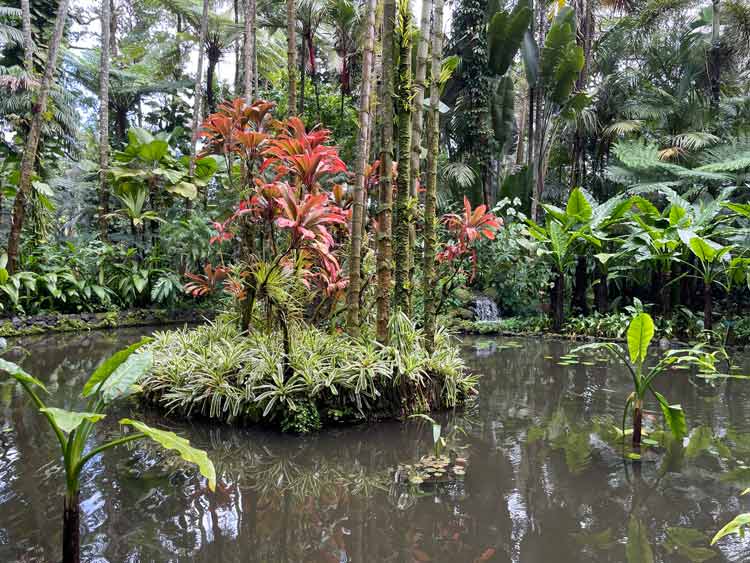 The Gardens Will Wow You
The flora on the island is equally as impressive as the waterfalls. Hawai'i Tropical Bioreserve & Garden is a feast for the senses. Founders Dan and Pauline Lutkenhouse discovered the Onomea Valley back in 1977 and from forty acres of impenetrable jungle, they created a twenty-acre Edenesque paradise with more than 2,000 plant species.
A mile-and-a-half-long path leads you into the valley, over streams, past waterfalls and by century-old mango trees. Lining both sides of the walkway are tropical flowers – orchids, anthurium, bird of paradise, ginger, hibiscus, heliconia, spider lilies, bromeliad, African tulips and more – in vibrant hues. At the end of the valley, you'll reach the Pacific Ocean and the views will leave you spellbound.
Lili'uokalani Garden is another lovely spot to stroll. This serene garden fronts Hilo Bay and sits on 24.5 acres. Named for Queen Lili'uokalani, a Hawaiian monarch, the garden is dedicated to the many Japanese immigrants living in Hilo.
Created in the early 1900's, it's said to be the largest Edo style garden outside of Japan. Here you'll find tidepool lagoons full of koi and tropical fish, various rock formations, bamboo glades, stone lanterns, charming bridges and a traditional Japanese tea house.
Delve into Hawaiian Cultural and Natural History at the Lyman Museum
If you're interested in the history of Hawai'i, its islands and its people, stop in at the Lyman Museum and Mission House. The museum began as the Lyman Mission House, originally built for New England Missionaries David and Sarah Lyman in 1839.
About a hundred years later, the museum was established by their descendants. Today, the Mission House is on the State and National Registers of Historic Places and may be visited by guided tour.
The museum, which is next door to the Mission House, has a great collection of artifacts and natural history exhibits. The Island Heritage Gallery focuses on the different cultural groups that immigrated to Hawai'i and their influence on the islands.
In the Earth Heritage Gallery, experience the natural history of Hawai'i. Of note are the incredible sea shell and mineral collections, lava samples, full-size models of sea life found in Hawaiian waters – check out the ten-foot tiger shark! – and the only display in the world of the bones of two flightless birds unique to Hawai'i, the Hawaiian Rail and flightless goose.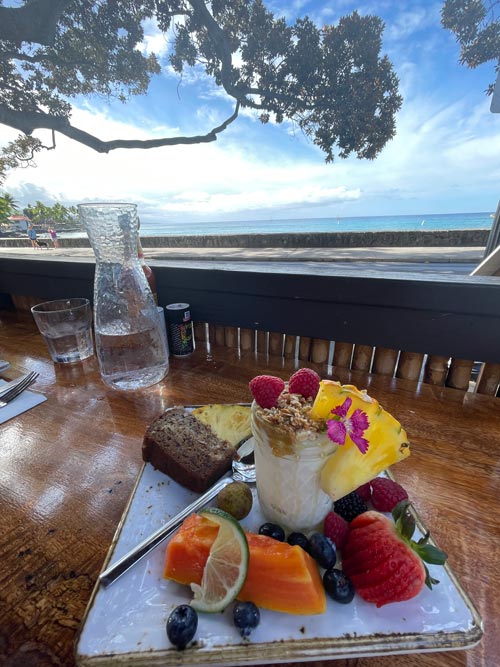 Taste the Bounty at Hilo's Farmers Market
Don't miss Hilo's daily farmers market, where vendors sell exotic fruits and veggies, locally grown flowers, handmade crafts, works of art and photography and souvenirs. Wednesdays and Saturdays are "big market" days, attracting over 200 vendors into the downtown space.
I loved perusing and grazing– the apple bananas, rambutan, ginormous avocados, taro, macadamia nuts, lychee, mochi– while mingling among the locals and other tourists.
Find Serenity at the Inn At Kulaniapia Falls
During my stay in Hilo, I planted myself at the Inn At Kulaniapia Falls. Situated on 22 verdant acres and surrounding a privately accessible waterfall, the inn is minutes from town, but worlds away. It's a peaceful retreat, where nature takes centerstage.
Accommodations are located in several Asian-inspired buildings. My room was in the Pagoda Guest House, which has its own kitchen, stocked with teas and coffee and a few sweet treats.
Breakfast is included in the room rate and you'll dine on locally sourced items, including eggs, Hawaiian bread and fresh pineapple, while taking in the dramatic view of the falls each morning. And if you want a special dinner, the inn's team of private chefs will create a meal to remember, using only the finest, fresh ingredients.
The inn is an eco-friendly and sustainable property, generating all of its own power from a hydroelectric system powered by the falls, and solar panels. You won't be roughing it, though, as all the amenities you need are provided, including high speed Wi-Fi, hair dryers, hot showers, and more.
There's no air conditioning, but none is really necessary. Turn on the ceiling fan, open the windows for cool breezes and go to sleep to the sounds of the waterfall.
During the day, explore the property with its miles of trails. When river safety conditions permit, you can even swim, kayak and paddleboard under the 120-feet-tall Kulaniapia Falls.
Time to Explore Kona
After my time in Hilo, I migrated across the island to Kona, where I spent the second part of my trip.
Thankfully, the weather dramatically improved and with blue skies and warm temps, it was time for me to get out on the water. With this goal in mind, I opted to take the "Midday Meander: Kealakekua Bay Kayak and Snorkel Tour" with Kona Boys.
Famous for its marine diversity and coral that can grow up to 100 feet deep, the Marine Life Conservation District in Kealakekua Bay is one of the most spectacular underwater parks in Hawai'i. It's also the most protected deep water bay in the Hawaiian Islands.
Best Tips & Tools to Plan Your Trip
Paddle and Snorkel in Kealakekua Bay
Our guide Ray, who we learned is not only a certified kayak guide, but also a professional fire dancer, accompanied us on a paddle across the bay, while regaling us with interesting and rich details about the area.
Once across the bay, we got the opportunity to snorkel in one of the most pristine reefs in the world with over 200 species of reef fish, turtles, eels, reef sharks and rays. As I snorkeled, I was captivated by the diversity of the fish around me.
My favorite was the parrotfish. Named for their resemblance to their land-residing counterparts due to their beaks, these fish are striking in color. Fun fact: Parrotfish change colors as they swap sex from female to male, triggering a rainbow of hues.
The reef we snorkeled in is by Captain Cook's monument, so of course Ray recounted the famed explorer's experiences and tragic demise on the island of Hawai'i. A marker denotes where he was killed at the hands of an incensed crowd on Feb. 14, 1779.
Sample and Learn About Kona Coffee
Kona Coffee is world renowned and a visit to a coffee farm in Kona is often on many visitors' lists. If you're seeking a fun, interactive, informative and tasty experience, make a reservation to tour Heavenly Hawaiian. You'll get all of the above plus to-die-for views from the farm's hilltop location overlooking the ocean.
Heavenly Hawaiian grows, processes and roasts 100% Kona Coffee on its 39-acre property. A tour of the farm covers the significance and rarity of 100% Kona Coffee, as well as provides an understanding of what it takes to get the coffee from farm to cup. The company is one of over 650 coffee farms in the designated Kona Coffee belt – an approximate 30-square-mile swath of land.
Conditions in this area are highly favorable for growing coffee. The rich, porous volcanic soil has its own natural irrigation system, and the cloud inversion layer provides the necessary mid-day shade for the coffee trees.
During the tour, your guide will explain about the different varieties grown on the farm and show you the machines used in processing the beans. You'll also learn about invasive species, particularly the borer beetle and leaf rust, a fungus; both which are very harmful to coffee crops, and what the farm is doing to combat them.
You might be surprised to find out that one coffee tree produces only one pound of coffee. Think of how many trees are needed all over the world to satisfy humans' consumption of this popular beverage!
Step Back in Time at the Kona Coffee Living History Farm
For an historical perspective as to how the coffee pioneers lived and worked years ago in Kona, take a self-guided tour of the Kona Coffee Living History Farm. Wander around the property, which was once the homestead of three generations of the Uchida family between 1925-1994.
The place depicts the family's daily life, complete with family heirlooms, photos, unique furniture, religious altars and other artifacts that speak to the values and traditions of Japanese immigrant families in Kona. Interesting to note is that by 1910, Japanese made up more than 80% of the Kona coffee farming population.
History Comes Alive at Pu'uhonua O Hōnaunau National Historical Park
Continue to delve into Hawaiian cultural history at Pu'uhonua O Hōnaunau National Historical Park. Set on the rugged south Kona coast, Pu'uhonua O Hōnaunau, which translates to mean "place of refuge of Hōnaunau," is one of Hawaiʻi's most sacred historic places.
This expansive park was once the home of royal grounds and a safe haven for those who broke the Kapu, or ancient Hawaiian laws. Such lawbreakers were punishable by death. However, if you were able to elude your captors and reach the refuge, you could receive absolution from a high priest.
This meant you would be pardoned and given a second chance at life. Understand that reaching this sanctuary was not easy. A black lava rock shoreline hindered those from approaching by sea and the waters were shark infested.
Today, visitors can explore the grounds, with points of interest including the Great Wall, which was said to have been constructed of lava rock over 500 years ago; Hale o Keawe Temple, which is guarded by carved wooden images symbolizing Hawaiian gods; a canoe landing and canoe house; fish ponds; and Kōnane, a Hawaiian strategy game played with rocks that resembles checkers.
On various days, cultural demonstrations are conducted at the park to provide an authentic historical experience to visitors. I watched a woman weaving baskets from coconut fronds and a man making poi during my visit.
Never Looking at Salt the Same
Another tour I'd recommend is of Kona Sea Salt. Located on seven acres of oceanfront on Kona Keahole Point, the farm hand harvests Hawaiian Salt from deep ocean waters, 2200 feet below the surface of the Kona Sea.
Kona Sea Salt is the only sea salt in the world made from pure, 900-year-old deep ocean water, rich in natural minerals and flavor, making it one of the highest quality finishing salts in the world.
The company uses a pipeline to bring the ocean water onshore. It's then put into an enclosed solar evaporation system, which dries the salt naturally over the course of a month, leaving behind pure white salt crystals.
Because it's naturally dried by the sun, rich minerals like calcium, magnesium and potassium, are preserved. The crystals are scooped up by hand and put into covered wooden hoppers for the final drying step. Once fully dried, the salt is inspected and packaged for sale.
At the end of the tour, everyone gets a chance to taste Kona Pure and Flavored Salts with an array of fruits and veggies. My salt favorites were: fresh herbs, garlic, lemon rosemary and Maui onion.
Food, Glorious, Food!
When it comes to food, the bounty of fresh seafood and produce on the island is astonishing. As a pescatarian, I was in heaven dining on macadamia nut-crusted mahi mahi, poke bowls with seared ahi, coconut shrimp, bouillabaisse, and sushi and sashimi galore.
I loved starting my day with an acai bowl, and in the afternoon, I would check out the different shave ice stands. This iconic Hawaiian frozen treat is a must-try for visitors.
Unlike snow cones, shave ice is made with finely shaved, not crushed, ice. It's then mounded in a cup, drizzled with artificially or naturally flavored syrups, and can be topped with ice cream, mochi balls, fruit and a "snowcap" of sweetened condensed milk or cream. Be prepared to be overwhelmed by the variety of flavors!
Stay at the Outrigger Kona Resort and Spa
While on Kona, my sanctuary was the Outrigger Kona Resort and Spa, a 22-acre, luxurious oceanfront property perched above the lava cliffs of Keauhou Bay.
My spacious and comfy room with island inspired decor had all the amenities plus breathtaking views of the ocean. I could have sat on the lanai for hours, drinking up the vistas and fiery sunsets.
The 509-room resort had everything you could dream of and more, from a multi-level, lagoon style pool with a 200-foot water slide, onsite cafe and poolside bar, shops and a spa with a menu of rejuvenating and relaxing treatments.
Each day, there were activities for guests, from yoga and lei making to hula and ukulele lessons. And on certain nights, you could opt to dine under the stars at the "Feast and Fire Luau."
What also makes the property extra special is its manta ray viewing deck. The Kona coast is one of the only places in the world where you can view giant manta rays up close. And at the Outrigger Kona, these creatures often come out at dusk to feed on plankton right in front of the resort.
You can also listen to education talks at the resort's Manta Center and even take a nighttime snorkel with these gentle beasts at the Manta Ray Village. Like I said, everything!
If You Go:
For more information about the island of Hawai'i: www.gohawaii.com/island-of-hawaii
Inn at Kulaniapia Falls: www.waterfall.net
Outrigger Kona Resort and Spa: www.outrigger.com/hawaii/hawaii-big-island/outrigger-kona-resort-and-spa
Author's Bio: Debbie Stone is an established travel writer and columnist, who crosses the globe in search of unique destinations and experiences to share with her readers and listeners. She's an avid explorer who welcomes new opportunities to increase awareness and enthusiasm for places, culture, food, history, nature, outdoor adventure, wellness and more. Her travels have taken her to nearly 100 countries spanning all seven continents, and her stories appear in numerous print and digital publications.