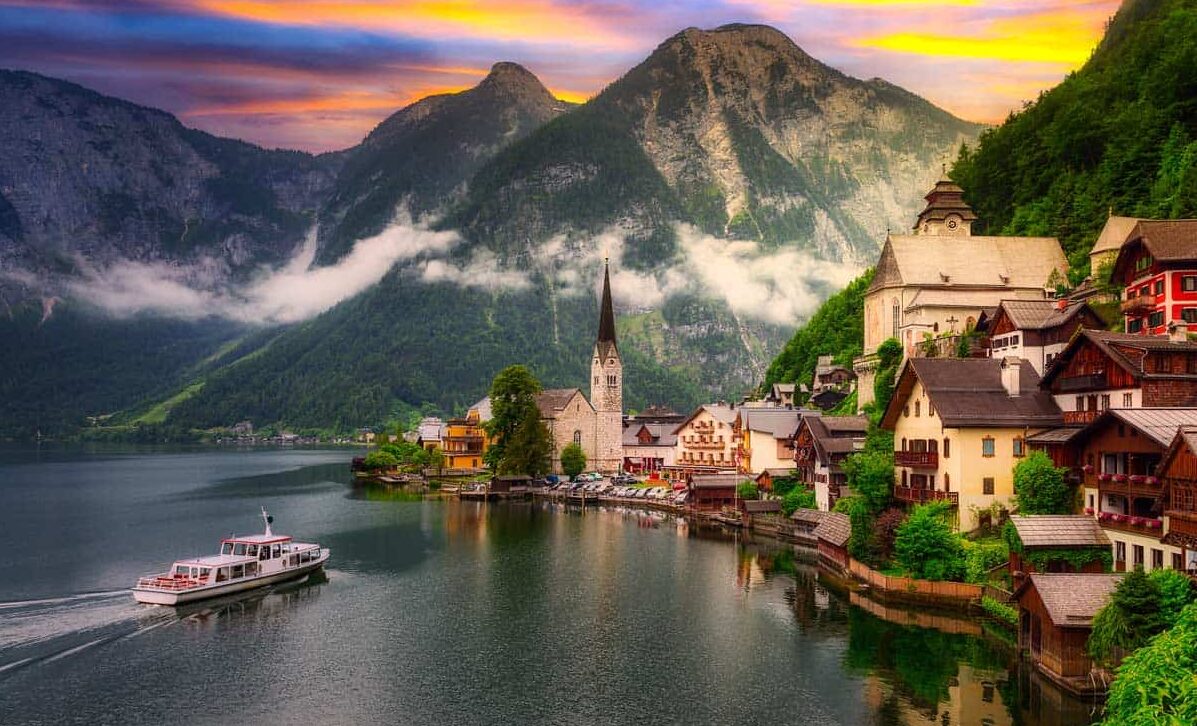 Editor's Note: Travel is complicated right now, but we hope this will inspire your future travels. We share places, products and activities we recommend. If you make a purchase using a link on our site, we may earn a commission.
If you could choose to go anywhere in Europe on a romantic getaway, would you choose a crowded big city like Paris or a small, tucked-away small town with narrow streets and castles?
There many wonderful destinations in the world, but European small towns are truly something special. That Old World charm mixed with a quieter, slower pace offers an intimate location to spend time together.
12 Most Romantic Small Towns in Europe
To help you plan a future romantic getaway in Europe, we've selected 12 of our favorite romantic small towns. Each one of these destinations is perfect for a honeymoon, anniversary or just a romantic getaway to rekindle your relationship.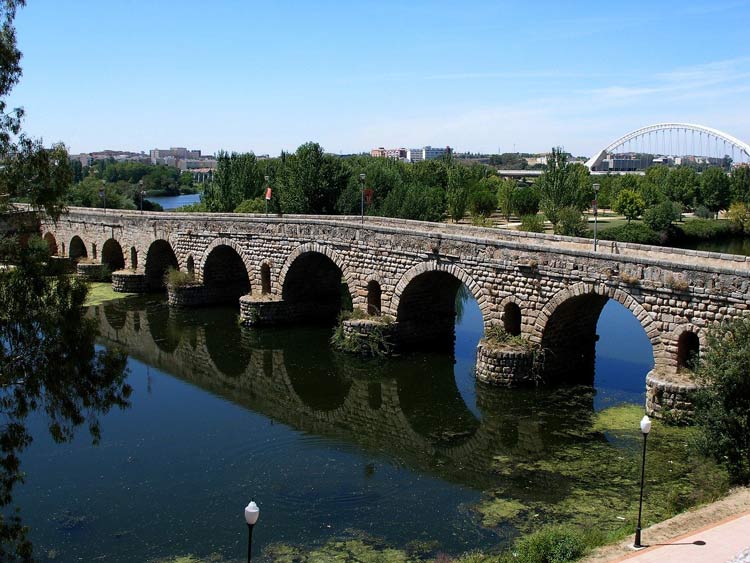 Merida, Spain in Southwestern Europe
Halfway between the two Pyrenean capitals, Madrid and Lisbon, lies the city of Merida, Spain. It was founded in 25 B.C. by veterans of the Roman army.
Merida has many buildings and architectural monuments from the time of the Roman Empire that have resisted the test of time.
Today, the longest Roman bridge, called the Puente Romano is a pedestrian zone and it is the biggest attraction in Merida.
The Roman theater and the Roman amphitheater are also worth visiting. Couples who love history and archeology will enjoy this beautiful Spanish city.
Find tours, private activities and exclusive offers around Merida with expert guides here.
Proposals in Parga, Greece
Parga is a pretty little town on the Ionian Sea coast and is one of Greece's most beautiful destinations. You know those movie scenes where a guy proposes to a girl in a romantic setting on the beach? That often happens in Parga.
This town is the shape of an amphitheater. It features three beautiful beaches and an old Venetian fortress from which you can admire all its beauty. In addition to the sea with pristine, crystal-clear water, numerous restaurants offer excellent seafood and Greek cuisine.
Arrange a day trip to the islands of Paxos and Antipaxos, located just across from Parga. You can also plan to visit Lefkada or Sivota.
Find trusted tours, private activities here. Check out options with GetYourGuide and their new flexible cancellation policy to make planning your trip stress free.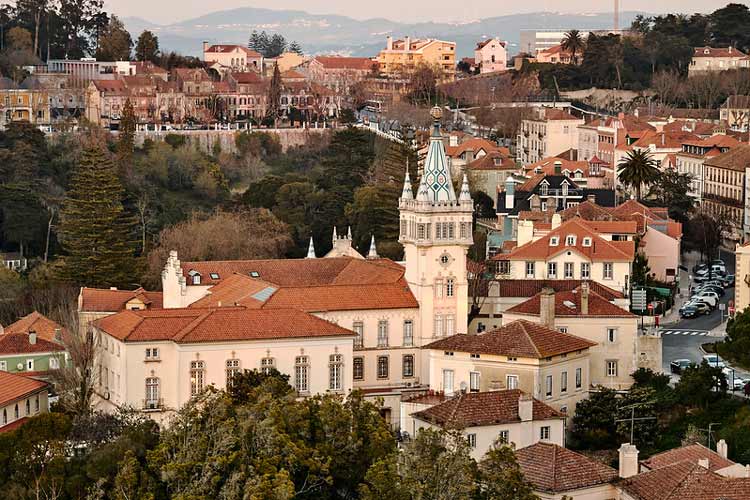 Sintra, Portugal, A Favorite Destination with Europe's Royalty
Upon arrival in Portugal, most tourists go to Lisbon or Porto, and eventually to Madeira. But, only 18.6 miles from the Portuguese capital is a town that can only be described as a fairytale — Sintra, Portugal.
When thinking of Europe, you may imagine kings, queens, princes and princesses. They fit right in here in Sintra, which has been a favorite destination for European royalty for centuries.
Sintra is located on the Atlantic coast, in west Portugal. Since the 16th century, Sintra has become a popular summer retreat of the Portuguese royal family; various kings built their palaces right here.
With its castles and parks, the central part of Sintra is one of the UNESCO World Heritage Sites. The main attractions are Pena National Palace and the medieval Castle of the Moors.
You'll want to book before to get a "skip the ticket line" pass to Pena Palace exclusively through GetYourGuide. You can book this option here for about $16.00 and free cancellation up to 24 hours in advance.
You can enjoy the hidden corners of the narrow cobblestone streets. You can also explore magnificent palaces and gardens or stop by a coffee shop to try some delicious cakes and appreciate fado music.
Sintra is definitely the most romantic westernmost town in Europe.
Old Town Nessebar, Bulgaria in South-Eastern Europe
Nessebar consists of two areas. The new city is located on the coast, while the old town is located an island, connected to the coast by a narrow piece of land. The Nessebar Old Town is on the UNESCO World Heritage Sites list due to its rich history and exceptional cultural heritage.
Greeks, Ottomans and Christians have ruled this region for centuries, and you can still see marks of its eventful past today. The architecture features typical houses from the Ottoman period.
Its Christian heritage is displayed in several beautiful churches, such as the Church of St. Sophia, Church of St. Stephen and the Church of Christ Pantokrator.
Nessebar has been declared a city-museum. If an open-air museum is not enough to attract your attention, you can visit archeological and ethnographic museums.
You and your significant other can also wander the narrow streets, relax in the restaurants' gardens, and find some beautiful souvenirs that will always remind you of your vacation and the charm of this picturesque town surrounded by the sea.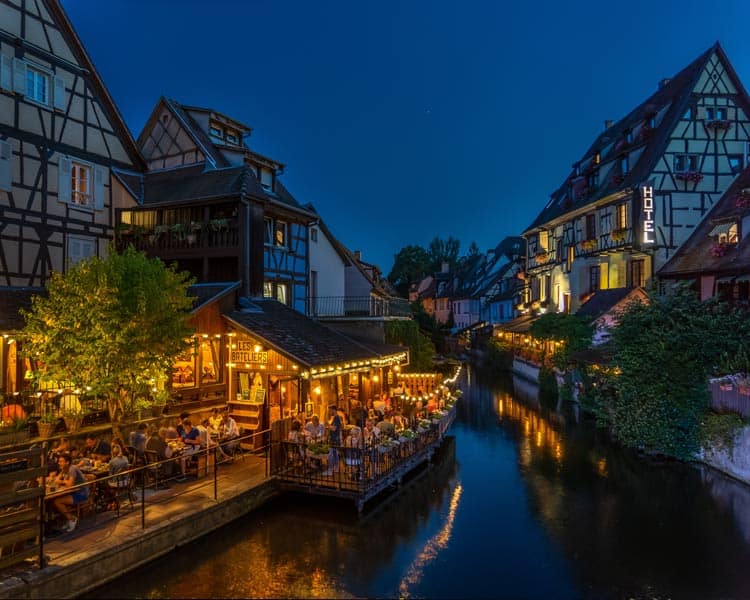 Little Venice in Colmar, France
Do you know what the Statue of Liberty in New York and the city of Colmar have in common?
The common factor is Frederic Bartholdi. He is the man who designed the Statue of Liberty and grew up in the small French town of Colmar. Located in the Alsace region, the city of Colmar has frequently changed rulers for centuries.
Alternating rulers between Germany and France created a unique style within this city. The houses' German architecture collides with the city's Gothic-style buildings, like the Dominican Church, for a memorable and pleasing sight.
This lovely town is also called "Little Venice" because of the river canals. You can take a boat ride, walk past colorful houses with flowers, and relax with a glass of local wine in one of the many restaurants.
Try wines from the region before you go and prepare your tastebuds with the delivery of expert-selected bottles from Wine.com. Chat with personal wine-guides here and find the most interesting wines for you and a wine-lover in your life.
Make sure you visit the Unterlinden Museum as well as the Toy Museum.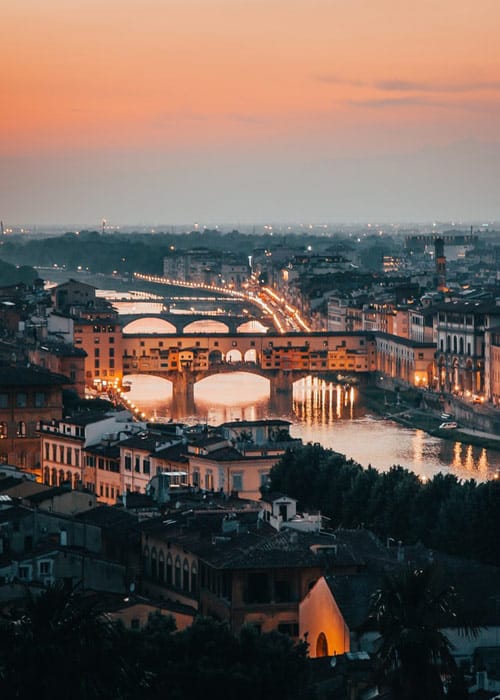 This magnificent renaissance city is ideal for a romantic getaway in Europe. Florence is the world's art capital. The Uffizi Gallery alone is visited by more than 1.5 million people every year.
To avoid waiting in long lines, be sure to buy museum tickets online in advance. You can find tickets for the Uffizi Gallery through GetYourGuide here.
The Accademia Gallery is also worth a visit. If you climb the stairs to the bell tower of the Duomo, you will discover an unforgettable view of Florence.
There are beautiful buildings, squares and museums worth visiting with a loved one. You can see the famous Ponte Vecchio bridge over the Arno River and then have a coffee in one of the nearby cafés.
Don't forget to stop by the excellent jewelry shops, boutiques and souvenir shops.
Be sure to brush up on your Italian before you travel with Babbel. Find language lessons here for every level so you can learn the basics or become fluent for your adventures in Italy.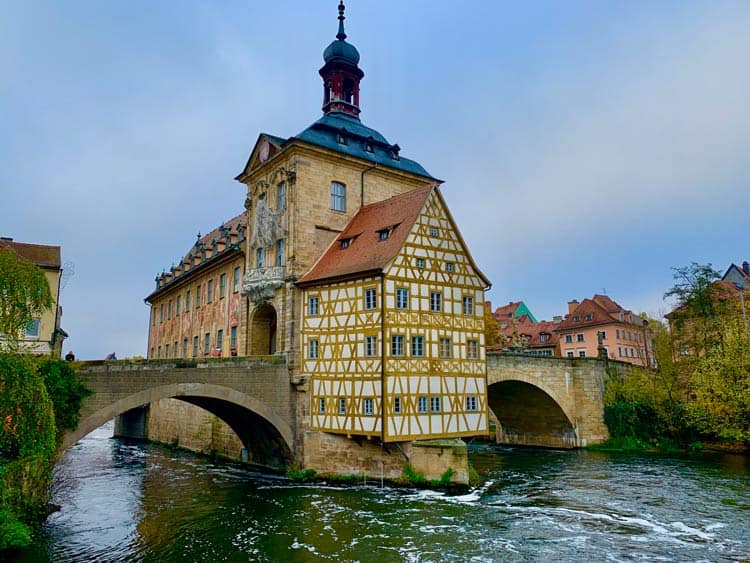 Bamberg, Germany in the Valley of the Regnitz River
Located on seven hills in the valley of the Regnitz River, Bamberg is called the " Franconian Rome." Others might look it looks more like Venice, due to its river canals, Bamberg is a postcard-perfect town that is unique in many ways.
Founded more than 1,000 years ago, Bamberg was spared from bombing during World War II, so the old part of the city retains its characteristics from ancient times.
The main attraction is the Old Town Hall, located on the bridge. It is truly an unusual sight for many tourists.
The Bamberg Cathedral and the New Residence Palace, which houses the Bamberg State Library, are also worth visiting. You can take a romantic stroll around the beautiful rose garden, surrounding the palace.
Bamberg is also known for its exceptional brewing history. Today, the historic Schlenkerla brewpub is a not-to-be-missed stop for all smoked beer lovers.
Upon entering Cesky Krumlov, the sight of the castle towering over the Vltava River and the city will surely leave you breathless. The Czech Republic is known for its beautiful castles.
One of the main attractions within the medieval Cesky Krumlov castle is the baroque theater. Make sure to drop in to attend a show or baroque opera. As many as 40 buildings and palaces belong to this UNESCO-protected complex.
If you and your partner love art, you will enjoy the Egon Schiele Art Centrum. This excellent art gallery preserves significant works of modern art and holds temporary exhibits representing artists like Picasso and Dali.
After visiting all the cultural and historical sights, visit one of the river's restaurants and enjoy a quality Czech beer. Cesky Krumlov is one of the most beautiful small towns in central Europe.
Check out one of the most popular tours here which takes you to Cesky Krumlov and České Budějovice from Prague for a day-trip. Get a full day of history, fun activities and a free lunch before returning to Prague or staying in the Czech city through GetYourGuide.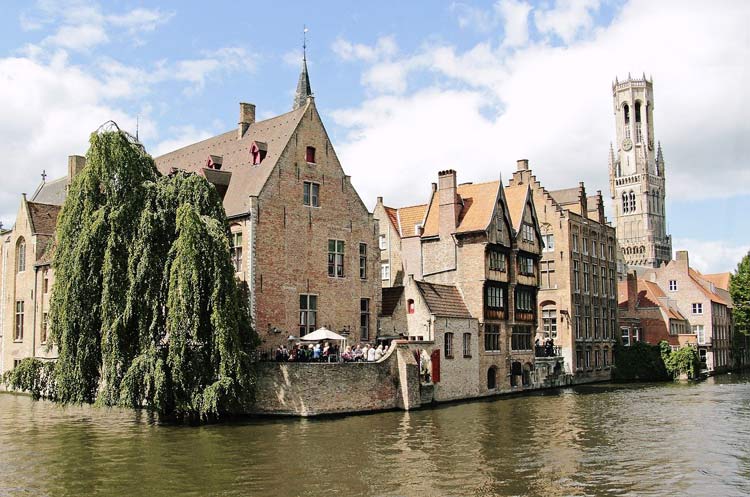 Historic and Authentic Beauty in Bruges, Belgium
Bruges was a major trading center and one of the wealthiest cities in northern Europe during the Middle Ages. Today, the city center is under UNESCO protection. Neon signs and other details are banned from marring its beauty.
You can start your Bruges tour from Markt Square, which turns into a market once a week. There are also many restaurants, cafes and bars. Visit Burg Square, where the town hall is located. It was built in the 14th century and features interesting Gothic and Renaissance details.
The tallest building in Bruges is the tower of the Church of Our Lady, 400 feet high. Go inside to find Michelangelo's masterpiece "Madonna with Child." Among other main attractions are the Basilica of the Holy Blood and the seven-centuries-old Belfry Tower.
Art lovers should visit the Gruuthuse Museum and the Groeninge Museum of Fine Arts. Ladies will adore the Diamond Museum. Don't forget to stop by the Bruges Beer Museum and the Fries Museum.
Make sure you try Belgian beers as well as various cheeses. And save the sweetest museum for last, check out the "Choco-Story" chocolate museum.
Don't miss the Historium and travel back in time to the "Golden Age" of Bruges. Book your ticket here to skip the line and get a free local drink included. Find more day-trips and tours around Bruges here.
If you and your partner are looking for a unique tour of Bruges, you can rent a bike or take a dreamy boat ride. Finally, enjoy a romantic carriage ride for two.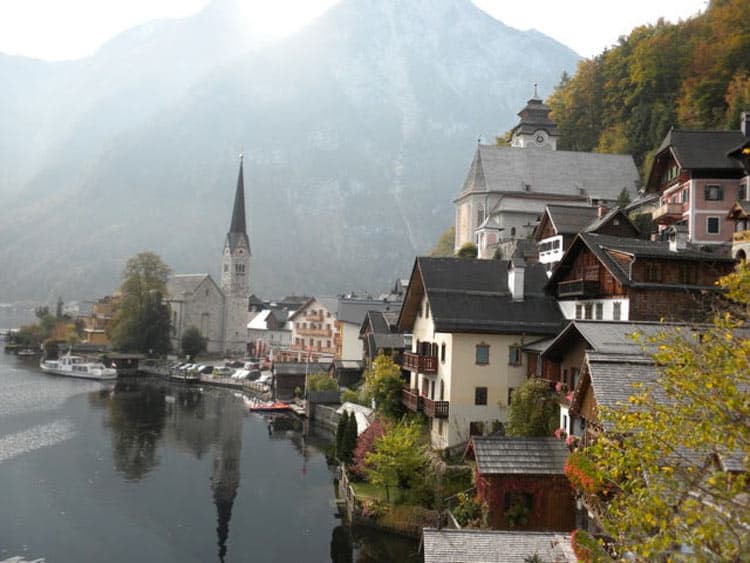 The Picturesque Hallstatt, Austria
Hallstatt is a village of only 1,000 inhabitants, located on the lake's shores of the same name, below the alpine peaks in central Europe. It is one of the most photographed locations in Europe — and for good reason.
Amazingly, you can see the whole place in just two to three hours, most often as a day trip from Salzburg or Vienna. Although small, this village is worth visiting.
This picturesque fairytale village, a UNESCO World Heritage Site, looks like a postcard. You will be delighted with its natural beauty: a lake with the Alps' snowy peaks in the background.
Take a romantic walk along the lake's shore. You will be accompanied by flocks of swans on one side and pastel houses on the other. Sailing on the lake is a good idea if you want to see Hallstatt from a different perspective.
Visit Brunen Square, the World Heritage Museum and the Salt Mine (yes, they still mind salt here). The Five Fingers and Hallstatt Skywalk viewpoints offer a breathtaking view of Hallstatt and the surrounding area.
It will be an experience you won't forget.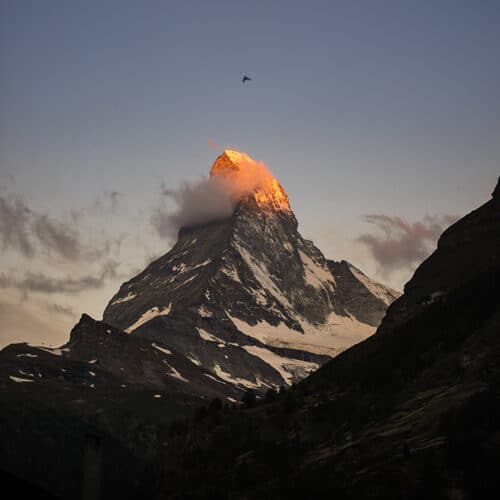 Europe's Top Skiing in Zermatt, Switzerland
While visiting central Europe, Zermatt is a village in the Swiss canton of Valais, near the Italian border. Situated at 5,249 feet above sea level, it is one of the world's best ski resorts.
Interestingly, driving fuel cars is not allowed in the city; you can only use electric vehicles.
If you and your partner love winter and enjoy spending time in the snow, Zermatt will be the ideal destination for you. It is no wonder tourists come here mainly for skiing and hiking; there are 124 miles of ski trails in the area. The ski lifts go as high as 12,795 feet above sea level.
Impressively, more than 30 mountain peaks surround Zermatt. The Matterhorn is the most impressive and attractive mountain peaks worldwide. After a day out in the snow, you can spend a quiet evening at local bars and restaurants. Relax with music, food and drinks.
While you're there, find souvenir shops, boutiques and pastry shops on the main street. To get to know the history of this destination better by visiting the Matterhorn Museum.
And, if you get bored with Zermatt, you can hop on a cable car to the nearby Italian ski center Cervinia.
Roman Architecture, Wine and Beaches in Split, Croatia
Split, a city on the Adriatic coast in southern Europe, is known for its numerous cultural and historical monuments, such as Diocletian's Palace, one of the world's best-preserved Roman buildings.
You can book a 1.5 walking tour around Diocletian's Palace here with a top-rated tour guide. Find other private activities around Split like the best-selling Blue Cave and 5 Day Island Trip tour through GetYourGuide here.
In Split, you can also see St. Domnius, the oldest Catholic cathedral. The Old Town of Split is practically an open-air museum.
During your trip to Split, visit the Mestrovic Gallery, an art museum with unique sculptures. You can explore Marjan Forest Park, a green oasis located on a hill above Split or go on a day trip to Dubrovnik and Plitvice Lakes.
Next, take a romantic stroll along the famous Riva promenade with charming cafes and restaurants. Because Dalmatia is also a renowned wine region, you can enjoy excellent local wines in Split restaurants or wineries.
Finally, bring your romantic getaway in Split to a close, sit on the beach and enjoy the sunset. The Mediterranean spirit of Split will hypnotize you.
Author's Bio: Based in Serbia in Europe, Marija Stojanovic Petkovski is inspired by writing about the most beautiful places in the world. She is sure that a pint of good craft beer perfectly accompanies a tasty homemade lasagna. In her spare time, she enjoys playing with her children and spend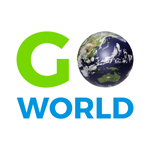 Latest posts by Go World Travel Magazine
(see all)