Editor's Note: We're all dreaming of travel ahead. Here's some inspiration for future adventures. We share places, products and activities we recommend. If you make a purchase using a link on our site, we may earn a commission.
Located in northern Europe, between Finland, Russia and Latvia, Estonia is one of the three Baltic countries. With 1.3 million inhabitants, it's one of the least-populated countries in the European Union. In somewhat overcrowded Europe, that may sound perfect to those who prefer not to be around people all the time.
In addition to the mainland, Estonia also has approximately 2,222 islands in the Baltic Sea. Also, about half of the country's territory is covered in forests that feature a surprising variety of wildlife. Estonians' roots are embedded in nature, and their magical forests have always inspired storytellers and painters.
Estonians are proud of their rich history and significant cultural heritage, and they share a similar history with Latvia and Lithuania. It has been dominated by foreign rulers throughout history and a part of the Soviet Union for 50 years. Along with other Baltic countries, Estonia declared its independence in 1991.
However, this country is quite unique. It has one of the highest literacy rates in Europe (almost 100 percent), and almost everyone speaks a foreign language, most commonly English and Russian.
But, don't be surprised if you get ignored. Although they are reserved toward strangers, Estonians can be friendly once they realize you are worthy of their trust.
Estonia is known for numerous technology companies and high-speed internet. It is also considered one of the countries with the cleanest air in the world.
What to See and Do in Estonia
After learning Estonians' hidden charms, you may find it difficult to avoid visiting this country. Start your tour from the capital, one of the oldest cities in northern Europe.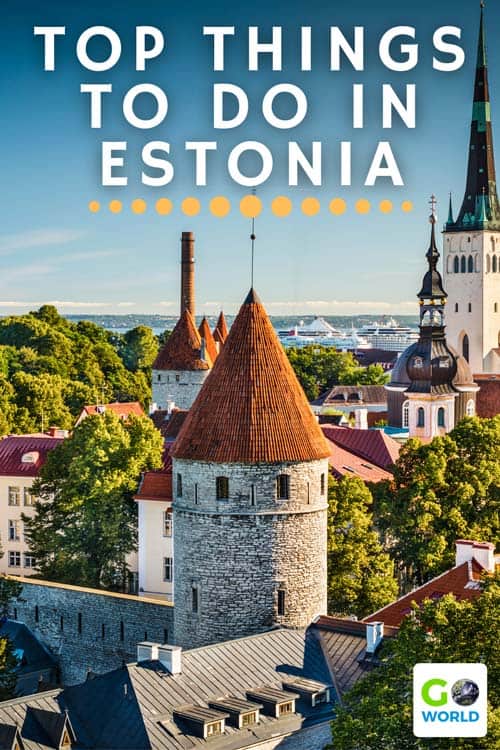 1. Main Attractions in Tallinn
Tallinn, the capital of Estonia, is located in the Gulf of Finland, on the Baltic Sea's shores, just 80 km (about 50 miles) south of Helsinki. The main tourist attraction is Tallinn Old Town, with almost 2 km (1.24 miles) of preserved city walls. In front of the impressive Town Hall is Tallinn Town Hall square.
That is the main square in the old part of the city and a place where many people gather, especially during the Christmas market. Due to its historical significance, Tallinn's Old Town is also on the UNESCO World Heritage Sites list. Telliskivi Creative City is a former industrial complex turned into an art hub. There are various galleries, design shops and interesting cafes.
You can visit Tallinn during the festival season. The most famous is the Estonian Song Festival, one of the largest choral events in the world. It is held every five years in July, and up to 30,000 singers perform and up to 80,000 visitors attend the event.
If you are interested in Estonian music, you will learn more about it at the Estonian Theater and Music Museum. The tallest building in Estonia is 6 km (3.7 miles) from the center of Tallinn. Tallinn TV Tower is 313 meters (1,026 feet) high, and it also has an observation platform at 170 meters (557 feet) above the ground.
You will be delighted by the panoramic views of Tallinn and its surroundings. If you are brave enough, you can pay extra for a walk along the edge of the platform and have an unforgettable experience.
Near Tallinn TV Tower is the Tallinn Botanic Garden, with more than 4,500 species of plants worldwide. Exhibitions of flowers, mushrooms and exotic fruits are often organized, and there are also thematic tours to know specific types of plants better.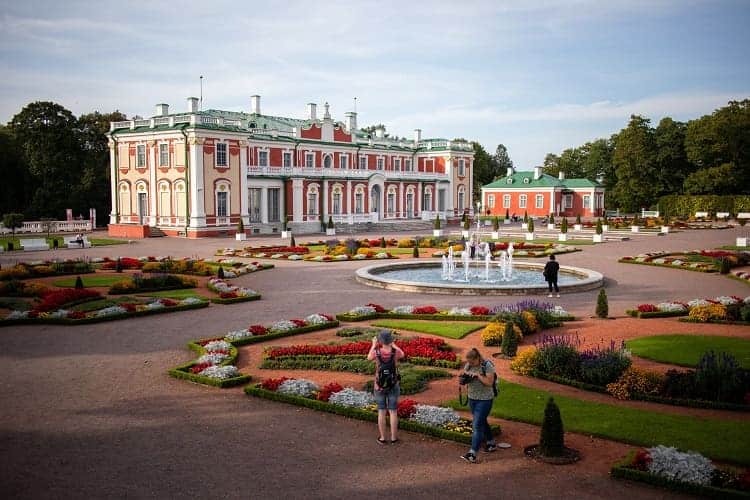 2. Extraordinary Museums in Tallinn
Estonia's capital is an important cultural and historical center, with 60 museums and galleries. Right next to Town Hall is the Tallinn City Museum, and among the most notable are the Estonian History Museum and the Estonian Maritime Museum.
The latter is located in Seaplane Harbour, so in several hangars, you can see a submarine, an icebreaker, a seaplane, a large aquarium and various simulators. There is also a playground for children.
There are also two major natural history museums in Tallinn Old Town – the Estonian Museum of Natural History and the Estonian Health Care Museum.
Tallinn also boasts outstanding art museums. The Estonian Art Museum consists of four units, the largest of which is the Kumu Art Museum, where you can see a rich collection of contemporary artworks. It has even been declared the European Museum of the Year.
To get to know Estonia's modern history better, visit Estonia's Museum of Occupation and the KGB Museum. You will learn more about the period of Nazi and Soviet occupation, and you will also see various equipment and documents of the famous Russian secret service KGB.
The Estonian Open Air Museum is just 15 minutes from the center of Tallinn. Estonian rural architecture and the lifestyle of the local population are presented in a very interesting form. You can enjoy the entire ambiance: try various Estonian dishes, buy handicrafts and souvenirs, or ride horses.
There are also several important religious buildings in Tallinn. Alexander Nevsky Cathedral is an Orthodox church built in the late-19th century when Estonia was part of the Russian Empire. St. Olaf's Church, the biggest medieval structure in Tallinn, is also worth seeing. You can visit St. Nicholas Church and St. Mary's Cathedral as well.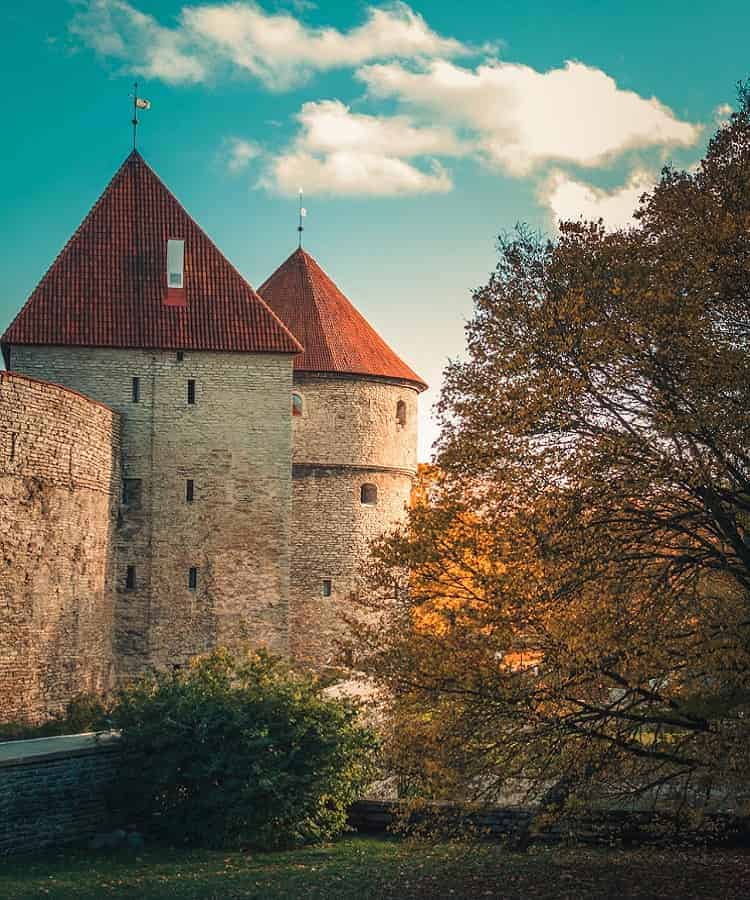 3. Toompea Castle: An Essential Part of Estonian History
We can't tell the story of Toompea Hill without mentioning the various rulers and conquerors of Estonia. All of them had headquarters there. For centuries, Danish, Swedish, Germans and Russians ruled from Toompea Hill.
Toompea Castle was built in the 13th century and was later rebuilt several times. From a former fortress, it became a modern government building. Different styles can be seen in the buildings, such as Gothic, Renaissance, Baroque and Expressionist.
Today, Toompea Castle is the home of the Estonian parliament, Riigikogu. Its 46-meter-high (150 feet) Tall Hermann tower is one of the national symbols. Every morning, the flag of Estonia is raised above the tower.
Several countries' embassies are located on Toompea Hill, as well as the Estonian Academy of Sciences and the Estonian Academy of Arts. There are several lookouts on Toompea Hill, from where you can enjoy views of Tallinn. For Estonians, this place is of great historical significance and worth your visit.
See all the main sights including an inside look at the Toompea Castle on the Tallinn Hop-on Hop-off Bus Tour. This fun double-decker bus takes you all around Tallinn and lets you explore as you please on and off the buses for up to 72 hours. Book your ticket in advance here as spots get filled quickly.
4. Visit Kadriorg Palace Featuring the Vast Art Collection
Russian Tsar Peter the Great wanted to please his wife Catherine with a beautiful gift. In 1718, he built the beautiful baroque Kadriorg Palace in her honor. The facility, surrounded by a beautiful park with fountains and flower beds, is located in the Estonian capital Tallinn.
Kadriorg Park is one of the most beautiful historical parks in the Baltics and Northern Europe, modeled to resemble the French Versailles. Italian architect Niccolo Michetti designed the entire complex.
Today, this palace houses the Kadriorg Art Museum, where you can see 9,000 works of art from the 16th to the 20th century by artists from Western Europe and Russia.
5. Tartu: Student and Intellectual Center of Estonia
With its 100,000 inhabitants, Tartu is the second-largest city in Estonia. It is one of the oldest cities in the Baltic. Tartu has the first newspapers, national theater and national song festival in Estonia.
Tartu is considered a city of intellectuals and students attending one of 16 institutions of higher learning. It houses the University of Tartu, the Estonian National Museum and the Ministry of Education and Research.
The majority of restaurants, cafes and museums are very close and can be visited on foot. Walking through the city, you can see a variety of architectural styles. Tartu is known as a cyclist city, and there is less and less space for cars and traffic jams.
Because of its many students and younger population, Tartu has excellent adventurous facilities. Tartu is full of fun places like escape rooms, adventure parks and paintball games. If you like extreme sports, you will love Rahinge Wakepark, and there is also a fascinating Upside Down House Museum.
This city is also home to the largest science center in the Baltic. At the AHHAA Science Center, you can have fun with interactive exhibitions, simulators, a planetarium and other technological innovations. There is also a Typa museum where you can learn more about making paper, see old printing machines and create a handmade notebook.
You can visit Tartu during one of the many festivals that take place every year. Some of the most visited events are the Hanseatic Days and the Tartu Love Film Festival. There is also a great street art scene. During organized tours, guides can show you the most beautiful graffiti and murals in the city.
Tartu offers excellent facilities for relaxation. The Aura water park has various wellness facilities such as saunas and jacuzzis. Also, you can swim in the largest pool in Estonia.
6. Enjoy Bird Watching in Matsalu National Park
Matsalu National Park is located in the western part of Estonia. Before it was declared a national park in 2004, Matsalu was a nature reserve. More than 2 million birds use Matsalu National Park every spring as a temporary retreat during migration.
The national park includes Matsalu Bay, the Gulf Coast, the Kasari River Delta and 50 small nearby islands. If you want to better understand the history of this area and its cultural heritage, you can visit The Visitor Center of Matsalu National Park.
Matsalu National Park also features numerous hiking trails to explore the natural beauty. There are also observation towers, from where you can enjoy magnificent views of the surroundings, as well as bird watching.
7. Spend the Day on One of the Largest Lakes in Europe
Lake Peipus is the fifth-largest lake in Europe. It is located on the border of Estonia and Russia and consists of three parts: Lake Peipus, Lake Pskov and Lake Lammijarv.
You can find lovely beaches in Kauksi, and you can spend the day enjoying a boat ride or even waterskiing if you are looking for an exciting adventure. More and more Estonians have cottages around Lake Peipus, which is not surprising because the landscape is stunning. The local specialty is smoked fish.
You can learn about the Old Believers, a group of religious refugees who disagreed with the Russian Orthodox Church. They were exiled and continued to perform their religious rites in the old way. Many Old Believers settled in the area of Lake Peipus.
That is why today, in Kolkja, on the shores of Lake Peipus, there is a museum where you can see traditional Old Believers clothes, their furniture, various tools, photographs and books.
8. Relax in Parnu: Wellness Paradise on the Baltic Coast
Situated on the coast of Parnu Bay, Parnu is a popular holiday destination. In addition to the wide beaches, Parnu has many cafes, restaurants, cocktail bars and hotels.
This city also hosts a big Dance Music Festival every year. Parnu, with its luxurious spas, is often called the summer capital of Estonia. That is why many tourists from Finland, Sweden and Russia come to Parnu.
In Parnu, you can head to the beach, walk along the promenade and enjoy the wellness facilities. If you want an active holiday, water skiing, kayaking and boat tours to the nearby islands are available.
Local sights such as the remains of a medieval fortress from the 14th century are also worth visiting. The Red Tower and Tallinn Gate are parts of the old walls that have been preserved to this day.
Check out the top-rated Old Town Walking Tour of Tallinn and learn more about the medieval churches and architecture, which makes Estonia so unique. Book advance tickets for this short tour here.
You can see an excellent example of Baroque architecture if you visit St. Catherine Church, a Russian Orthodox church from the 18th century. There is also the Parnu Museum, with exhibits from prehistory to modern times.
If you want to get to know Parnu's surroundings, head to the Soomaa National Park, a 40-minute drive from the city center. It's one of the most beautiful national parks in the Baltic region, with numerous walking trails.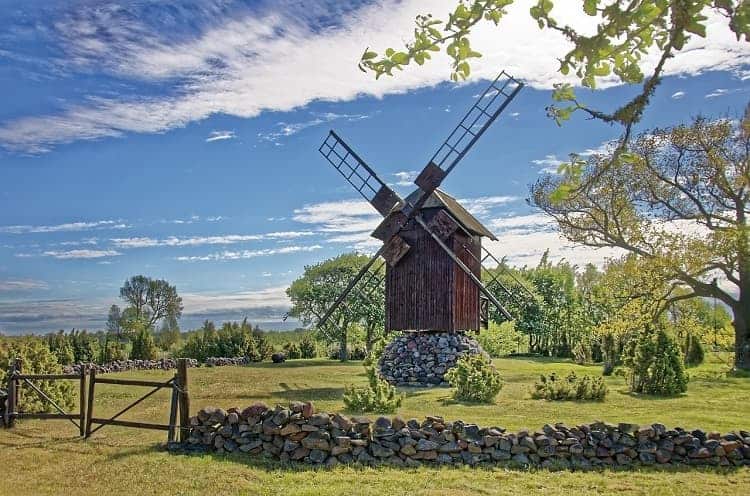 9. Discover the Biggest Attractions of Saaremaa Island
Saaremaa Island is the largest Estonian island in the Baltic Sea, located south of Hiiumaa Island and west of Muhu Island. That is the westernmost point of Estonia and the place with the most spas in the whole country.
If you love nature, Vilsandi National Park and Viidumae Nature Reserve will delight you. These are great places, especially for bird watching. Several attractions on the island are worth visiting: Kaali Meteorite Crater Field, 110 meters (360 feet) wide and 22 meters (72 feet) deep; Angla Windmill Hill, Jarve Beach, and 2.5-kilometre-long (1.5 miles) Panga Cliffs.
The city of Kuressaare is a county's capital, located on the southern coast of Saaremaa Island. You can also visit and explore Kuressaare Castle, which houses the Saaremaa Regional Museum.
10. Explore the Bogs and Forest Trails in Lahemaa National Park
Estonia is home to one of the largest national parks in Europe. Lahemaa National Park is located in the north of Estonia, 70 km (43 miles) from Tallinn. The area is rich in flora and fauna.
As much as 70 percent of the territory of this national park is covered with forests. There are habitats for numerous mammals, such as bears, foxes, wolves and red deer.
You can spend the day exploring the Viru bog, walking one of the many forest trails, or going to the sandy beach in Loksa. You can also explore the beauties of Lahemaa National Park by bicycle or horseback. Spice up your visit to the park by visiting the old fishing village of Altja and the Jagala waterfall.
You can see more of the natural wonder of the Jagala waterfall and the ancient Estonian sanctuary here on this tour of Harju County. Book now and cancel anytime up to 24 hours before the tour so you can plan your trip in advance stress-free.
11. Meet Narva: Part of Russia in Estonia
Narva is the third-largest city in this Baltic country, after Tallinn and Tartu. It is situated on the Narva River in eastern Estonia. More than 80 percent of the population is of Russian nationality, so if you want to get to know Russian culture and language, Narva is the right place.
For centuries, Narva has been a place where two "worlds" collide – the Catholic West and the Orthodox East. Two fortresses on opposite sides of the Narva River best illustrate that problem. One is Narva Castle in Estonia, and the other is Ivangorod Fortress in Russia. They are at a distance of an arrow flight.
There are several religious sights worth visiting in Narva, such as Alexander's Cathedral and the Cathedral of Christ's Resurrection. Narva Castle is interesting for tourists because it houses the Narva Museum, where you can better understand the history of this region. There are workshops in the northern yard where you can make a unique souvenir. Narva Bastions are also worth a visit.
Tourist attractions include the Baroque Narva Town Hall, the only historic building that was not demolished during WWII. Next to it is the modern Narva College building.
Kreenholm manufacture is a textile factory that once employed more than 10,000 people. Today it is an open-air museum because, in addition to the factory, you can also see a hospital, barracks for workers, shops and other facilities that practically make this place a mini-city.
You can also visit the Art Gallery, relax in the Narva EV100 park and walk the Narva River Promenade. In addition, you can take a day trip to the resort of Narva-Joesuu, 14 kilometers (about 7 miles)  from the city, and spend the day enjoying one of the best spa resorts in Estonia.
Book Your Trip to Estonia
If you are ready to explore a less tourist-driven part of Europe, start planning your trip to Estonia. Find discounted rates and flight payment plans through JustFly and make air travel easy.
Want more insider knowledge on the best restaurants, hotels and transportation companies? Head to Travelocity and TripAdvisor and get all your questions answered so you can explore all of Estonia and travel with confidence.
Author Bio: Based in Serbia in Europe, Petkovski is inspired by writing about the most beautiful places in the world. She is sure that a pint of good craft beer perfectly accompanies a tasty homemade lasagna. In her spare time, she enjoys playing with her children and spending time outdoors with her family.