We share places, products and activities we recommend. If you make a purchase using a link on our site, we may earn a commission.
Aloha! Welcome to Hawaii, the world's longest island chain and a favorite playground for many.
Oahu, the third-largest and the most-populous of Hawaii's seven islands, is the capital of Hawaii, which became the 50th U.S. state in 1959 after existing as a monarchy and later a U.S. territory.
The island's major city, Honolulu, is world-famous for Waikiki Beach on the south shore of Oahu, a neighborhood as well as a 2-mile stretch of eight beaches with soft, white sand.
What is there to do in Oahu?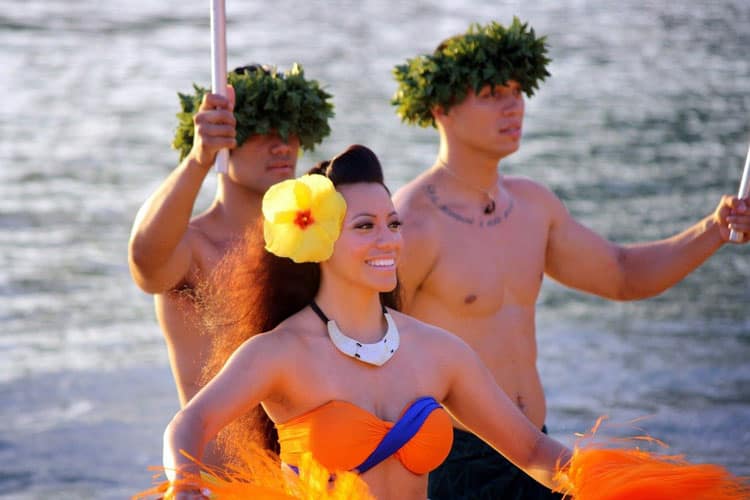 1. Go to a Luau on Oahu
Can you imagine Hawaii without Polynesian food, dancing and flower wreaths around your neck? Of course, you can't because it's a trademark of Hawaii.
Along with the variety of colors comes a cheerful atmosphere. Luau is a dance party held to celebrate beautiful events such as birthdays and weddings. You can spend a wonderful evening on the beach with rhythmic music and dancers.
Some of the best luau events are Paradise Cove Luau and Royal Hawaiian Luau. Alia Luau, which is held at the Polynesian Cultural Center, is also worth seeing.
2. Visit Pearl Harbor National Memorial
On Dec. 7, 1941, Japanese planes sunk 12 ships in the surprise bombing attack of Pearl Harbor. Bombs killed more than 2,000 Americans. This tragedy marked the entry of the United States into World War II.
You can see the USS Bowfin Museum and learn more about the submarine used in the war, the Pearl Harbor Aviation Museum and the USS Battleship Missouri, the site of the surrender of Japan, which ended World War II.
The USS Arizona Memorial, which straddles the sunken hull of the battleship, is visited by 2 million people a year, wanting to pay tribute to the fallen soldiers from the ship of the same name. These memorials make up the unique Pearl Harbor National Memorial, which you can visit for free.
You can reserve a spot on the Official USS Arizona Memorial Narrated Audio Tour in advance for your trip dates here.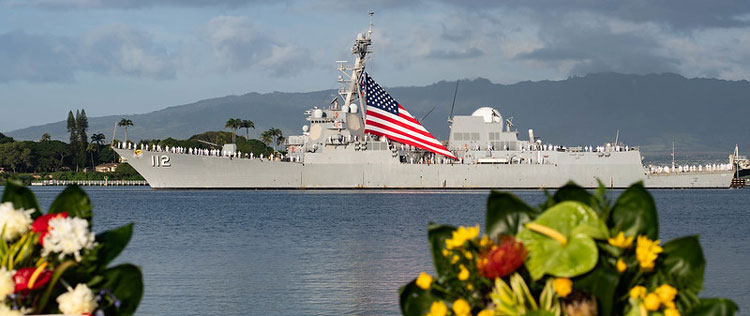 3. Tour a Pineapple Plantation
When James Dole started selling pineapples at a roadside stall, he had no idea his business would become one of Hawaii's symbols. Located on Oahu's North Shore, Dole Plantation is a popular place where you can learn all about pineapples.
The Pineapple Express Train will take you on a guided tour of the property. As a part of the Plantation Garden Tour, you will learn more about the development of the plantation and pineapples' cultivation.
Here's a quiz question: Do you know where the world's largest maze of pineapples is located? The answer is Oahu, Hawaii. The great Pineapple Garden Maze was included in the Guinness Book of World Records in 2008 as its most gigantic labyrinth.
4. Visit Waikiki Beach
Since 1901, when the first hotel was built, Waikiki Beach has become the most- visited place on Oahu. Waikiki consists of eight smaller beaches and is known for its calm water, numerous hotels, shops and restaurants nearby.
Be sure to join the Eco-Friendly Morning Whale Watching Excursion. Start your day at Waikiki Beach spotting whales in a luxury Catamaran. Book your whale-friendly adventure here.
On Waikiki, you can see a statue of Duke Kahanamoku, who grew up in Waikiki and wasa champion swimmer and surfer, who introduced Hawaii to the world as an excellent destination for surfers. Other attractions worth visiting, which are a minute or two from the beach, include Waikiki Aquarium and Honolulu Zoo located in Kapiolani Park.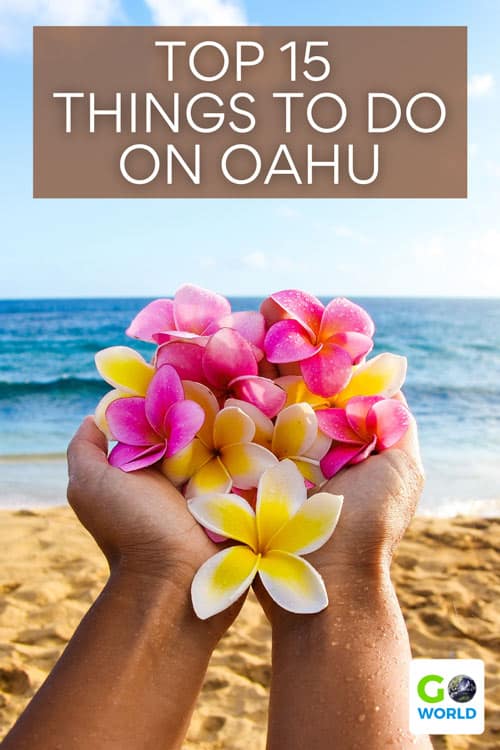 5. Go on a Whale Watching Tour on Oahu
From December to April, many whales come from Alaska's cold water to the warm waters of Hawaii to breed during the winter months. That is the perfect opportunity to book a boat ride that you'll remember and see large humpback whales emerging from the water. For the locals, this is the biggest attraction of the year.
Ideal places for whale watching are on the southeast side of Oahu's island, near the coast.
6. Go Snorkeling or Diving on Oahu
Hanauma Bay is where you can best experience Hawaii's picturesque underwater world you. This place is perfect for diving and exploring marine life. You can see different species of tropical fish and beautiful corals. Sharks Cove and Kahe Point are also great places for diving. You can rent a snorkel, diving mask, and fins and embark on an exciting adventure of exploring the underwater world of Hawaii.
Oahu also has excellent locations for scuba diving if you are more experienced and in better physical condition. One of the best is Magic Island, on the south shore, where you can see green sea turtles and manta rays.
You'll also find excellent scuba diving or fishing near the famous Makaha Beach on the Leeward Coast.
7. Visit the Best Beaches on Oahu
Can you imagine yourself on a beach with fine white sand, looking at the calm turquoise ocean and the mountains in the distance? Lanikai, which means "Heavenly Ocean," is located on the Windward coast of Oahu and is one of the most beautiful beaches in the world. If you are looking for a nice place for swimming or snorkeling, Lanikai Beach is a great choice.
There is another outstanding beach nearby. Kailua Beach has an almost constant water temperature throughout the year, so it is a fantastic place for water sports such as surfing and kayaking.
On Oahu's north shore, surfing reigns supreme. At Waimea Bay Beach Park, you can watch top surfers overcome the high waves.
8. Take a Helicopter Tour
The best way to experience the beauties of the magnificent island of Oahu is from the air. A helicopter ride over Waikiki Beach, Hanauma Bay, and Diamond Head is an unforgettable experience worth every dollar!
See every inch of the magical island from the biggest attractions to picturesque waters from above on the 60-Minute Helicopter Tour of Oahu. Make the trip unforgettable and book this tour before your dates are filled up here.
In Honolulu, you can find agencies that organize specific flights. The sunset Oahu Helicopter Tour is an extraordinary journey through the spectrum of stunning sun colors over the ocean. Book a romantic flight for memorable moments that you will remember for the rest of your life.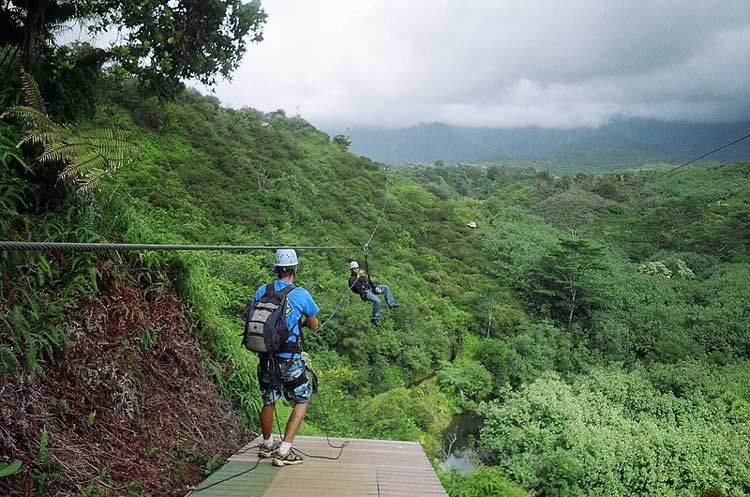 9. Go Ziplining on Oahu
The excitement you feel during the zipline ride cannot be properly explained. You have to experience that rush of adrenaline. The island of Oahu features several great zip line locations. Although there are no ziplines in Honolulu, the excellent Climb Works, Kualoa Ranch, Coral Crater, and several others are just a 30-90 minute drive from Waikiki Beach.
Be aware that you have to book a seat for a Kualoa Ranch zipline two to three weeks in advance. Kualoa Ranch is a nature reserve where Jurassic Park was filmed. You can also enjoy horseback riding, mountain biking, and kayaking there. For example, you can go on a kayak adventure to Kaneohe Bay and see famous landmark Chinaman's Hat up close.
Local agencies also offer adventure packages that, in addition to the zipline, include ATM rides. Ziplines are usually set at a height of 10-40 meters (32-131 feet) and the length varies from 120 to a fantastic 800 meters (393 to1,968 feet). During the ride, you will go through beautiful green landscapes overlooking the ocean. With the North Shore Zipline, you can even see whales in the Pacific Ocean during the winter months.
10. Visit Diamond Head
Diamond Head is a volcanic crater in the city of Honolulu. It has been declared a State Park and is a trademark of the island of Oahu.
Have you heard the story about the origin of the name "Diamond Head"? The locals call it Le'ahi, but British sailors thought they had found diamonds because of the glittering calcite crystals. That is how the term Diamond Head came into use.
Diamond Head Trail is the most popular hiking tour in Hawaii, which will take you to the top of this volcano in just two hours, enjoying the fantastic view of the ocean as you climb.
Packing some durable and lightweight hiking boots make these hikes much easier and accessible. Check out Sierra Trading Post and get yourself a pair of boots and other outdoor essentials here.
You can go on this walking tour on your own, following the directions. If you want to learn more about Hawaiian history and the natural beauty of Oahu's island, we recommend that you hire local hiking guides.
11. Take a Dinner Cruise or Boat Ride
There is nothing more enjoyable than a relaxing catamaran boat ride on the calm ocean. For a cruise around the island of Oahu, you can choose from a dozen sunset cruise packages. Bear in mind that from November to March, you may be able to observe humpback whales during a sunset cruise.
Sunset Dinner Cruise is the most popular sailing tour on Oahu. You will sail in the waters near Honolulu. Onboard you will have the opportunity to attend a luau entertainment program and a delicious dinner—all with a view of the fireworks above Waikiki Beach.
If you want to enjoy the sunset without dinner, we recommend Sunset Sailing Tours. You will sail the most beautiful parts of the Pacific coastline and be mesmerized by the beautiful landscapes. There are also Sunset Cocktail Cruises and Honolulu Sunset Cruise.
12. Play Golf on Oahu
"Even a bad game of golf, on the island of Oahu, looks great!" That's maybe because the scenery around the courses is impressive.
Oahu has as many as 40 golf courses of various categories. The incredible landscape is the reason why many people want to play a game of golf right here. Royal Hawaiian Golf Club holds an attractive location, just 20 minutes from Waikiki Beach. Ko Olina Golf Club is one of the best resort courses that offer a full gaming experience, with modern locker rooms, a top golf shop, sauna, jacuzzi, and restaurant.
The list of Oahu's best resorts and golf courses also includes Turtle Bay Golf, located on Oahu's North Shore, and Hawaii Prince Golf Club with beautiful views of the Waianae Mountains.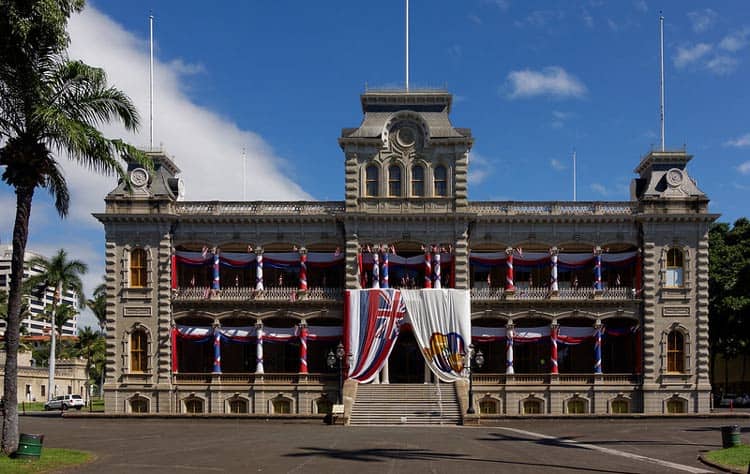 13. Learn About Hawaiian Culture
If you want to learn more about Hawaiian people and their history, you can visit Iolani Palace, which was once home to King Kalakaua and Queen Liliuokalani, located in downtown Honolulu.
It's one of the most important places in Hawaii and the only official royal palace in the U.S. It was built in the 19th century as the royal family's residence, and today it has been turned into a museum. Here you can learn more about the royal family itself and the national identity of the Hawaiian people.
The Bishop Museum originally contained objects of the royal family, and today it houses documents and photographs of Polynesian cultural artifacts. One of the world's largest insect collections is kept here, with 13 million species.
Hawaii Plantation Village is an open-air museum in Waipahu, in central Oahu. During the 19th and 20th centuries, hundreds of thousands of immigrants from Japan, the Philippines, Polynesia and other countries worked on sugar plantations. They brought a part of their culture to Hawaii and influenced the multi-ethnicity by which Hawaii is recognizable today.
In this museum, you can see the workers' personal belongings from the plantations and the tools they used. You can also visit the Shangri La Museum of Islamic Art and the Honolulu Museum of Art.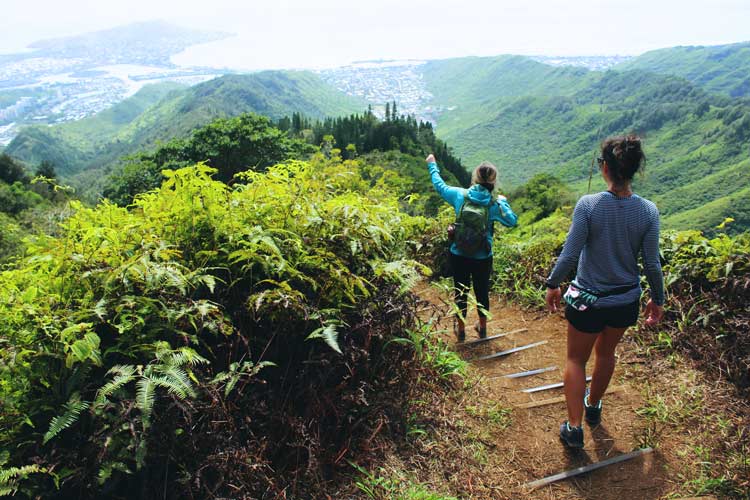 14. Go Hiking on Oahu
Don't miss the sunrise in Hawaii. Just a 30-minute drive from Honolulu is one of the best hiking trails in Oahu. The almost 3-kilometer-long (1.86-miles) lighthouse trail will take you past the Makapu'u Lighthouse and several great lookouts. At the end of the trail, a reward awaits you!
From the Makapu'u Lookout, you can see the coast of Oahu, Koko Head, Makapuu Beach, two small islands and the turquoise ocean. During the winter months, you can watch whales in the ocean from this place.
You can also hike the Manoa Falls Trail to see the beautiful waterfall or Kuliouou Ridge Trail, with impressive views of Coco Crater, Kailua Coastline, and the sandy beaches.
Hike with an expert guide and see all the best parts of the rainforest and Manoa Falls. Book the Half Day Hiking Trip to the Manoa waterfall here.
If you're not in great physical condition, choose the Nu'uanu Oahu hike. It's not really a hike, but a light trek that leads you to the Kaniakapupu Ruins, or otherwise known as King Kamehameha III summer home and Luakaha Waterfall.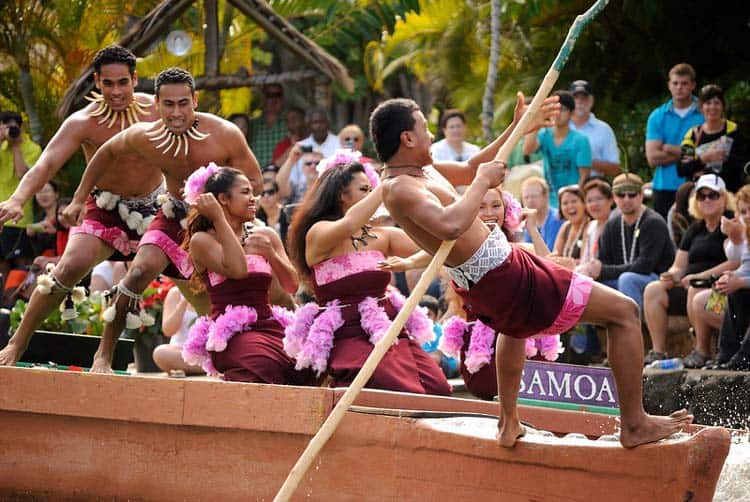 15. Visit the Polynesian Cultural Center
The Polynesian Cultural Center is one of the biggest attractions in Hawaii. This theme park is located in the northern part of Oahu and consists of several authentic villages. Each village is dedicated to certain Polynesian people, where you can see the cultural heritage of Tahiti, Fiji, Tonga, Samoa and others. You can attend a luau and learn more about folk customs and musical instruments like the ukulele.
The Polynesian Cultural Center's biggest attraction is the spectacular "Ha: Breath of Life" show with more than 100 participants, live music and special effects.
Book This Trip
Want to start planning the tropical vacation of your dreams to Oahu? Then you'll want to be prepared with direct flight deals and vacation packages from Hawaiian Airlines. Next, you can find the best hotel and VRBO options, local restaurants and insider travel tips around the island with Travelocity and TripAdvisor.
Don't miss a second of what Oahu has to offer by booking tours through GetYourGuide. This trusted team has top-rated tours like the Incredible 2-Hour North Shore Shark Dive or the Ka Moana Luau with Dinner & Show to make your Hawaiian trip filled with exciting and interesting experiences. Check out all the activities and tour options around Oahu here.
Author Bio: Marija Stojanovic Petkovski is a writer based in Serbia in Europe. Marija worked as a journalist but realized writing about the most beautiful places in the world is something that inspires her. She is sure that a pint of good craft beer perfectly accompanies a tasty home-made lasagne. In her spare time, she enjoys playing with her children and spending time outdoors with her family.