Travelers have waited for months with bated breath behind masks for the chance to visit their favorite spots across the United States. Visitors can expect the door to travel across the United States to crack open rather than fling open as travel is reopened slowly with COVID-19 safety restrictions in play.
Here is a list of travel destinations from national parks to theme parks in the United States that have already opened or are reopening in the very near future for Americans and visitors: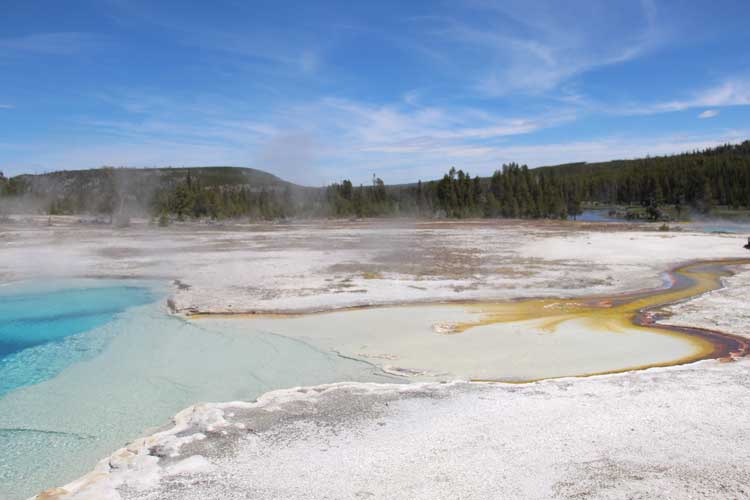 National Parks Reopening
On May 18, Grand Canyon and Yellowstone National Park began a three-phase reopening operation. The Grand Canyon National Park's popular South Rim entrance opened from 6 a.m. to 10 a.m. to visitors looking to take in famous scenic spots. However, the Grand Canyon Village, several trails and the South Rim's East Entrance and Desert View are still closed.
Yellowstone National Park is rolling out a three-phase reopening plan starting with the opening of Wyoming's South and East entrances along the national park's lower loop.
This is especially exciting news for visitors who want to get a gander at Yellowstone's most famous attraction: Old Faithful. Canyon Village, boardwalks and trails will also be open, along with self-service stations to gas up and restrooms for visitors to relieve themselves.
Now, onto the bad news. Nonessential businesses such as hotels, restaurants, camping or any overnight accommodations will not be open just yet and tour buses will be turned away. However, they will be eventually opening under the second and third phases. As usual, guests will be asked to practice social distancing and the use of masks when they cannot.
Wyoming's Grand Teton National Park and Utah's Zion National Park also have plans to implement phased reopenings as well.
Theme Parks Reopening
Universal Studios Florida is one of the first theme park franchises to dip its toe in the butterbeer and reopen in the midst of coronavirus reopenings. Starting on June 5, Universal Studios Florida will welcome guests under the guidelines of Universal Orlando Resort and CDC safety rules.
These stringent safety rules will need to be followed literally while waiting in lines for rides and attractions. Guests will also be required to wear face masks, undergo temperature checks, and use hand-sanitizing stations. No announcements have been made for reopening Universal Studios Hollywood.
Last week, Walt Disney World Parks still remain closed but the popular Disney Springs entertainment and shopping complex in Florida opened on May 20 with social distancing restrictions and mandatory face masks. Currently, Disney Resorts are taking reservations for a potential opening in July.
Aquatica in San Antonio (part of Sea World Parks and Entertainment) opens June 6th with a new reservation system. SeaWorld Orlando opens June 11, and reservations are also required.
Tennessee's theme parks and attractions opened on May 22 and include Ripley's Believe It or Not and the Ripley's Aquarium. However, the Haunted Adventure and the Guinness World Records Adventure will remain closed. The aquarium's hours will be 9 a.m. to 5 p.m. daily, and visitors are asked to adhere to social distancing measures and stay home if they feel sick.
Theme parks such as Tennessee's Dollywood, water parks, dinner theaters, race tracks and auditoriums will still have some social distancing and coronavirus hoops to jump through as groups of 10 or more people are still part of the pandemic restrictions in place.
Six Flags Theme Parks (including its water parks) across the United States will start to reopen on June 5, with visitors to the parks required to wear face masks, agree to temperature screenings at the park's entrance and adhere to social distancing measures.
Hotels, Resorts and Airbnb Reopening
Atlantic City will allow its 35 hotels and motels to open on May 29, including short-term rentals such as Airbnbs. All hotels and short-term rentals will be required to follow strict coronavirus safety precautions in place, such as proper disinfecting and sanitation.
Miami Beach Florida hotels and beaches will be reopening on June 1 and throughout Miami-Dade County. Additionally, non-essential businesses such as restaurants and small stores will be able to reopen on May 27. The same coronavirus safety protocols will apply to these hotels and resorts. Guests and hotel workers will be required to wear face masks in common areas and practice distancing guidelines.
Las Vegas' Venetian Resort will also be opening on June 1 and reservations are being taken right now. The Las Vegas Sands Casino and Resort will be opening as well with requirements for all employees to get COVID-19 tests.
Florida Beaches and Resorts Reopening
Speaking of Florida, The Florida Keys will also be reopening on June 1 with hotels, campgrounds and short-term rentals allowed to open at 50 percent capacity.
Club Med Resorts in Florida, Mexico and the Caribbean will be reopening with hygiene and safety protocols in place that include coronavirus health screening such as temperature checks for resort workers and guests, distancing guidelines, deep cleaning in common areas and hand sanitizer throughout the resort. Each resort will be operating at 65 percent capacity. Club Med Florida will be the first North American resort to open on June 12.

Travel by Air or Train
Travel restrictions are lifting for air and train travel. Delta Air Lines will resume formerly suspended routes starting in June which will free up travel options both across the United States and International Travel.
Delta Air Lines did not suspend domestic flights to major or hub cities during the COVID-19 pandemic but operations were significantly reduced and will be increasing during June.
If you are ready to travel internationally, Delta will be adding flights to Paris, Tokyo and Amsterdam soon.
Amtrak will restore Acela service on the Northeast Corridor starting on June 1 with an increase from eight to 10 round trips.
As part of the CDC guidelines for COVID-19, Amtrak will require all customers to wear face masks, only allow 50 percent capacity for all Acela, Coach, Business and First-Class tickets. Also, cash will not be accepted and customers will be subject to social distancing measures in all lounges, stations and dining areas.
Reopening Travel Across America
As stay-at-home orders for Americans continue to lift across the United States, more and more nonessential businesses will be reopening with varying degrees of coronavirus safety measures in place. Be sure to check with your destination for local guidelines and safety measures.