There are few places on earth that can boast to be as diverse in culture, climate and landscape as the USA. From sunshine states like Florida to California's Pacific Coast Highway to the famous route 66 to Alaska's frozen tundra there is bound to be a place that captivates your heart and resonates with your soul.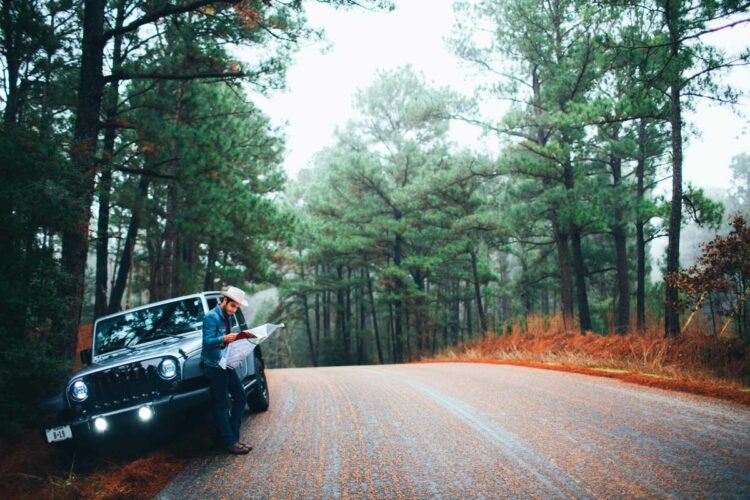 Getting to find these road trip destinations may be no easy feat – the United States stretches over 9,857,306 km² meaning it can take years, if not a lifetime, to explore properly. Most road trips have just a few months, stretching to a year at most, to explore this vast land, meaning tourists often miss out on the many faces of America.
Planning your road trip so each city you visit shows a unique side of the United States can be a long and challenging process, so we've rounded up the top road trip cities in the United States which will give you a glimpse into all aspects of American culture and roadside attractions.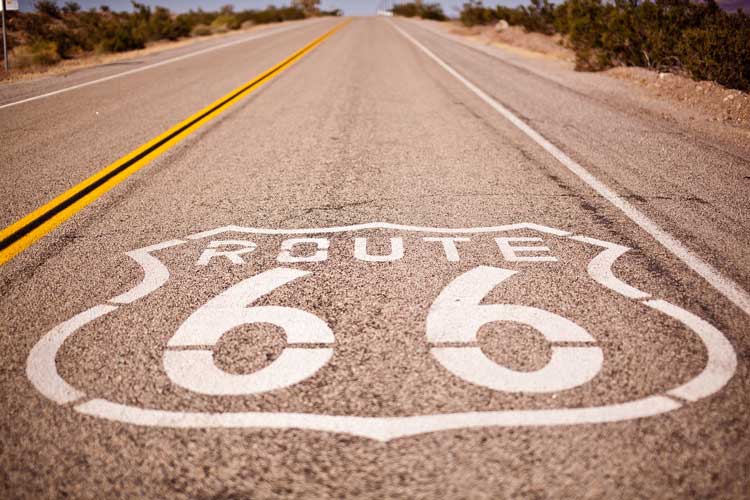 Road Trip on Route 66
The most iconic road trip in America follows Route 66. This historic road, AKA The Mother Road, runs across America passing through three time zones. It begins in Chicago, Illinois and crosses all the way across the country to Santa Monica Pier near Los Angeles, California. Most travelers find that it takes about two weeks for the journey, taking time to visit towns along the way. The authentic Route 66 highway itself was decommissioned in 1985, and it's no longer possible to drive the entire route as some sections have potholes and cracks.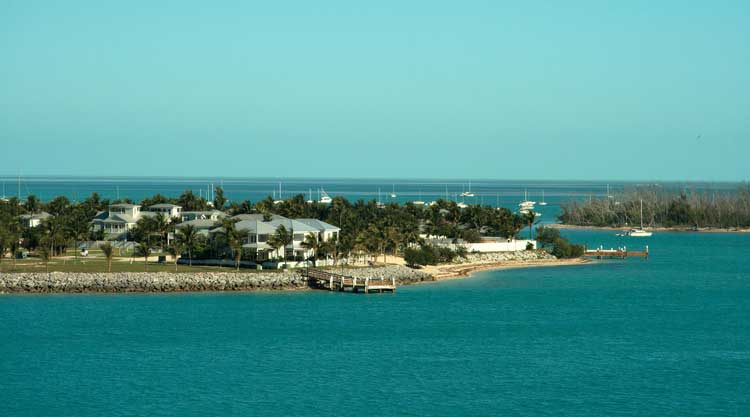 Visiting Florida's State Parks and Major Attractions
What would a trip to across the United States be without visiting Florida? Of course, you should visit Orlando—home of Disney World and Universal Studios, but make sure you also check out the Florida Keys and Key West with five islands of coral reef snorkeling, star-bathed parties and sun-soaked beaches. Or party on Miami Beach and take a gondola around Fort Lauderdale, the Venice of America. Florida also offers plenty of state parks to explore whether you want to enjoy nature or camp near pristine beaches.
One of the most famous and considered the most romantic road trips across the United States is the Pacific Coast Highway. You can start your road trip journey in San Francisco and make your way down the coast. Views of the expansive Pacific Coast and numerous state parks draw millions to California for its rocky cliffs near Big Sur and the charming town of Carmel-by-the-Sea. Monterrey's aquarium is a not-to-missed attraction.
A must for any travelers bucket list, the Grand Canyon National Park is one of the Seven Natural Wonders of the World making it a perfect stop off on your road trip. Staring over the high plateaus, vast deserts, lava flows and dramatic white-water rivers can leave you feeling in awe, and painfully aware of how insignificant you are in the big wide world. This life-affirming experience makes you realize that it will all work out in the end.
Las Vegas, Nevada is a Dazzling Stop
Nicknamed The City of Sin, Las Vegas is famous for its huge casinos, flashy entertainment, free-flowing booze and giant theme parks. Feast on the never-ending buffets, experience 24 hour days filled with casinos, night clubs and roller coasters, catch the Cirque du Soleil's complex and beautiful water show 'O' or spend your slot winnings in the famous Caesars Palace shopping mall.

Sightseeing in San Antonio, Texas
Inject a bit of Spanish-Mexican culture into your road trip by visiting the historic city of San Antonio. Try your hand at the San Antonio Western Shooting and revisit what it was like to be a cowboy in the Old West, cruise down the Rio San Antonio to see the city sights or relax in the Japanese Tea Gardens before grabbing some of the best Mexican food outside of Mexico.
See the United States Capitol in Washington D.C.
Washington D.C. is the perfect stop for experiencing the rich, American culture. Start off your visit by taking a trip to the National Mall, that grassy expanse that runs from the U.S Capitol to the Lincoln Memorial, before visiting at least one of the 15 Smithsonian Institution museums. Make sure you check out at some of the various war memorials, for a sobering experience.
Visting Music City in Nashville, Tennessee
Known as the 'Music City' thanks to its rich heritage of musical history, Nashville has given us Johnny Cash, Dolly Parton and Carrie Underwood, among others. Spend the day brushing up on your music history at the Country Music Hall of Fame and check out the Ryman Auditorium and RCA Studio B before heading over to one of the various honky-tonk bars on lower Broadway.
The City of Brotherly Love Philadelphia, Pennsylvania
The birthplace of American modern democracy, Philadelphia strikes a perfect balance between historic sites and contemporary attractions. Tour through the historic Independence National Park and see the Liberty Bell and Independence Hall in their full glory, run up the Rocky Steps to visit the Rocky Statue, and visit the conservation-friendly Philadelphia Zoo situated on 42 acres of lush gardens.
Road Trip to New York, New York
The city which never sleeps, New York is a trip for the romantic, the chaotic, the dreamers and the watchers. Drink coffee in the iconic Central Park, snap pictures of the Manhattan Skyline from the Empire State Building, spend an evening watching a Broadway show and eat classic New York street food to fuel your busy days.
Missoula, Montana's Majestic Mountains

Even if you're not a nature buff, Missoula is worth visiting for the pictures alone. Situated in the beautiful Rocky Mountains National Park, head out for a glimpse of black bears, white-tailed deer and bald eagles along with stunning views or stay in the city and check out the Ten Spoon Vineyard and Winery to get your pick of the grapes, take a spin on the beautiful 20-year old carousel and get your thrills by skiing or kayaking through the mountains.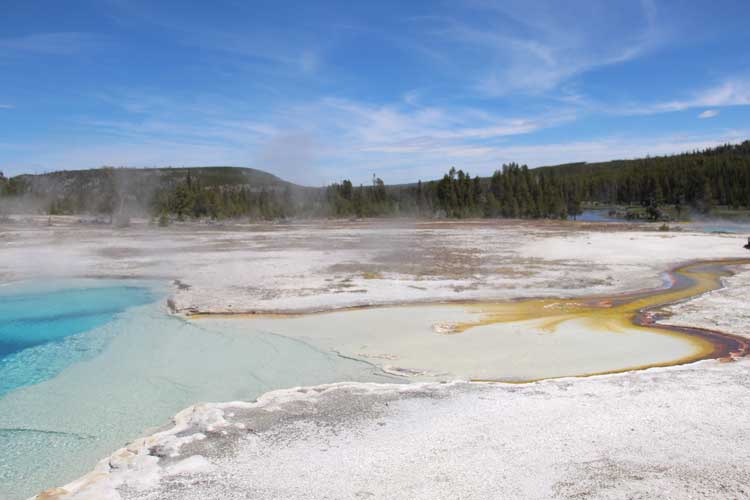 The Natural Wonders of Yellowstone National Park
Spanning across Wyoming, Idaho and Montana, Yellowstone National Park is full of wondrous sights which will leave you stunned. Visit the Grand Prismatic Spring, whose algae leaves the watercolor stunningly bright, hike to Artists Point for breath-taking views of the waterfalls, and check out the deep geysers which regularly explode with boiling water.
If You Go
Although over planning your trip can take the fun out of it, make sure you have at least a few attractions in mind to avoid spending your holiday walking around aimlessly, searching for wifi so you can plan some events.
If an all in one trip isn't for, Hayes & Jarvis have created a USA Road Trip Recommender which allows you to browse themed road trips and find which attractions suit you the most.