Walt Disney World has always been a favorite destination for our family. When the kids were preschoolers, I loved seeing the wonder in their eyes when they met their favorite Disney characters at Magic Kingdom. As they got older, we got to know the other parks at Walt Disney World, from the thrill rides at Hollywood Studios to diving in the Living Seas at Epcot.
Like most families who visit Walt Disney World, we have our favorite rides, but the best part of every visit is simply seeing what's new. And Walt Disney World never disappoints. There's always something novel to experience. Here is what's new at Walt Disney World Resort.
Disney Springs
The most visible change at Walt Disney World is the "re-imagining" of Disney Springs (formerly known as Downtown Disney). The outdoor shopping and dining district – which is open to the public – pays homage to the history of Florida, in particular the natural springs that were found here in the 1800s. Disney Springs is almost double the size of its former self, and now has more than 150 shops and 30 restaurants. Five of the restaurants feature top cuisine from James Beard-Award Winning Chefs, but there are restaurants to suit almost any budget. Disney Springs is a destination of its own, so plan to spend at least a full evening or a half-day there.
Animal Kingdom
One of the largest theme parks in the world, Disney's Animal Kingdom introduces guests to the wildlife and allure of Africa and Asia. The highlight for our family has always been Kilimanjaro Safaris, where guests travel by bus through the savanna to see real giraffes, lions, zebras and other animals roaming freely.
In the past, Animal Kingdom was only open during daylight hours. Since summer 2016 however, Animal Kingdom is now open in the evenings – and the park has a very different feel at night.
With Kilmanjaro Safaris, guests can now ride across the savanna after dark to see several animals who thrive at night, including wild dogs and hyenas. There's even a two-hour private tour available called "Savor the Savanna," which includes dinner.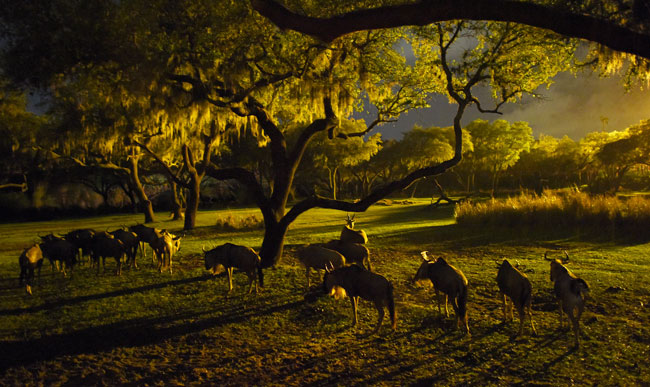 The Tree of Life at the center of the park also takes on a new role with nighttime hours. As the sky grows dark, the massive tree comes to life with an incredible display of lights creating fireflies and other animals. The tree's "awakening" happens every 10 minutes until closing.
Another new event is the debut of The Jungle Book, a limited-time nightly show performed on Discovery River. Like other nighttime shows at Walt Disney World, this one involves thousands of lights, intrinsic costumes and favorite Disney characters. The musical performance includes Indian-inspired pop-style arrangements of the movie's hit songs "Trust in Me," "Bare Necessities" and "I Wanna Be Like You."
If you hear drumming as the sky grows dark during your visit, follow the sounds to Discovery Island. There's a nightly Discovery Island Carnivale, an exuberant dance party for the whole family.
Animal Kingdom has also added two new restaurants to its lineup. Tiffins has waterfront views and a diverse menu of dishes inspired by places featured at Animal Kingdom. Right next to Tiffins is the new Nomad Lounge, which has small plates and a large selection of wine, beer and mixed drinks.
Continued on next page