Editor's Note: Travel is complicated right now. Please check local regulations and location openings before you go. We share places, products and activities we recommend. If you make a purchase using a link on our site, we may earn a commission.
In many cultures, superstitions consider crows to be bad omens, predictors of death or disease. Piercing caws first drew my attention to the large black bird perched near the edge of the 100-foot (30 m) ledge off which I would soon be rappelling. Over the edge. I'm ready for an adrenalin-rush adventure, canyoneering in Zion National Park. Are you ready to join me?
Canyoneering in Zion National Park
A college friend, Judy, and I were camping in southern Utah's Zion National Park, where we met three 20-somethings — Rachel, Nathan, and Isaac — who invited us on their afternoon canyoneering trip. Simply defined by the American Canyoneering Association, the sport "involves traveling through canyons." Such travel can include "hiking, wading, swimming, jumping, sliding, climbing and rappelling." Or all of the above, which we would soon experience.
Our new friends explained the trip: several rappels, including a final free-hanging rappel, were the only route out of the narrow slot canyon. Along the way, we'd swim and wade through the remnants of spring flooding, kept cold by deep canyon shadows. Hiking trip or rescue mission, the Pine Creek Canyon route is one-way.
To capture the intricate natural beauty of the canyons and arches you'll want to bring more than your phone's camera. Canon has the best lightweight digital cameras, perfect for pristine snaps on every type of adventure. Check out their cameras here.
Once through the narrowest parts of the canyon we would enter into the visible world as tiny dots on the rock wall beside the 720-foot-long (119 m), 580-foot-high (177 m) Great Arch of Zion, an impressive eyebrow-like arch at the entry to a cave. From there, we'd tackle one last ledge and a 2-hour, .75-mile (1 km) hike over SUV-sized boulders.
Why Zion National Park?
With dozens of canyons perfect for canyoneering, Zion National Park has become one of the premier destinations for this sport. Some of these canyons are barely wide enough to squeeze through, but the range of options offers experiences for all, from beginners to advanced.
NOTE: A permit is required for all technical canyoneering trips.
Massive natural arches mark the Colorado Plateau, which includes Zion National Park and spans parts of Utah, Arizona, Colorado, and New Mexico. Arches aren't always open holes. Blind arches, like Zion's Great Arch and those in Pine Creek Canyon, are curved recesses in the rock face.
For an intro into the slot canyons, Zion National Park recommends a "short trip into the lower end of The Narrows above the Temple of Sinawava. For more experienced canyoneering, The Subway and Orderville Canyon feature route finding, swimming, and short rappels."
Zion National Park is scored with multi-layer towers of rock, the products of over 200 million years of sedimentation and geologic change. The Virgin River continues to carve Zion Canyon. Much of the work is accomplished by flash floods when the river can rise to more than 100 times its average flow.
From the furrowed limestone and shale of Checkerboard Mesa to the 2,000-foot (610 m) canyon walls, Zion National Park is famous for its varied geology. In the 19th century, Mormons began to populate the area and, recognizing the spectacular sights, gave Zion the name that would eventually lure outdoorsmen from around the world.
Experience Canyoneering at Zion National Park
I swore as I squeezed myself into a sweltering borrowed wetsuit in 95-degree (35 C) heat. Curious park visitors watched Nathan and Isaac suit up with 50-pound (23 kg) packs loaded down with rope. When Rachel donned a thick neoprene top, I stopped questioning my own wetsuit and tried to figure out the best way to add extra layers of warmth.
Canyoneering in Pine Creek
Karabiners clinked like wind chimes in an approaching storm, and the sweat dripped from our brows as we stepped into our rock-climbing harnesses, snugly fitting around the waist and upper thighs. I felt like a horse being saddled as Rachel and Isaac cinched the straps tight. Metal rings on the harness would be used to attach the ropes we'd need to lower ourselves through the canyon.
//z-na.amazon-adsystem.com/widgets/onejs?MarketPlace=US&adInstanceId=fccd1491-41c1-4e7f-b70a-bcc46fd7876f
The Narrows, one of the most famous sections of Zion Canyon, attracts visitors to the Virgin River Trail. Here, hikers splash through ankle- to chest-deep water as they make their way upriver through the narrowing canyon. Because of its technical aspects, Pine Creek, at the southeast corner of the park, near the Zion-Mount Carmel Tunnel, isn't as accessible to the general public as the Narrows. Stunning rappels and an easy hike in make the slot a classic canyoneering route.
Our first descent lay minutes down the steep trail, where the canyon walls narrowed and the trail continued at the bottom of a 10-foot (3 m) ledge. Not wanting to make the jump, one-at-a-time we bridged ourselves between two rocks.
Hands on one, feet on the other, I walked my way down the rocks and into a shallow pool. The midday sunlight that had blazed at the trailhead weakened as we walked deeper into the canyon. I ran my fingers across coarse sandstone. Years of storms created the watershed that carved this narrow maze; spring floods continue to wear the canyon walls.
Rachel, a native of northern Utah, finished the first rappel, and I watched silently as Isaac hooked Judy's harness to the mass of rope. He showed how a simple tweak starts the descent or puts on the brakes.
Simple, but Now It's My Turn
Once it was my turn, rappelling came back quickly and easily, thanks to previous climbing experiences. Grainy light filtered in from high above and projected narrow beams onto clear, cold pools. Gray sandstone walls towered like petrified waves.
The water that shapes slot canyons pose an extreme danger during flash floods. Nathan briefed us on an account of his and a friend's 23 hours clinging to a rock in rising water. A dry year put that same rock about 20 feet (6 m) above our heads.
We hiked farther into the canyon losing light with each descent. On our roughly 40-foot (12 m) rappel began into a narrow cave known by climbers as The Cathedral. The chill felt from wading through puddles earlier didn't compare to the cold here on our first deep-water swim. The pool in The Cathedral was only 10 feet (3 m) across. Yet the short distance didn't stop the cold water from seeping in through the ankle and shoulder openings of my wetsuit.
Dizzying Heights
Climbing down through the final stretches of the slot canyon, we found ourselves back in the intense afternoon sun. Huge logs from previous flash floods lay stranded among the large boulders, and I leaped across the gaps like a child playing a sidewalk game. Hearing a warning to be careful with my footing, I looked at the space I'd just cleared and saw a dizzying drop.
A note for Pine Creek on a park Website that I later found mentions this specific crossing: "There might be a large washed-out hole to jump over… If you missed the jump, you would certainly fall to your death or certain serious injury would occur."
Though we'd navigated the inner canyon, we still had one ledge to master before reaching the steep hike down. Even a small rainstorm could create a waterfall over the wide, arced outcropping.
Judy and I waited while Nathan and Rachel rappelled to the bottom, some 100 feet (30 m) down. Their faraway voices echoed faintly to our perch.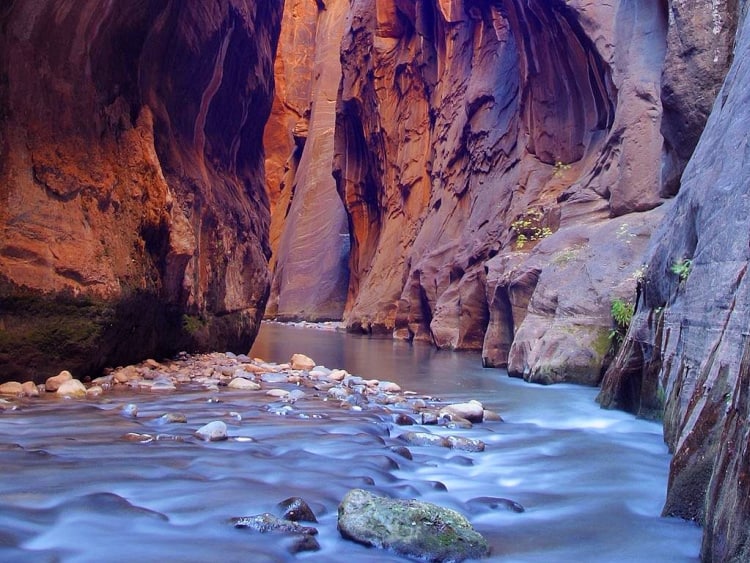 Slipping From Dizzying Heights
Finally roped up, Judy received coaching on how to drop off the awkward, overhanging ledge without turning upside down in her harness. From the top, we couldn't see where we would land. I stood back and waited for what seemed like 10 minutes. First I heard shoes scraping rocks, and then Isaac's congratulations on the most composed slip of the trip. Though I couldn't see, Judy's feet had slipped, and she turned upside down.
"My hand's burning," shouted Judy, who quickly righted herself, and was now hanging halfway to the bottom. It helped me remember to bring the braking rope along the side of my hip. This way, clothes would take most of the rope burn, instead of my hands.
I squatted, finally, on the angled edge of the last and longest rappel. Isaac reached over to tie me in and told me to be careful not to fall at this pivotal point when I was not yet clipped into ropes or bolts.
Gear you can trust is critical when canyoneering. Some of the best accessories for climbing, hiking and camping are made by Mountain Warehouse. Check out their selection of carabiners, tents and more here.
Once on the rope, I sat back awkwardly and dropped the first few inches off the ledge before the harness tightened around my thighs and the rope pulled tautly.
Holding the brake firm against my left hip, I floated, as if on a rope swing, 100 feet (30 m) above the ground. I let the brake out slowly, dropped down, then paused in the middle of my free-hanging rappel.
Take In The Views
On the recessed walls, a blind arch curved like a gray rainbow against the sandstone, and deep green plants grew from seep-fed cracks.
To my left, the Great Arch reflected severe sunlight. Oak trees flourished in the streambed below. Once I made it to the bottom, I peeled off my wet suit. We packed the ropes. Then we slid, shimmied, and jumped our way down the dry streambed's 5- to 10-foot (2-3 m) boulders.
Still carrying daypacks, we leaped off rocks into shaded pools. Locals splashed in what's known as the skinny dipping pond, the last stop on our trip and a place now too well-known for exhibitions. A cliff swallow sang a clear song, and towering red rocks were the only things on display.
When You Go To Zion National Park
Review the Canyoneering regulations before embarking on your adventure.
Guiding is not allowed in Zion National Park wilderness areas. However, several companies offer canyoneering classes and trips on front country trails near the park.