Bears, bison, geysers and beautiful landscape. They're all part of a vacation to Yellowstone National Park.
Yellowstone is one of the top national parks in the United States. Its iconic Old Faithful, a geyser that shoots hot water and steam into the air with precision timing, is well known around the world.
Established in 1872, Yellowstone National Park is the world's first national park. For centuries before that, Native American tribes, such as the Shoshone, Bannock, and Crow, revered this land for its abundant wildlife and geothermal wonders.
The park's modern history began to take shape when explorers ventured into the region in the early 19th century, telling stories of its remarkable landscapes. Inspired by these reports and recognizing the need to protect this national treasure, President Ulysses S. Grant signed the Yellowstone National Park Protection Act into law.
Since then, Yellowstone has been a testament to America's commitment to preserving its natural heritage for future generations.
Where is Yellowstone National Park?
The vast majority of Yellowstone (96%) is in Wyoming. A small section (3%) to the north and northwest is in Montana, and a tiny section is located to the west in the state of Idaho.
When Is the Best Time to Visit Yellowstone?
Yellowstone is a popular park and that means it's best to plan your visit well ahead of time.  
The peak season for Yellowstone is summer when school is out and families can travel. During normal summer months, hotels at Yellowstone are booked out months in advance. At times, the park can feel a bit crowded.
But I visited Yellowstone in June of this year (2023) and found a different story. It seems the crowds have not yet fully returned after the 2022 flood.
Yellowstone National Park Flood Recovery
On June 13, 2022, Yellowstone suffered a historic 500-year flood. Copious amounts of rain caused rivers and streams to flood, triggering large mudslides that swept some buildings downstream and washed-out rivers.
Miraculously, no one was injured. While the more than 2-million-acre wilderness area was closed for more than a week, officials moved quickly to assess the damage and begin repairs. The U.S. Department of Transportation provided $65 million in quick emergency funding relief and repairs began in earnest.
Power was restored to the park within 48 hours, and the south loop of the park reopened on June 22, 2022, just nine days after the flood event. Repairs on roads and trails continued throughout the summer of 2022.
Why Now Is the Perfect Time to Visit Yellowstone National Park
Today, Yellowstone National Park is back to normal. But when I did a recent Google search to see what people were researching about Yellowstone, I found that many people were still asking, "Is Yellowstone closed in 2023?"
The answer is that Yellowstone is open and doing great!
There are some areas still undergoing repairs, but most of the park is open and looking better than ever. Yellowstone National Park's Mammoth Hot Springs Hotel is hoping to open by July 2023, but has not yet set a firm opening date.
A Rare Opportunity to Book a Last-Minute Trip to Yellowstone
Normally, summer is the busiest season at Yellowstone, but it seems that some are still waiting to book a trip to Yellowstone. That offers a rare opportunity for savvy travelers to book a last-minute trip to Yellowstone.
Find a Hotel Room for Your Yellowstone Visit
There are still hotel rooms available in Cody and the Yellowstone region for this summer. This is almost unheard of in normal times, as hotels near Yellowstone can book out years in advance.
So, if you're considering a summer trip to Yellowstone, now is the time.
Top 10 Ranger Tips for Planning a Summer Trip to Yellowstone National Park
Why Visit Yellowstone in the Summer
Summer in Yellowstone is spectacular. During our trip, we had long sunny days and beautiful blue skies. The weather was pleasant, and the park's vibrant landscape had come to life with wildflowers and green meadows.
Abundant Wildlife in Yellowstone
Summer is the prime season for wildlife viewing in Yellowstone. As the snow melts, animals emerge from their winter habitats, offering incredible opportunities to spot iconic species such as bison, elk, moose, bears, and wolves.
You might even witness adorable baby animals venturing alongside their mothers. We saw grizzly bears, hundreds of American bison, foxes, huge herds of elk and deer and so much more.
Kid-Friendly Activities at the Park
During summer, Yellowstone National Park offers numerous educational programs, guided tours, and interactive exhibits that are both entertaining and educational.
Outdoor Adventures
With pleasant weather and access to a wide range of recreational activities, summer is an adventurer's paradise in Yellowstone. We hiked several scenic trails. My favorite trail was the one at Midway Geyser Basin.
You can also try your hand at fishing in pristine rivers and lakes, go horseback riding, or take a thrilling white-water rafting trip. The park's diverse landscapes cater to all skill levels and offer endless opportunities for outdoor enthusiasts.
Extended Park Accessibility
During the summer season, all areas of the park are open and accessible, providing you with the freedom to explore the park's iconic landmarks, scenic drives, and lesser-known gems.
Where to Stay When Visiting Yellowstone in Summer: Cody, Wyoming
For me, the biggest reason to visit Yellowstone during the summer and early fall is that I can stay in Cody, Wyoming, the perfect summer gateway to Yellowstone.
Located 52 miles from the east entrance to Yellowstone National Park, this bustling town of 10,000 in the heart of the Old West is a destination all in its own.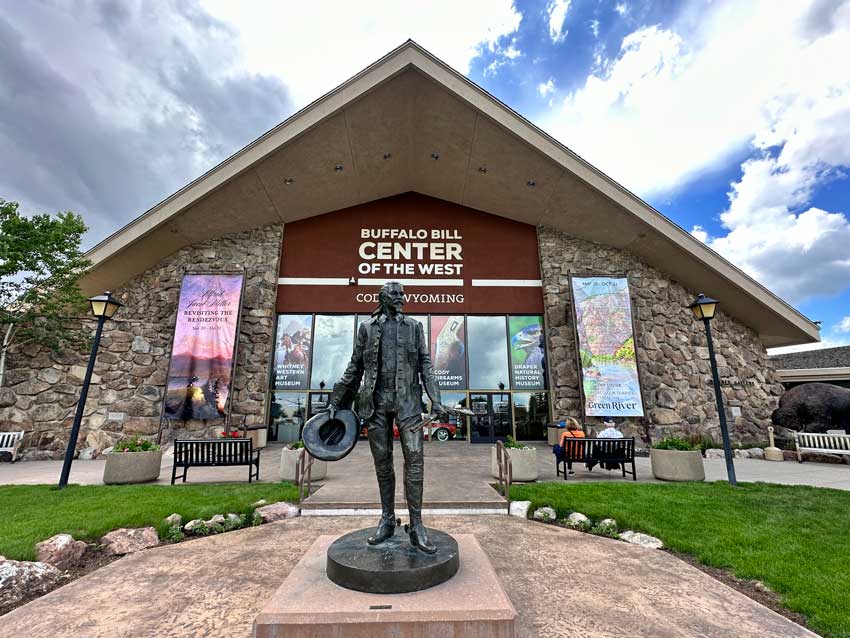 Cody, Wyoming and Buffalo Bill
The town of Cody was founded in 1896 by Colonel William F. "Buffalo Bill" Cody, who passed through the region in the 1870s.
Captivated by the area's potential for development, including its irrigation prospects, fertile soil, breathtaking landscapes, abundant hunting opportunities, and its proximity to the majestic Yellowstone National Park, Cody recognized the perfect ingredients for establishing a town.
Inspired by his vision, Cody returned to the area in the mid-1890s, determined to bring his dreams to life and create a thriving community that would showcase the natural wonders and boundless possibilities of the American West. The town of Cody, Wyoming is the result of that vision. 
Top Things to Do in Cody, Wyoming
Cody is bustling with activities. In the summer, there's a daily two-hour rodeo that is a family favorite, and the town has plenty of excellent restaurants to choose from.
We had lunch one day at Pahaska Teepee Report, home of Buffalo Bill's Original Hunting Cabin. Later, we had dinner at Buffalo Bill's Irma Hotel, built in 1902.
Cody spent more than $80,000 in 1902 dollars to build the hotel and named it after his daughter, Irma. It's still operating today. Be sure to check out the cherrywood backbar in the restaurant, which was a gift from Queen Victoria of England after a command performance he gave her.
For beer lovers, Cody has an impressive craft beer scene. They even have a Food and Beer Crawl Sippin' Trail app. Check out Cody Craft Brewing, Pat O'Hara Brewing Company and the WY Old West Taproom. Here's a guide to Cody Restaurants. I recommend Trailhead Bar-Grill Wood Fired Pizza, and Yoder's Donut Company, if you love donuts.
For entertainment along with a good meal, head to the Cody Cattle Company. Their ever-popular show features a chuckwagon buffet and a live music show featuring award-winning entertainers, Ryan Martin and the Triple C Cowboys.
Buffalo Bill Center of the West
The best place to learn more about Buffalo Bill and Cody's history is at the Buffalo Bill Center of the West, which is five museums in one. These include the Buffalo Bill Museum, tracing William F. Cody's life with multimedia displays, and the Draper Natural History Museum, with wildlife exhibits.
Chuckwagon Dinner
After our visit to the museum, we enjoyed an authentic Chuckwagon Dinner at the PowWow Grounds. 2 Mules Chuckwagon, in association with the museum, offers a family-friendly cookout.
Only 24 diners can attend the Chuckwagon Dinner each night, so book your dinner early. Families are welcome.
Old Trail Town
Nearby, Old Trail Town is a re-created frontier town with authentic cabins, saloons and other buildings from the 1890s. Walking through its incredible collection of historic buildings is like taking a walk into the past. Look for the Hole in the Wall Cabin where Butch Cassidy and the Sundance Kid once hid.
Horseback Riding near Cody
The Old West is synonymous with horseback riding, and the Cody region is an excellent place to ride. We took a 2.5-hour trail ride with Absaroka Mountain Lodge, which is 39 miles west of Cody. Riding through the scenic mountains on horseback was a memorable experience.
Rafting in Cody
The Shoshone River is a big part of the Cody experience, whether you're fishing it or rafting it. We went rafting with Wyoming River Trips, a second-generation, locally-owned business and had a great time. They offer two-hour to full-day river trips.
Backcountry UTV Adventure with TreadnTrails
Roaring through the backcountry of Wyoming on a UTV is a thrilling adventure. TreadNTrails rents everything from Polaris UTV to snowmobiles, slingshots and E-bikes.
My friends and I had a fantastic afternoon exploring the wide vistas and hills near Cody by UTV. It had rained that morning, so the trails were MUDDY, but it was an experience to remember.
TravelStorys Audio Tour of the Chief Joseph Scenic Byway
When it was time to head to Yellowstone, we drove the Chief Joseph Scenic Byway, a 45.96-mile-long state highway that links the town of Cody with the Beartooth Highway and the Northeast Gate of Yellowstone National Park.
The free 45-minute audio tour tells stories along the way of the region's rich history. It's almost like having your own personal guide in the car as you drive this beautiful route.
You can download the audio tour through the free TravelStorys app in your smartphone app store or at www.codyyellowstone.org or the TravelStorys website. Cody Yellowstone also has "Historic Downtown Cody," "Cody to Yellowstone" and "Hemingway Highways" tours available.
A Note About Visiting Yellowstone National Park in the Winter
Many people wonder if Yellowstone is open in the winter. Happily, the park is open year-round, but vehicle access from Cody, Wyoming is only available from May to November each year.

When winter arrives, a unique transformation takes place in Yellowstone National Park. Starting from the first week of November, the park restricts car access, except for a limited stretch of road leading to Mammoth Hot Springs through the North Entrance.
However, come mid-December, a whole new world opens up as the closed roads become pathways for over-snow travel. You can glide through the park's snow-covered landscape on a snowmobile, snowcoach or snowshoes and cross-country skis. The once bustling and congested paved roads now offer a serene and secluded passage to Yellowstone's otherworldly thermal features.
The Best Months to Visit Yellowstone to Avoid the Crowds
If you're hoping for good weather but want to avoid crowds, the best months to visit Yellowstone are September and October.
The off-season months in Yellowstone National Park offer fall colors and provide unique opportunities to witness the local wildlife in action while enjoying fewer crowds.
If You Go
The Yellowstone Regional Airport, two miles outside of Cody, is about 50 miles from the park's East Entrance. It offers service from Salt Lake City and Denver.
For more information, see CodyYellowstone.org