Editor's Note: We're all dreaming of travel ahead. Here's some inspiration for future adventures. We share places, products and activities we recommend. If you make a purchase using a link on our site, we may earn a commission.
California is one of the top destinations in the United States. This large American state, located on the West Coast and in the Pacific Region of the US, is diverse in geography, experiences and culture. You'll find lush vineyards, ancient forests, golden sand beaches and rugged mountains — all in one state.
Top Things to Do in California
One of the most popular road trips in California is Highway 1, also known as the Pacific Coast Highway. It winds along the coast past small beach towns, national parks, vineyards and much more.
California also boasts some of the most famous cities, state parks and sights in the United States, including Hollywood, Disneyland, San Diego, Los Angeles and San Francisco, to name a few. With so many attractions and cities to visit, it's hard to know where to start, so we've created a guide of the top 10 things to do in California. 
Northern California's Big Sur
Let's chat again about Highway 1. This spectacular 90-mile drive along the Pacific Coast Highway is considered one of the most breathtaking road trips you will ever take. Big Sur's statuesque redwood trees and sequoias provide some of the cleanest air you have ever breathed, and the Pacific Ocean creates a soft fog that floats across California's bluffs and sky.
Along the way, there are plenty of spots to take in and take photos of California's wildlife including condors, whales, seals and sea otters.
One such spot made famous by movies and television shows such as "Big Little Lies" is the Bixby Bridge. Completed in 1932, the graceful architecture brings throngs of visitors to view its beauty each year.
Since this drive stretches from Carmel-by-the-Sea and Hearst Castle, both are worth a stop. Carmel's charming downtown is full of restaurants, high-end shops and a pristine dog-friendly beach.
Located in Central California in San Simeon, Hearst Castle is a National Historic Landmark and a national treasure for good reason. This magnificent mansion was built for newspaper tycoon William Randolph Hearst between 1919 and 1947. While Hearst nicknamed his castle "the ranch" this sprawling estate is anything but a ranch-style home and is worth the time to tour its expansive grounds.
Visit San Francisco
Perhaps one of the most famous major cities in the United States and in the Golden State is San Francisco. No visit to San Francisco would be complete without a drive across the Golden Gate Bridge for a view of San Francisco Bay and the most famous prison in the world—Alcatraz. San Francisco also boasts some of the best dining and shopping in the world.
See Alcatraz, the Golden Gate Bridge, the pier 39 sea lions and much more on the San Francisco Bay Sunset Cruise. Coast on this luxury catamaran while the sun sets over the San Francisco Skyline. Book your spot here and cancel anytime before 24 hours of the tour so you can plan your trip stress-free.
In Chinatown, you can sample some of the best dim sum and Asian cuisine in the United States. Fisherman's Wharf is full of family-friendly activities and boardwalk street performers, and you will hear the seals on Pier 39 before you see them. There is no shortage of tourist traps that are, in all honesty, good fun.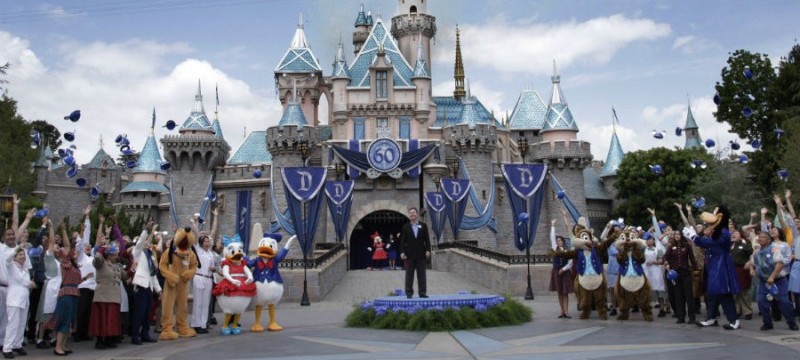 Southern California Home of Disneyland Hollywood and the Santa Monica Boardwalk
Southern California and Northern California couldn't be more different. No visit to Southern California is complete without a visit to the theme parks Disneyland, located in Anaheim, and Universal Studios Hollywood. And, in Hollywood, no visit is complete without checking out the iconic Hollywood Sign and the Hollywood Walk of Fame.
Santa Monica Pier boasts premier shopping, an iconic Ferris wheel, an amusement park, and a boardwalk where you can stroll and people-watch. You may even run into a celeb on this famous beach or check out the surf and go for a dip in the ocean.
Also known as "Riviera of the West," Santa Barbara is located about 95 miles northwest of Los Angeles and is known for its Mission-Style architecture, high-end boutiques, moderate year-round temperatures and pristine beaches. Be sure to visit the Stearns Wharf and Santa Barbara's famous Mission.
In the other direction, about 120 miles southeast of Los Angeles, San Diego is a not-to-be-missed experience, whether you decide to stay in one of the many luxurious resorts or make a day trip out of it. San Diego's Old Town is a historic district filled with a vibrant nightlife and shops and restaurants.
Balboa Park is home to the San Diego Zoo, the Birch Aquarium and SeaWorld. For a weirder more eclectic vibe, check out Venice Beach. This Bohemian town is filled with eclectic artists, skaters and muscled men and women working out at Venice Beach's famous Muscle Beach.
California's Yosemite National Park
This iconic national park is filled with natural wonders and can't really be done in a day. Here are some of the not-to-be-missed natural attractions.
Considered the highest waterfall in North America, Yosemite Falls is 2,425 feet with upper, lower and middle falls cascading from an impressive crest. Rain gear is recommended. Half Dome is one of the most-photographed spots in Yosemite National Park and for good reason.
One of the best views of this granite monolith is from Mirror Lake. Wawona Tunnel View is not just spectacular but a jaw-dropping scene and was made famous by the photographer Ansel Adams. This is the perfect spot to take in a panoramic view of El Capitan, Half Dome and Yosemite Valley.
This is just a small sample of these natural sights to behold, so be sure to have a plan before you go and book in advance.
See Monterey and Sea Life
Located in Northern California Monterey is a California treasure for visitors of all ages. Monterey is also home to the Monterey Bay Aquarium and sea life. Monterey's Cannery Row is filled with family-friendly restaurants, shops, hotels and plenty of wild sea life along the rocky coast.
Monterey's Fisherman's Wharf is the perfect spot to enjoy fresh seafood and spectacular sunsets. Explore the beauty of Monterey along 17-Mile Drive. This scenic day trip winds through the famous Pebble Beach golf course through Pacific Grove and the iconic Monterey Lone Cypress.
Palm Springs Home to Desert Top Attractions
Located in the San Bernardino Valley Palm Springs is an oasis in an otherwise dry and desert climate and is filled with plenty of activities. Let's start with the Palm Springs Aerial Tramway which takes you 8,516 feet to the top of the San Jacinto Mountains, the second-highest mountain range in Southern California.
Go off-the-beaten-trail and take a Jeep Tour of the Indian Canyons. Learn about plants, the historic culture of the Cahuilla Indians and take a relaxing 1-mile hike through the palm oasis. Book this magical tour here today!
If you still haven't found what you're looking for, the Joshua Tree National Park is your kind of place. Made famous by the band U2's album cover, this national park attracts countless visitors each year for its hiking trails and terrain.
The Living Desert Zoo and Gardens is the safest way to explore the desert and its inhabitants and includes up-close and personal interactions with animals such as camels and giraffes.
Eastern California Death Valley Desert National Park
Situated in the northern Mojave Desert, Death Valley borders the Great Basin Desert and is one of the most-visited national parks in California. Considered one of the hottest places in the world, Death Valley offers a plethora of hiking trails and outdoor activities.
A two-mile hike through the canyon and through the Natural Bridge is worth it and is well-suited for novice or expert hikers. But the real draw to Death Valley is the view of a starry sky unmarred by manmade light. You should hire a tour guide if you are visiting for the first time since temps can top 130 degrees Fahrenheit and the terrain can be tricky.
Getting a Taste of Wine Country in Napa
One road trip to Napa's wine country and you would think you're in France. Endless rolling hills and rows and rows of vineyards in the Sonoma and Napa region make this an unforgettable experience.
Rows and rows of vines and wines from some of the top wineries in the world call Napa home. There is no shortage of ways to explore wine country by train, bike, car and even limo.
California's State Parks are Popular With Visitors to the USA
The Golden State has some of the most diverse landscapes and climates packed into one state in the United States. California's state park system boasts beaches, verdant forests, waterfalls and, of course, the expansive Pacific Ocean.
Here is a list of the state parks you should visit: Anza-Borrego Desert State Park, Julie Pfeiffer Burns State Park, Empire Maine Historic State Park, Columbia State Historic State Park, Crystal Cove State Park and Big Basin Redwoods State Park.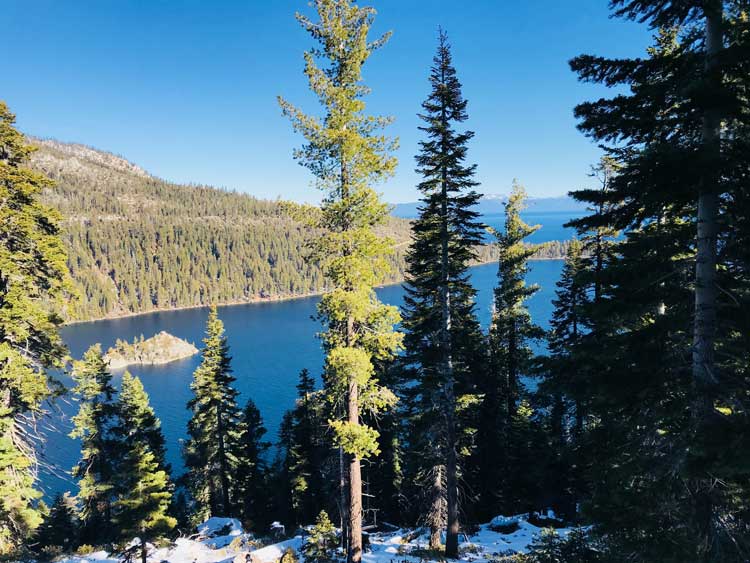 Lake Tahoe (and Reno Tahoe)
California's Lake Tahoe straddles the state of Nevada near the city of Reno, and locals call this area Reno Tahoe. Lake Tahoe's sparkling lake in the summertime offers plenty of outdoor activities, and its panoramic views of the Sierra Nevada mountains are spectacular.
In the winter, Lake Tahoe's towering mountains are the perfect terrain for hiking trails and skiing.
Book This Trip
Falling in love with the idea of exploring all that California has to offer? With endless parks, relaxing beaches and some of the most interesting cities in the world, California can't be beaten. Find more information on flight deals and payment plans through Kiwi. Then check out hotel options and insider tips on the best places to see and eat in each area through TripAdvisor and Travelocity.
Get the most out of your trip by booking some tours through GetYourGuide. Whether it's finding the best trails in Yosemite or exclusive experiences in Napa Valley, you can find exactly what you are looking for. Check out the selection of activities all over California here.