Discovery and enrichment come through expanding boundaries…especially when you have to stretch them some.
Mission Inn Resort and Club
After checking into the splendidly Spanish-themed Mission Inn Resort and Club I walked across the lobby and enjoyed the panorama of the pool in the courtyard below under the Sunshine State sky. A lone, blonde woman was gracefully swimming unhurriedly down the center of the pool.
It was if I was seeing a mermaid for, she was the only person in the pool area. Everyone else must have been on the fairways between the magnolia trees on one of the historic resort's two green golf courses: the Los Colinas course or the hilly, more than 100-year old El Campeon course.
Making Movies at Mission Inn
There would be time for the pool, but I was first curious to soak up the flower-filled resort which was like a movie set for Don Juan De Marco or Zorro. In fact, film studios often shoot at Mission Inn as a stand-in setting for Mexico, Spain, or, in the case of Discovery Channel, California. In 2019 Discovery Channel filmed some scenes for "The Right Stuff" in the resort's La Margarita Lounge because it bore a strong resemblance to a West Coast restaurant in which the early pilots and astronauts hung out.
Natural Trails for Walking and Imagining
I wanted to go back further in history so I first explored the resort's unique, wooded "Trail of the Conquistadors," a third-of-a-mile, shaded, solitary path which celebrates the explorations of Spanish conquistadors who founded Florida long before my venture that day on foot.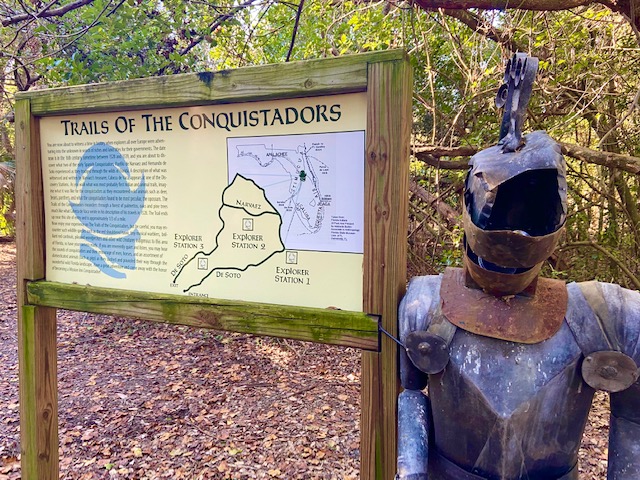 Quiet Mission Inn Predates the Mouse that Roared
The 1,000-acre property is quiet – like the cloistered grounds of a Spanish Monastery. Walt Disney is said to have stayed on property at Mission Inn while secretly buying up land to the south in a non-descript town called Orlando where he planned to build Walt Disney World. If you explore Mission Inn's property thoroughly enough you will find a small, tasteful mural of Disney, who died at 65 before the Disney World groundbreaking, with Mickey, the cartoon mouse he created.
Disney World eventually opened in 1971 and the six children of the Beucher family – four sisters and two brothers from Illinois many of whom are now Notre Dame alums – would have kept Walt's front gate turnstiles cranking for years. Now those children run Mission Inn Resort on the property (at the time just one golf course) their father, who came from the cattle and leather commodities industry near Chicago, bought to bequeath to them at just about that time.
"My father knew Walt Disney. He served on a local community council with him," said Bud Beucher, the youngest Beucher, the University of Arizona alum who serves as Mission Inn's vice-president and general manager.
Serving Families and Businesses in a Family Business
Disney's drive back and forth back in the day from Mission Inn Resort to Orlando was not as smooth as it is now. After all it was his creation of Walt Disney World that eventually turned Orlando a huge tourist center. Now its countless theme parks and thrill attractions along with the gauche gulch of International Drive and the Orlando Airport are only 35 minutes away via Florida's Turnpike – but far enough away to keep all that traffic and noise from disturbing the peaceful retreat Walt Disney enjoyed at Mission Inn.
He surely needed the quiet to focus on planning and business, and many other innovative corporate types follow, in that sense, in his footsteps today, according to Roy Schindele, executive director of sales and marketing for Mission Inn Resort and Club.
"We have 30,000 square feet of meeting space for corporate retreats. We host the Ford, Xerox and IBM's of the world. If you're going to invest the money to bring your people in what are you coming for? You're coming for networking – and not necessarily just what goes on in the meeting room," Schindele suggests. "If you hold a conference at a 'big box hotel' you have no control over the flow of people. If you want to have a private meeting, there you must be sequestered.
Here that's not the case. Here we see people sitting outside smoking a cigar by the fire pit. We have an adult game room with poker tables. The interaction and camaraderie that's created outside the meeting is as important for people who are looking for a good return on their investment as the meeting itself."
Mission Inn Resort offers team building activities such as a ropes course, skeet and trap shooting, a marina with pontoon boat rentals or bass fishing, tennis, Spa Marbella, basketball, bicycles, billiards, and pickle ball. "We have multiple restaurants and bars, so guests don't even have to leave the property for varied experiences," said Schindele.
Though he has been with the resort for less than a year, he proudly points out many of the employees displaying southern hospitality have been on staff for decades. Several of the waitresses in La Hacienda Restaurant called me by name or charmingly referred to me as "Honey."
The bartender in Nicker's Restaurant at the golf clubhouse managed to be perfectly and politely sassy. "The Beucher family takes very good care of their employees and their facilities and the golf courses. It's an honor to be involved here."
Michael Bowery, director of golf and special projects, has been with Mission Inn for decades and even went to college with Budd, the youngest of the Beucher children.
Quality Time on the Resort's Integrated Golf Holes
Mission Inn's two golf courses are blended into the property so even those who don't play golf get to enjoy the panoramic vistas of the fairway corridors though the trees and the placid ponds and flower beds blended into the courses. Some of the inn's hotel 176 guestrooms have screened patios directly on the tees and so close guests can hear the unmistakable sound of a club head smacking the ball and sending a drive down the hill and into a landing area between white sand bunkers.
"The El Campeon golf course has amazing topographical elements with elevation changes of over 100 feet. That's very unusual for Florida golf courses.
There are no homes on either of the courses, so they are very natural experiences," said Schindele. George O'Neill designed the El Campion course more than 100 years ago to host a PGA tournament – now it hosts qualifying events for potential professional golfers on the Canadian and Latin American tours, and the major golf industry companies shoot commercials and training videos on the course, too. The much newer Los Colinas was course designed by PGA Tour player-turned NBC television golf commentator Gary Koch.
"El Campeon is a parkland, shot-makers-style course with old-style, undulating greens. Both courses are championship quality," Bowery explained. "This is old Florida – and there is not a lot of old Florida left. Serenity and golf go hand-in-hand."
The rates are "old Florida," too. El Campeon can be played for as little as $45 in the summertime.
Splashing and Swimming in the Rain
After seeing the serenity by roaming the grounds it was finally time, under a now pink, purple and orange sunset sky, for me to hit the pool. That afternoon's mermaid was long gone…and as I stepped from under one of the Mission Inn's many canopied walkways to slip in for a swim, a textbook Florida cloudburst rained droplets down on the area.
My toe was already in the water, though, and I was delighted when I felt how very warm the pool was and dropped myself the rest of the way in for a sublime swim. When the rain cleared shortly after I moved over to the covered Jacuzzi with a glass of fresh fruit-infused cold water the resort staff sets out in dispensers. True classic Florida chill.
Michael Patrick Shiels is a radio host and travel blogger. Follow his adventures at GoWorldTravel.com/TravelTattler. Contact Travel Writer Michael Patrick Shiels at [email protected]