The Great American Road Trip. It's a part of American culture that many have treasured for generations. Many think of Route 66 or traveling across the American West, but one of the most unique American road trips is traveling through the Florida Keys.
Where Are the Florida Keys?
The Florida Keys are a string of 1,700 islands about 120 miles from the southern tip of Florida. The islands, most of which are uninhabited, straddle the Atlantic Ocean and the Gulf of Mexico. The largest island, Key Largo, is only 30 miles long.
There is only one way to drive to the Florida Keys – via the 110-mile Overseas Highway, a scenic road that connects the islands using 42 bridges. The road passes over blue waters, along swampy marshes and through the main islands in the Florida Keys (you'll need a boat to reach some of the smaller islands).
Most people fly into Miami or Ft. Lauderdale and make the drive, but you can also fly straight into Key West or the Florida Keys Marathon Airport.
While many come to the Florida Keys to visit Key West, the most populous island, my fiancé, Benjamin, and I wanted to explore as much of the island chain as we could. So we rented a car in Miami and off we went.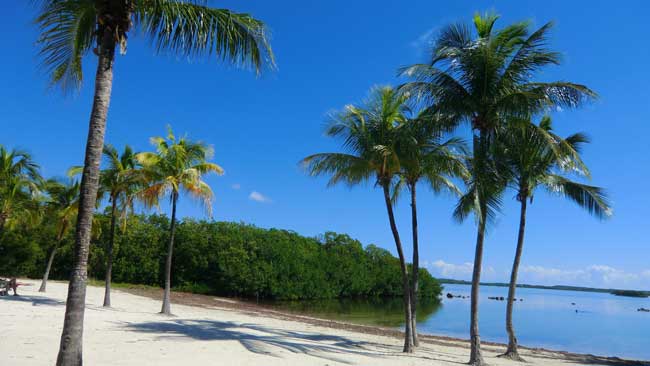 What to Do in Key Largo

It took us about an hour to drive from Miami International to the first main island in the Florida Keys – Key Largo. Key Largo is home to John Pennekamp Coral Reef State Park.
The park is the first underwater park in the United States, and encompasses more than 70 nautical square miles of water — and it's a top draw in the region.
The Florida Keys have long been known as a top diving and snorkeling destination. That's due to the Florida Keys reef system, which is the only living coral barrier reef in North America. The waters are rich with sea life, from grouper to parrotfish to schools of permit.
You can rent snorkel gear at John Pennekamp Coral Reef State Park, and if you don't want to get wet, you can still view the fish on a glass-bottom boat tour.
Key Largo has an abundance of accommodations, from beach bungalows to luxury resorts. We chose to stay at the Hampton Inn Key Largo. It turned out to be a good choice, as the hotel has its own private beach.
Continued on next page