Three national parks. 3,500 miles. 12 days. And after a year in captivity, two retired, long-married souls ready for adventure.
As the pandemic stubbornly clawed for a continued foothold, this still-hesitant traveler yearned for a late-spring trip.
With provisions and a detailed plan, I rolled the dice and hit the road for an odyssey beginning in Dallas to Jackson Hole, Wyoming.
Preparations for Our Road Trip to Yellowstone
The road to Utopia required I take precautions along the way. Even though both of us were fully vaccinated, my wife's underlying health conditions meant that we took her dietary restrictions into account.
To be prepared, we loaded extra foodstuffs in a separate box and cooler. A couple of emergency room visits had taught us that "just in case" meant our destinations needed to be booked within a reasonable distance of a hospital.
After over 30 years of marriage, I discovered my loved one's ability to eat peanut butter and jelly sandwiches. This discovery served us well many times as a light meal on the road.
In addition, we either picked up to-go items at a restaurant or shopped for our meals at grocery stores, cooking them on a stovetop, in an oven or microwave throughout the journey. We never set foot in a restaurant together, although the temptation was all around.
The extensive packing list might be a little elaborate to some, but it was reassuring to me. Dozens of those ubiquitous light-blue surgical masks, a few better-quality American-made N-95s, travel-sized bottles of hand sanitizer and several containers of sanitized wipes rounded out the virus prevention gear.
Saving Money
Due to a cranky lower back, one of my goals was to limit myself to three loading and unloading trips at each new nightly destination. Once at my main destination in Jackson, most everything was unloaded for our several-day stay.
Rather than opting for a pricey rental car to road trip through Yellowstone, the vehicle of choice was the five-year-old family SUV, scarcely driven during 2020. The luggage carrier held those items needed at our destination 1,500 miles away, like additional cookware and clothes.
Because I planned to leave the hotel in Jackson right before the Memorial Day weekend, I saved nearly half of what would have been the nightly summer-season rates.
And because the room came with a kitchenette, I could shop at a local grocery and cook all our meals for under $225 for the entire stay. With a budget and expanding confidence, this road warrior was ready to ramble.
Another cost-effective option if you have a group or family is renting an RV with Camping World to road trip through Yellowstone National Park. Find trusted rentals and deals everywhere in the United States here.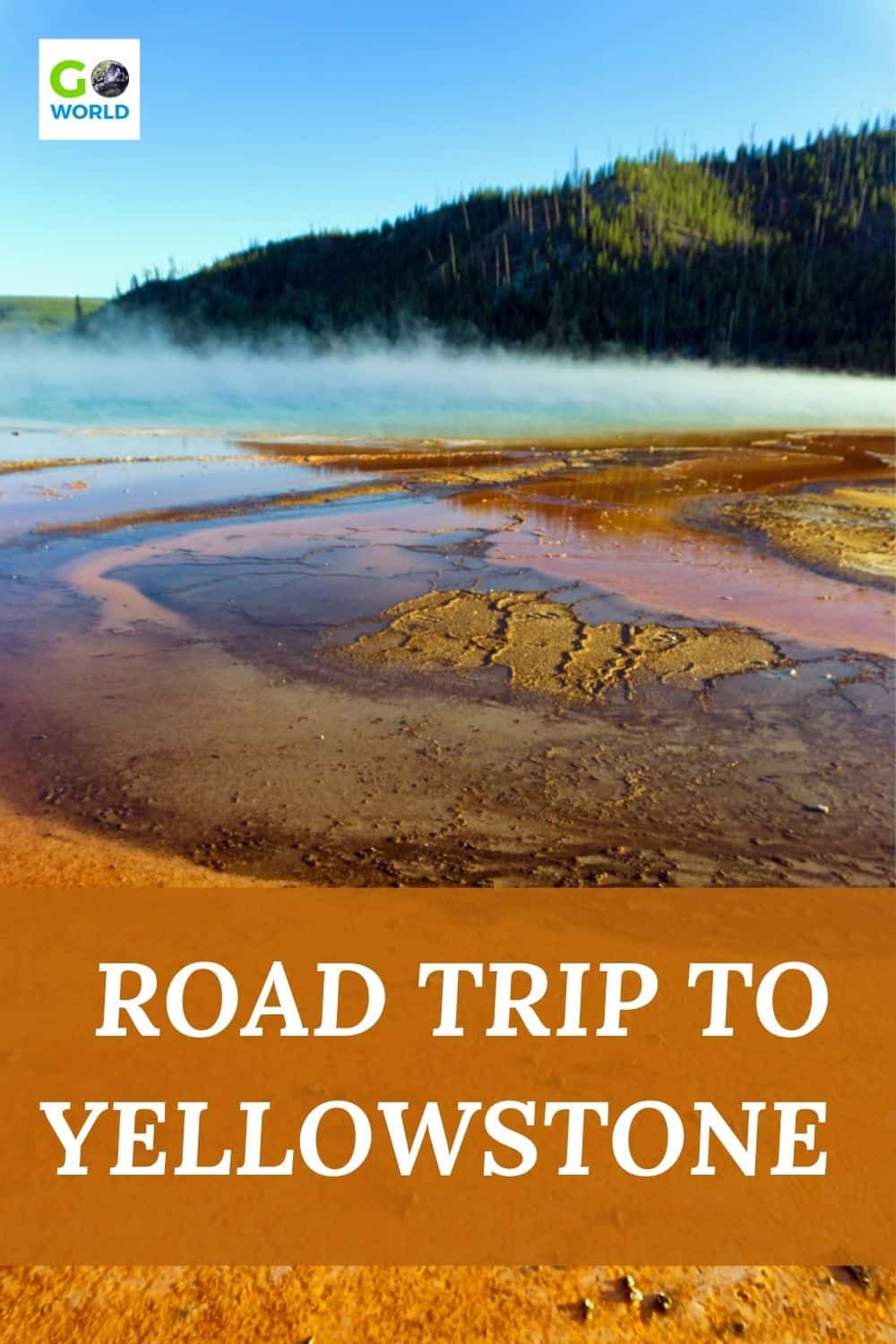 Quick and Quirky Travel Through Texas
The first portion of the trip through northwest Texas offered uneventful scenery but still a few surprises. A "smart car" passed us outside Quannah, covered with ads for a wrecker and transport company. Handling the smaller calls, no doubt.
Or the sign in Childress that proclaimed, "Guns and Chicken – Buy, Sell or Trade." "Which one was the better deal?" I asked myself.
And nothing was left of the iconic "It'll Do" Motel but the name. There is indeed no place like Texas, but we were zeroing in on Dumas, smack dab in the center of the Texas panhandle.
I started humming the 1937 Bob Wills and the Texas Playboys hit, "I'm a Ding Dong Daddy from Dumas, and you oughta see me do my stuff."
With no time to look for a honky-tonk, I ended up staying at a modest hotel and grabbing a to-go steak dinner—a must entrée when you're in this part of the state.
After I drove through dense fog the next morning, Colorado welcomed me with the first of many green-crossed "dispensaries" boasting a variety of recreational and medicinal cannabis products to soothe the savage road warrior.
Rather than browsing the aisles like a gawking out-of-stater, I thought it better to spend more time at Great Sand Dunes National Park, the first of three parks along the way.
Shifting Topography of Great Sand Dunes National Park
Just past the 14,000-foot Blanca Peak, arising out of the high plains, I encountered mile upon mile of wavy sand dunes, backed by the snowy peaks of the Sangre De Christo Mountains.
Tiny slow-moving ants – people, upon a closer look — dotted the lower portion of the dunes, which reached over 700 feet.
The 330 square miles of sand are there due to mountain erosion, freezing and thawing, water and wind. But it isn't all just sand.
Although the dunes are the centerpiece, the park includes grasslands, wetlands and forests. And, visitors enjoyed wading in the cool stream of water which makes its springtime pilgrimage from the mountains onto the plain below.
Riverside Cabin in Pagosa Springs
Heading over the 11,000-foot Wolf Creek Pass, I arrived at Pagosa Springs and checked in at the Fireside Cabins. The dwelling I had reserved was nestled yards away from the San Juan River and came complete with a kitchenette.
I opted for Pagosa Thai, rated as one of the best in southern Colorado. I was not disappointed. While we weren't able to dine in, their brisk takeout business meant that we were soon enjoying duck curry and Thai soup and salad by a rushing river.
Pagosa (meaning "healing water") Springs served as a railhead and supply depot catering to mining camps in and around the San Juan Mountains in the mid-late 1800s. It now caters to tourists who enjoy the thermal springs by the San Juan River.
Note to self: Return to enjoy dinner at the Alley House Grille and have one of The Peak Deli's famous sandwiches, right in the middle of town.
Visiting Yellowstone National Park is one of the top things to do in the USA
Grand Junction Palomino Inn
Reluctantly leaving the peaceful cabin, I drove west to Durango and then north to that evening's destination. The Grand Junction Palomino Inn, near Interstate 70, transported me to a more Route 66-type vibe.
Palomino's long-time owner, Ivana, greeted me warmly in a Polish accent. She said that her place was one of the last independently owned motor courts in the area.
I was initially surprised by the number of tattoo parlors and pawn shops located nearby. But as I headed to a local restaurant to purchase dinner to go, I became more accustomed to the neighborhood.
I even grew to appreciate the grittiness of this faded but bustling thoroughfare. As for our room, it was spotless, quaint and inexpensive — All reasons the Palomino Inn rated very high on the major online accommodations sites.
After a breakfast of cereal and boxed almond milk in the room, I hit the road early. Traveling through Dinosaur National Monument, Northeastern Utah and western Wyoming, I arrived in downtown Jackson, just a few miles south of Grand Teton National Park.
The Lexington Hotel, a three-block walk from the town square, provided us a large suite with kitchenette. The supermarket supplied groceries for my five-night stay. Since time would not allow my fly fishing fantasies to come true, I made tasty meals from several farm-raised trout filets.
I knew the meal schedule would need to change so I could enjoy both nearby Grand Teton and Yellowstone National Parks. Each day I planned for a good breakfast, hearty late lunch in the room, and light brown-bagged dinner on the road.
This afforded me the time to see the parks in the mid-to-late afternoon and twilight when tourists were fewer and the animals more numerous.
Grand Teton Greeting
I tried out our eating and sightseeing plan the next day. Due to a rainier and cooler forecast, Grand Teton National Park was there for the taking.
Our lifetime National Parks senior pass, bought before the price went up to $80, was immediately accepted by the young park ranger at the front gate.
When asked about wildlife viewing, she pointed us to an area where bears had been seen recently.
First, I traveled Teton Park Road to Jenny Lake. Channeling my inner Ansel Adams, I snapped several black-and-white photos of the iconic peaks. I stood spellbound by the dance of clouds and jagged mountains in the mist.
Grinning and "Bearing" It
Feeling ever more confident in my photography skills, I set out to "find me a bear." And to my surprise, up the main road and on the north end of Jackson Lake, a juvenile grizzly decided to appear. Just as the ranger said.
Mind you, it was only grazing on fresh green grass, not agreeing to do a photoshoot. However, staying a comfortable distance away (at least 100 yards, per park rules) and on the side of the road, I delightedly aimed and shot — pictures, that is.
I was transported back to my youth when I vaguely recall families feeding snack food to bears from car windows lining the road into Yellowstone. Fortunately, that is now against the law, for the benefit of both humans and wildlife.
By now, dozens of vehicles lined both sides of Highway 89/191, the John D. Rockefeller, Jr. Memorial Parkway, safely getting their best shots of young "Smokey" as he continued to forage.
You can count on it: If one person stopped along a roadway pointing a camera, other cars would follow because they didn't want to miss the possibility of a perfect photo.
Yearning for Yellowstone
After cooking another midday meal of trout fillets, I drove 1.5 hours to Yellowstone's southernmost ranger station. I had underestimated the vast size of the park and would need to scale back my grandiose plans.
Like so many first-time tourists, I was drawn to the Old Faithful geyser. Crossing the Continental Divide three times, I arrived in the late afternoon. Unplanned, however, was the rainy 43 degrees Fahrenheit greeting from Mother Nature.
Old Faithful was being coy about its scheduled eruption time, but I waited patiently. And blast off it did, with its eruption lasting a couple of minutes at over 100 feet high, entertaining the cold and soaked tourists.
Find layers for every type of weather on your trip at Mountain Warehouse. With camping gear, hiking boots and accessories, Mountain Warehouse has everything you need to make your road trip through Yellowstone National Park a success. Check out their selection here.
Grand Prismatic Wonder
Our neatly packed peanut butter and jelly sandwiches were a great trade-off for a sparser geyser audience.
Eating our fixin's in the car, we headed to The Midway Geyser Basin, particularly the Grand Prismatic Spring. Anyone remember psychedelic tie-dyed t-shirts? In the bright sunshine, the spring would put those shirts to shame.
Check out expert-guided tours and unique at the Grand Prismatic Spring here.
Even through the clouds and steam, I could see the bright colors formed by different varieties of bacteria living in the thermal bands. Colors of yellow, orange and green, surrounded the 120-foot deep, 160 degrees Fahrenheit blue center.
Indeed, this geothermal hot spot was one of the many reasons Yellowstone was named as America's first national park in 1872.
Brief Views of Downtown Jackson
While the restaurants and attractions of downtown Jackson were mighty tempting, we purposely chose to avoid crowded indoor areas on this part of our road trip through Yellowstone.
Instead, we walked to the nearby town square and close-by environs. Many shops and restaurants on the square are a short stroll from nearby hotels.
We marveled at the arches made entirely of antlers, shed each fall by bull elks on the nearby National Elk Refuge, and gathered by local Boy Scouts. A 16-year project, the arches were eventually completed in 1960.
Varied Homecooked Meals
We ate well, especially during our Jackson stay. In addition to trout, I surprised my wife with a new concoction, elk and eggs, for breakfast one morning.
Another meal was bison (New York) strip steaks, "cooked to perfection," she said. All this bought at the local supermarket. With salad and fruit, we imagined ourselves at some of the fancier restaurants nearby – but much more cheaply and safely.
Mormon Row and Hayden Valley
After a mostly overcast stay, the last full day in Jackson dawned clear, and photo-rich territory lay ahead.
The still-standing barns of Mormon Row Historic District made a perfect foreground with the majestic Tetons in the background. The early afternoon drive up to Yellowstone provided us with more geysers bubbling and steaming on either side of the road.
We skirted a portion of Lake Yellowstone and encountered a broad expanse of hills, with the Yellowstone River winding its way through Hayden Valley, an animal (and tourist) magnet.
However, this day the numbers of tourists were less than expected. On a few stretches of highway, the grazing buffalo seemed to nearly outnumber them.
Grand Canyon of the Yellowstone
Just beyond the valley, the Grand Canyon of the Yellowstone offered striking views with the upper and lower falls cutting through the canyon.
Turnouts along both the North and South Rim Drives enabled visitors to see the expanse of how water, wind and erosion carved the landscape. A persistent rainbow delighted us and the other visitors nearby.
I longed to experience Lamar Valley at the north end of the park, purportedly home to a larger variety of animals, particularly during springtime calving season. However, the main park road north of Canyon Village was closed, and daylight was running low to attempt the journey there and back.
Returning Home Via the Raton Pass Motor Inn
The Friday before Memorial Day signaled the beginning of our return trip and the end of our road trip through Yellowstone, just as hordes of tourists started arriving. We took a quicker and more direct return route, overnighting in Cheyenne and then on to Raton, New Mexico, just over the Colorado border.
A delightful stay awaited us just off the interstate at the Raton Pass Motor Inn. The 1950s-era inn was colorful and immaculate.
Each themed room was identified with a plaque by the door. Ours was "Humans Best Friend," colorfully decorated with dog-themed bedding, pictures and books. As greyhound rescue aficionados, we were delighted.
New owners Michael and Brandy were charming and open to visiting with guests throughout the evening. They also supply their guests with goodie bags of breakfast items and freshly brewed coffee.
The final 600-mile leg of the road trip to Yellowstone and our journey through the Texas plains was as uneventful as planned. For a speedy and safe return trip, that is all we could hope for.
Travel with Confidence
A little extra planning meant a world of difference to our enjoyment of this road trip to Yellowstone adventure. We returned virus-free.
No one commented about our wearing masks in public places like rest stops or gas stations. While we didn't dine in a restaurant together, and since it was too cold and wet to dine outside, we made up for it with delicious home-cooked or to-go meals along the way.
And, we adjusted our schedule to take advantage of less-congested tourist times. Having gained traveling confidence again, I look forward to planning other similar road trips in the future, if lingering effects of the pandemic persist.
Wave goodbye to fear and doubt accumulated over this last year and a half. Wave hello to new experiences waiting just around the bend. Bon Voyage and Bon Appetit!
Pandemic Travel Planning and Advice:
Carry fewer clothes than you think you need, and wear layers—we carried too many garments.
Plan what you may be cooking, and shop at the local supermarket upon arrival, and before heading back.
Pack basic cooking utensils accordingly, just in case your destination lacks them.
One load of laundry at our hotel, halfway through the trip, met our needs.
Sort items you'll be using along the way into one or two boxes, to access at each evening stop.
Pack into a small box/larger cooler what dietary foodstuffs are necessary for trip.
Research medical facilities in larger towns along route, just in case of emergencies.
Buy a national parks pass ahead of time, if you know you'll be visiting several parks.
Book This Trip
Ready to road trip through the breath-taking nature of Yellowstone National Park? Start planning your trip with hotel and VRBO reservations, best hikes, local restaurant reviews and more on TripAdvisor and Travelocity.
Add even more fun by booking some tours and activities in Yellowstone National Park. Reserve your dates here and cancel anytime for a full refund with GetYourGuide.
Author Bio: John Spaulding is a freelance writer based in Texas. You can visit him at www.texastripwriter.com.