Whoosh! A 130-ft tower of water shoots straight up towards the sky and my five-year old squeals with delight, jumping up and down next to his brother. Nothing makes little boys happier than explosions of water. Eating our picnic under the pine trees, we watch Yellowstone's most famous geyser, Old Faithful, put on a show.
Yellowstone National Park
Located in Wyoming, as well as parts of Montana and Idaho, Yellowstone National Park is a popular natural wilderness recreation area. It's the height of summer and the viewing area is busy. Most visitors are hoping for a glimpse of the 'Big 5' – wolves, bison, grizzly bears, moose and bald eagles – but Yellowstone is also home to black bear, bighorn sheep, lynx, pronghorn, mountain lion and coyote, to name just a few.
Two days earlier, flying into Jackson Hole, the southern gateway to the Grand Teton and Yellowstone National Parks, I hadn't expected to encounter wildlife so soon, but the next morning we made our first spot. A lone coyote sloped across the brush close to the Elk Refuge Road outside Jackson, weaving its way among a scattering of panicked chipmunks. Not long after, on the Gros Ventre Road, we pulled over to watch a moose lumber along by the river, seemingly unperturbed by our presence.
It was only when we got out to stretch our legs and discovered the recently abandoned carcass of a young elk nearby that it occurred to me we'd come to a place where nature called the shots. This set the theme for our entire trip and not just in terms of animals.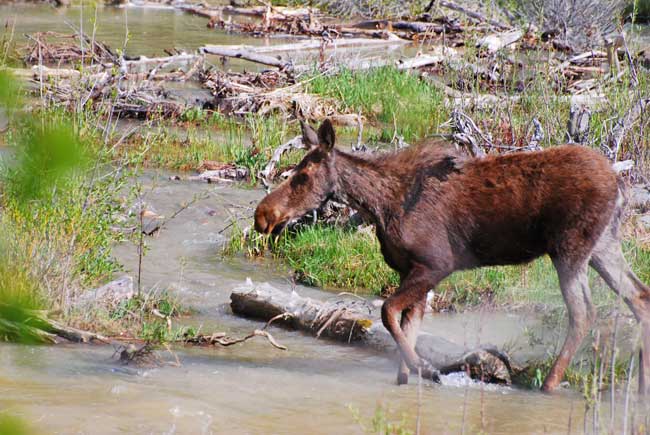 Much of the land was still thawing as we drove north from Jackson past the majestic snow-covered peaks of the Grand Tetons and into Yellowstone. Lewis Lake was still completely frozen over. Yellowstone has the highest concentration of geysers anywhere in the world. It is situated on top of a super volcano that if it were to erupt could have catastrophic consequences globally. Thankfully, that hasn't happened.
Old Faithful
Old Faithful is geared towards tourists, as you would expect, with a huge parking lot and several large buildings housing lodges, cafés and gift shops. However, I'm pleased to see that enough consideration has been given to preserving the space around the geyser itself.
The visitor centre is full of fascinating and interactive displays, and there are helpful signs in all of the buildings predicting when the next eruption will take place. Intervals vary from 60-110 minutes and last anywhere between 1.5 and 5 minutes. We watch two eruptions, collect our car, then sit in a queue of traffic whilst a very stubborn bison blocks the exit road.
Just up the road from Old Faithful are the Black Sand Basin and Biscuit Basin.
"What's that horrible smell?" my youngest giggles, pinching his nose.
The stench, like rotten eggs, comes from the hydrogen sulfide gas produced by evaporating sulfuric acid in the geysers. It takes some getting used to but is a small price to pay for the pleasure of viewing some of Mother Nature's most remarkable work.
We follow the boardwalk loops past vibrant, colourful pools and hot springs, all with names like Sapphire Pool, Opalescent Pool and Jewel Geyser. The kids are full of questions and we meet a park ranger named Ike who patiently answers all of them. I have never seen a geyser before this trip and am instantly hooked, vowing to visit all 500 of them before we leave.
Early morning and dusk are said to be the best times to spot wildlife, so we keep our eyes peeled as we drive north to Madison Junction. The speed limit on Yellowstone's Grand Loop Road is 45 mph and for good reason, as I'm about to find out. Turning the corner, we are greeted by a herd of bison at least 50 strong walking towards us.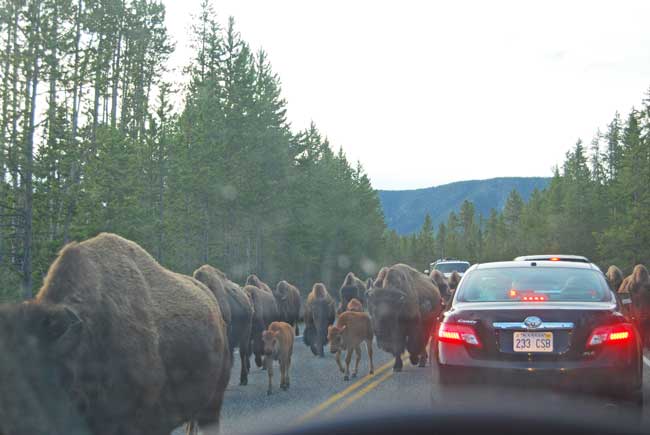 Wildlife in Yellowstone National Park
The driver of the car in front pokes his head through the sunroof, only to sit back down when one of the huge beasts bumps against the side of his car. For 20 minutes we sit, barely daring to breathe, as they amble past with their young calves in tow. It's incredible and all we can talk about for the rest of the evening.
We stay for a few nights in the town of West Yellowstone, visiting the Grizzly and Wolf Discovery and Yellowstone Historic Centers, as well as exploring the nearby geyser basins and Firehole Lake Drive. The vivid rainbow colours of the Grand Prismatic Spring, which is the most photographed thermal feature in Yellowstone and the third largest geyser in the world, are truly spectacular. We walk part of the way around the enormous Norris Geyser Basin and spot a white-tailed jackrabbit near the Steamboat Geyser.
Continued on next page