Over 150 years ago, Norwegian playwright Henrik Ibsen popularized the term friluftsliv, (pronounced free-loofs-leaf). He used the word to describe the rejuvenating effects of spending time in nature.
In the mid-1800s, Scandinavians settled on the 80-mile eastern Wisconsin's Door Peninsula. This area with its biodiverse landscape of craggy shoreline, swails, dunes, beaches, rolling farmland, springs, and the boreal forest was sure to have given them their fill of friluftsliv.
And yes, the great outdoors is still celebrated by hundreds of thousands of tourists all year long.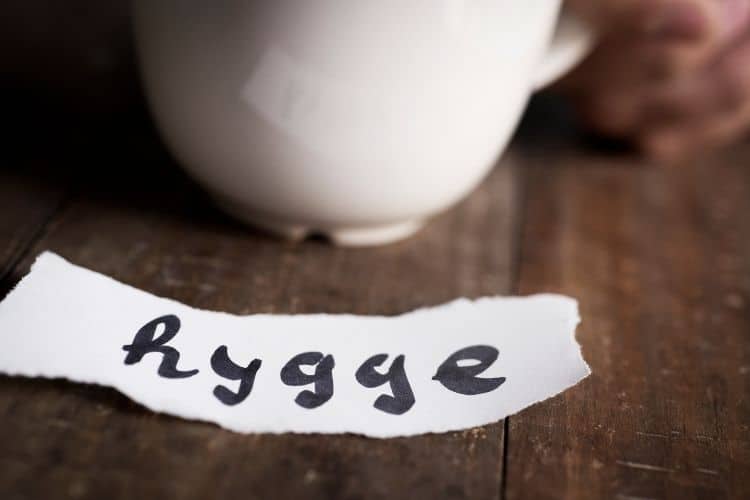 Indoor Activities for a Door County Winter
But, there are those days when the Door County winter temperature is too cold or maybe you just need to take a break from Mother Nature. On those days the Door Peninsula in Wisconsin offers plenty of alternatives.
You can inhale rounds of gouda in a cheese cave or find serenity in the pews of a church modeled on a 12th-century Norwegian stave. Another tasty option is to sample pickled herring beneath the sound of goat hooves on the sod rooftop.
When you've worked up a thirst, try sipping cherry-infused hard cider at a cider house (there are 2500 acres of cherry orchards on the peninsula).
Whatever you choose to do you will find that there's just the right amount of hygge (hyoo-guh) – a Nordic phrase for cozy contentment – indoors to balance out the friluftsliv.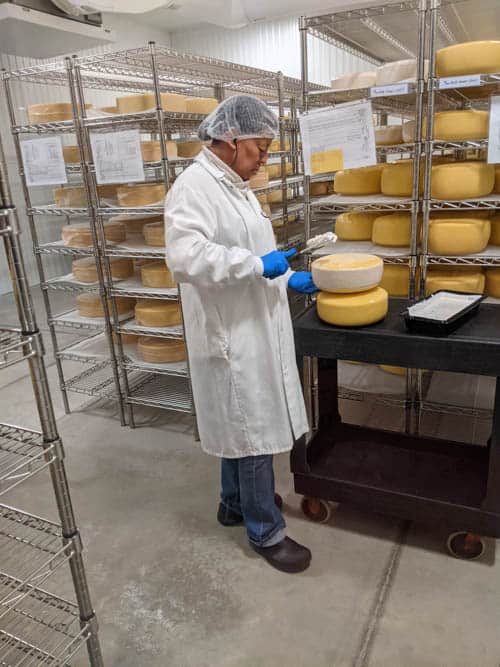 Giant Cheese Wheels at a Cheese Cave
Scuba divers and kayakers can view underwater limestone caves at Door County's Cave Point County Park. Meanwhile, landlubbers can view giant wheels of cheese aging in temperature and humidity-controlled cheese caves at Door Artisan Cheese Company.
After all, eating cheese sounds better than scuba diving in a Door County winter.
Thirty different kinds of cheese are being made the old-fashioned way. This means separating milk into curd and whey, molding, salting, pressing, and storing with highly nuanced tweaks and finesse.
For example, Tophat Cheddar is an English Truckle Stye bandaged cheddar, creamy with some sharpness and aged 4 years. Then there is a regular Tophat Cheddar which makes it to the market shelf at between 6-9 months of age.
After all, this is Wisconsin, America's dairyland, home to the only certified Master Cheesemakers in the United States.
You can watch these cheese masterpieces being created behind a wide viewing window, visit the cave, and chat with an award-winning Cheese Master. When you sample these fine cheeses, akin to sampling fine wine, appreciate the color, texture, smell, and taste.
Then load your cart in the store's market with new and old favorites. You may enter Door Artisan Cheese Company as a novice, but you will exit as a connoisseur.
Boynton Chapel
The wind whips off Lake Michigan just steps away. You can take refuge by walking into what feels like a Medieval fairytale as you enter the Boynton Chapel on the 425-acre Bjorklunden estate (pronounced bee-york-LUN-den, Birches by the Water).
The architecture is inspired by an 800-year-old wooden stave church in Lillehammer, Norway. (Staves are the wood posts that support the building.)
The interior of Boynton Chapel features intricate carvings and 41 hand-painted frescoes. These were crafted from 1939 to 1947 by owners Donald and Winifred Boynton. They were pig steel magnates from Illinois but spent the summers as self-taught artisans at their lakeside residence.
The pew ends are carved on both sides with images of the heads and shoulders of patron saints. The frescoes illustrate Christian ideals like faith and charity mixed in with some personal references.
The chapel and grounds were bequeathed to Lawrence University in 1963. If you're a woodworker today, take a tip from the Boyntons, who polished the pew ends with wool dipped in sour cream.
Swedish Food and Goats on a Roof
If you time it right, you might see five or six goats exit a pickup truck and trot up a slanted staircase to graze on the sod roof of Al Johnson's Swedish Restaurant. In the off-season, you'll see wire outlines of goats on the roof acting as placeholders until the weather warms up.
Sod roofs are a feature of traditional Scandinavian architecture. And the goats? Well, one goat was a birthday gift to Al years ago and from there a tradition grew that is known worldwide as – "that place with the goats on the roof". The chalet-like look of Al Johnson's facade is legit.
The yellow pine logs were shipped from Norway and the construction will remind you of the Swiss Family Robinson's cabin. The authenticity of the outside is mirrored on the inside where tourists and locals enjoy all-day breakfast or lunch.
Order the Swedish pancakes with tart lingonberries and sweetened whipped cream (Al Johnson's is the largest buyer of lingonberries in the U.S.). Alternately try the homemade Swedish meatballs with hearty rye Limpa bread.
So let those that want to observe nature outdoors do so – you can enjoy nature indoors, knowing the sound of gentle hooves are safely above as you enjoy your homemade pickled herring with sour cream and red onions on the side.
Sipping at a Cider House
Award-winning hard cider is served in the taproom at Island Orchard Cider. Try a flight sampling from their 18 varieties. Some of the offerings are Brut Apple, a blend of 36 different apples, Apple Cherry, featuring the iconic locally grown Montmorency, or a cider that combines the classic bosc and bartlett pear.
All the ciders are made from local orchards in the Normandy style – winey in taste but with half the alcoholic content. In addition to Island Orchard Cider, there are over a dozen breweries and wine distilleries on the peninsula.
You can organize your own tour or join one of the many offered by Door County Tours, riding from place to place in the only climate-controlled Grand Dining Trolley Car in the United States.
Regardless of when you choose to visit, there's plenty to do inDOORs during a Door County winter, spring, summer or fall.
If You Go:
Door Artisan Cheese Company
8103 Highway WI-42 N
Egg Harbor, WI 54209
(920) 868-1444
Boynton Chapel
7590 Boynton Lane off of Hwy 57
Baileys Harbor, WI 54202
Call first to get keys to the Chapel from the main lodge or join a tour.
(920) 839-2216
Al Johnson's Swedish Restaurant
10698 North Bay Shore Drive
Sister Bay, WI 54234
(920) 854-2626
There's a goat cam on the website:
Island Orchard Cider
12040 Garrett Bay Road
Ellison Bay, WI 54210
(920) 854-3344
White Gull Inn
Holds traditional fish boils on the back patio.
Hillside Waterfront Hotel
Green Bay views from the longest front porch in Door County.
Door County Trolley Drinking Tours:
Sturgeon Bay is the first town on Door Peninsula. It is 45 miles from Green Bay, Wisconsin. Milwaukee is 150 miles away and Chicago is 240 miles away. On one side is Green Bay and on the other is Lake Michigan. Historic inns are dotted on both sides, capturing the spirit of the peninsula.
For more options from hostels to glamping, as well as help booking a stay at any of the places mentioned above check out Booking.com.
Have even more fun in Wisconsin by driving there. With RVShare, you can rent your ultimate home on the road to see all of Door County. Find more information and travel deals here.
Author Bio: Ellen Kahaner can pack a suitcase and go anywhere on (almost) a minute's notice with her reporter's notebook in hand. She has published articles on a wide range of subjects, from radiation spills in Juarez, Mexico, to kitchen spills in suburban New Jersey.