Venice, Italy is one of the most popular destinations in the world. Maybe it's even on your own bucket list. The Venetian Lagoon has attracted travelers for centuries as an important merchant city.
While this unique Italian city might sometimes feel like an open-air museum, it's also a place where people live and work.
I have been to Venice multiple times and every time I am in awe of its beauty and elegance. Sightseeing in Venice can be as simple as taking a water taxi and sailing around different parts of Venezia or going on a walking tour of top attractions.
Book a room at any of these charming hotels for your stay in Venice.
In addition to seeing sights and following travel guides, it is imperative that you try all the authentic food and drinks that Venice has to offer.
Cafes often offer cicchetti, which are small savory plates of a wide variety typically served with drinks that originated in Venice. Try some with Aperol Spritz and enjoy views of the Grand Canal in the evening for the perfect Venice experience.
Read More: Taste the Best Food in Venice, Italy with an Educational Food Tour
1. Gondola Ride
A visit to Venice would be incomplete without experiencing a gondola ride. You will get the best view of Venice when you sail through its canals. Also, it is incredibly romantic even if you're taking only yourself on a date.
Best Tips & Tools to Plan Your Trip
It may seem like a touristy thing to do to book a gondola ride, but it is so unique and wonderful that it should not be missed. Your gondolier is your best tour guide for Venice.
Read More: Love Stories – A Surprise Reprise: Puppy Love in Venice and a Florentine Fashion Find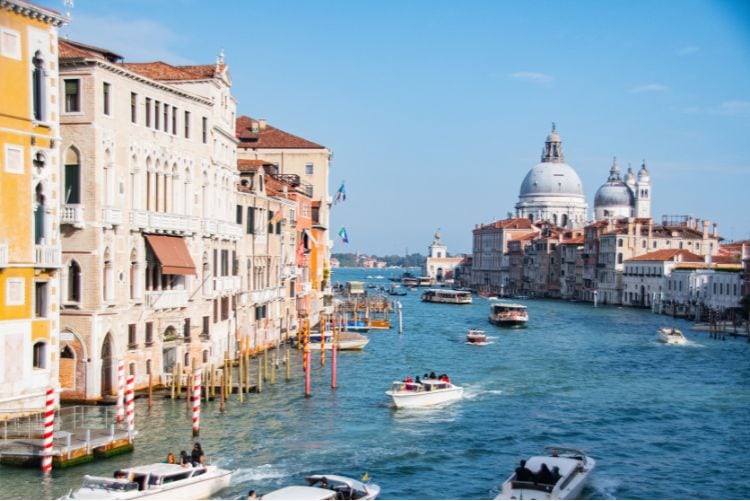 2. The Grand Canal
The Grand Canal is one of the most photographed parts of Venice. It is a poster-like place you can admire from the water or land. The Grand Canal connects Venice and here you can see gorgeous villas and 18th-century townhouses, Gothic architecture, cafes, Renaissance buildings and so much more. The Canal Grande connects everything Venice has to offer.
3. Doge's Palace
You can spend a day in this wonderful museum and still have some parts of it unexplored. Many guided tours show you only the most important parts of the place and that alone could take up to two hours.
Book this Venice in a Day Tour to experience a gondola ride, and see Basilica San Marco and Doge's Palace.
You will see artworks of Titian, but also dark dungeons that will bring you chills. Also, if you have time, book tickets for Tintoretto in Palazzo Ducale Opera House, as it is an incredible experience for opera lovers.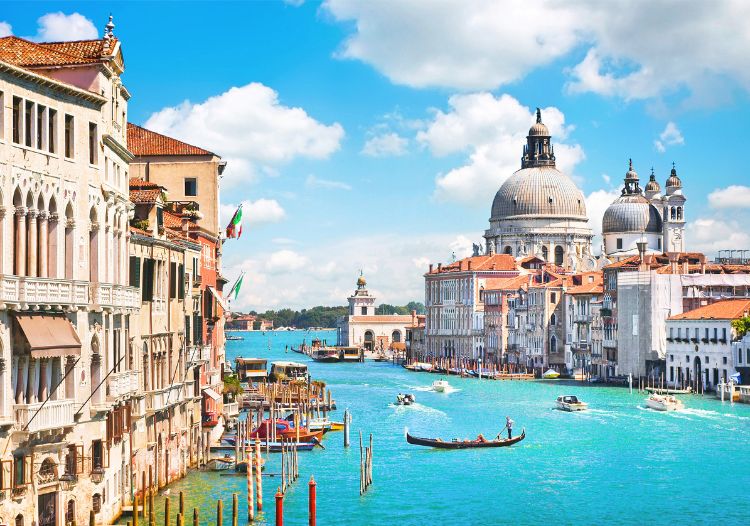 4. Basilica di Santa Maria della Salute
Tourist attractions that you should not miss in Venice also include the gorgeous Santa Maria della Salute church which is one of the most beautiful Italian basilicas you can visit today. Anyone passing by will notice the stunning white stone basilica's domes and statues as it stands at the start of Venice's Grand Canal.
The Salute has plenty of natural light inside. The stunning atmosphere is further enhanced by the ornate Baroque altar and detailed mosaic flooring. Baldassare Longhena, a renowned Venetian architect who is credited with introducing the Baroque style to the city, created the edifice.
5. The Bridge of Sighs
The city of Venice is full of stories, some wonderful and some heartbreaking, one of which is about the bridge of sighs. The "sighs" of the inmates who passed through the closed passage gave it its name. They knew their life was over and their sadness could be heard from the bridge. But also, according to legend, if a couple kisses while riding in a gondola beneath the bridge, they will experience eternal love.
If you're curious about the dark side of Venice, book this tour to learn all about Venice's dark and creepy secrets.
6. Piazza San Marco, Venice
St. Mark's Square where the famous St. Mark's Basilica is located is the most picturesque place in the city. This is where you can take photos with pigeons, or with the Basilica di San Marco and the bell tower called St Mark's Campanile in the background. All tour guides will take you to this square and if you have time enter the basilica dedicated to Saint Mark to admire stunning architecture inside and out or climb a bell tower to see amazing views of Venice.
7. The Rialto Bridge
A must-see attraction in Venice is also Ponte di Rialto, one of the most photographed bridges in Europe. The Rialto Bridge is the oldest of all Venice Canal bridges, it is also the most well-known bridge in Venice. The overpass served as Venice's primary financial hub for a long time. Right next to the bridge you can also visit the fascinating Rialto Market and buy some local souvenirs or food.
8. Day Trip to Burano and Murano, Beautiful Islands Near Venice
You can take a ride on Vaporetto or book a guided tour if you want to visit other islands of the Venetian lagoon, like Burano Island, Torcello, or Murano. Each of these colorful islands has its fantastic history. Burano is famous for its colorful houses, Torcello is famous for lace making, and Murano is famous for glass blowing. Murano glass is world-famous and glass-making has been a profession here since the 13th century.
Book a guided small group tour of the Murano and Burano islands by private boat.
9. Jewish Ghetto in Venice
Even though there are fewer Jews now than there were when it was first established, the Venetian Jewish Ghetto is nevertheless a lively and dynamic neighborhood. The area's winding lanes and old structures, such as the Jewish Museum of Venice, which presents the history and culture of the Jewish community, are still open to visitors.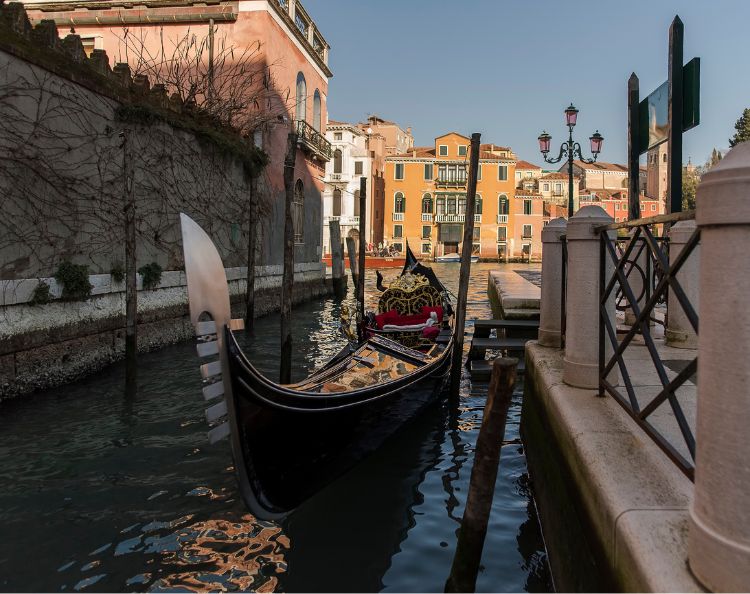 10. Gallerie dell'Accademia
If you are an art lover, Gallerie dell'Accademia is a place you should not skip on any tour of Venice. With masterpieces by artists including Titian, Bellini, and Veronés, the Gallerie dell'Accademia is home to the largest collection of Venetian artwork anywhere in the world. Also, it is located right next to one of the gorgeous bridges you can cross in Venice, Ponte dell'Accademia.
Read More:
Author Bio: Danijela Horvat is a travel writer with a passion for discovering new destinations. With a background in journalism and photography, she is trying to translate her own experience into articles.