I'm a California kid through and through, born and raised in the Golden State. If the temperature outside dips below 65 degrees, I get confused and cranky.
A Visit to Door County Wisconsin
Yet there is a part of me that always craves what I've never had. This is why I jumped at the opportunity to visit the Peninsula of Door County, Wisconsin for a few days this past December.
Door County might sound like a single place. But it refers to an area with more than 3,000 square miles, 19 communities, and 35 islands. Located in the "left thumb" of Wisconsin, it's about a 2.5-hour drive northeast of Milwaukee. During the winter, the Door Peninsula, which includes Door County, becomes a winter wonderland.
Best Tips & Tools to Plan Your Trip
Visions of snowflakes, twinkling lights and sleigh rides blossomed in my imagination as I packed my suitcase. I also tried to wrap my brain around what kind of shoes to bring or if my one warm jacket would be enough. Surely, I would be in for the snowy winter wonderland of my dreams.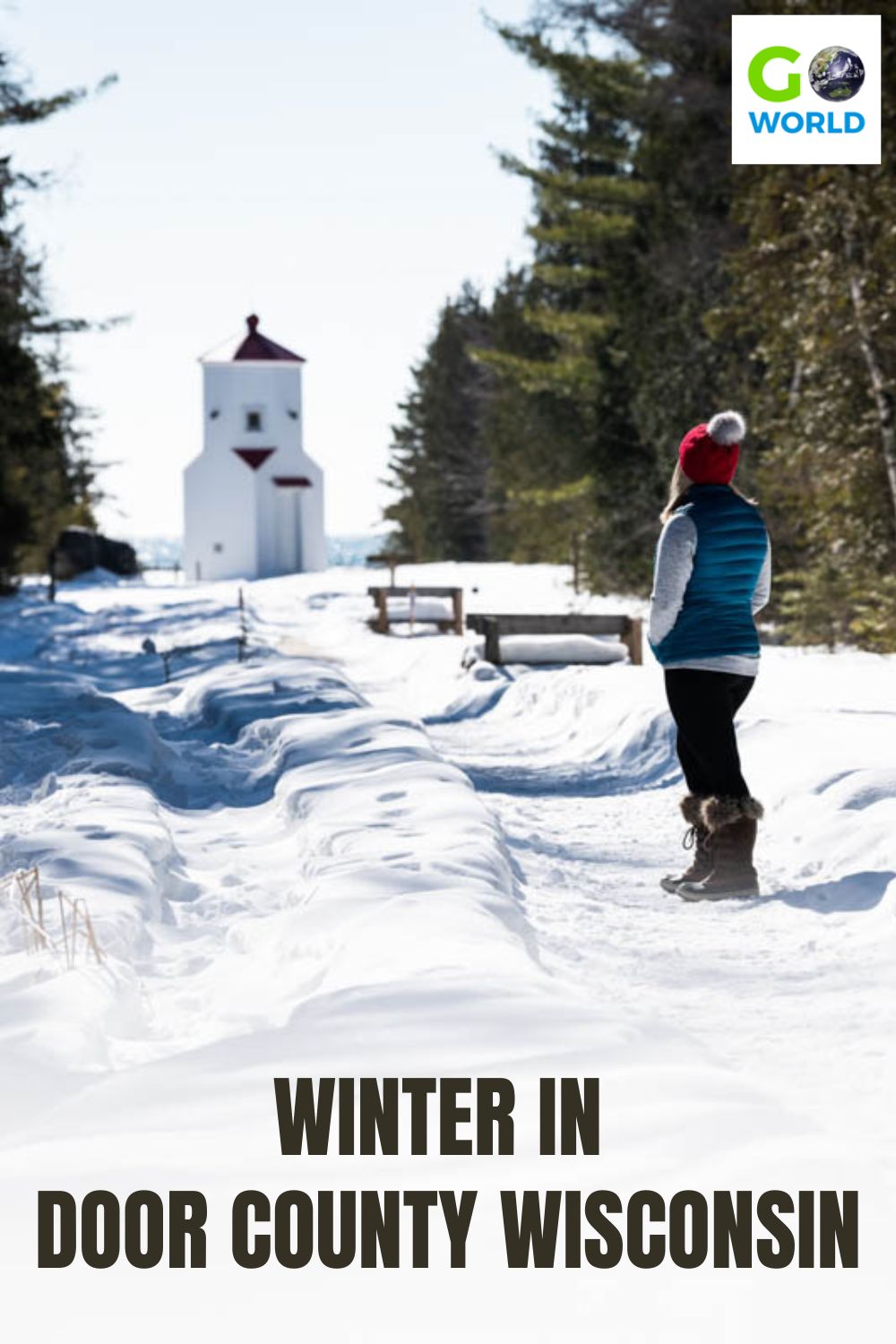 Thursday
My connecting flight landed in Minneapolis. To my delight, blankets of soft white covered as far as I could see upon our descent. Surely this meant I would be in a winter wonderland during my time on the Door Peninsula. But when the second plane landed in Milwaukee, not a speck of snow was in sight.
In fact, the temperature outside was hovering right around what the nights had been like in my central coast mountain town back home.
Never fear, I still had three hours to travel North, up to the stretch of land jutting out between Green Bay and Lake Michigan. I fell asleep that night, hoping tomorrow would mean flurries and flakes for my days ahead.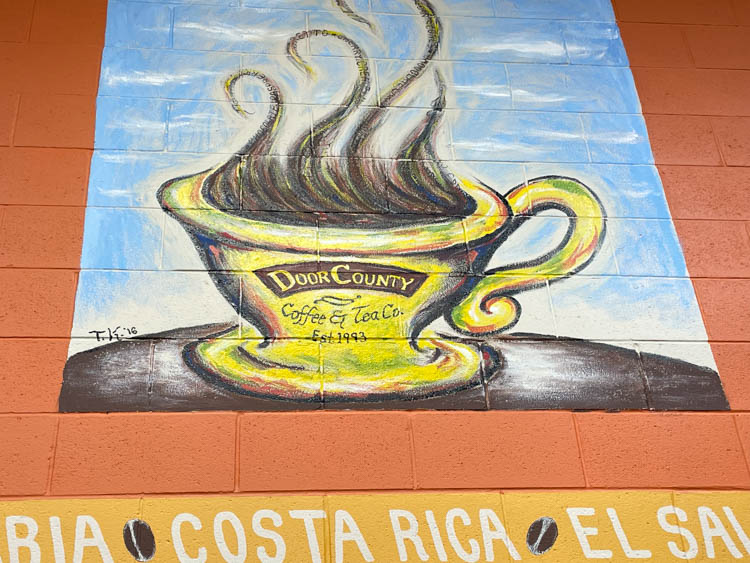 Friday
No snow. Dry land and the same high thirties that frankly felt like no big deal. Not that snow was the make-or-break detail to this trip. There was plenty to look forward to and activities to partake in that I knew would bring the holiday spirit. But some sparkling snowfall would sure make it a bit more magical.
We started the day at Door County Coffee & Tea Co., a cozy cafe and roastery in its 30th year that features an unimaginable number of coffees to sample.
The bakery case was filled with warming treats. After the giant muffin, moist and full of carrots, coconut and spice, we were ready to head out to take in some of the local scenery and lore.
Scandinavian Roots in Door County, Wisconsin
This part of Wisconsin along the quaint Door Peninsula has a big Scandinavian population. Much of the residents' heritage is rooted in Sweden and Norway. Because of this, numerous structures, artwork and even food traditions pull from these cultures. Bjorklunden, Swedish for "Birch Grove by the Lake," is a property in Baily's Harbor that sits on the shores of Lake Michigan.
This town was the first village established here in the 1800s. Prior to that, it was populated by the native Potawatomi and Menominee tribes. This is the "quiet side" of the peninsula, as locals call it. It is also cooler in temperature than the more bustling and popular Bayside.
Some equate the feeling to standing in front of an open refrigerator. This was why the region became such a popular summer destination in the early 1900s. There was no air conditioning back then, and the lake breezes created a natural respite from the heat.
We walked out to the Norwegian stave church (Stavkirke) style Boynton Chapel (built in 1939 as a dedication for peace by the owners, Winifred and Donald Boyton) on the Bjorklunden property. The icy cold wind blew straight up and reminded me that we were far from my home state.
Jane, the very knowledgeable and engaging docent here, let us know that Baily's Harbor faces due South all the way to Chicago without any land interruption. This means it is cold enough to make this the southernmost location of a boreal forest. Something that usually only occurs in the coldest regions on the globe.
Our next adventure was waiting in Fish Creek, another quaint town nearby, that has an area called Cottage Row. Here, former cottages have grown into massive estates for the well-to-do summer visitors, like Al Capone and the Nordstrom family.
Mayberry's Carriages
John Mayberry, owner and operator of Mayberry's Carriages, piled us into his large "sleigh." We cozied up with fuzzy blankets for a ride around the town by Bailey, our Clydesdale horse leader. John told tales about the homes and the history here as well as the animal life that is distinct. As he did so, he also pointed out a bald eagle perched in a tree above Cottage Row.
Door County Maritime Museum
Sturgeon Bay is the most urban town at the base of the Peninsula. Here, the new Door County Maritime Museum offers a well-curated, interactive exhibition surrounding the most important industries in this area, namely shipbuilding and fishing.
Having just completed the $9.2 million development, the museum is a must-stop for an extensive look at the elements that make up this unique stretch of land and water. It is part of the Niagara escarpment that is home to many endangered species (like those bald eagles up in Fish Creek).
But to really get a feel for this place, it was time to visit Peninsula State Park. It is considered Wisconsin's most "complete" park because of its wide range of features on over 3,700 acres.
There are endless hiking trails and more than 16 miles of groomed and double-tracked ski trails. There is also an active, historic lighthouse built in 1868 and a state-run golf course. Plus the 50-year-old Northern Sky Theater puts on plays in an outdoor amphitheater. The 400+ campsites and massive, wooden tower are part of a campaign to make the outdoors completely accessible for all.
Gazing from a cliff-side outlook over the water, we learned that with the winter season comes a whole new way of delivering goods. This is done over the ice, a more efficient and direct passage than around the road we came on.
What Does Friluftsliv Mean?
Being here really evoked a sense of "friluftsliv", the Scandinavian term for open-air living immersed in nature.
The term was popularized in the 1850s by Henrik Ibesn, a Norwegian poet. He believed that embracing the outdoors, even (or especially) during winter, is pivotal to well-being in all ways.
Folks in the Door Peninsula, perhaps due to this engrained Scandinavian proclivity, are full of friluftsliv. This could be why Peninsula State Park is so widely visited all year round.
Perhaps the appreciation for all this outdoor living has led to an equal appreciation for food and drink here in Wisconsin. I know that for me, after a winter hike in the not-quite-snowy yet certainly cold outdoors, I was ready for a drink.
Door County Distillery
Hatch Distilling Co is a new company in Egg Harbor. It was founded by Chris Roedl whose love of farming led in a roundabout way to distilling. Namely, using hyper-local ingredients and the inclusion of his own beehive honey for a unique base in all of the Hatch clear spirits.
Their gin includes local juniper berries and white spruce tips, which you can see growing all over the area. They also just launched Mixed Meadia. This is a meadery, that uses that same honey in a variety of meads, including the canned Door County Cherry Mead.
Since I was in this state for the first time and had heard so much about the signature Brandy Old Fashioned, I ordered that. I opted for their house Apple brandy with bitters in the sour style (which means they use a touch of Squirt).
After my cocktail, it was time for dinner. Something not to be missed here in Door County, a signature for the area not to be found anywhere else, is the traditional fish boil at the White Gull Inn. The tradition was started 100 years ago by the local Scandinavian fishing community that settled here.
Door County Hotels: The While Gull Inn
Established in 1896, the White Gull Inn is a classic, now in its second generation of being family run. It is also the only establishment offering these traditional fish boils in the winter months.
This is an experiential meal, which begins with a fireside talk outside. Here, you learn about the technique and tradition from the same person who has been doing the boil for years.
It ends indoors around a table with a plateful of perfectly salted, boiled red potatoes, Lake Michigan white fish with tartar sauce, coleslaw and a variety of breads on the side.
Local beer, cider and wine are also on offer. The finale is a slice of cherry pie a la mode, filled with Door County cherries, of course.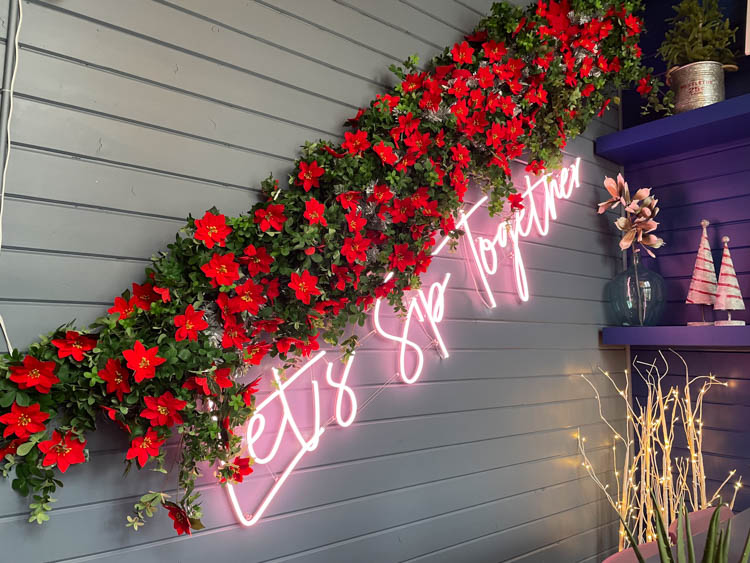 Saturday
A few patches of ice and some tiny bits of snow on the rocks at Peninsula State Park are all the evidence of winter so far. I wake again to a scene that does not conjure my white wonderland. But there's no time for remorse because it is time for brunch.
Sip, a sweet two-story coffee shop in the day and wine bar at night, is a new addition to Ephraim. The building also houses a location of Spot, the design-forward home goods boutique by the same owners.
The menu is full of fun items, like the potato waffle topped with locally smoked salmon and creme fraiche. Also, espresso drinks using Wisconsin-based Wonderstate Coffee, one of the first 100% solar-powered coffee roasteries in the world.
The Miel, with honey, cinnamon and almond milk is a warming seasonal treat. It is easy to see that the locals have embraced Sip wholeheartedly. There was a steady flow of customers all morning long.
Shopping in Door County
Today is all about shopping and absorbing some of the art on offer in this very creative community. There are literally hundreds of galleries here, and a huge network of local artisans. Very close to Sip is Fine Line Designs Gallery featuring custom wood pieces. Also, Blue Dolphin House and Studio located in an1860s renovated farmhouse.
Christkindlmarkt in Door County
During the holidays, the very utmost seasonal experience here is the Sister Bay Historical society's Christkindlmarkt.
This event, which is now held every year, was inspired by the traditional Nordic markets in Europe. It is only in its second year. It features local vendors, crafts and food. There are even a few alpacas, which are apparently also part of the tradition.
But best of all could be the hot, mulled "Gluehwien", a spiced, brandy-spiked European delicacy served in commemorative mugs.
Another annual holiday celebration is the Natural Christmas over at The Ridges Sanctuary. But this 1,600-acre Audubon landmark, Wisconsin's oldest non-profit nature reserve, is a great place to visit all year long. It is generously and enthusiastically tended by a slew of volunteer naturalists.
This includes Bill, our guide. He takes us on a hike down the hand-built boardwalk bridges that lead to the Baileys Harbor Range Lights. These are the only working range lights in the entire country.
Along the way, he talks about the 28 varieties of endangered wild orchids found here. He also tells of the citizen scientists (including himself) that have helped figure out how to restore these plants.
This was done by finding the symbiotic relationship they have with certain fungal populations in the surrounding soil. Their findings were then sent to the Smithsonian Institute to further the research.
Door County Restaurant: Hill Street
It's time to eat once again, this time at the newly opened Hill Street in downtown Fish Creek. What started as a pop-up noodle bar, Hill Street has become a permanent fixture over this last year. It sits inside a former hat shop and serves a satisfying, eclectic menu with an Asian-inspired twist.
The Charlie Brown hoagie is my choice, with charred broccoli, peanut sauce and pickled smoked onion. I'm also super excited to see a Trinidad Sour on their cocktail list. This drink gives a nod to the history of bitters during prohibition here, but that's another story in itself.
Sunday
My last day. I wake up early, knowing I must pack up and get prepared for the long journey home. In the glimmer of dawn, I glimpse out my window and see it. Finally, a blanket of snow is glowing white in all directions, on the branches of the trees and along the pathways outside.
Al Johnson's Swedish Restaurant & Butik
The perfect place to celebrate is at Al Johnson's Swedish Restaurant & Butik. It is a place so popular in the summer months, that you must wait hours just to sit down. One reason for their fame is the live goats found grazing on the traditional sod roof. This began as a joke between founder Al Johnson and his best friend "Winky".
It turned into a mark of pride for the Peninsula and even sparked an annual "Roofing of the Goats" parade just for the goats. Luckily for me, the month of December is their slowest time of year (although the goats are home in the barn.) We enjoy a leisurely breakfast full of bottomless mugs of hot coffee and thin Swedish pancakes with lingonberries and real maple syrup.
After breakfast, the Butik (gift shop) is full of Scandinavian goods you won't find anywhere else…even Ikea.
Author Bio: Amber Selene Turpin is a freelance food and travel writer based in the Santa Cruz Mountains. She is a regular contributor to The Mercury News, Edible Magazines and the Slow Wine Guide, with work appearing in Civil Eats, EatingWell Magazine, and many other publications over the last two decades.