With a serpentine shoreline surrounding three sides of a heavily wooded peninsula, Door County, Wisconsin has become a Midwest Mecca for the so-called "silent sports," such as canoeing, kayaking, hiking and more.
First, where in the world is Door County?
On the map, Door County sits on the eastern edge of Wisconsin in the central United States on a narrow strip of land that juts out into Lake Michigan and forms Green Bay on its western side. If Wisconsin is like the back of your hand with your thumb pointed out, the thumb is Door County.
At the very tip of the thumb sits a cluster of islands, the largest being Washington Island, one of the first settlements in Wisconsin. It was here that Door County got its name.
Due to the treacherous water that caused countless deaths of French voyageurs and natives, the French called the area Porte des Mortes (Door of the Dead). When it came time to name the county, it was shortened to Door County to be more receptive to visitors (no surprise there!). Today, sophisticated ferry boats cross the same strait where shipwrecks can still be seen below the surface.
Small, quaint villages with whitewashed houses, family-owned restaurants and historic inns dot the shorelines up and down Door County, prompting some to call it "The Cape Cod of the Midwest."
Despite its perilous beginnings, the area has become a little piece of paradise for families who return year after year and second-home owners from nearby cities like Chicago and Milwaukee.
Its mild climate has much to do with its draw as a summer resort, which is high season. From Memorial Day weekend through mid-September, high temps typically hover in the pleasant 70s F with nights cooling off for great sleeping.
It's hot enough for water sports, but not too hot for a long bike ride or hike. In winter months, the highs are in the 30s F, which is perfect for breaking a sweat cross-country skiing or snowshoeing.
Sports for all seasons
Silent sports by definition are non-motorized human-powered aerobic activities, such as kayaking and canoeing; standup paddleboarding (SUP); biking; walking/running/hiking; cross-country skiing and snowshoeing.
There also are elements of tranquility and solitude in the activity. In simple terms, it's any quiet outdoor sport that gets the heart rate up.
Since the 70s, these sports have exploded in Door County, and it's easy to see why. There are more than 300 miles of shoreline, five state parks, more than a dozen county parks, and acres and acres of protected land waiting to be explored by paddle and pedal, skis and snowshoes, and on foot.
The air is fresh, the views are gorgeous (think sunsets on the water and crimson and gold trees in the fall), and the backwoods terrain is gentle enough for everyone. Silent sporters even have formed the Door County Silent Sports Alliance to promote their activities at www.doorcountysilentsports.org.
Trail biking
The Sunset Trail at Peninsula State Park, the largest of the state parks, meanders for 10 miles on a relatively flat gravel path through thick cedar and maple trees along the shore of Green Bay. Though we didn't ride at sunset (recommended), we did stop at few clearings to watch sailboats around Fish Creek Harbor and at the Eagle Bluff Lighthouse Museum, a nod to Door County's maritime past.
We got hybrid trail bikes from Edge of Park Rentals across the street from the trailhead. You can pick up trail maps at any bike shop or visitors center. Other rural bike paths are in Newport State Park and Potawatomi State Park.
Hiking
All the parks have hiking trails that are open year round. Consider hiking to the highest sand dune in Wisconsin at Whitefish Dunes State Park near Jacksonport. Visit the nature center to learn about the dunes' unique environment and see how the "People of the Dunes"—the natives—lived there from 100 AD until the late 1800s.
Vehicle admission stickers are required to get into state parks and recreation areas and some trailhead parking areas. You can buy them right at the entrances or online at https://friendswiparks.blogspot.com.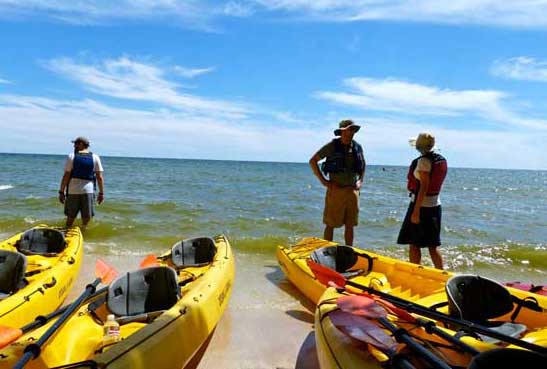 Kayaking and Canoeing
No water sport is as relaxing as kayaking and canoeing when you get into the rhythm of propelling your craft through the water. After a quick on-land refresher on paddling technique by our guides at Door County Kayak Tours, we partnered up in sit-on-top kayaks and paddled along the rugged Lake Michigan coastline.
Our destination was Cave Point where we navigated our kayak into a cool sea cave for a look around. On the return, we had the wind at our back, so it was easy going.
Standup Paddleboarding
SUP, for short, is a new water sport craze that takes some skill in balance; but once you find the board's sweet spot, it can be a fun, solitary way to enjoy the water. Pick a protected flat-water cove or bay like Rowleys Bay where DC Adventure Center rents boards and gives instruction.
They also run a four-stage zipline there that's not too far off the ground—perfect for kids and first-timers. Not exactly a silent sport since it's gravity-powered, but it does elevate the heart rate!
Cross-Country Skiing and Snowshoeing
Winter is a magical time in Door County. The crowds have gone, fireplaces are aglow, and the cozy small towns become even cozier. With snow blanketing the woods, most of the hiking and biking trails become cross-country ski or snowshoe trails. Peninsula State Park has miles of groomed trails for skiing.
The five-mile loop at The Ridges Sanctuary near Bailey's Harbor winds through the most biologically diverse ecosystem in the state. Guided snowshoe hikes are Friday and Saturday in January and February. There's a $5 trail fee and a map for self-guided tours. You can rent snowshoes there; Ecology Sports, Bay Shore Outfitters and Nor Door Sport and Cyclery also rent skis and snowshoes.
Travel in Door County, Wisconsin: If You Go
Dining
When aerobic exercise builds up an appetite, try these signature restaurants.
The Inn at Cedar Crossing
A charming historic inn in Sturgeon Bay serving local favorites like Whitefish. www.innatcedarcrossing.com
Fred and Fuzzy's Waterfront Bar & Grill
A summertime tradition of cherry juice margaritas, sunset dining and fish frys in Little Sister Bay. www.fredandfuzzys.com
Wilson's Restaurant and Ice Cream Parlor
Started in 1906, an old-fashioned soda fountain, jukeboxes and hospitality make this a must-do in Ephraim's summer season. www.wilsonsicecream.com
Rowley's Bay Resort
A traditional Fish Boil is a theatrical way of cooking whitefish outdoors in a fiery cauldron, and nobody does it better than this family resort, complete with storytelling from an old-timer. https://rowleysbayresort.com/
Door County Coffee & Tea Company
Coffee fresh from the roaster is served with breakfast at this local coffee roasting company. www.doorcountycoffee.com
Cherries and Cheese in Wisconsin
From mid-July to early August, fresh cherries are everywhere, picked from the 2,000 or so acres of orchards in Door County. Learn all about the healthy fruit (and taste chocolate covered dried cherries) at family-owned Country Ovens in Forestville.
Everyone knows Wisconsin is famous for cheese. The Renard family has been making cheese since 1961, and you can see how at their factory and shop in Sturgeon Bay.
www.countryovens.com
www.renardscheese.com
Lodging
Door County has everything from vintage inns and B&Bs in the coastal towns to rustic cabins and cottages in the woods. Visit www.doorcounty.com/where-to-stay
Author bio: Claudia Carbone is an award-winning journalist based in Denver, Colorado. After many years of participating in extreme sports, the silent sports of Door County, Wisconsin suit her just fine.