Editor's Note: Travel is complicated right now. Please check local regulations and location openings before you go. We share places, products and activities we recommend. If you make a purchase using a link on our site, we may earn a commission.

Those in the know understand the draw of the East End of Long Island. The Hamptons, sitting on the South Fork of the island, are a group of hamlets, villages and towns lying along the Atlantic Ocean.
The area is a perpetual playground for the rich and famous, and for city dwellers who appreciate a beach escape in a rural setting within a short drive of New York City.
A HOLIDAY VISIT TO THE HAMPTONS
The colder months make for a special time in the Hamptons. Picture-perfect towns are dressed up in their holiday finest, with homes and trees adorned with shimmering lights. Beaches take on a different cast, with the icy-blue sky and ocean making a vivid contrast to the white sand and dunes. And art galleries and museums put on events to excite even the most casual viewer.
The Hamptons are especially conscious of the safety and health of its visitors. Masks are required in restaurants, shops and during tours and are requested to be worn in all public places. Be sure to check changing requirements and schedules when making reservations.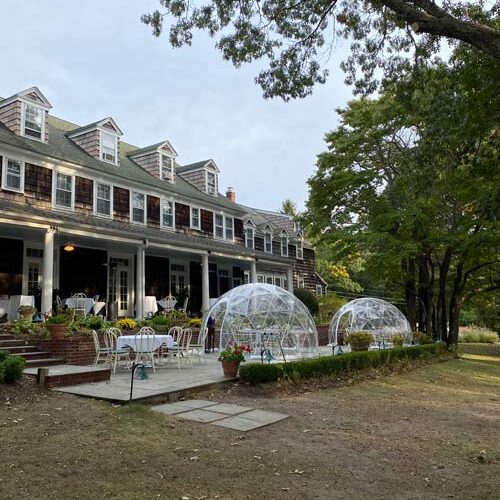 DINING OUT IN THE HAMPTONS (INDOOR AND OUTDOOR)
The pandemic has extended the variety of Hamptons restaurants staying open through the fall and winter seasons. Many have created both indoor and outdoor dining experiences as well as additional takeout options where seasonal menus are enhanced with local beer and wines.
Until you make it to the Hamptons, you can view the websites of the 55 or so vineyards there to order some of their artisanal wines, although many are too limited for shipping. As an alternative, other wines from small-batch vineyards are offered on wine.com. They do virtual tastings and offer deals and value packs which are updated monthly, a perfect gift and indulgence during the holidays.
Main Street Tavern, Amagansett
Newly opened, Amagansett's all-American tavern has an expansive beer garden, indoor sports bar and small-town hominess. Menu ingredients are locally sourced and find their way into small bites and comfort food faves like steak sandwiches, lobster rolls and chicken parm. Plan to watch your gridiron giants do combat while munching on Main Street's superb chicken wings and sipping a classic cocktail or glass of wine from a list smartly curated by Parcelle, the well-known boutique wine shop.
Elaia Estiatorio, Bridgehampton
The authentically Greek restaurant offers dishes made with locally sourced ingredients and an extensive Greek wine list. The restaurant's quintet of dips (smoked eggplant, cod roe, Greek yogurt, whipped feta and pureed fava beans) is a perfect way to start any cold-weather meal. For simple perfection, the lightly dressed horiatiki (Greek salad) and whole grilled fish will transport you to warmer climes in an instant. Elaia is also offering a take-out Thanksgiving feast, mixing traditional American turkey and ham with Greek favorites.
Baron's Cove, Sag Harbor
The harbor view restaurant at Baron's Cove resort offers a "Chef's Table" culinary series with holiday-themed dinners for Winter Harvest, Christmas and New Year's Eve weekend. Part of an all-inclusive three-day hotel package, each meal features what is seasonally best from local farms and purveyors, with personal attention from Chef Nick Vogel. Guests will enjoy accommodations in the resort's variety of nautically themed rooms, some allowing dogs.
Kissaki, Water Mill
A favorite among New York City foodies, Kissaki is all about elegant sushi and distinctive sake. The décor matches the quality of the cuisine with clean lines, stylish Japanese minimalism and creative expression. The unusual futomaki (fat rolled sushi), beautifully presented omakase sets, and creative nigiri taken to a new level with chef's choice of toppings are crowd-pleasers. Non-seafood choices are available, and Kissaki's menu of chiffon cakes is a welcome and unusual surprise. Socially aware seating includes indoor podlike areas and a chic open-air patio.
Bistro Eté, Water Mill
A year-round go-to for Hamptonites, Bistro Eté goes all out for the holidays with seasonally inflected dishes and home-made desserts. Chef Arie Pavlou prides himself not only on his French culinary prowess but also on his facility to create dishes that are as beautiful as they are delicious. His smoked pork chop is a sculptural feat, topped with a pumpkin cup filled with greens. Seasonal pumpkin flavors also appear in home-made ice cream. Cocktails similarly reflect the season – try the truffle martini if it's available.
Calissa, Water Mill
Dining at Calissa is like a quick trip to the Greek isles. Whitewashed and airy, the restaurant offers a menu of all-time Greek menu hits. An expansive garden area is beautifully lit and invites lingering. Gracious service and a perpetual "on vacation" feel set the tone throughout. To keep your spirits light, there's live music on Thursday evenings. For the holidays, Calissa is taking pre-orders for family-style takeout dinners as well. Create a new holiday tradition with their luscious souvlaki platter, tender cubes of pork with a rosemary confit glaze.
Highway, East Hampton
Re-opening in time for the holidays, Highway invites a limited number of diners to enjoy their menu of New American favorites made with ingredients from nearby farms and purveyors. The popular East Hampton restaurant serves hearty, seasonally inspired dishes including miso-glazed salmon and spit-roasted chicken with sourdough stuffing, perfect for cold-weather dining. For a sweet finish, the Milk Pail apple crumble is truly drool-worthy. Takeout is available for those unable to secure an indoor reservation, but, don't worry – cocktails in adorable Highway mini-bottles are included on the to-go menu.
Bamboo, Southampton
Hidden behind Jobs Lane's many shops, Bamboo satisfies with affordable Asian fusion cuisine, prepared by chefs trained at top sushiyas like Nobu and Blue Ribbon Sushi. Newly opened this summer, the restaurant offers a choice of sakes and an extensive menu of sushi and sashimi complemented by popular dishes like Bang Bang chicken, Mongolian beef and chicken lemongrass dumplings. Indoor seating as well as an expansive covered patio are available year-round.
T Bar, Southampton
Popular Manhattan steakhouse transplant T Bar is a sleek yet cozy choice for Black Angus Porterhouse steak, Long Island duck, seafood and delicious desserts. Lighter fare includes a raw bar menu and crispy sushi, salmon burgers, chopped salads and yellowfin tuna tartare. The wine list is extensive as is the choice of craft cocktails. The restaurant's beautiful terrace and garden add pure romance for warmer evening dining.
Union Steak and Sushi, Southampton
Perfect for those who can never make up their mind, the new Union Steak and Sushi offers an elegant setting for steaks and inventive sushi creations. Local ingredients feature on the menu including duck egg rolls with Long Island duck confit. A must-order, the Union Roll is an unexpectedly harmonious combination of lobster and avocado, topped with marinated skirt steak, eel sauce and yuzu mayo. Evenings are enhanced with live piano accompaniment and an extensive cocktail and wine list. For a lighter meal, sibling Union Burger Bar shares the building and offers additional seating on an enclosed deck.
TO KEEP YOU BUSY
Hamptons Shopping
Shopping is more than a casual pastime in the style-obsessed Hamptons. Held on the first Friday of every month, First Fridays bring the community out to enjoy shopping, entertainment, dining and more. Each town has its own collection of one-of-a-kind boutiques. And do plan a visit to the Artisan Market at the Southampton Chamber of Commerce for handcrafted works from locals.
Tastings
In addition to wine tastings at Wölffer Estate Vineyard and Duck Walk, a new distillery featuring ingredients from down the road, Sagaponack Farm Distillery, offers tastings indoors and outdoors of their truly artisanal spirits. Be sure to try the unusual rhubarb liqueur as well as their aquavit and potato, wheat and cucumber vodkas.
Arts, Tours and Walks
28th Annual Hamptons B&B, Inn, Restaurant & Attraction Holiday Tour
For two days on December 5 and 6, a privileged few are invited to enter beyond the decorated doors of some of the most popular destinations in The Hamptons. Upon registration, guests will select their preferred location. All tours are guided and limited in number. Tickets are required and can be purchased online.
Beautifully decorated and lit during the holidays, The Parrish Art Museum in Water Mill offers socially distanced galleries with exhibits by local artists and works about local subjects. Of note, this season Lucien Smith's large-scale Southampton Suite reflects his distinctive paint spraying technique with oeuvres inspired by his new home in Montauk. Pre-purchase a timed entry allowing a ninety-minute visit.
LongHouse Reserve invites you on a personal exploration of the 16-acre reserve and sculpture garden in East Hampton where notable pieces by Yoko Ono, Buckminster Fuller and Willem de Kooning are on view no matter the season. Fall and winter schedule and time slots vary so be sure to check the website where you can purchase timed tickets
A benefit for the SAC, The Collectors Sale presents art pieces donated by more than 180 artists. You're invited to view the collection and purchase online. A select number of works will be displayed in the back gallery of the Center to help you with your decisions.
For the little ones, SAC offers Zoom Bedtimes Stories, read by the authors themselves. Advance registration is required:
December 20 – Enzo and the Christmas Tree Hunt with author Garth Stein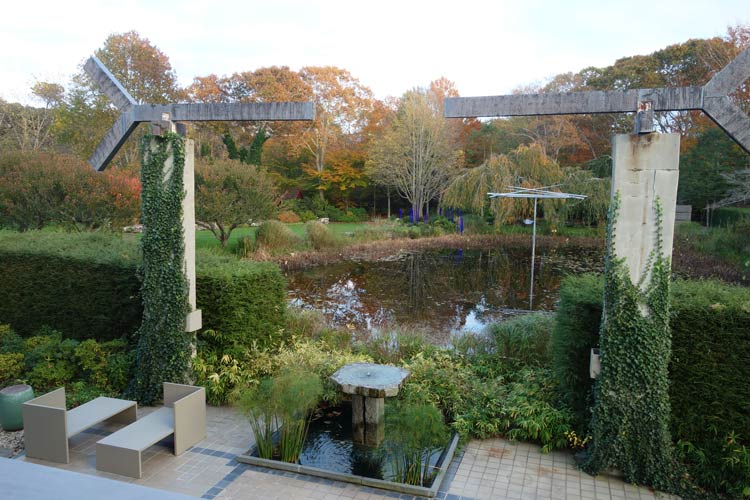 Hiking
The Hamptons has a range of hiking opportunities including an unusual walk along the dunes, cranberry bogs and beach in Napeague. Appropriately named Walking Dunes, the hike changes frequently as the dunes themselves are in constant motion.
South Fork Natural History Museum (SOFO)
SOFO's nature walks and hikes encourage visitors of all ages to work off their holiday indulgences with a program of guided tours. Social distancing is required and masks and gloves are provided. Be sure to register in advance as spaces are limited.
For additional hiking information, visit: East Hampton Trails Preservation Society, Southampton Trails Preservation Society and Shelter Island trails
ACCOMMODATIONS IN THE HAMPTONS
The Baker House 1650, East Hampton
The elegant Baker House embraces the winter season with 'Intimate Moments at Baker,' a focus on togetherness and family. A striking bed and breakfast with architecture inspired by 17th-century Cotswolds, the Baker House was originally built in 1648 and has a storied history. Serving first as a residence for a sea captain, it later became a tavern, a meeting hall and a site for religious services before its transformation into a lodging establishment in 1996. Baker House provides a mix of refinement and comfort with indulgent amenities including an onsite spa. Popular during the colder months, Baker House's fire pit is a go-to for guests to enjoy hot beverages while wearing inn-provided pashminas.
Southampton Inn, Southampton
Bring the whole gang to the Southampton Inn for a Thanksgiving mini-holiday with a special overnight package and a four-course turkey dinner at Claude's Restaurant. But you'll probably want to stay longer than one night at the family-friendly Inn which offers the personal attention of a bed and breakfast with the services of a hotel. The 90 guest rooms each have a slightly different décor. The inn's restaurant is popular for its signature weekend brunch which features locally sourced ingredients. Bikes and helmets are available for guest use.
The Ram's Head Inn, Shelter Island
If you're longing for an island getaway but don't want to worry about changing quarantine requirements, the Ram's Head Inn is the right place for you. Take your vehicle on the ferry, or hop the inn's complimentary shuttle and go car-less. Shelter Island's 17-room waterfront inn is distinguished by its relaxed yet luxurious accommodations and polished service. This season, the Ram's Head has added four heated outdoor dining igloos and a heated cocktail igloo, available for two-hour bookings. New American cuisine is featured with brunch on Sunday. A children's menu is offered with early dining hours to accommodate families. Live music in the lounge on Friday and Sunday adds a festive touch.
If a vacation home rental is more your style then check out the listings on VRBO here. The more private luxury stays listed are provided by trusted renters at reasonable prices.