Seattle is known for spectacular views and great outdoor adventures in nearby mountain ranges, numerous parks, Puget Sound and lakes. But what do you do if your vacation is nothing but rainy days?
While the views may be a little less epic than anticipated, the opportunities to explore the great indoors are numerous with these rainy day activities in Seattle.
Although not the rainiest place in the USA, Seattle is also famous for rain with an average of 38 inches a year. However, if you are planning outdoor adventures that do get rained out, fear not. Grab your raincoat and head to these delightfully dry destinations.
Famous Fish
Pike Place Market is perhaps the most visited destination in Seattle. Rain or shine, the food here is fine. Plus, the people-watching is nearly as entertaining as the fish that fly when the Fish Market makes a sale. With numerous restaurants, shops and events, it won't disappoint even when the skies open.
While you may have to step outside occasionally, most of the vendors, stores and restaurants are inside and dry. There are areas where you can eat inside as well.
Some with great views of Elliot Bay and the Seattle Wheel. Perennial nearby foodie favorites include Piroshky Piroshky, Le Panier and Beecher's Handmade Cheese.
Best Tips & Tools to Plan Your Trip
Only the fish are wet inside the Seattle Aquarium making it one of the top rainy day activities in Seattle. The Aquarium is fun for all ages seeking to learn more about local sea and bird life and ecology.
You can view many types of fish from the Underwater Dome, watch sea otters and harbor seals and spy a Tufted Puffin. Highlights also include a Giant Pacific Octopus and a circular tank of jellyfish you can walk through.
This is one of several destinations you can visit using Seattle CityPass. This pass offers discounted rates to indoor wonders including the Space Needle, the Museum of Pop Culture and the Chihuly Garden and Glass.
Seattle Center Sites
A highlight for many visitors is the Space Needle. It was built for the 1962 World's Fair and is a landmark you won't want to miss. Rain or shine, your photos will still have the Instagram "wow" factor. With epic 360-degree views, you get a wonderful vista of Seattle from above.
The Space Needle has two fully enclosed levels, one with a revolving floor made of glass (The Loupe). You can also grab a drink at the Atmos Wine Bar or dine at the Atmos Café (reservations required).
The 42-second ride to the top is a thrill and you can opt for a ticket that allows an evening return. With a gift shop, an exhibit and views, this destination will leave you high and dry.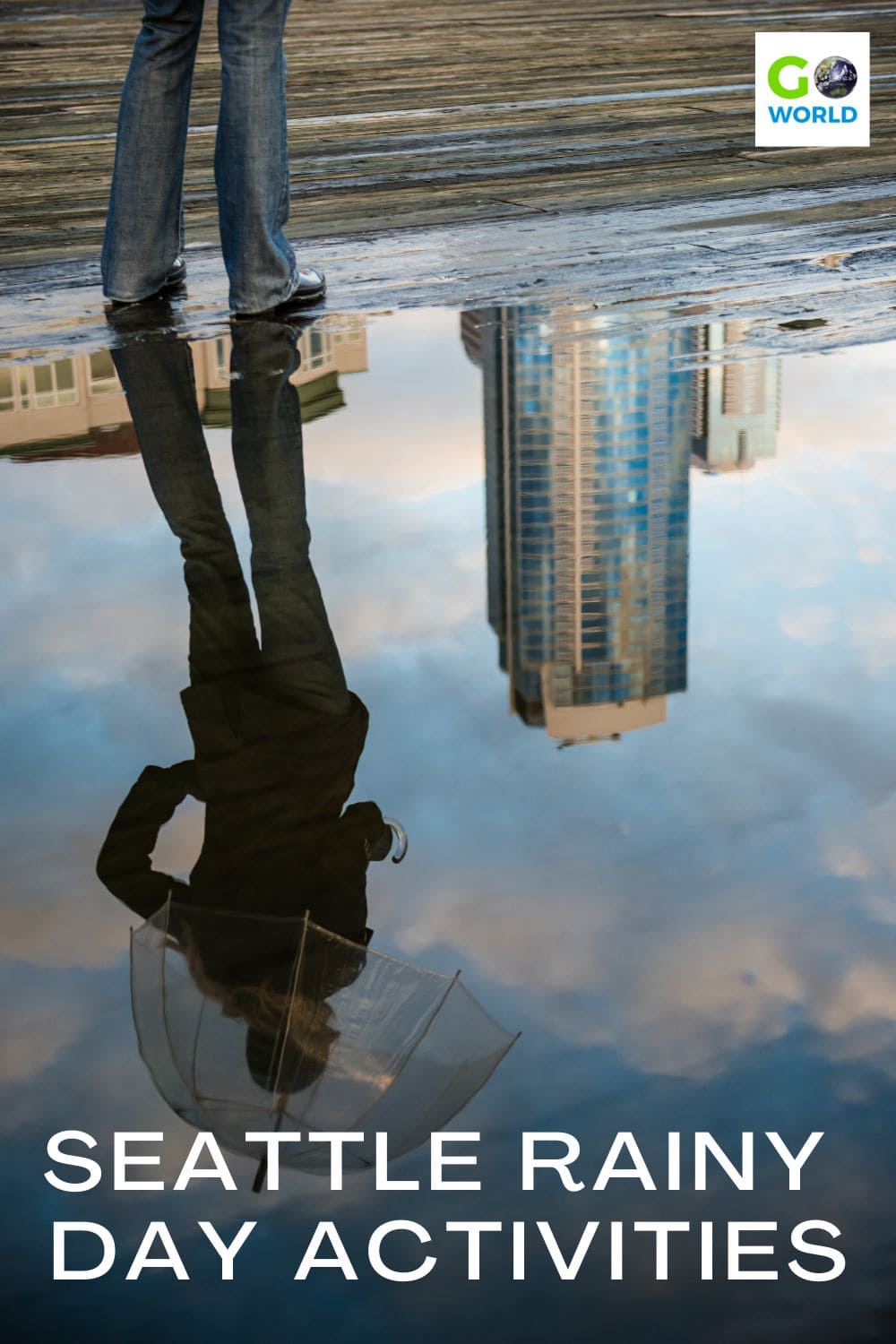 The Seattle Center is home to the Space Needle, the Museum of Pop Culture, Chihuly Garden and Glass and more. It was built for the Century 21 Exposition-also known as Seattle's World Fair. Held April-October in 1962, it drew almost 10 million visitors.
The Bill and Melinda Gates Foundation Discovery Center sits adjacent to the Museum of Pop Culture. This space (free) offers an opportunity to learn about their work around the globe. There are also hands-on areas and exhibits allowing you to ponder how your actions can make positive changes.
Chihuly Garden and Glass is so bright inside, you'll forget the skies are dark inside. It features the glass art from Dale Chihuly and his studio. Gallery after gallery offers colorful delights and installations including his renowned glass chandeliers and areas with nautical themes. There are glass-blowing demonstrations, a café, gift shop and the Garden is also a wonder.
The Armory, as it is known today, was built as the Seattle Field Artillery Armory in 1939. Today, it serves as a great place to grab a bite to eat or shop for official Seattle Kraken items (Seattle's beloved National Hockey League team-who plays at nearby Climate Pledge Arena).
This building is stunning, and a recent update has provided a large central area with tables and event space. Have a meal or snack and take in the history. Restaurants include Blue Water Taco, Matt's Fish Basket, Seattle Fudge and Starbucks (born in Seattle).
Another popular attraction within the Seattle Center is the Monorail. Just as fun today as it was in 1962 when it was the first full-scale commercial monorail.
Albeit not the transportation of the future anymore, it does offer an easy way to head downtown. Buy a ticket from the kiosk and step aboard for a short ride to your next stop, the Westlake Center.
Shopping, Underground Tour & Museums
Lovers of fashion and bargains will enjoy Nordstrom Rack and Saks Off Fifth.  ZARA, the popular Spanish retailer has a location here as well.
Nordstrom, founded in Seattle in 1901, has its flagship store across the street. In addition, nearby you'll find Urban Outfitters, Anthropologie, Sephora and numerous independent stores, restaurants, galleries, markets and cozy coffee shops. 
With a short trolley or bus ride, you can discover one of the most unique rainy day activities in Seattle: Bill Speidel's Underground Tour, located in Pioneer Square.
They'll take you on a fun walk through the subterranean sidewalks and storefronts that were entombed when the city was rebuilt after the Great Fire of 1889. It's like walking back in time as you journey beneath the city as we know it today.
Seattle also boasts several fine museums that are wonderful to explore on a rainy day. Seattle Art Museum is a short walk from Pike Place Market. It has an expansive collection of works from around the world from antiquities to contemporary works.
The Museum of History and Industry (MOHAI) along South Lake Union explores the history of the area and provides views of the lake. You might even see a seaplane take off. Wing Luke Museum of the Asian Pacific American Experience is in Chinatown-International District.
Programs and exhibits fulfill its mission: "We connect everyone to the dynamic history, cultures, and art of Asian Americans, Native Hawaiians, and Pacific Islanders through vivid storytelling and inspiring experiences to advance racial and social equity".
Sporty Rainy Day Activities in Seattle
Even if your outside plans are on hold for a day or two, you can still take part in some fun indoor activities that will elevate your pulse.
The REI Seattle Flagship Store will help you plan for future outdoor adventures. Plus, it gives you a little indoor adventure at the same time. REI Experiences offers the REI Rock Climbing Pinnacle. Since its opening in 1996, the 65-foot-tall Climbing Pinnacle has been treating climbers to great views of the skyline.
REI is known for its apparel, camping gear, hiking boots, shoes and so much more. The Flagship store feels like an adventure in itself. Designed with an enhanced wooded and natural setting, this urban oasis lets you explore and plan for when the clouds part.
Flatstick Pub (locations in Pioneer Square and South Lake Union) offers Seattle food, brews and indoor entertainment. According to their website, "There are only two rules at Flatstick Pub: drink local and have fun."
Inspired to create a casual pub focused on craft beer featuring a unique (and challenging) indoor miniature golf course. With food on the table, and fun on your mind, play a round of mini golf or their other original golf-themed games: 'Duffleboard'™, 'Ball Jockey'™, and 'stick putt'™. You can only find these here.
If your trip to Washington state turns out to be damper than you planned, take heart, the great indoors of this region has you covered with plenty of rainy day activities in Seattle.
For more information about planning your trip (rain or shine), visit www.visitseattle.org
Book This Trip
Start planning your rainy day escape to Seattle today. Get prepared with knowledge on how to get around, hotel and VRBO accommodations, local restaurant reviews and more through TripAdvisor and Travelocity.
Plan even more fun by booking some unique Seattle activities, expert-led tours and skip-the-line tickets to major attractions through GetYourGuide. Find more information and book your dates in advance here.
For the ultimate flight deals, car rental options and vacation packages, check out CheapOair.
Author Bio: Mary Casey-Sturk is a travel and features writer based in Greater Cincinnati. Her work has appeared in Hyde Park Living Magazine, the Cincinnati Enquirer, Nashville Arts Magazine, Smoky Mountain Living Magazine, the Tennessean, Cincy Magazine, Long Weekends Magazine and more. Her book, "Eating Cheese Curds with Strangers: The Misadventures of a Travel Writer" is available now on Amazon