Snackin' my way through the river towns along the Great River Road in Southeast Minnesota and Southwest Wisconsin might seem like an odd travel adventure. After all, these towns are on the banks of the Mighty Mississippi River which flows over 2,000 miles from Northern Minnesota all the way to the Gulf of Mexico.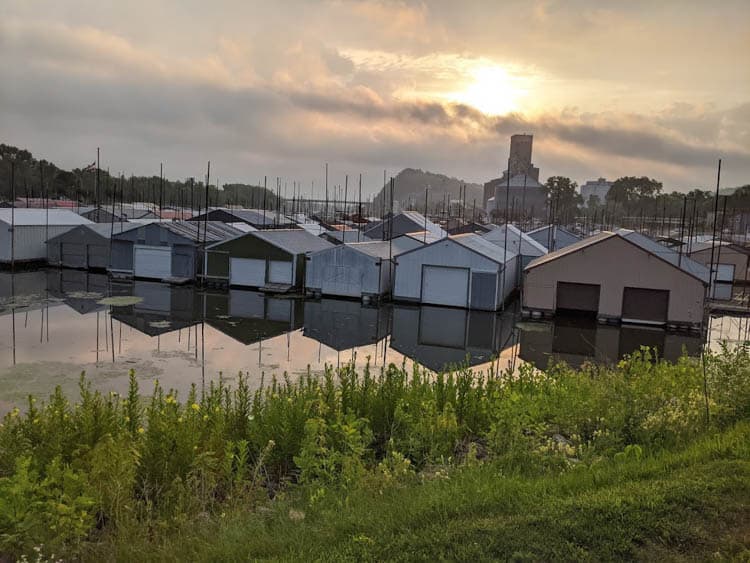 The towns that grew up on its banks are steeped in history, economic and environmental importance and natural beauty. But let's face it, travel whets the appetite. As a day-tripper, I was interested in quick bites as well as the sights along the way.
The Great River Road, which includes Route 35 in Wisconsin, is the only designated National Scenic Byway in Wisconsin. Furthermore, Highway 61 in Minnesota, also part of the Great River Road, is one of just two roads in Minnesota labeled an "All American Road."
When you get off the main highway and take on its twists and turns, this designation guarantees spectacularly scenic views and towns that have distinct flavors. I explored a few of them.
Red Wing, Minnesota
Red Wing may be the home of the Red Wing shoe store and the iconic 3 story high boot that sits in its flagship store on Main Street. But it's also where the Knudsen family, since 1984, produces thousands of batches of creamy caramels each year which wonderfully don't stick in your teeth.
The ingredients are carefully measured, tested, tasted, spread out, cut and wrapped individually, the old-fashioned way. The Knudsen family will whip up a few batches or up to 600 batches a day, depending upon the season.
You can buy a bag or box at the counter in their wholesale store. Or you can find individual pieces at one of the many quaint shops along Main and Bush Streets.
According to candymaker-in-charge Peggy Knudsen, the perfect texture is due to the correct amount of each ingredient. She makes sure there's "not too much corn syrup or not enough of something else."
Stroll through Red Wing's meticulously landscaped parks dotted along the riverbank or hike up the two towering limestone bluffs at the east end of town with their expansive views of Red Wing and the curving Mississippi. Breaking a sweat or not, a snack of Knudsen caramel is a just-right reward.
A few minutes over the Eisenhower Bridge and you've crossed into the state of Wisconsin. You've also caught up with the Wisconsin side of the Great River Road. The majestic cliffs are now on your left and the Mississippi, on your right. Soon, you will need the fortification that only a slice of pie can provide.
Stockholm, Wisconsin
As you pass the sign that announces that the population of Stockholm, Wisconsin is 66, you may be taken aback when you see a lineup of about the same number of people patiently waiting for a slice of Stockholm Pie.
Their shortcrust pies, with fruit, creamy, or savory fillings, appear on lists of top pies in the U.S. The pies of the day are listed on the blackboard above the counter and choices vary depending on the availability of ingredients and the time of day. Hint: go early.
Swedish immigrants arrived in Stockholm in 1854 and the town still maintains a strong Nordic vibe. The one-room Swedish History museum in a former harness shop on Spring Street and shops like Scandihoo on the Great River Road carry Scandinavian traditions forward.
With a view of Lake Pepin, the largest lake of the Mississippi River, right down the street, and a spoonful of delicious, whipped cream on your pie, you're sure to experience, "hygge", (hyoo-guh). This is the blissful Danish term for cozy contentment. However, it might be time for a little physical exertion before the next snack.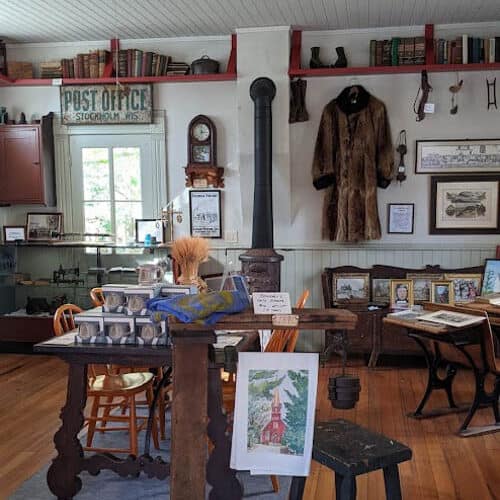 Nelson, Wisconsin
"We've had grandmas and barefoot teens head to the bluff tops," says artist Gary "Chris" Christopherson, who donated the 25-acre Thrive Park in Nelson for public use.
The view: a 35–45-mile panorama of the river and valley. Christopherson's words of encouragement are affirmed in over 200 of his abstract copper and wood sculptures, some with sound and movement, that grace the park. He was raised in Nelson and ran away for 40 years, including a long stint as a public policy wonk in Washington, DC.
He returned and took on restoring the 1885 farmhouse, barn and the only beehouse still standing in the United States. Ring the farmhouse bell, and he'll invite you into his studio. All art sales are donated to Thrive! Scholarship fund at the University of Wisconsin – Madison.
My river town snack jaunt could not be complete without a taste of the quintessential Midwest treat. I was able to find it by the bag load at the Nelson Cheese Factory, just a few minutes from Thrive Park. Ah, cheese curds, aka the young cheese that squeaks when you eat it.
Haters might call the texture rubbery, but you might call it springy. In any case, it's a must-try – at least once – and none will be fresher than what you find here.
Snackin' Stops & More:
Barn Bluff and Sorin's Bluff, Red Wing, MN 55066
Swedish History Museum: 2030 Spring St. Stockholm, WI 54769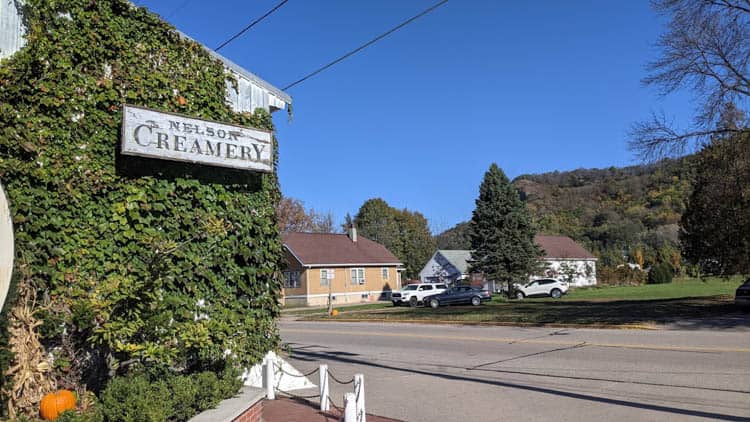 If You Go Along the Great River Road:
Red Wing, MN is about a 55-minute drive from the Twin Cities, or 45 minutes from Rochester, MN. Stockholm, WI is about 20 miles from Red Wing, and Nelson is 12 miles from Stockholm.
Frontenac, Lake City, Wabasha, Maiden Rock, Bay City and other river towns are also along the Upper Mississippi Valley, each offering their own charms and vistas as well as tasty bites.
If you plan a longer trip, overnights are easy to access through Airbnb, B&Bs, and chains, or try one of the historic river town hotels. Ask for rooms with Mississippi River views.
St. James Hotel: 406 Main Street Red Wing, MN 55066 651-388-8700 St-james-hotel.com
Anderson House Hotel: 333 W. Main St. Wabasha, MN 55981 651-565-2500
Author Bio: Ellen Kahaner is a freelance writer who has published articles on a wide range of subjects, from radiation spills in Juarez, Mexico, to kitchen spills in suburban New Jersey. She will travel at a moment's notice, with notebook in hand.