Caught between the powerful North Sea, The Atlantic Ocean and endless sky on Scotland's northernmost horizon, lies a rugged archipelago of more than one hundred islands, only fifteen of which are inhabited.
Planning a last-minute trip to Scotland?
Top Experiences and Tours in Scotland:
Where to stay in Scotland:
Find accommodation with Booking.com
Get a rail pass through Rail Europe
Find Bus, Train, and Flight tickets with one search through Omio
The Shetland Islands
The Shetland group lies on roughly the same latitude as Southern Greenland, being one group out of the United Kingdom. Its name comes from the Norse Hjaltland meaning "High Land." Virtually treeless, it is a land of indigo lochs, rugged peat-covered hills and rich antiquity.
Ultima Thule, the apt Roman name meaning "final frontier," has clean air, fresh and vigorously abundant, like a healing tonic. As an island lover, I found an extraordinary treasure trove like nowhere else on earth — in Shetland.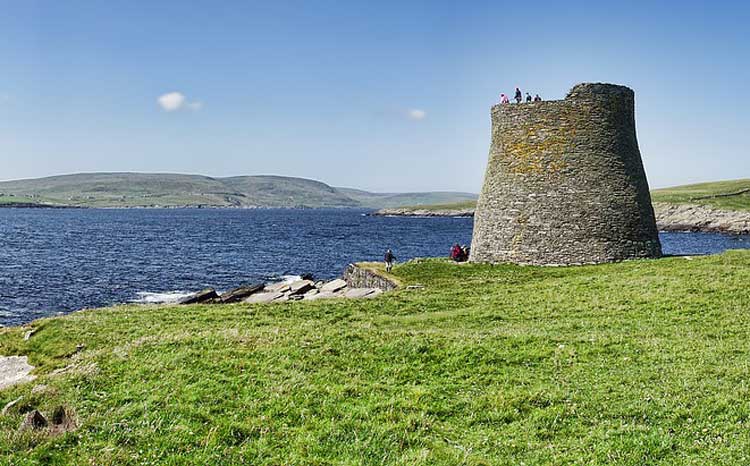 Lerwick, Shetland Islands
Lerwick, the capital, Britain's most northerly town, was my first taste of Shetland and this powerful Scottish land. Possessing a split personality, this eclectic blend of old and new is a mixture of a busy harbor and tourist attractions.
Within 15 minutes of arriving, I was enjoying a lung-filling stroll along the seafront and immediately felt buoyed up by the sight and smell of the glorious peppermint-colored pounding sea — with its pick-and-mix assortment of pleasure boats, visiting yachts, historic craft, working fishing boats, motor cruisers and even a glamorous cruise liner that might be on its way to Iceland.
Some useful travel tips for your perfect trip to Shetland Islands:
Originally a humble, unofficial marketplace to service 17th-century Dutch herring fleets, the main port of Lerwick took a long time to find its feet. It started life as a few scattered huts, erected to trade with the Dutch.
Because of its illegal status — and whispers of alleged immorality! — the straggling hamlet around the shore of a Leir-Vik, Norse for "muddy bay," was demolished by order of the court in 1615.
For many years afterward, the authorities insisted that the shanty town that sprang up each summer had to be burned down after the Dutch had departed.
One pious resident went so far as to comment on "the great abomination and wickedness committed yearly by the Hollanders and country people …"Lerwick is stone-flagged Commercial Street, gable ends, twists, turns and crevice-like alleys, and stacked with undiscovered charm; so narrow in places that two vehicles cannot pass each other.
Being the town's heartbeat and the first port of call for most visitors, Lerwick runs parallel with the sea for a mile. It's great for ferreting around in. I marveled at fascinating shops bristling with locally made basketwork, ceramics, glassware, lace and knitwear, and watched in awe as silversmiths and potters did their time-honored art.
Craft Tradition in the Shetland Islands
Shetland's craft tradition dates back centuries, and archaeological excavations show that the earliest inhabitants made everything they needed from the materials at hand.
A leisurely five-minute walk from the town centre took me to the Böd of Gremista. This typical 18th-century fishing booth, or Böd, was used to house fishermen and their gear and was a working store for the nearby fish-drying beach. Arthur Anderson, a co-founder of what is now P & O Ferries, was born here in 1792. Now it is a popular museum celebrating his life, furnished in basic Shetland style.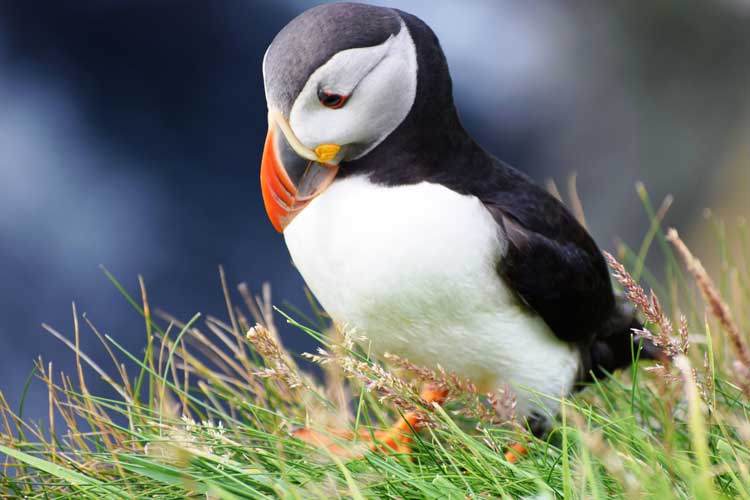 After a couple of days in Lerwick, I decided to venture down to the South Mainland, Shetland's tail, a long, thin finger of land three or four miles (about 6.4 km) wide and 25 miles (40 km) long.
I was looking forward to seeing some of Shetland's most awe-inspiring scenery, culminating in what I was assured was pure drama at the cliffs at Sumburgh Head and Fitful Head. I was not disappointed as it was one of the most beautiful places in the Shetlands. 
Indeed, I was bowled over by landscapes ranging from rich lowland pasture, a chorus of russet and greens, to rugged, purple and magenta heather-clad hills, coastlines carved into dramatic towering cliffs, clefts and caves, or smoothed out in stretches of dazzling white sands.
Clear silver streams rumble and cascade between boulders as beyond, colorful, fragrant flowery pastures of tiny crofts run down to the shore, long inlets backed by acres of moorland.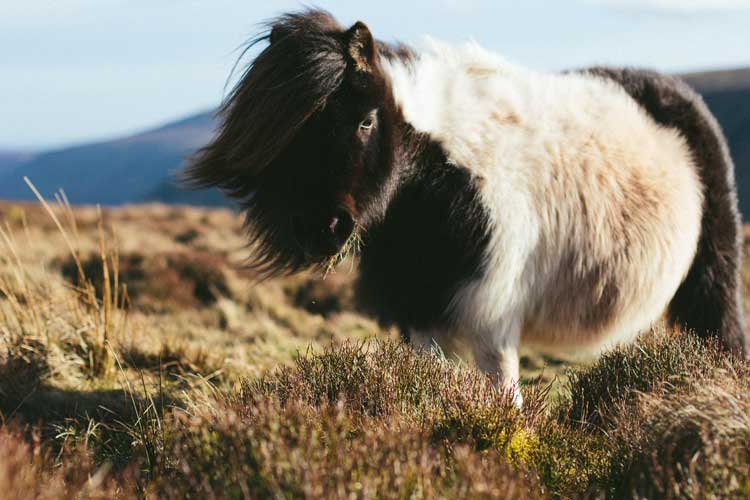 Sheep in the Shetland Islands
Everywhere I looked, I saw clusters of creamy flecks of sheep — sheep outnumber the people by 15 to one! No problem here than in getting up close and personal with nature.
As a city dweller, I reveled in the fact that the only crowds were families of seabirds cramming the cliffs as they went about their daily business at full volume.
From the rather comically named Ruddy Duck to bossy gannets, with six-foot (1.8 m) wingspans, kittiwakes, green-winged teals and gigantic colonies of puffins, known locally as tammie norries'– it's no wonder Shetland is internationally famous for its birdlife!
From Leebitton, which is about halfway to Sumburgh Head, I hopped on the Lilliputian passenger ferry. It runs from mid-April to mid-September and takes just 15 minutes to trundle across to the diminutive Isle of Mousa.
Seals and porpoises are known locally as Neesiks' can usually be seen at close range on the crossing as they feed on shoals of fish in Mousa Sound, though I didn't manage to catch sight of any on this trip.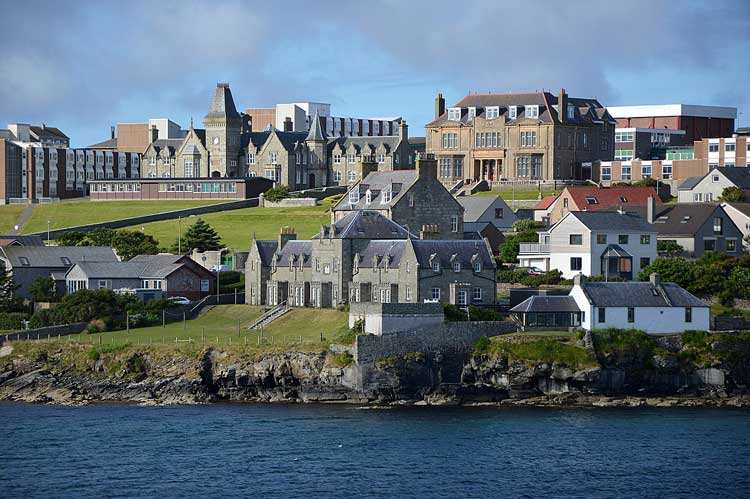 Travel Guide to Scottish Lore and Tradition
Mousa is home to the best-preserved Broch — fortified Iron Age tower — in Europe and the United Kingdom. Originally built as a refuge against warring tribes more than 2000 years ago, the 40-foot-high (12 m) edifice certainly has a remarkable presence and gets a deserving mention in the Sagas as a refuge for an eloping couple.
This blast from the past has a low entrance passage leading to a courtyard divided into separate beehive chambers.
Between the walls, a rough, pitch-black staircase leads to the top. Just as well they give you a torch (a flashlight, for Americans) to help you negotiate the stairs. Not only is the broch an archaeological wonder, but it is a magnet for ornithologists too, with terns, Arctic skuas and black guillemots galore.
From May to late July, a colony of around 5,000 tiny storm petrels, even smaller than starlings, breed in and around the stone walls, fishing out at sea during the day and returning noisily to their nests only after darkness falls.
The ferry runs atmospheric late-night trips to the broch — weather permitting — setting off in the "simmerdim" twilight around 11 p.m. Hearing the eerie bird calls is an experience not to be missed.
My time in Shetland was nearly over but I couldn't leave without seeing Old Scatness, at the southern tip of this Scottish island. In the 1880s this was home to the redoubtable Betty Mouat, who became a national celebrity of her day. Old Betty was a fantastic knitter and hand spinner, turning out wonderful shawls in the magnificent earthy colors of the islands.
One day, after boarding the fishing smack Columbine for a routine trip to sell her wares in Lerwick, the skipper fell overboard. The remaining two crewmen launched a boat in an unsuccessful attempt to save him.
Betty just had to sit tight as the Columbine sailed on and although the crew turned back to reach the smack again, they couldn't catch up. When the men returned to shore they raised the alarm but all attempts at locating the drifting Columbine proved fruitless. Poor Betty!
No one knows how she managed to survive for nine days alone on the open seas. When her boat was shipwrecked off the Norwegian coast, some locals rescued her and on her return to Shetland, relieved crowds of Scottish locals gathered to welcome her home. Her cottage now offers practical, traditional self-catering accommodation and ensures that Betty will never be forgotten.
I left Shetland invigorated by the atmosphere and a world that had the effect of making me feel that the globe was far away and somewhat unnecessary. One thing is certain, in Shetland, you'll never be at a loose end. Unless you want to be, of course.
If You Go to Shetland Islands:
Shetland Islands Travel Tips 
www.visitshetland.com
Inspire your next adventure with our articles below:
Author bio: Gilly Pickup