York, in the north of England at the confluence of the rivers Ouse and Foss, is a walled city with Viking roots and an amazing place to visit for people of all ages and interests.
York Things to Do 
The history here calls to you: Clifford's Tower, Castle Museum, Yorkshire Museum and Gardens, National Railway Museum, JORVIK Viking Centre, the Shambles and the Yorkshire Museum.
The food calls to you, too: Bettys Cafe Tea Room and York's Chocolate Story will satisfy your sweet tooth if those snacks tucked in your bag don't.  Did you know the Kit Kat was invented here? That alone is reason to visit.
Don't let the Roman walls make you feel uneasy. This city is welcoming and while the walls served their purpose to fortify the city, now they provide a platform for viewing the many attractions that lie below.
Today's walls are inviting and the four main gatehouses (known as bars) are intriguing. The City Walls date back to 71 A.D. and most of the current walls date from the 12th to 14th centuries.
York is a popular destination for both international visitors and the English, due to the variety of attractions and history, with some nine million visitors a year.
Ancient Roads of York
One of the newest (yet not new at all) places to visit is the Undercroft in York Minster. This is a journey through time. Included in admission to the Minster is the Undercroft.
Here, you will have the opportunity to learn more about the people who came here 2,000 years ago (think Roman Roads — you will soon be standing over one and the people who are working here today). The displays are packed with multiple artifacts both found during excavations and those property of the church. Films and interactives help tell the story.
York Minster
The Minster itself is a Gothic-style cathedral (in fact, the largest Gothic church in Northern Europe) which can be spied from many points around the city. It features enormous stained-glass windows and elaborately carved tombs and memorials as well as places to research.
Worshipers have been coming here since the 7th century. Visitors have many options for touring: on your own, on a guided tour, tower tours and hidden tours. Don't overlook the gift shop (funding the many quality souvenirs to be found here). The medieval windows alone are worth the visit if your time is short.
Upon entering the Undercroft, you'll feel like you are somewhere a little bit secret. The entryway is lit with a white sign in a darkened area that harkens you to enter and explore.
Carvings, Roman Painted Walls and Roads exposed, cases of antiquities, costumes, books and church relics tell the story of the of the people of York.
Sweets and Vikings
Walking around York is like stepping back in time, and within the walls, you can explore dozens of charming stores, restaurants, galleries and museums. Most are an easy walk from the York Railway Station or you can explore by utilizing the York Pass, which includes a Hop-on, Hop-off Bus tour.
York Shambles
The Shambles, once home to a variety of butcher shops, is now packed with charming stores tucked into preserved medieval buildings. There are many places in the Shambles and beyond to shop and dine.
Satisfy your sweet tooth and get a full chocolate history lesson at York's Chocolate Story. Terry's, Rountree's and Craven's all got their start here and you can take a tour and unwrap a piece of history yourself.
Shopping does not disappoint with a variety of options in all sections of town. Coppergate Centre is York's shopping center within the city walls. Topshop, Marks and Spencer Home, Boots, Clarks and the Whisky Shop are found here as well as galleries and cafes.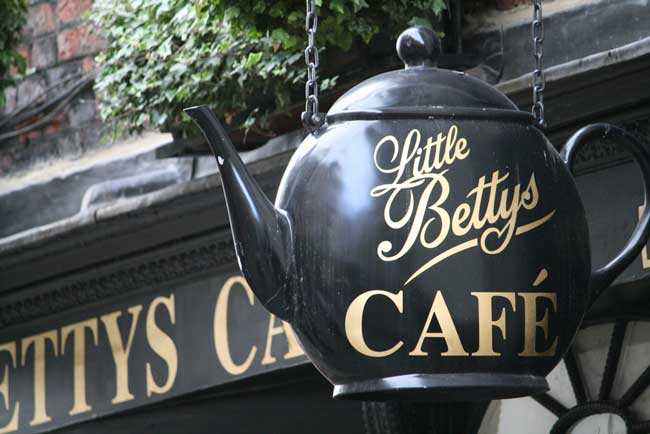 If you see a queue around the building, you have found Bettys Cafe Tea Room. In business since 1919, today Betty's continues to make decadent treats that you can carry out or enjoy in their dining area. Their traditional Afternoon Tea is served all day and includes classics such as Scottish smoked salmon, Yorkshire ham, sultana scone with strawberry preserves and clotted cream as well as a variety of miniature cakes and, of course, a pot of tea. Their Fat Rascal, a plump, fruity scone, has been pleasing palates for decades.
JORVIK Viking Centre
Children and adults alike will enjoy a visit to the JORVIK Viking Centre. For over 30 years this attraction has told the story of the York's Viking history through both traditional exhibitions and more immersive experiences.
The most notable is the specially designed "time cars" that take guests on a ride through a reconstructed Viking village, complete with the sights, sounds and smells of a village some 1,000 years old.
Born from the discovery of archeological artifacts in the Coppergate dig, the Centre was severely damaged in the historic Christmas flood of 2015. This gave the Centre the opportunity to re-imagine its collection and in 2017, it reopened with expanded exhibits, holding some 1,000 objects, as well as an updated ride experience and films. The exhibits allow you to relate to everyday objects, including socks, jewelry, frying pans and to the delight of most children, fossilized Viking poo.
National Railway Museum in York 
The National Railway Museum is located adjacent to the York Railway Station, which has multiple trains to and from London's King's Cross Railway Station. The Museum encompasses two large buildings as well as outside attractions. Upon arrival, head into the Station Hall.
Here you can view the Royal Carriages (saloons) that belonged to Queen Victoria (under conservation at the time of this writing) and those of her son, King Edward VII, who took a keen interest in their design. This was a working railway building from the 1870s-1960s. Discover many treasures, including carriages from various eras and interactives.
These are fascinating windows into the history of how royalty traveled to how mail traveled. You can enter several carriages and get a closer look at history on rails. Objects and signage are juxtaposed in a manner that makes you really feel like you could step off this platform and head out on holiday.
Crossing over to the Great Hall, you can spy 300 years of train history, including marvels such as the Mallard (designed in 1938 and broke the steam train speed record), the Evening Star (last steam locomotive built for British Railway) and the modern Eurostar.
Several exhibits include The Flying Scotsman, a service from London to Edinburgh that started in 1862. The Warehouse section has open storage packed with treasures, an active workshop and a research facility.  A turntable is surrounded by more of the collection and there is a wonderful model railroad. Step outside and watch trains leave the station of today.
Lunch break options are plentiful. You could indulge in afternoon tea in the Countess of York, a lovely restored railway carriage in the South Gardens. The Dining Car Restaurant is tucked between those stunning royal carriages, and you can imagine you are waiting for the trains to roar to life and carry you away. For a quicker meal, sandwiches and baked goods are sold at the Mallard Café and The Courtyard.
Other special features include a steam train ride, miniature train rides, tours, workshops and lectures. Check in advance for schedule.
Whether you have a day or a week, York, England is a destination full of history and culture.
If You Go
Where is York?
York, England is 174 miles north of London and the average train journey from London's King's Cross to York is 2 hours. Multiple trains daily. Recommend reservations to reserve a seat and fastest route.There are a variety of hotels, self-catering units and bed and breakfasts. York is most popular during summer months. www.visityork.org
Read more about Travel in the United Kingdom
Author Bio: Mary Casey-Sturk is a freelance travel, food, wine and features writer based in Greater Cincinnati.  Publications have included: the Cincinnati Enquirer, the Tennessean, Smoky Mountain Living Magazine, Venice Gondolier Sun, Nashville Arts Magazine, Indianapolis Star, Northern Kentucky Magazine, Cincy Magazine, Dayton Parent Magazine, Edible Ohio Valley, Hyde Park Living Magazine and others.