One recent gorgeous afternoon as I sat at an outside table of a local restaurant in downtown Santa Cruz, California, I took an unexpected voyage around the world.
I had just put my derriere on a metal chair (made in Italy) and was waiting for my friend Betty (originally from Chicago) to join me with pictures of her recent trip, when a woman at the next table asked about the Iranian National Soccer Team patch on my shirt. She also asked if I knew someone there, so I explained that our family had an Iranian exchange student live with us for a year when I was growing up. She said that she and her husband, who had just joined her, were fans of Majid Majidi and other Iranian movie directors. "My name is Sylvie," she added, then she introduced her husband Richard and their child, Marcel, just as Betty sat down with a cup of Guatemalan coffee.
It turned out that Sylvie and Richard Oxman put on a political/international and cultural event that includes filmmakers, educators and activists from around the world. Several times a year they organize retreats in the southwest of France and meet participants from around the world.
I thought about my wife's French connections. I mentioned that my father-in-law spoke five languages, that he had lived in France for many years and that he and his wife are originally from Germany. My friend Betty and her son both also speak French, as does her husband (whose family roots go back to Nova Scotia). Betty, obviously not thinking, asked if any of my children speak French. She should have known that that could send me on a long, torrential downpour about my kids.
I looked down at my tennis shoes (made in China) and told them about my daughter, who traveled to Eastern Europe with her boyfriend, and how much they liked Italy, the Czech Republic and Turkey. Our other daughter is in Tahiti for three months as part of her college studies. Two of our sons have been to French Polynesia, too, and loved it and Ireland and England and Sweden are where some of our best friends live, I concluded. Then I realized I had never answered the question about speaking French. Sadly, I finally admitted, I don't speak French or any other language besides English, but both our daughters can speak Spanish, and my wife speaks German.
After Sylvie, Richard and Marcel naturally tired from my monolingual linguistics, having heard all about my wife's three-month trip to China, the Cameroon, French soccer teams and world politics, they politely said their au revoirs. Betty was finally able to get a word in edgewise and told me about her recent trip to the East Coast and Nova Scotia.
About an hour later, after we had finished our coffees and got ready to go, I walked past a World Bazaar retail store on my way to the parking garage, paid my ticket (with US dollars), got in my Japanese car, turned on some Brazilian music and drove past Mexican, Sri Lankan, Thai, Indian and Afghani restaurants to my friend's home on an Italian-named street.
I'd only been at the restaurant for a couple of hours, but it seemed like I had traveled the globe. It was quite ironic that I, a stay-at-home American native, had felt like such a world citizen. For the price of an espresso (made from Nicaraguan coffee beans) it was definitely the cheapest trip I've ever taken!
When I returned home that evening, took off my shoes and sat down to read, I decided it was time to take more than a talking trip beyond my hometown and actually travel to see the lands and people we'd been discussing. Now, whenever I feel the urge for a cup of coffee, I put that money in a special can that says: "Airline Tickets."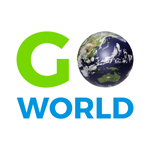 Latest posts by Go World Travel Magazine
(see all)