It may be far from the beaten track, but for those seeking a unique adventure, Greenland is well-worth the trip. This one-of-a-kind destination located in the far north between the Arctic and Atlantic Oceans is home to some 56,000 residents.
These days, more and more travelers are seeking outdoor adventures and authentic experiences that can be found in a destination like Greenland. The country itself is open to welcoming more visitors and will open its new international airport in Nuuk sometime in 2024.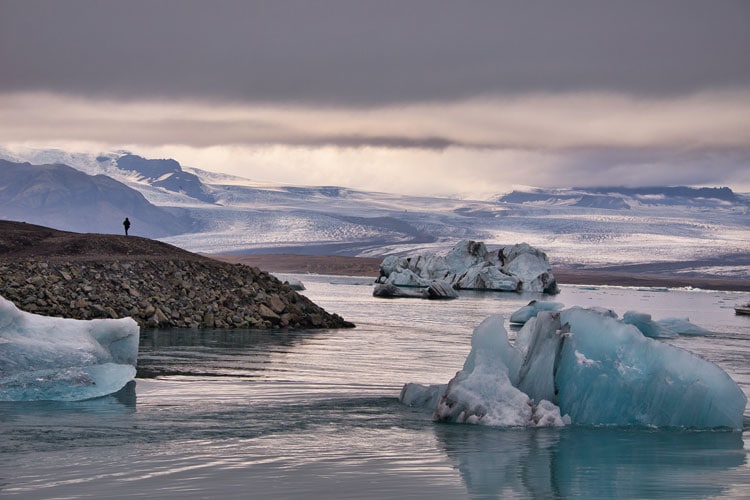 Icelandair has announced new flight patterns that will also provide easier access to the country. In the past, North Americans hoping to visit Greenland had to fly via Copenhagen or a cumbersome transfer in Reykjavik. This summer, Icelandair will route flights from the U.S. to Greenland's Nuuk and Ilulissat airports directly through Keflavik International Airport.
But no matter how you get there, Greenland is worth the effort. What draws travelers to Greenland? Some say that the safest way to make sure you experience the ultimate that Greenland has to offer is to go for the Big Arctic Five.
This term refers to the five absolute must-see attractions in Greenland: dog sledding, the northern lights, the ice, the people and the whales. These are all absolute musts in Greenland, and you haven't experienced Greenland fully if you haven't experienced at least two or three of these.
First Stop: Dog-sledding in Greenland
In Greenland, dog sledding isn't just a fun activity for both natives and tourists, it is in fact a necessary form of transportation. Greenland doesn't have a lot of roads, so most transportation is off-road across the ice, and here a dog sled or snowmobile becomes a necessity of life. But the dog sled's necessity for the natives doesn't make the dog sled rides any less enjoyable for the tourists!
On a dog sled, you can experience both the unique Greenlandic nature, the Inuit culture and the adventure of doing something physically challenging — especially if you try controlling the sled yourself. You're completely surrounded by ice, snow and the sky, and will seldom see animals, houses or other people. It is a truly outstanding experience and you'll feel like the only person in the great white world!
Second Stop: Seeing the Northern Lights in Greenland
One of the most spectacular experiences in Greenland is viewing the northern lights, also known as Aurora Borealis. Even though the sight doesn't require any physical performance from you, there are several things you should know. The most important thing is your attire. Not that you should be dressed nicely or formally, but because you have to wear warm clothes since the northern lights is an outdoor show.
Other than that, you really don't have to strain yourself, since you won't need to buy tickets nor make a reservation for the event. You just show up in the middle of the street and look upwards where long strings of bright colors light up the sky.
When to See the Northern Lights in Greenland
You'll experience colors ranging from magenta to red to green to blue on top of a black or dark blue sky. If you visit Greenland between September and April, you're almost sure to witness this famous wonder, so remember to dress warm and get outside at night.
Third Stop: Ice and Snow in Greenland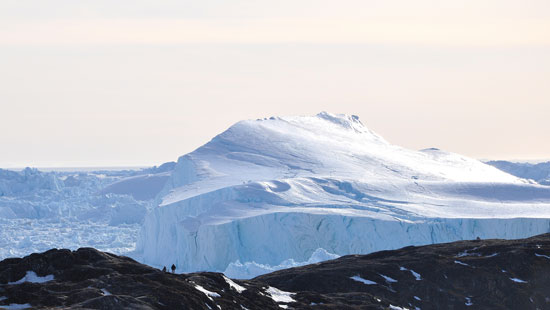 It shouldn't surprise anyone that ice and snow are very important when thinking of Greenland. You really can't go for a walk or just look out a window without noticing all the white fluff covering most every flat surface, house and vegetation. But you shouldn't let yourself settle for the snow just outside your door — you should try to experience the great white stuff for yourself.
You can easily combine this step with a dog sled ride or you can go visit the great Ice Sheet covering most of the island. You should also try visiting Ilulissat Icefjord where on a lucky day, you might see an iceberg being pushed off the sheet by a great glacier right into the fjord's icy water.
It is easy for tourists to forget how big a part snow and ice are of the Inuit's life. The snow, ice and cold are part of their culture, nature and environment, and are especially present in connection with transportation and traveling. Making an effort to see the ice and snow is a way to get to know the Inuits and their culture better.
Fourth Stop: Meet the Inuits of Greenland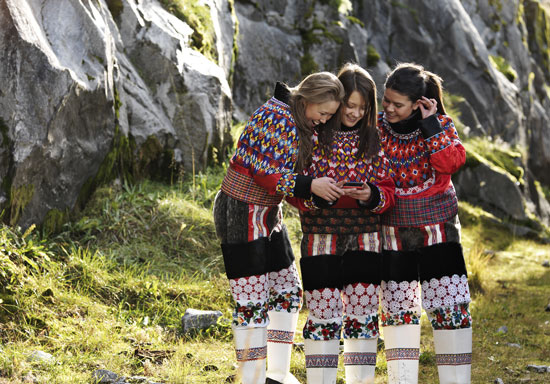 Meeting the natives of Greenland is an important part of your visit. The Inuits are one of the few populations in the world that still live in close cohesion with nature. Many Inuits still hunt and fish for a living. They depend on many types of animals for their diet, including whale and seal.
The Inuits are exceptionally social, and really enjoy each other's company. When an Inuit invites others to 'Kaffemik' they never know how many people are going to show up for coffee and cake during the day. Everyone is free to invite their own guests, and it's not uncommon to see a completely crowded house with people coming and going constantly.
If you'd like to get a closer look into the Inuit culture, consider renting a room with a local family instead of staying at a hotel or motel. When staying with a family, you'll live and eat with them, and if you want to, you might get the chance to go along with them on their hunting and fishing trips.
Fifth Stop: Whale Watching in Greenland
Whale watching is not a distinctive feature for Greenland, but it isn't everywhere you can get as close a look at these magnificent creatures as in the waters near Greenland. Spoil yourself with a boat trip on the Arctic Ocean with your binoculars at hand.
You'll experience a completely quiet boat and a still ocean, where everybody has an eye out for a spouting whale, a tail or maybe a peeping baby whale that breaks the water surface. More often than not will you get to say hello to a whale or two, and you'll get to watch them swim alongside the coast, maybe even keeping your boat company.
While there is always more to see and do in Greenland (including hiking, heli-skiing, kayaking, skiing, snowmobiling or climbing), these five activities will give you a wonderful introduction to Greenland.
When to Go to Greenland

You can visit Greenland any time of year, but there are more flights available during the summer season. If you go in summer, you'll get a perfect chance to experience the midnight sun, while in winter, you'll have the chance to experience the northern lights and the way Inuits celebrate Christmas.
Tips for Visiting Greenland
You don't have to have a visa for visiting Greenland if you visit from the EU nations, the USA, Australia, New Zealand, Canada, Japan or several other central-European and Latin American countries. However, if your stay exceeds 90 days, you have to apply for a work visa.
Make sure that your passport is valid for at least 90 days after your departure date from Greenland and most preferably six whole months. You should also make sure that your passport has blank pages for any necessary stamps upon arrival and departure.
More Information
Visit Greenland