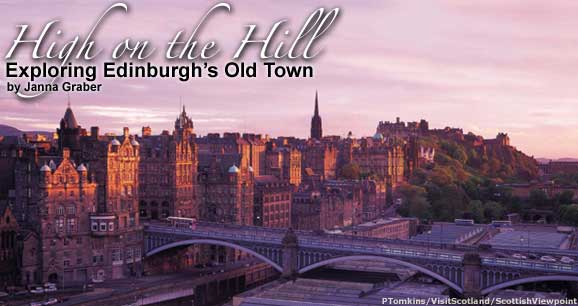 Cold and impenetrable. That's how Edinburgh Castle must have looked to some of the first Americans who laid eyes on the Scottish fortress.
In actuality, the men weren't really Americans — yet. The Yankee rebels had been captured by British forces during the American Revolutionary War and sent to prison in the dark stone vaults beneath the castle that now stands at the heart of the Scottish capital.
The prisoners' wall graffiti and small artistic carvings can be still be viewed today in the "Prisoners of War" exhibition at Edinburgh Castle, a place the rebels never dreamed would become such a popular attraction for their future countrymen.
But popular it is — and for good reason. Rising from volcanic cliffs towering above the city, Edinburgh Castle has become one of this nation's most iconic symbols. It stands at the heart of Edinburgh's Old Town, the most historic section of the city.
Many visitors start their exploration of Edinburgh here at the castle. Part of Edinburgh's World Heritage site, the castle has been the cornerstone of Scottish history for centuries. Some of its buildings date back to the 12th century.
The castle is home to the Scottish Crown Jewels, a brilliant crown, sword and scepter, as well as the Stone of Destiny, the coronation seat of ancient kings. In another area of the castle, a moving war memorial honors generations of brave Scottish soldiers.
Exhibition signage at the castle is good, but not excellent. Rent an audio-tour headset for the best information. Free guided tours are also available.
Keep in mind that the castle is built on a steep hill and the cobblestone roads can be uneven, so exploring the castle can be physically taxing at times. There is no parking at the castle, but a courtesy vehicle is available to assist those who need help reaching the castle.
Edinburgh is a walking town, and the best way to reach the castle and get around the city is to purchase a ticket on a hop-on, hop-off bus. For around US$ 18, you can use the bus system for 24 hours. The buses stop at major attractions, and offer an easy way to cover a lot of ground.
Continued on next page