Trieste, the capital city in Italy's very northern Friuli Venezia Giulia region and bordering Slovenia, is known for coffee. In fact, it is referred to as the "City of Coffee," since one-third of all the coffee in Italy arrives in its harbor and is roasted here.
But even though the overwhelming influence of coffee culture presides, Trieste, Italy, has way more to do, see, taste and sip than just a shot of espresso.
What to See and Do in Trieste
Here are the top 10 things to check out during your time in this energetic port city.
Learn the Language of Coffee
Before we get to the other reasons you should come to Trieste, there is still a bit more to explain about all the coffee. It is such a predominant element to life here, that the town has created its very own coffee language. Instead of simply asking for an espresso, order "un nero." Similarly, a macchiato is known here as a "caffe gochato" and a latte actually arrives cappuccino sized.
But the real star beverage is called "capo en bicchieri" or "capo en bi" for short. It is espresso, steamed milk and a little bit of foam, served in a small glass and perfectly fine to order at any time of day (if you've been to Italy before, you know that ordering a coffee drink that contains milk at any time other than the morning will get you looks of death).
Capo en bi can be found at any of the coffee shops, but one of the most famous and historic is Caffè degli Specchi, opened in 1839, right along the main square.
Visit Piazza Unita d'Italia Square
The main square, with wide open space, is Piazza Unità d'Italia, said to be the biggest square in Europe facing the sea (the Adriatic here). It is also where most of the city's important municipal buildings stand, and also serves as a dramatic concert venue (modern day examples are Green Day and Iron Maiden).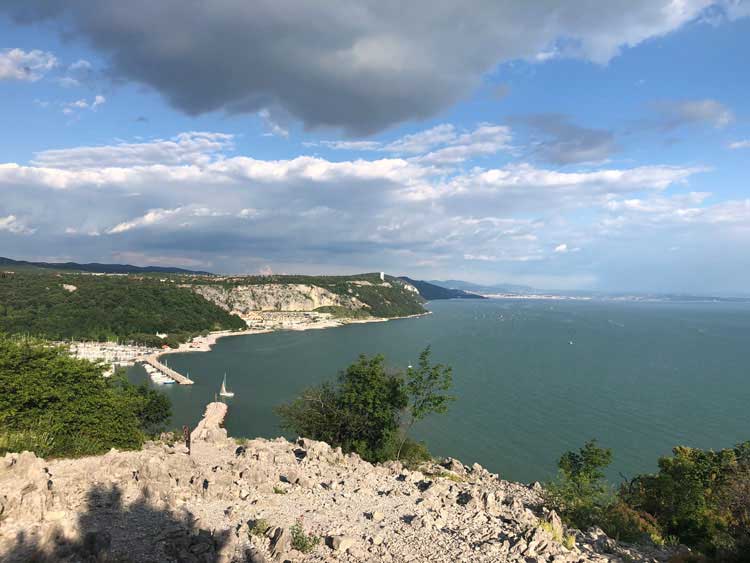 See Trieste's deep port for cruise ships
One reason you may have already heard of Trieste, or perhaps you've even been there, is that cruise ships can dock here due to the extremely deep port. This is uncommon for such a small city, making it a frequent stop on the cruise ship route.
Make a pilgrimage to the Temple of Monte Grisa
Antonio Santin, the archbishop of Trieste, had a geometric Catholic church built after World War II as a protective war-time commemoration. Locals call this Temple of Monte Grisa the "formaggino" ("The Cheese"), because of its triangular wedge shape.
Since its inauguration in 1966, the temple has been a pilgrimage stop for many people, including Pope John Paul II.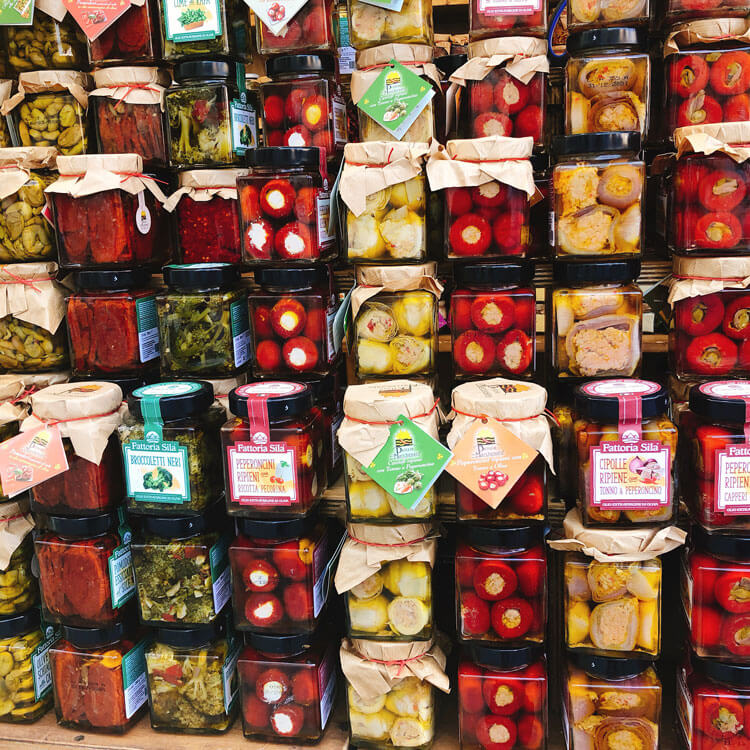 Sample regional foods at Trieste's open-air markets
There are several open-air markets in Trieste, where you can shop and sample regional foods. On any given day, you might find a salt vendor; a baker selling traditional Italian loaves the size of a car tire; local honey; stuffed pepper preserves, and biscuit makers selling a rainbow of snacks made solely to enjoy while drinking wine.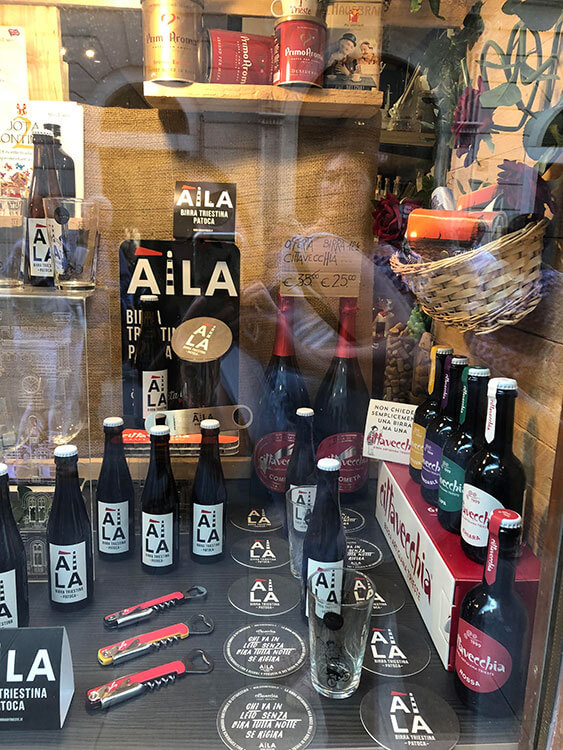 Belly Up to the Bar for Beer
Wine is almost as central to the culture here as coffee. But there's plenty of beer available as well. Perhaps since this region is so northern, akin to countries where strudel and schnitzel predominate, many bars offer a multitude of beers.
And the craft beer craze that has spread like wildfire in the U.S. not missed Italy. Seek out the fresh pasta vendor at the outdoor market along the Canal Grande who has Birrificio Padus on tap.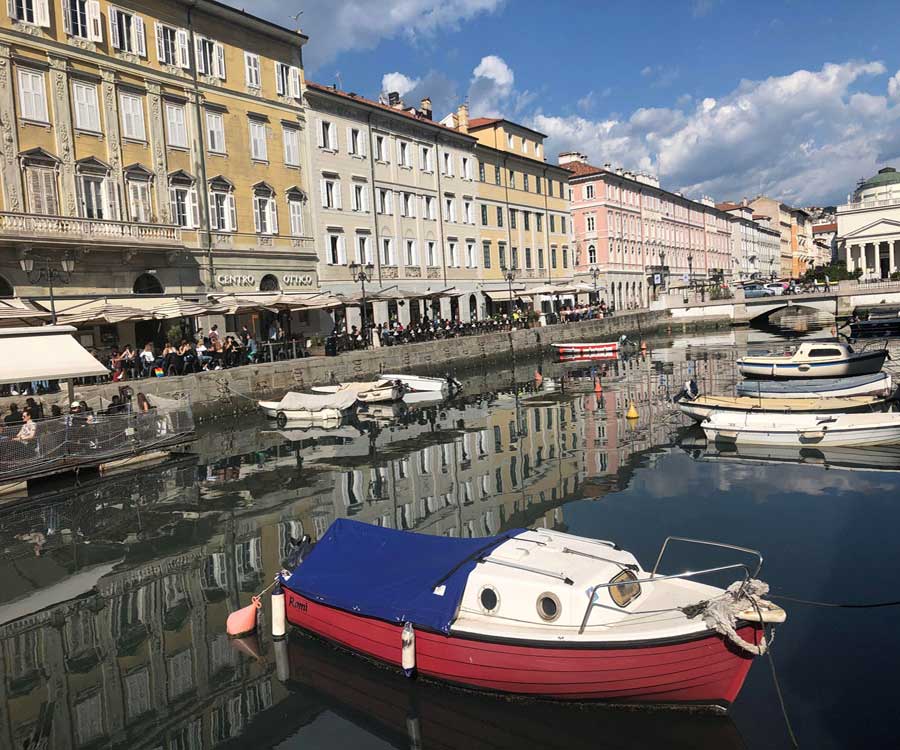 Walk the Cobblestone Pathways in the Old Jewish Quarter
The Valle de Mal Contone is translated to the "corner of bad things," an ominous title for the main artery of the old Jewish quarter. A walk down these narrow cobblestone pathways, past old walls that have surely been witness to some horrific scenes, is a reminder of the evil inflicted by the Nazi regime. Visitors today can enjoy quaint trattorias and gift shops, antique stores and cheerful cafes. You will also find the best gelato in town here at Gelateria Marco.
Everything's Coming Up Roses at Former Psychiatric Facility
There is something symbolically beautiful about a garden growing in a former psychiatric facility. In Trieste, a trio of organizations has revived the defunct San Giovanni Psychiatric Facility, creating a thriving rose garden of 6,000 roses in 3,000 varieties.
Listen to Concerts at Miramare Castle
Concerts at the Castle happen every spring in the Throne Room of Miramare Castle, the ornate residence of Maximilian and Charlotte Habsburg of Belgium. Mostly piano, these recitals also sometimes include guitar, violin or cello, ranging from classical to modern pieces. The cavernous castle acoustics can't be beat.
Soak Up the Sun – Topless or Not
Hit the beach! The cliff-side sidewalk along the main road is where residents and visitors alike sunbathe when the rays are shining. Go ahead, act like a local and take that top off. After all, you're in Europe!
Discover Trieste
https://www.discover-trieste.it/
Author Bio: Amber Selene Turpin is a freelance food and travel writer who lives near the Santa Cruz Mountains of California. A longtime "Good Food" advocate, she has worn many hats, from baker to business owner to bookkeeper. She is a regular contributor to Civil Eats, Edible Magazines, Napa Sonoma Magazine, Slow Wine and The Mercury News in San Jose.