"I am happy in Venice, but it is happy with an aftertaste, perhaps because of the accumulated past, the excess of beauty, because it is too much happiness." -Cees Nooteboom
Fate gave me the great fortune of visiting Venice, Italy for the second time in four months.
This meant, because she is gracious, I would get to revisit my favorite Venetian friend, Giulia De Carolis. We'd met twice in our lives, both times in Venice, where she lives, and assists visitors to Venice by greeting them and showing them how to navigate the "streets of water" from the Marco Polo Airport or the train station to their hotels. This is more complicated than it sounds because Venice is made up of 117 small islands, countless little bridges, tiny, windy streets, and narrow passageways.
Life's events, for me, happened to also be a touch complicated both times I met Giulia. On the two occasions, I'd met her, I was, due to dramatic, unforeseen personal circumstances, forced, at the last minute, to travel to dreamy Venice alone. Both times she diplomatically inquired as to where my scheduled traveling companion was.
One was a soon-to-be-former wife; the other was my college-aged son; each of whom had bailed at literally the 11th hour.
Giulia's brief company, to this lone wanderer, was a welcoming, calming, positive presence. I considered her unsinkable attitude and buoyant advice, in a watery town, to be a timely life raft from the angels. She's a bright light of joy.
IC Bellagio.com, Italy's premier and revered custom travel advisor company, contracts Giulia to steer their clients to the private water taxis to take the vacationers, and their luggage, up the Grand Canal and to their hotel docks. Along the way, like a proud professor, she points out the virtues and values of Venice's vistas, while insisting, modestly, that she is not an official guide.
Giulia's husband Alberto Venerandi is in the travel and hospitality industry, as well, owning and operating a guest house called Corte Loredana. The casual property, popular with backpackers, is full of rentable, ensuite rooms in the chic, authentic Jewish Ghetto area of Venice. I look forward to staying there someday.
A Friend Indeed
Giulia's full-time job is to assist in the management of the annual, historic, Venice Film Festival, and though she's dealt with some of show business's most glittering people, Giulia, who has movie star looks and poise herself, is unassuming.
I was charmed at the way she once hesitated, and looked to gauge my reaction when, during this visit, she began to spontaneously refer to me as…a friend. It was a reference she posed in the tone one would ask a question.
"I am honored you would say that," I told her. "Anyone you'd consider to be a friend is blessed."
I have come to know Giulia downplays flattery, even when it is sincere, in the same way, she eschews the famed Italian luxury labels on her elegant scarves, clothes, and accessories. Gucci? Nah. Max Mara? Si.
Giulia, who is worldly, elegant, and wise, is also diplomatic. Early in her life, after growing up in Puglia, she studied and worked in Syria and Egypt. She can speak and write Arabic.
In the days leading up to my two-hour train trip from Florence to Venice, I was filled with appreciative anticipation to see Giulia again. As I wandered about Florence, I wondered how I could show her my admiration when she welcomed me back to Venice in a few days. I searched the streets and shops for the perfect gift. And because Giulia has perfected her English, I thought it would be courteous to come up with an amazing greeting to surprise her with by delivering it in Italian.
Finding Firenze
Unlike Venice, Florence has one river – the Arno – which divides the city. But being able to center ones 'self with the Ponte Vecchio, the "old bridge" full of gold shops that survived even the Second World War, doesn't make Florence any less tricky to navigate than Venice.
Even my famous and historic hotel, The Brunelleschi, can be tricky to find. Stefano Lodi, the hotel's general manager, told me its tucked-away spot is an advantage.
"Our great location is the best in Florence. We're just a few steps from the cathedral."
Lodi was referring to the Renaissance-era Santa Maria del Flore, known as "The Duomo," which presents an elaborate exterior by Brunelleschi himself, which kidnaps your eyes and, when its cathedral's bells toll, your ears, too. Respectfully attending Mass, by the way, is the easiest way to avoid crowds, lines, and fees, if you don't take a guided tour.
"We're very close to the hustle and bustle and people-watching of Florence," Lodi continued, "but also in a quiet square. Our guests can get both experiences."
My IC Bellagio.com-assigned driver, a most-amiable fellow, knew just how to get me from the airport to the Hotel Brunelleschi, so I didn't have to worry. One never does when their trips are planned by IC Bellagio.
"We tend to work with partners, such as IC Bellagio, that have the same mentality and morals and transparency. They want to make sure their clients have the best experience," Lodi revealed. "IC Bellagio helps us to have as much information as possible about our guests. It's teamwork. The guest experience starts long before they arrive and doesn't end until well after they are gone."
The Hotel Brunelleschi is the oldest building in Florence, its Pagliazza Tower having been built by the Byzantines 1,500 years ago. "Even by Italian standards, that's old," said Lodi, who explained the hotel even has a museum detailing that there was always some level of luxury: the building was originally a Roman spa and baths.
"Italy and Italians have historically had this charm to the rest of the world. Our way of life is very attractive to many. It's a little bit slower than other cultures. Our ability to enjoy life has to do with the fact that we are surrounded by history and art and amazing food."
As we spoke in the Hotel Brunelleschi, Lodi became philosophical.
"Richness is not necessarily in the wallet. Wealth is in experiences and memories and things you can tell your friends about seeing new worlds and new cultures and history. The world is beautiful," he said.
I was even more grateful that IC Bellagio had planned my visit to Brunelleschi and allowed me to meet its partners, guides, and providers such as Stefano Lodi and Giulia De Carolis.
NH Collection Firenze Porta Rossa
Most of the hotels I saw in Florence's city center were stylish and provided a historical sense of place, as opposed to being cookie-cutter.
The newly renovated NH Collection Firenze Porta Rossa, with 70 rooms, boasts a 13th-century Torre Monalda tower and ancient frescoes. The former Palazzo Bartolini and Palazzo Salimbeni now also feature modern contemporary design pieces embracing the color red (rosso.) The cozy, eclectic NH Collection Porta Rossa is close to the train station.
Still Searching…
Still searching for a gift for Giulia and a catchy Italian phrase to greet her with, I floundered about Florence, which is an entirely walkable maze of small streets. I was often joyfully lost, turning a corner to yet again encounter the unique Gucci Garden Museum I'd passed only moments before! But in my search, I did find this about Florence:
-The butter chicken and steak Florentine – with a tortellini antipasto – at Trattoria Sostanza, are culinary masterpieces in the little restaurant's food-centric, family atmosphere.
-It's widely accepted that the greatest gelateria in Florence is La Carraia, along the Arno River. Try the white chocolate with pistachio sauce; ricotta cheese and pear; and Tuscan cookie flavors.
-The twilight, panoramic view of Florence from the 19th-century Piazzale Michelangelo is worth the 12-Euro each-way cab ride. You'll find musicians, snacks, and souvenirs up there so you can linger in the light and festive atmosphere.
-If you're going dancing at Space Nightclub, the crowds don't come in until well after midnight.
-When taking a VIP day trip to Tuscany wineries such as Casa Emma in the Chianti region or Podere le Ripi in Montalcino – with a stop in Siena – be certain to pay your respects at the stunning Florence American Cemetery, where 4,400 WWII American servicemen and women are laid to rest.
Back in Florence's city center, I'd seen the graves of Michelangelo, Galileo, and Machiavelli at the Basilica of Santa Croce, and I moved over, according to my IC Bellagio itinerary, to the Hotel L'Orologio, on the Piazza Santa Maria Novella. I would tell you the Hotel L'Orologio is in a different part of town, and it technically is, but it's a misleading statement because one can easily walk from the Brunelleschi to the L'Orologio while just looking for a slice of pizza.
Timing is Everything at Hotel L'Orologio
Translated, "L'Orologio" means "clock" or "wristwatch," and there are plenty of ornate, impressive clocks around the stylish property. Mass time, I found out, was 8 am at the Basilica Santa Maria Novella, the striking white church which is viewed across the piazza from the front of the hotel. During morning Mass, I saw that the inside is even prettier and more ornate than the outside. And guess what, I found inspiration inside, and outside the basilica.
While wandering the piazza between the hotel and the church, I stepped upon an engraved stone in the far corner near an as-yet-unopened gelato shop. The big, square stone read:
"Tutti I passi che ho fatto; nella mia vita, mi hanno portato qui, ora = Every step I have taken in my life has led me here, now."
As a travel writer, the message moved me.
As a romantic, I came up with an idea.
Giulia had once, kindly, referred to me as a "poet" due to my colorful enhancement of times and tales in my travel stories. So, for my friend Giulia, I decided to memorize the saying on the stone in Italian and deliver it to her as a greeting. I snapped a photo of the stone and spent the next 24 hours endlessly repeating it over and over and over, or, to borrow a Latin phrase, ad nauseum.
I recited it in my mind 100 times while walking, shopping, touring Florence's famed museums, in the hotel elevator, and the shower, day and night. Knowing, though, that I might choke under pressure with stage fright when the time came to deliver the line to Giulia, I'd need to practice verbalizing it out loud in front of another person.
I chose the bartender at L'Orologio. While pouring prosecco, he was patient enough to tolerate me and correct my pronunciation. And he suggested I adjust the ending.
"Instead of 'qui ora,' say 'da te.'"
"Si?"
"Si," he explained. "Instead of saying 'here now,' tell her 'to you.' All your steps brought you to her."
"Dolce!" I proclaimed.
Secret Shopping
The other bit of inspiration that morning, with the Orologio ticking, came from Andrea Grisdale, the founder and CEO of IC Bellagio, the custom travel company that planned my Italian spree. Grisdale, a compulsive connector of people, had suggested I meet her friend Simone Fammone, the founder of EMMA Firenze, at his atelier studio.
"' Made in Italy,' when it comes to fashion, means the finest craftsmanship and materials," Grisdale explained. "Simone, with his EMMA Firenze, is designing and manufacturing the world's finest fashions…for dogs."
The penny dropped for me! The last time I'd seen Giulia, four months earlier, she showed me photos of her cute little doggie Pepita.
"I hold Pepita's head in my lap like a little baby," she admitted.
I recalled Pepita meant a lot to Giulia. I came to learn at the dock, as did Pepita's deceased sister dog, Lolita.
"They were sister dogs, which are unusual to come by. We found them at the Venice port," she explained. Giulia also, at the time, said she had not planned any travel because little Pepita was at an age at which she needed to take care of the doggie and be there for her.
Some haute couture for Pepita from EMMA Firenze would be the perfect gift to give Giulia!
I texted Nicole Bellatti, my on-call guest ambassador with IC Bellagio, who quickly arranged a late morning visit with Fammone and his partner, who would translate for us. I hurried across town to meet the maker of dog designer duds.
Puppy Love
Fammone's Emma Firenze is the Gucci, Prada, Versace, or Ferragamo of dog fashions. In touring their studio, I saw, firsthand, their fashions were not cutesy canine costumes. This was serious stuff.
"We have a huge variety of textiles from which you can choose. Any breed can be satisfied, and the clothes are all reversible to adapt to the climate – double-faced with one face being cashmere and wool. The other side, which is lighter but waterproof, acts as a raincoat," Fammone explained as he showed me the quilted coats, hooded sweatshirts, and accessories EMMA Firenze has been customizing for customers from all over the world who have been ordering online.
"Clients can choose on the web. They get the final choice, he said.
I asked Fammone if it would be a fashion faux pas to order a striped sweater for a spotted dalmatian.
"Maybe the contrast could be trendy," he answered, laughing with a shrug.
Emma Firenze is also starting to create dog fashions for traditional luxury clothing labels as they begin to market products for dogs. Fammone said EMMA Firenze is about to collaborate with Italian and English car companies to create dog accessories in their luxury vehicles.
Then we got down to business.
"Do you know the size of the dog you'd like to buy a gift for?" Fammone asked me. "We do custom measurements, of which there are three: the circumference of the neck; the chest; and the length between the neck and the tail. It can be a miniature dog and a huge dog. We can do anything."
"Pepita," translated, means "nugget." But I already knew Pepita was tiny because Giulia had shown me a photo of Pepita, with her big ears pointing like the wings of an airplane from her head while being pushed in a stroller. I pulled out my phone and showed Fammone and his partner two photos I managed of Giulia's "baby."
"Hard to tell size from a photo, but the dog is named 'Pepita?'" Fammone asked.
"Si. 'Pepita.'"
Fammone and his partner both smiled broadly at the photos and the cute name. Then they pulled out tiny tops and a big variety of items for me to choose from. Dog fashions in all forms were flying at me from all of their shelves and racks and hangers and adorable displays.
With their assistance, I selected, for Giulia and Pepita, a little hooded sweatshirt with thin red and gray stripes, evocative, in a subtle manner, of the uniforms of the Venetian gondoliers. I purchased another small, designer doggie-related item to accompany it, which they carefully, and with deliberate precision, packaged in tissue paper and placed in a fanciful, ribboned box worthy of Tiffany's that also included a certificate of designer authenticity.
"Perfetto!" I said, thankful for the experience and very proud of the gift.
Greeting Giulia
After a brief stop in Bologna, my train from Florence pulled in, on a sunny morning, to Venice. One last time, I rehearsed the line I'd studied so hard. Then I straightened my tie before disembarking.
"Michael," I heard her voice call, and there was Giulia, on the train platform, dressed for the crisp Autumn morning, in a navy-blue coat and patterned scarf. It occurred to me that the last time I saw Giulia was during Venice's sweltering summer July humidity and heat that reached 90 degrees Fahrenheit. She truly is a woman for all seasons.
I welcomed her in the traditional Italian manner, with air kisses on both cheeks, and then nervously tried to look at her and roll out the line: "Tutti I passi che ho fatto; nella mia vita…..uh……uh……um……mi hanno portato da, te."
It was a clumsy, epic fail, and I wondered, as she looked at me, if Giulia understood my meaning.
"Capisci?" I asked.
"Si," she answered, "but it's not true," thereby dismissing my romantic phrase, with the wave of a hand, as she would a teasing brother.
I grinned and we both laughed as we walked up the platform.
Giving the Gift
Once through the train terminal, Giulia led me through the crowds and over to the dock for the transfer to the hotel. She tried to help with my luggage, a gesture, of course, I refused. I was toting a duffel bag since I was in for only one night, but I kept the EMMA Firenze bag with the wrapped doggie gifts out of the duffel and ready to give to Giulia as soon as we got settled.
Aboard the elegant water taxi, which is more akin to a limousine, we sat underneath in the warmth on the benches on opposite sides of the small, windowed cabin, knee to knee, cruising up the canal. I secretly put the elaborate gift bag right next to my feet and kept my hand on its handle.
As the boat motored along, it rolled through the currents and slapped against the waves.
"The water is high now," Giulia explained.
In fact, I noticed a gondolier having to duck – no easy task as he stands with a pole on the back of his long, sleek craft – to maneuver the boat and its cooing passengers under one of Venice's hundreds of little bridges.
We made small talk about whether there had been any of the serious alta aqua floodings Venice had experienced in past Novembers, which thankfully there had not. There was also a little small talk about how, after I'd left in the summer, two men had illegally surfed on motorized foils between the gondolas in the canals. This drew the ire of Venice's mayor Luigi Brugnaro, who tweeted they were "overbearing idiots."
Giulia also pointed out the mayor's office, Ca' Loredon, as we passed it on the Grand Canal, and explained there was some level of controversy about holiday lighting, which was already blazing, at City Hall and in Piazza San Marco.
Giulia also shared she'd had an unpleasant, three-week bout with Coronavirus in October, and only recently, thankfully, had fully recovered. She allowed that her husband's symptoms had been less severe and shorter.
Hearing this, I sensed the timing was right to present my cheery gift, so I asked brightly, "How is Pepita?"
But Giulia then stopped speaking entirely.
Her head tilted a little and her chin drooped.
"Oh…," she said, looking into my eyes.
"Pepita passed away."
She said the startling words as gently as she could and with a tone of regret.
Regret that I asked.
Regret for having to tell me.
Regret for having to verbalize that terrible truth.
and most of all regret for it being true.
But Giulia, in all her thoughtful dignity, seemed sympathetic to how so stupid for asking – which of course I did.
"I thought that I had told you," Giulia said, her eyes welling.
Unless one can hear a broken heart beating, the only sound now was the boat bouncing through the water and the suddenly noticeable drone of its engine.
The moment of silence sat before I said, "I am so sorry."
It is an acute ache when someone you care about is hurting. I wished I could have eliminated Giulia's pain when all I could do, as subtly and quickly as possible, was to remove the gift bag by subtly sliding it behind my knees and out of her view. Thank God I hadn't given the gift to Giulia to open before she shared the sad news.
Giulia, who had inadvertently and coincidentally been a source of inspiration and comfort on my two previous visits to Venice, didn't really need my counsel in return. She is an independent woman of great poise and presence. But she certainly had my sympathy, for what it was worth. And when she returned the conversation to pointing out palazzos of interest along the canal, I understood why.
Cruising the Canal
Navigating from the train station to a private water taxi is very convenient, especially with Giulia guiding and when IC Bellagio.com puts you in a luxury hotel such as Sina Centurion Palace, right on the Grand Canal – between the Gallerie dell'Accademia Museum and the big, Baroque, Basilica Santa Maria della Salute – circa 1687, built as a votive offering for a terrible plague. The basilica, and its convenient vaporetto (water bus) dock, are just across from Piazza San Marco and one block and bridge away from the Centurion.
The Sina Centurion Palace's lobby areas and sitting rooms are like art galleries. Of course, the views out the windows, even from your guest room. Is picture-pretty, and the sound of the water lapping on the walls of the canal is a constant reminder Venice's "streets" are filled with water.
The Sina Centurion Palace's courtyard is divided by a floor-to-ceiling, glassed-in breezeway connecting two parts of the renovated and modernized palazzo. Beyond the glass is the patio and dock, with its colorful striped poles. Day or night it is a world-class setting facing, across the canal, the old Gritti Palace. The Sina Centurion Palace is a fun place to come home to whether by boat or on foot.
Nice Neighborhood
The gothic-style Sina Centurion Palace Hotel was once known as Palazzo Genovese. It is located in what once was the neighborhood of the billionaire heiress Peggy Guggenheim, who donated her home to become the Peggy Guggenheim Collection. Her home, the 18th-century Palazzo Venier dei Leon, which hosted so many glamorous gatherings, is now a canal-front museum full of works of Surrealism and abstract expressionism.
Guggenheim herself was a gas, apparently. The billionaire heiress unabashedly claimed to have slept with 1,000 men – often artists and writers – while she lived in Europe. When asked how many husbands Guggenheim had, she replied, "You mean my own, or other people's?"
Guggenheim's father went down with the Titanic.
Guggenheim herself died in 1979. Her ashes are buried in the museum courtyard, resting beside the remains of her prized pooches.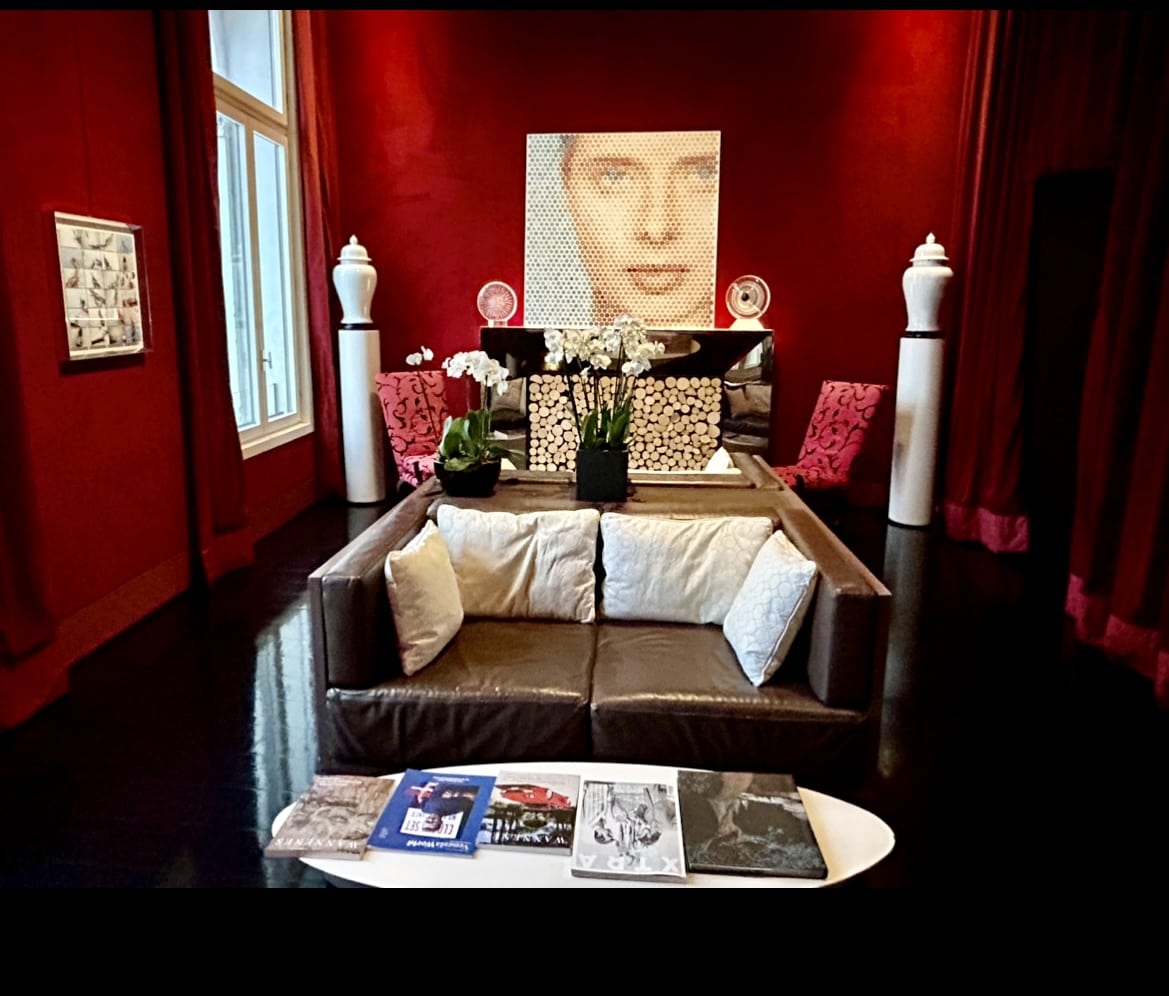 Vanishing from Venice
Giulia and I, along with some friends, sipped a bottle of prosecco in Piazza San Marco in front of an orchestra that evening at Quadri Gran Caffe. She also led us to taste designer Spritz drinks at Amo in the T Fondaco dei Tedeschi mall near the Rialto Bridge – the area she'd shown me when I first met her on Boxing Day, 2016.
Giulia will be using the time this winter to travel away from Venice. She'd recently taken a trip to Nice, France, and was planning to take a long-awaited trip to Japan with her husband – Tokyo and beyond. I suggested her employers at the Venice Film Festival send her on "research and observation trips" to the Academy Awards in Hollywood; the Cannes Film Festival in the South of France; and the Toronto Film Festival.
Of course, the modest Giulia laughed and dismissed my sentiment. "Those types of trips are for my director," she demurred.
The next afternoon it was time for my trip away by train. Giulia guided me, via water taxi again, to the train station and dutifully, but thoughtfully walked me right onto the train car and to my seat. She probably wanted to make certain I actually left town!
Safely tucked on the train, it was time to once again bid Giulia "Ciao, Bella."
But before the train pulled away, she presented me with a gift – a book – entitled Venice- the Lion, the City, and the Water, by Cees Nooteboom. When I read the book on the train later, one phrase resonated with me:
"I am happy in Venice, but it is happy with an aftertaste, perhaps because of the accumulated past, the excess of beauty, because it is too much happiness."
After Giulia presented me with the book, as she climbed the steps back down onto the train platform, I handed over a partial, curated version of the gift I had originally intended for her. It was a wrapped-up "goodbye" present for her.
Inside the fanciful gift bag, Giulia, when she opened it later, would find some candies and a tiny, decorative, stuffed dog, of orange-colored cloth – a hand-made accessory from Emma Firenze. She'd also find a very personal note expressing my condolences and appreciation for her friendship, dignity, and elegance.
Just before I left, I handed it to her.
"Ciao, e la mi cara amica," I managed to warble out.
"Why did you bring me a gift?"
"Because I love you," I said. "And I know how much you loved Pepita and Lolita."
Giulia's "neighbor," the late Peggy Guggenheim, is a billionaire buried next to her dogs. And though I'd only seen photos of Lolita and Pepita, I saluted Giulia's priceless devotion to the dear dogs – her babies who will always live in her heart, if not on her lap.
Read more on Michael Patrick Shiels' travel blog, The Travel Tattler. Contact Travel Writer Michael Patrick Shiels at [email protected]