I have, in a series of columns, let my mind and keyboard wander across some of the destinations in which I'd experienced some situational sweetness.
I first met Giulia De Carolis at Christmas of 2016 when she greeted me upon my landing at Marco Polo Airport on my first visit to Venice, Italy.
Giulia, working as a guide at the behest of the very detailed IC Bellagio tourism company, led me, with my luggage, via water taxi to my hotel – the L'Orologio, on the Grand Canal near Rialto Bridge. It was a splendid morning boat ride. But Giulia, with her big wavy hair, even bigger smile, and her happy demeanor made the little morning journey through Venice's canals "molto Bellissima."
"I fell in love with Venice when I moved here 20 years ago. And I fall in love with it over and over," she looked into my eyes and told me. "Just when I think I am used to it. I notice the light after a thunderstorm or a higher sculpture I had never noticed before."
Giulia's words were poetry, and her appearance was art, so I was inspired to pose a question.
"Do you find Venice to be the most romantic city in the world?"
She answered, "I think if you are a romantic person anywhere is romantic."
Sono stato colpito dal "fulmine!" Just like Michael Corleone, I was hit by the "thunderbolt!"
We were together on that boat ride into Venice for only a short while, and I didn't know much about her, but henceforth whenever I thought of beautiful, romantic Venice, I thought of Giulia.
I'd even written a travel column about my moments with her as a result:
Love Stories – Part One: Venice Italy
Six Years Later….
I returned to Venice for a short stay six years later. Once again, I collaborated with the IC Bellagio (Italian Connection Bellagio) company for the custom planning of my visit. IC Bellagio always plans and provides a descriptive, detailed itinerary via email and on an amazing app. I was happy to notice, when I checked the itinerary, that at the end of my Venetian dolce vita, Giulia de Carolis scheduled to lead me by private water taxi back to Marco Polo Airport…this time, six years later, for my departure as opposed to arrival.
Because of a change in my schedule, I checked with IC Bellagio guest ambassador Nicole Bellatti to see if Giulia might like to visit a bit on the afternoon I would depart? Bellatti, via email, informed me that Giulia accepted the invitation.
During my three days in Venezia, I would view masterpieces in the Gallerie dell'Accademia; peruse Peggy Guggenheim's astonishing art collection; see Tintian's large format works in the Scuola Grande di San Rocco; and celebrate Mass in the beautiful Basilica San Marco.
But best of all, as a grand finale, I would get to see Giulia again.
But First, the Week that Was…
The search for beauty in Venice is easy. I viewed generations of astonishing art in each of the museums I mentioned above. Random churches throughout Venice, large and small, are full of frescoes, sculptures, and statues both soothing and shocking. The candles and soaring ceilings make those sacred settings even more dramatic.
Floating along the Grand Canal or walking the winding streets of Venice also reveals architecture that would never be attempted or afforded today. The dreamy doorways, arched windows, columns, pillars, gargoyles and intricate trimming are not imagined but real in Venice.
But beauty is more than a visual vibe.
As Paris was a "moveable feast" for author Ernest Hemingway, Venice was, for me that week, a "musical feast." The melodies, movements, songs, and performances I encountered along the way served as a soundtrack to the exquisitely romantic setting Venice is.
IC Bellagio and Hotel Londra Palace
"Venice is always special. We recently sent a guest to Venice for the twelfth time," said Andrea Grisdale, IC Bellagio's founder (IC stands for "Italian Connection.") "While Venice is geographically small, it really does have so much to offer, so people keep returning."
IC Bellagio creates custom Italian experiences for discerning travelers. Therefore, Grisdale and her expert "guest ambassadors" arrange for their clients to stay at Venice's stylish Hotel Londra Palace. Just as Guilia did for me, IC Bellagio's guests are met at Marco Polo Airport and brought to the hotel, in style, by private boat. During their stay IC Bellagio's expert guides lead guests to all of Venice's secret treasures and experiences from the Londra Palace.
Alain Bullo leads the hotel as its maître de maison/general manager.
"We work well with IC Bellagio and their nice guides," said Bullo, "Coming along the Grand Canal at night it is interesting to see inside the windows of the palazzos."
Londra's Location
Londra Palace neighbors the Bridge of Sighs and Doge's Palace – two of the treasures next to St. Mark's Square. The hotel's 53 uniquely different rooms and 100 windows overlook the San Marco basin sweeping views of the dramatic church on tiny Isola di San Giorgio Maggiore and the commanding dome of Chiesa della Salute.
The historical-style guestrooms are contrasted with the white, classic, contemporary lobby, restaurant and bar with a dash dolce deco make the boutique hotel a well-rounded, sensory experience.
Rich tapestries and wall coverings, marble bathrooms, and stately palace-style furnishings are found in guestrooms with windows that open to balconies above the Riva degli Schiavoni. The walkway is bustling with shoppers, merchants and tourists disembarking from gondolas or vaporetto boats.
"The views are amazing," Bullo told me when we talked in an elegant meeting room off the ground floor lobby in the 170-year-old, refurbished building. "When we live here, we don't always maintain the level of emotion visitors do. But when we take guests to their rooms and open the door and they look out the windows to see the St Mark Basin and lagoon they get emotional at the sight of the Grand Canal and San Giorgio Island and the towers."
All of Venice is a Stage
Bullo, who commutes from Lido Island, reminded me that, historically, Venice was built to impress, by merchants, as if it were an open-view theater.
I like Hotel Londra Palace's location among the modern merchants, shops and restaurants in St. Mark's Square and beyond by boat or on foot. The vaporetto boats, Venice's buses, stop out from at the San Zaccaria dock.
Londra Palace offers easy access, compared to other Venice hotels, for sightseers who want to go in and out all day by foot or sit out front at its sidewalk café and enjoy breakfast or a refreshing spritz, whether it be made with Aperol, Campari or Select. (Prosecco and Pellegrino are the other ingredients.)
"The spritz is a tradition in Venice. Sometimes, since it is a cocktail, people expect they should pay more for it. But four or five euro is the tradition, and we honor that," Bullo insisted.
It was late morning, and Bullo had just finished gathering his entire staff in the hotel restaurant and toasting them for a successful month.
IC Bellagio, and the Hotel Londra Palace had prepared for me, later that day, a supremely successful evening.
Lost in the Lullabies
"You sometimes get lost in Venice, even for me," said Bullo of the ant farm-feel of Venice's narrow, winding, deep, dark streets. There are no cars in the many little islands and bridges that make up Venice. "It's fun. Sometimes I try something different when walking and then have to look for the yellow signs pointing to Rialto or San Marco."
IC Bellagio comes to know its clients' proclivities well. Understanding that I sometimes like to explore alone, Grisdale, Bellatti, and the team had arranged an unguided, exquisite experience for me on this, my last of three evenings in Venice. A moving, musical adventure which I could easily do on foot.
I walked from the hotel to the side entrance of the Basilica of San Marco to attend the 6:30 Mass at the side altar of the Byzantine, Romanesque, Gothic and even Islamic-style church built in 1063. Attending this brief Mass, sung and said in Italian, allowed me to be with mainly locals and to see some of the inside of the basilica without waiting in line and when it was quiet with no crowds (and no photos allowed, fyi.)
I noticed one of the attendees in the congregation was a flight attendant in uniform pulling her rolling carry-on bag. She'd either made Mass her first, or last stop in Venice.
It was all a soulful start to a peaceful evening.
Caffe Florian
What turned out to be my next stop was a spontaneous surprise. It was not on the itinerary IC Bellagio had given me, but their expert guest advisors knew, based on the obvious walking path of my schedule, that I would "happen upon it."
After Mass I walked out of the basilica and right through the middle of the ancient arena-type area known as Piazza San Marco. With the ornate basilica bordering at the open portion, the square is otherwise surrounded on the other three sides by a continuous, multiple-story, stately wall-type building. Under a columned colonnade there is retail and restaurants. Some of the eateries offer elegant outdoor seating in the square and stages with live orchestras.
The live band music drew me to take a table under the awninged section at the neo-Baroque, circa 1700's Caffe Florian. I came to learn that Caffe Florian had served cappuccino and champagne to the likes of Claude Monet; Andy Warhol; Charles Dickens, Friedrich Nietzsche, and Casanova, among centuries of others.
Tonight, it was just me, and the 20-euro, fanciful goblet of gelato: "Coppa Pesca Melba." It's worth every penny: a work of art itself with vanilla ice cream, a peach in syrup, whipped cream, raspberry sauce, a crispy wafer and a long pirouette cookie…with an even longer spoon.
Florian's Flourish: Musica!
The atmosphere, though, viewing the sky and the basilica and campanile, is the most priceless part, although the café concert Middle Europe tradition, part of Florian's heritage for more than 100 years, comes with a six-euro change. The tuxedoed orchestra members, under the direction of Cristian Pintilie, performed on violin, piano, accordion, bass, and clarinet. A two-sided menu listed the "Repertorio" of "Musica:" Venetian classics, soundtracks, standards, Opera arias, bossa nova, jazz and more.
As I sat, the orchestra was just finishing a bouncy version of 1924's "Tea for Two." By the time my gelato came, they were playing an arrangement of Billy Joel's "Just the Way You Are." It was sublime, but early on I noticed none of the patrons, drinking and talking, applauded the orchestra at the conclusion of each number. These fine, fun musicians were treated as background music.
Well, I wasn't having it.
I loudly applauded the artists, at first alone (for what seemed like an embarrassing eternity) but I kept at it. Heads turned and, eventually, some, and then the full audience then joined me in clapping. The orchestra members noticed what I'd done and smiled and nodded my way. I think they were surprised by the response I'd provoked: rousing rounds of applause!
To show appreciation, the accordion player pointed to me in the crowd, nodding and gesturing at the other musicians. I looked in his eyes, pointed at myself and lifted my eyebrows to ask if he was pointing at me? He nodded emphatically, gestured again at his bandmates, and they began playing a song for me:
It was the Godfather Theme "Speak Softly Love."
I laughed out loud at what I presumed to be the implication that I'd made the audience an offer they couldn't refuse! I stood, bowing to the band, touching my heart and applauding. (And then, of course, very visibly tipping.) I'd made an orchestra full of new friends
There are a number of similarly sophisticated snack stops around the square, too, including Gran Caffe Chioggia facing Doge's Palace.
Viva Vivaldi – Beautiful Music in its Birthplace
My evening walk continued out through a passageway out the back of Piazza San Marco and reasonably directly, thanks to the map I carried and directions I was given, along a series of streets, landmarks and little bridges: Calle Larga; Ostreghe; Campo Santo Maurizio; and finally, Campo Santo Stefano, where I would find, among the trees between the Grand Canal and the square, Chiesa San Vidal.
The current church was created in 1696 and was where Antonio Vivaldi, the virtuoso Venetian violinist and known as "the red priest," gave birth to beloved Baroque compositions enjoyed to this day. He died in 1741 in poverty, but it was only 30-euro to attend, in the Church of San Vidal, a performance of Vivaldi's famed concertos known as "the Four Seasons."
Every seat was taken on that warm night, so I perched on a concrete window bench along the side wall in the steamy setting and perspired. I used my program book to try to cool off, which I suppose gave a few seconds of relief but was futile.
The 13 musicians of the group Interpreti Veneziani, dressed in black, walked up the center aisle with their instruments and took the stage on the altar. When the welcoming applause died down, there was silence. And then, as if from heaven, at full tempo and at full volume, they struck up the supremely recognizable strains of Vivaldi's Four Seasons – "Le Quattro Stagiono" – Primavera op. 8 n. 1. Even those who do not follow classical music are familiar with this piece.
I am not exaggerating when I say that hearing that music strike up, in that setting, took my breath away. Then I broke into an unstoppable smile at the heart-swelling nature of the moment. I looked into the ceiling of the church and silently mouthed, "Grazie, God," to a spirit so generous as to lead me to this surreal, sweet moment. I savored every second of it…right on through Estate, Autunno and Inverno.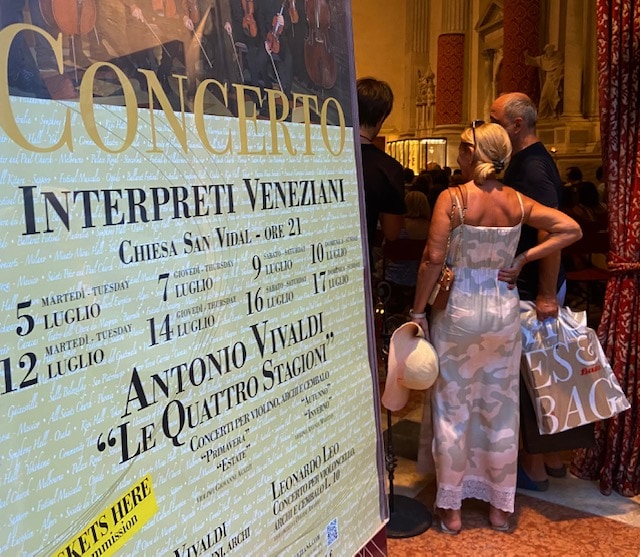 As I listened to Giovanni Agazzi and later Anania Maritan on the violin lead the ensemble, I was tempted to close my eyes. I couldn't help but to view the main altarpiece of San Vidal on Horseback with eight saints and the artistic works of the crucifixion; the Trinity with saints Peter and Paul; guardian angel; and the Immaculate Conception in the inspiring setting charged with history and beauty.
"A meeting of music and other muses…to create that moment of perfection born from the symbiosis of two elements which seem made for each other," the program read.
After the concert, with my heart at ease, I walked over the very nearby Ponte dell' Academia bridge and rode the vaporetto boat back across to the Hotel Londra Palace. As we floated toward the San Zaccaria dock, I took the advice Alain Bullo had given me to peer into the warm, lighted rooms behind the windows of the palazzos we passed.
Passing, too, like the water below us, was my time in Venice. I thought about how the next day, on that same Canal Grande, I would be floating toward the airport. A bitter thought…at least sweetened by the fact it would by private water taxi with, once again, Giulia.
Parlare e Prosecco e Pellegrino
I sat in the stylish lobby bar of the Hotel Londra Palace, after a late afternoon checkout, on the corner couch near the window with a view of the lagoon. There was a chair across the small table with two champagne glasses on it. I wore a white blazer and flowered tie while the rest of my clothing was packed to leave for the airport and stored behind the front desk. Next to me an ice bucket kept a bottle of prosecco chilling while I waited.
I'd slept late that day and took it easy in the hotel's luxury on that, my departure day from Venice. Now it was my last hour in Venice. To celebrate, I was pouring prosecco into one of the glasses when, out of the corner of my eye and through my right ear, I first sensed, then heard, and then saw the early arrival of Giulia De Carolis.
"Ciao, Giulia!" I said, rising to greet her.
"Michael," she answered with a smile I appreciated.
"Principessa, Piacere! Come sta?" I asked Giulia. The bottle was in my hand so I also gestured to see if I could pour her a glass."
"Grazie," she said, (the last time she would speak Italian to me that afternoon). "But for me it is too hot for prosecco."
"Pellegrino then?"
"Yes, thank you," she answered with a shrug and in the tone of someone who doesn't want to put you in any trouble.
Giulia had maneuvered through a sunny, steamy summer day across the canal from her home near the Gallerie Accademia, Venice's 12th century monastery and art school that now displays world class masterpieces.
I secured the sparkling water with ice from the barman, while Guilia, fanning herself with her hand, sat down in a chair on the other side of the little table. She wore a long, dark blue skirt and a light blue, short-sleeved top with frills around the shoulders. Those were the pleasantly unassuming Guilia's only frills, other than tasteful diamond stud earrings and a diamond pendant plus her two wedding bands.
"You changed your hair?" I asked, before it was too late for me to stop myself from making such a stupidly banal observation. I hadn't seen her in six years, but I nevertheless noticed her big reddish frizz was gone in favor of straight, dark long hair.
She nodded yes and smiled.
The conversation, believe it or not, eventually improved. Giulia's English is exceptional without sacrificing her entertaining, ideal Italian accent.
She'd professed her love for Venice on the boat when we'd met six years previous, but Giulia explained she is originally from Puglia.
"Giulia from Puglia," I joked.
She'd clearly heard that one before. Her mother still lives in Puglia, as does her sister with her husband and two children. Sometimes she visits Puglia – sometimes they come to Venice. Guilia from Puglia had visited some intriguing places herself. She told me as a student she'd traveled to Syria and Egypt.
"As a young woman you went to those places? Wasn't that dangerous?"
Giulia explained she'd traveled with another female student, and they handled themselves well. She also said she'd been to New York, Philadelphia and Boston. She liked Boston best.
"I didn't care for Niagara Falls," she allowed. "It was…kitschy.
Conversation and Poetry
Over the hour, and throughout the bottle, Giulia and I spoke more about our lives. By listening, I found her to be even more thoughtful and sensitive than I had remembered. She gave me an understanding and interesting perspective on a close friend who had a fear of flying, for instance, that comforted me.
I learned that her longtime husband, who also works in tourism, is not completely vegetarian, but she is. She loves to cook but they switch off duties while taking care to remember that he is allergic to garlic, and she is allergic to peach.
Giulia told me her husband likes to drink an "asparagus spritz." She shared the ingredients but kind of lost me at "asparagus" instead of Aperol. Since I had the bottle to myself, I kept pouring the prosecco.
By the time she'd cooled down, our conversation had warmed.
"Were you able to see the travel column I wrote about my last visit to Venice? Did someone show it to you? You played a starring role. I wrote about meeting you."
"Yes, yes. I read it," she demurred. "Some of it was true. Bits of it were accurate."
I laughed and pretended to be offended.
"But I realize you are a poet," she continued. "Your writing…it is to tell a story."
I took this poet's comment as a compliment from an exceptional woman whose conversation with me six years previous inspired the prose.
And Giulia, herself, is actually in show business too, our conversation revealed. She manages the red carpet for the esteemed, annual Venice Film Festival – the world's oldest! The International Exhibition of Cinematographic Art of the Venice Biennale.
"But I am not on the red carpet. I am nowhere near the red carpet," Giulia insisted. "I organize the red carpet from my office in Lido."
"But you are glamorous, Giulia. You should be there among the stars. You should be presented with the Golden Lion!"
"Michael, I am fifty years-old."
"Fifty? Non possovere, signiorina giovane."
"Yes, fifty."
"Tu non occhio cinquanata!" I efforted further, raising the pitch of my voice into a comical sing-song and gesturing with my hand that was not holding the prosecco glass. "Tu no vecchio. No…come se dici…tu non anziano!
Giulia knew what I was attempting to say. She thanked me for the sentiment, so I continued.
"Allora…mi dispiaci. Mio Italiano…bruto!"
"No, no," she disagreed kindly. "It is good."
"No, no. Lo so. Lo so."
We both laughed. Then I took a swig of the prosecco and asked, "Do you know, Giulia, what I consider the perfect age for a woman?"
"50?"
"Yes! 50!"
"Soon enough you will be saying it is 60," she shot back.
I gestured a toast to Giulia's humor with the prosecco glass.
Set for Celebrities…Starring Venice
Just as I began to further tease Giulia by asking if she could introduce me to the Italian bombshell actress Claudi Gerini – who is also 50 – Hotel Londra Palace's general manager Alain Bullo passed through the lobby. I excused myself to stand up and the timing let Giulia off the hook-on Claudia Gernini, whom she had, in fact, been with when Gerini spent nine days on the film festival jury panel.
"Mr. Bullo, perhaps you've met Giulia De Carolis?"
Their paths would have crossed as Giulia guides many IC Bellagio guests to and from the airport via water taxi. I spoke as they greeted each other.
"Mr. Bullo lives on Lido Island," I told Giulia.
"Mr. Bullo, Giulia's office is there. She organizes the red carpet for the film festival."
Mr. Bullo, in a suit and tie, recounted some of his involvement in the festival and walking between the parties near the Palazzo del Cinema. "I recall seeing ladies watching for George Clooney in his water taxi and crying and waving! 'George, George!' they called."
"Might they similarly be calling for me when Giulia takes me on the water taxi to the airport in a bit?" I asked.
They'd probably heard that one before also, so instead, I pivoted to the topic of the most famous grand dame actresses who had earned a reputation for being notoriously impossible to please.
"It's alright, though, Giulia gently explained, dismissing and forgiving the behavior. "It bothered her more than it bothered anyone else."
Try as I might, Giulia steadfastly refused to name her.
Alta Acqua
Both Giulia and Mr. Bullo did, however, vividly recall the storm of December 2020, when winds and floods swamped the many delicate islands of Venice.
"It gives me chills, still to think about it," said Giulia. She was leading a tour on Murano Island when the storm struck. "The boats, the lagoon…unpassable."
She recalled that one the famed, ornate, pointy Venetian gondolas came up in the tide and smashed right through the front window of the Londra Palace.
Mr. Bullo confirmed the hotel had been swamped.
"We didn't just have water in this lobby. We actually had waves up to here," he explained, pointing to a spot next to the elevator that appeared to be three feet above the ground.
"Now with the MOSE system we are not having that high water," said Giulia, referring to the movable gates that now operate to attempt to keep the Adriatic Sea out when needed.
Mr. Bullo excused himself to take a meeting and it was time for Giulia and I to cross the avenue in front of the hotel and board the water taxi for Marco Polo Airport. Giulia had apparently cued a bellman from the hotel ahead of time, so the friendly front desk attendant informed me my big rolling suitcase was already aboard the boat.
It's a good thing I finished the bottle of prosecco because it cut the pain of leaving Venice. Even still I dragged my proverbial feet a little as we neared the dock.
"If I am late for the flight, can I stay at your house?" I joked to Giulia.
"And you can sleep with Pepita," she immediately shot back.
"Pepita?"
"Yes. 'Miss Pepe.' My dog," she laughed.
Floating to Marco Polo Airport
Pepita meant a lot to Giulia, I came to learn at the dock, as did her deceased sister Lolita.
"They were sister dogs, which are unusual to come by. We found them at the Venice port," she explained. Giulia showed me a photo of Pepita in her doggie stroller. She was a happy looking, cartoonish little dog with adorable pointy ears that stuck out like the wings of the airplane I'd be going to.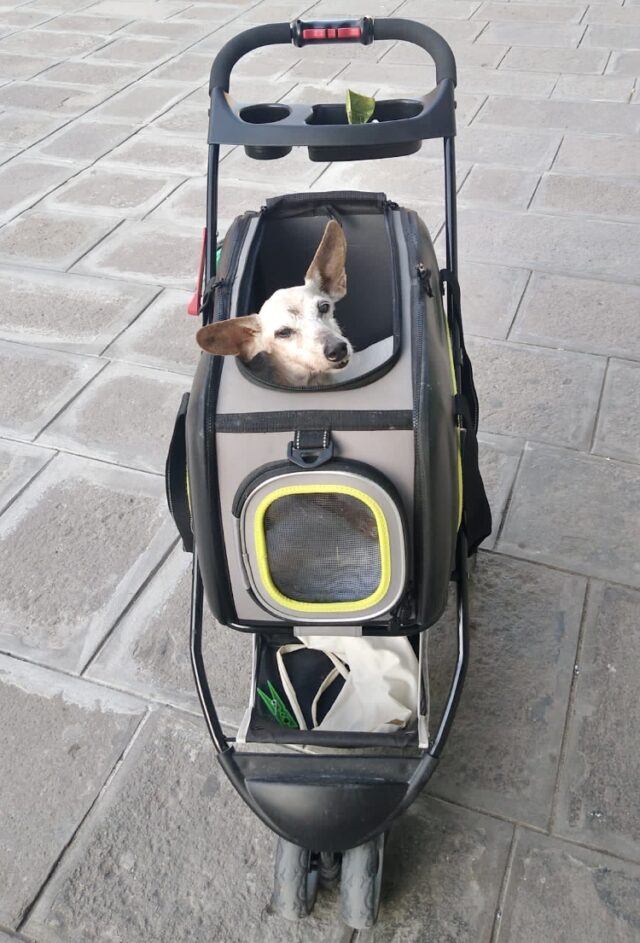 "Will you, yourself, be traveling anywhere soon?"
Giulia said she had not planned any travel because little Pepita was at an advanced age, and she needed to take care of the doggie and be there for her.
Being in Venice, of course, is hardly a bad place to be. And if one must leave Venice, the sophisticated Venetian private water taxi is the most memorable way to do it. Giulia and I stood alone in the open-air back of what's known as a "motoscafo." It's a long, low-rise, classic, beautiful boat. It's like a limousine on the water.
It was early evening and the ride first through the lagoon was very pleasant because some of the day's heat had burned off and, gliding through the narrow canals, we were often in shade.
Giulia, ever the professional guide, was kind enough to share some places of interest along the way, including the aforementioned Lido Island.
"Lido becomes a sad place in the autumn when no one goes to the beaches anymore and everything closes," she explained, again displaying the artistic sensitivity that initially drew me to her.
She pointed in the direction of peaceful, natural Torcello Island, where her wedding reception was held at the charming Locanda Cirpriani Inn, which has also hosted Queen Elizabeth.
She denied that, during the environmental inactivity and absence of motorboats, even the vaporettos, during the pandemic lockdown, dolphins were seen swimming in the canals. "Jellyfish, yes. The water was so clear," she said as our boat slid under one of Venice's tiny bridges. "But you cannot swim in the canals. If you are caught you will be expelled from Venice."
"They must be drunk and fall in?" I asked. "I was warned, if it happened to me, not to worry about drowning…but to be careful to keep my mouth closed."
Once again, she'd heard that one before.
When the boat reached the open expanse of water and its channel markers that guide water taxis beside the road and railway line leading to the airport, I asked Giulia how often she came to and from the airport guiding visitors.
"Every day."
"Do the Americans behave themselves?"
"Americans are easy. Some others are not."
Try as I might, Giulia refused to name which type she was referring to.
The boat pulled beside the dock and tied up. The boatman was lifting my suitcase up and out of the boat. It was time to go. And time to say goodbye to Italy and Giulia.
"Will you always be here in Venice?"
"If I were to live anywhere else, it would be Paris," she answered. "But I love it here. I don't even have a driver's license. I like life with no cars: only walking and boats."
I first met my friend Guilia De Carolis when she guided me into Venice on a water taxi.
Six years later we parted, again, by boat.
Both times she had a face that could launch a thousand ships.
Read more on Michael Patrick Shiels' travel blog, The Travel Tattler. Contact Travel Writer Michael Patrick Shiels at [email protected]

Latest posts by Michael Patrick Shiels
(see all)