We only share places, products and activities we recommend. If you make a purchase using a link, we may earn a commission.
Visit Aspen, Colorado
Aspen, Colorado, is known for its ski resorts and snow-peaked mountains, but it's also a popular destination in the spring and summer months – and for good reason.
Aspen is a haven for hiking, biking, golf courses, shopping at boutiques, and afternoons spent listening to live music on the sundecks. With so many outdoor activities to cover, it's no wonder Aspen has become a year-round getaway for visitors to this Colorado mountain town.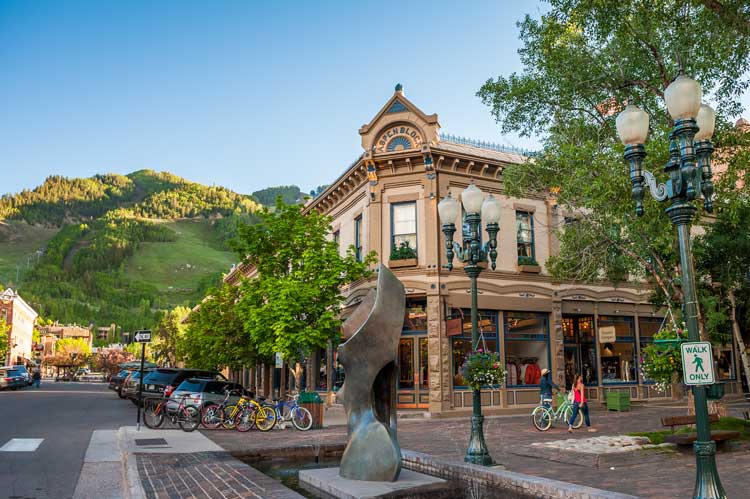 Aspen is once again welcoming visitors, with safety guidelines and procedures in place. Hotels and lodging in Aspen are open at 50 percent capacity under current safety protocols.
There are many wonderful restaurants and top hotels in Aspen to choose from, and they are welcoming guests.
With Aspen's beautiful location in the Colorado Rocky Mountains, it's a perfect place to enjoy the great outdoors. Here are some of our favorite things to do in Aspen in the summer.
Top 10 things to do in Aspen, Colorado, during the summer:
1. Maroon Bells
Considered one of the most photographed mountain peaks in the United States, the Maroon Bells, two iconic peaks, rest in the Elk Mountains a mere 10 miles outside of Aspen.
The hiking and biking opportunities are endless, and it is a fairly easy walk to get to these fourteeners and Maroon Lake, which casts a mirrored reflection of these spectacular peaks.
Due to COVID-19 social distancing requirements and the need to manage demand, reservations are required to access the Maroon Bells Scenic Area by vehicle or by RFTA shuttle.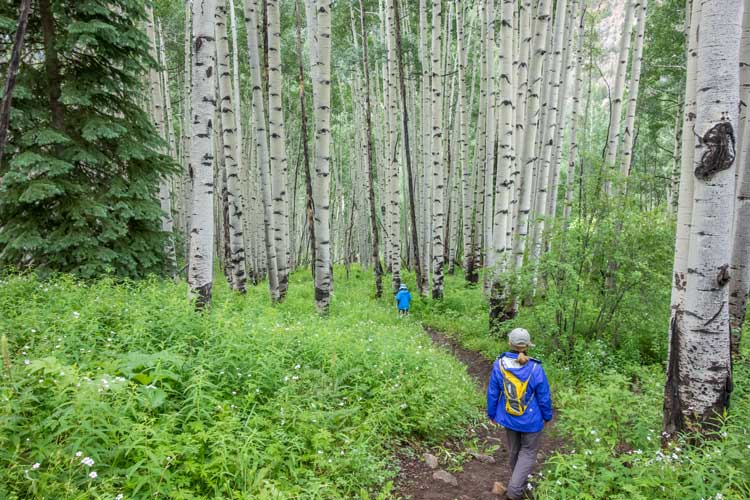 On June 8, Maroon Bells opens for cars with reservations. On June 28, Maroon Bells shuttle service will resume. Shuttle reservations for Maroon Bells will be available in two-week increments and can be made by visiting Aspen's Chamber of Commerce website www.aspenchamber.org.
Seats on the RFTA shuttle are limited. The fare is $15.95 for all reservations. Parking at the Aspen Highlands Ski Area is free for the first 30 minutes, then costs 0-3 Hours: $10, 3-8 Hours: $15, 8+ Hours: $30.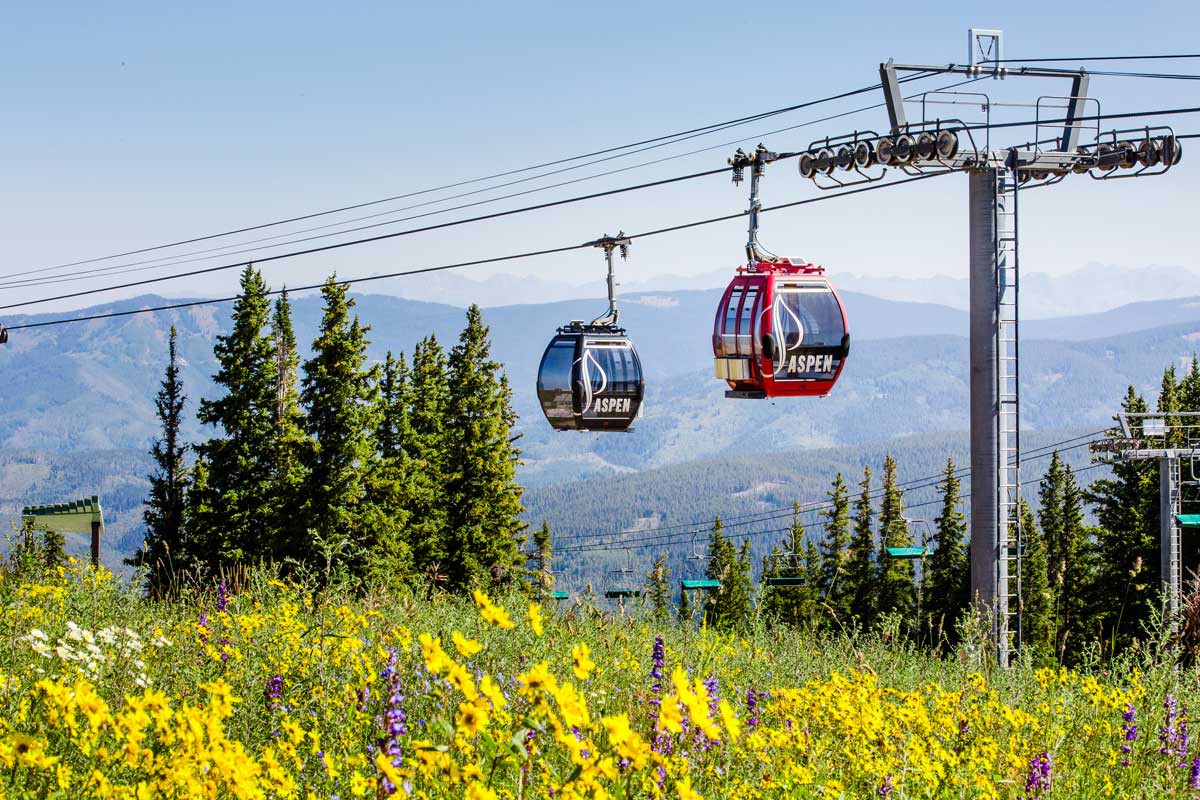 2. Silver Queen Gondola
Gondolas are not just for the busy ski season but are also open during the summer months. Visitors to Aspen can get a bird's-eye and breathtaking views of Aspen Mountain. The gondola transports riders to the top of the mountain where you can dine on the Sundeck or take in the splendor of the Rocky Mountains.
3. Snowmass, Colorado
Nearby Snowmass boasts over 90 miles of hiking trails, biking trails for beginners, intermediate and advanced riders, fly fishing, whitewater rafting, and the popular adventure park Lake Forest, which includes a climbing course and the Breathtaker Alpine Coaster. During the summer months, Snowmass Village hosts its Free Concert Series on Fanny Hill, which has become a summer tradition of live music.
Snowmass opens for the summer on June 21, with both the Elk Camp Gondola and Elk Camp Chairlift in operation, as well as most adventures in the Lost Forest including the Breathtaker Alpine Coaster, Treeline Trial Challenge Course and Rugged Ascent Climbing Wall. Trails in the Snowmass Bike Park will open depending on conditions.
Dining and beverage services will also open. Gondola hours run from 10 a.m. to 5 p.m. and the Elk Camp chairlift will operate from 10:30 a.m. to 4 p.m. Snowmass is open until Sept. 7 and on weekends through Oct. 4.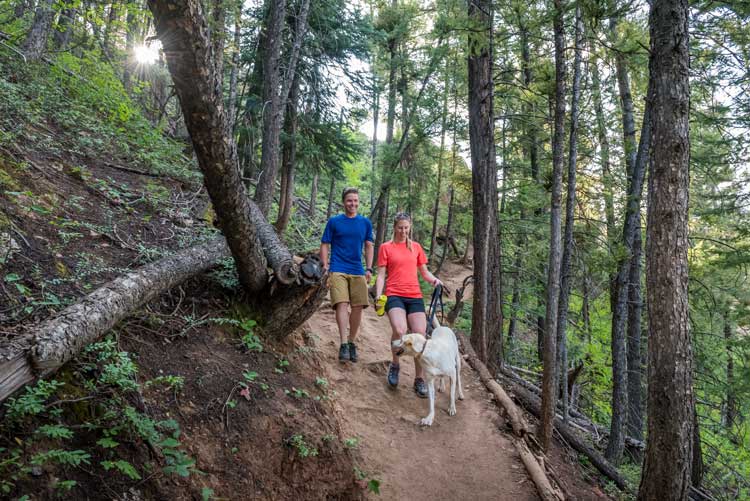 4. Rio Grande Trail
Hiking is a big part of a visit to Colorado in the summer, offering an opportunity to experience fresh air, sunshine, live music, the Rocky Mountains, and abundant opportunities on many trails.
Some of Aspen's best hiking trails include the Rio Grande Trail, a perfect hike for beginners as it winds along a paved path devoid of roots and rocks to trip on. However, the best part is that the Rio Grande Trail takes those beginning hikers along the famous Roaring Fork River. If you are looking for more of a challenge, the Smuggler Mountain Trail delivers on views of the city of Aspen.
5. Drive Independence Pass
One of the best times to drive along Independence pass is during the summer months. The 20-mile route runs from Leadville to Aspen and winds along the Roaring Fork River, with intense hairpin turns. Independence Pass rises to 12,000 feet where you can take in the scenery in the many picnic areas or hiking trails. You won't want to miss the Continental Divide, which is a sight to behold.
6. The John Denver Sanctuary
It should come as no surprise that the late singer John Denver not only loved Colorado but Aspen as well. Aspen returned the love by opening the John Denver Sanctuary. Situated along the Roaring Fork River, the park pays homage to the singer with inscriptions engraved on large boulders. Aspen opens up this natural setting to live music during the summer months.
7. Ghost Towns of Colorado
Did you know there are two ghost towns in Colorado right outside of Aspen? Once upon a time silver was discovered in Ashcroft. The town grew to 20 saloons, two newspapers and a schoolhouse. Today, Ashcroft ghost town is run by the Aspen Historical Society and is open to visitors during the summer months.
The second ghost town of Independence was founded in 1880 after gold was discovered in them thar hills. The heyday of this ghost town was short-lived and in 1889 most of the miners moved to Aspen to find their fortune. Many of the structures are still standing and open to visitors. Ashcroft and Independence are a tip of the hat to the olden days of the Wild West.
8. Aspen Brewing Company
There's no shortage of good restaurants and dining establishments in Aspen. But it's also the perfect place to enjoy some excellent local beers. The Aspen Brewing Company helped kick off the local craft beer scene back in 2008 and has been a popular local favorite ever since. They have a nice outdoor patio to enjoy when the weather is warm and live music most weekend.
9. Wheeler Opera House
Constructed in the 1890s, the Wheeler Opera House's architectural design makes this historic building hard to miss as it takes up an entire block in downtown Aspen. Today, the Wheeler Opera House is open to visitors and is a popular venue for live music and performances.
10. Aspen Highlands
One of the most beautiful and steepest hiking trails, Aspen Highlands is an outdoor paradise. Many die-hard hikers love climbing this trail for the reward of this scenic overview. Or, take a hot-air balloon ride over this spectacular terrain.
If You Visit Aspen, Colorado
More info at Aspen Chamber
If you're traveling to Colorado, please see our Colorado Travel Guide
Find a Hotel in Aspen