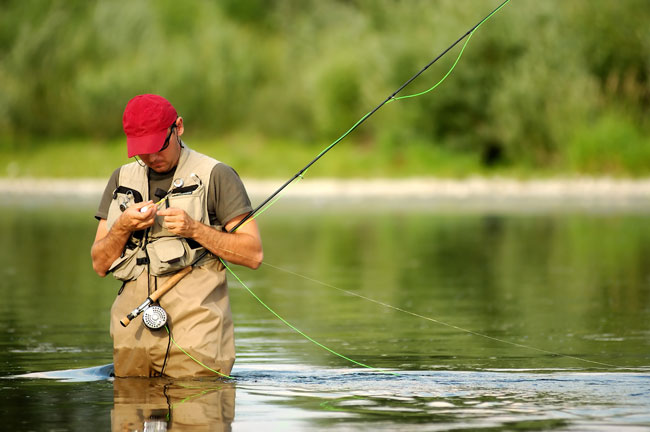 One of the fastest growing sports in the Rocky Mountains for both locals and visitors is fly-fishing — streams, lakes, rivers, reservoirs — wherever you can cast, you're going to find the sport.
And, it's extremely popular amongst women too. Maybe it's our delicate nature, patience or ability to take direction from guides without an ego, Regardless, fishing is for men and women.
From novice to expert, in Colorado, we have waters that will stump the expert or allow the novice to have a grand slam (catching the "Big 4" Colorado Trout species in one outing).
What are you fishing for? We've put together a collection of some of the best Colorado fly-fishing, including Colorado outlets and resorts that come well equipped with guides who have an intimate relationship with the wild trout species.
The most likely fish you will catch in our waters are the Brown (which can grow to be the largest at 30+ inches), Rainbow, Cutback, Cutbow (a hybrid when Rainbow and Cutback interbreed) and Brooke (usually found in the smaller mountain streams).
Fly-Fishing in Colorado
How are you going to go about this? Most resorts and guides provide all the gear, flies, waders, boots, food, etc. that you'll need.
Some can take you to Gold Medal Waters that are designated by the Colorado Wildlife Commission as "providing great spots to catch large trout and able to produce 60 pounds of trout per acre, and at least twelve 14″ or larger trout per acre.
Only 322 miles of Colorado's 9,000 miles of trout streams, and three lakes, carry the 'Gold Medal' signature." If not, you're probably in a secret locale where the big ones hide and you are never to divulge.
Best Time to Go Fly-Fishing in Colorado
The best time to go fly-fishing in Colorado is really up to you. We fly-fish here year-round. Nonetheless, certain fly hatches are going to produce the big ones, and that is usually late spring to early summer.
But you also have the mountain run-off to contend with, in addition to cooler temperatures. Most guided fly-fishing takes places in the warmer months.
So be prepared when booking trips April through October that these are these are the most popular times.
Here are some suggestions on epic fly-fishing spots in Colorado where you will hopefully see the silver flash, the moment of light and emotion where the fish is coming for the fly.
Heli-Fishing, Eagle County
Take it to the ultimate extreme and helicopter into your next cast. Minturn Anglers whisks guests from their fly shop in Minturn to the Eagle Airport, about a 20-minute ride.
Fishers meet up with their pilot for the day. Up to six guests can then embark on an 8-hour trip into some of the most isolated and pristine areas within the 40-mile area the outfit covers.
"Our veteran helicopter pilot plugs in the coordinates for one of our multiple exclusive private and secret locations, and drop us off accordingly," notes Dave Budniakiewicz, General Manager, Minturn Anglers.
"This isn't a trip for everyone, but those who do it are never disappointed. It complements our Fly-In Wyoming private water and destination trips perfectly."
The season runs from Memorial Day through Labor Day, seven days a week. Trips usually leave early in the morning and return early evening.
Everything is included, from gear to guide to food and libations for the day (gratuity and fishing license not included).
It's the only heli-fly-fishing experience in Colorado and it's been flying high for six seasons with no intentions of slowing down.
Book early, but always remember to check in for last minute cancellations. Minturn Anglers flies multiple helicopters, so there are plenty of dates to choose from, and even more fish to be caught and released.
This is certainly some of the best fly-fishing in the West because Minturn Anglers has access to miles of private water and a pilot to get you to the middle of nowhere. (minturnanglers.com)
Rocky Mountain National Park (RMNP), Estes Park
One of the most famous National Parks in America is certainly going to offer memorable fly-fishing. Rocky Mountain National Park is massive – over 400 square miles – making for plenty of streams and space for visitors and locals.
Access to the trout can be extremely easy. Just pull over to the side of the road in a designated pull off or lot and drop a fly into the water.
Or, make it a challenge and hike into the backcountry where some trout rarely see humans.
Josh Rickard, fly-fisher extraordinaire behind Rocky Mountain Fly Fisher, makes it an almost weekly habit to visit the trout at RMNP.
"The park is home to Brown, Brooke, Rainbow and Cutthroat Trout, and there are a few places where you can catch all four in one day.
Because the park hasn't been stocked in decades, all the fish are wild and some of the prettiest that you will see," explains Rickard.
There is much debate about what species of trout are truly native. Regardless of what side of the debate you fall on, the fish at RMNP are pristine and the watershed that feeds them are wild and nearly untouched.
Rickard also enjoys the more than 48 lakes that hold fish in the park. "My favorite is walking a trail and heading back to a lake — getting away from the road lets you really enjoy the biggest attraction of the park – the scenery.
If you are only coming for the amazing fishing, you are missing half the point. No matter where you end up, don't forget to look around."
Insider's tip — Rickard notes that summers in Rocky Mountain National Park are some of the best fishing after the runoff ends around mid-June.
Not only is the stream fishing good, this is also about the time that the lakes of the high country are open.
Broadmoor Fishing Camp, South Park
There is no more luxurious fly-fishing experience in Colorado than the newly opened extension of the famed Broadmoor Resort.
At the Broadmoor Fishing Camp, you're putting five-star service in a Colorado rustic mountain setting 75 miles west of the main hotel on the Terryall River.
These Gold Medal Waters have been painstakingly restored and transformed over a two-year period into pristine trout habitat with clear pools, bank dig-outs, dams.
Strategically placed boulders to help river health and provide bountiful fish habitat – the kind that 24+ inch trout like to call home.
Your personal guide (yes, there is a guide assigned per two guests) will educate you at any level on this portion of the river's mighty sections of cutthroats, rainbows, and the massive browns.
Once you've fished until your arm can't cast, bed down in one of the seven historic cabins for the evening.
They're cozy with signature Broadmoor-made mattresses. Several cabins include bathrooms, others share a bathhouse with luxurious private showers and bathrooms.
There are equal facilities for men and women, each exquisitely clean and loaded with product.
All meals are included in the price and offer up a hefty serving of classic Colorado cuisine and libations of plenty.
Impeccable décor awaits guests in the gathering areas and the landscape surrounding the property is colorful spring through autumn.
You're sure to leave this special spot with a firm grasp of the nuances of fishing the smaller rivers of Colorado and the abundance of trout and wildlife that can be enjoyed with little impact from humans.
Telluride Outside, Telluride
It's hard to not have a memorable experience in Telluride. This is the notorious Colorado town with no stoplights.
You can still visit the site of Butch Cassidy and the Sundance Kid's robbery on Main Street, as well as see architecture from studio apartments to mega Colorado castles.
The locals here could be anyone from a Hollywood star, trust-a-farian or anything in between.
Yes, this is the magic of Telluride, a solid 8-hour drive from Denver, or an easier commute from nearby Montrose airport or the tiny Telluride airstrip.
Before you arrive in town, call Telluride Outside and tell them you want to have fun on the river. This way, you might not necessarily catch the biggest fish, but you are going to catch some of the best scenery in the West.
One rainy morning in early August, Brian Conlin asked what I wanted to do.
"Catch fish, or see some incredible waterfalls," I told him.
As a gal who only gets on the river 5 to 10 days a year, you can bet we were climbing waterfalls, scaling rock faces and searching for an elusive fish between two waterfalls that shouldn't exist, but do.
My guide and I were no more than 15 minutes outside of Telluride, but there wasn't a soul anywhere on the stream, or even in our parking area.
We fought some late summer rains and high run-off as we trudged up the river and over some very impressive falls.
The scenery, sounds and serenity were subdued by my screams of joy when I landed not one, but two little brownies (Brown Trout) in deep pools streamside.
Regardless of my bounty, Telluride can do no wrong for a fly-fisher. It's remote, there's not a large population to begin.
There aren't very many crowded spots, and a large stretch of the San Miguel or its tributaries can be yours for hours.
Of course, I can't divulge our fishing spot, but Conlin assures me, there's dozens of these spots to be had.
Author Bio: Julie Bielenberg is a Denver-based writer. She contributes over 50 stories per year to various outlets including AAA, Cowboys & Indians, Colorado Homes & Lifestyles, The MotherList, Mountain Magazine, Mile High Mamas, Colorado & Mountain Meetings + Events, and many more. She is the State's #1 agritourism writer, covering more ground and events and publishing in more outlets than any other Coloradan. She travels in search of fields, farms, families and more. Sometimes she finds herself in often uncovered, or understated locales. Follow her at slowandgo.org for travels and adventures and on Instagram @slowandgotraveler