When escaping the city hubbub to visit a dude (also known as 'guest) ranch, expect nights consisting of inky skies glittering with stars, aspen leaves rustling gently and cool mountain air snuggling you into the cozy blankets. The only sound might be a whinny or two from the horses in the pasture below.
It truly is paradise.
Guest, or dude, ranches have been around for 100 years or so, when real working ranchers first realized what a lure the cowboy lifestyle was for us regular folks. The attraction of the Old West is just as, if not more, enticing nowadays, with many of us city and suburb dwellers so far removed from country life and its pleasures.
Today's dude ranches help visitors experience the romance, adventure and spirit of the Old West without giving up the basic creature comforts of home (in fact, the ranches typically boast BETTER creature comforts than home).
Year-Round Colorado Dude Ranches
During the warmer months, dude ranches are all about the riding, but the open-year-round Colorado ranches we've listed here offer many other activities and programs as well, as do dozens of other ranches around the U.S.
Most are priced as weekly stays with a complete package that includes lodging, horseback riding with instruction (during the warm weather months) and three meals daily, while many offer children's programs as well. In summer, you'll be entranced by hillsides blooming with fluorescent orange Indian paintbrushes, purple and white columbines, purple and pink locoweed, daisies, blue bells and more — nestled among lush ferns and dense vegetation. In winter, you'll be dazzled by robin's egg-blue skies set against snowy white pastures, groomed Nordic ski trails beckoning you to explore.
Check for minimum stays, children's policies and programs, accommodation classes, types of cuisine, tipping policy, alcohol policy, additional offerings, campout nights and nightly entertainment — that's where ranches differ most.
Devil's Thumb Ranch Resort & Spa
970-726-5632
3530 County Rd 83, Tabernash, CO 80478
www.devilsthumbranch.com
This sumptuous "ranch," just west of Winter Park is truly more of a resort than a traditional dude or guest ranch. Accommodations are lavish and luxurious, the gorgeous lodge facilities are enormous and modeled after the famed National Park lodges of the Pacific Northwest and British Columbia, with stone insets, lodgepole pine and towering ceilings. Here, dining is not included in the rates, (except for a few packages,) and guests can opt from the Ranch House for fine dining (think scallops, elk wrapped in bacon, etc.) or the more casual, rustic elegance Heck's Tavern, or the sandwich and coffee shop.
The 6,000-acre Devil's Thumb does not operate as an all-inclusive, although several packages are available – including some for Nordic skiing, spa treatments, and romance. Horseback rides, available from May to October, are priced a la carte, starting at $55 per person.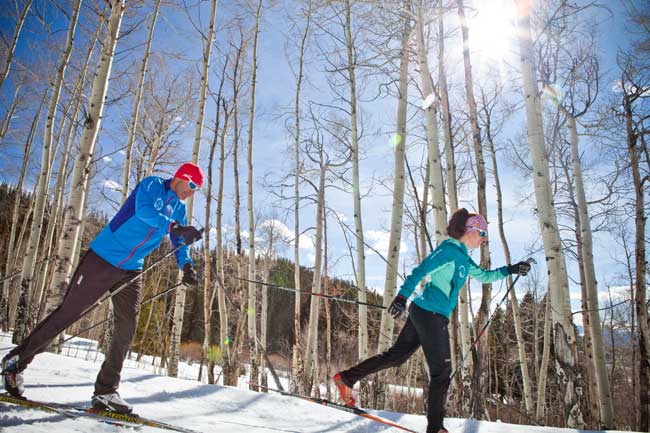 The ranch's Nordic skiing and snowshoe trails are famed – with more than 100 kilometers of expertly groomed trails in the pristine, private Ranch Creek valley at the base of the Continental Divide. Skate and classic skies are available in the rental shop, as are snowshoes, along with private, group, and advanced technique instruction if desired. Some adventurers opt for skijoring rigs, winter fat bikes or might ski along with their leashed dogs. With a daily trail pass, one can pay one rental fee that allows for skiing, snowshoeing, fat biking and skijoring that day.
At Devil's Thumb, there is a wide variety of lodging options, price ranges between $199-$399 per night for lodge rooms, and $399-$1299 per night per cabin.
(Budget conscious travelers can opt for the "Bunkhouse," with prices ranging from $69 to $159 per night.)
Latigo Ranch
970-724-9008
201 Co Rd 1911, Kremmling, CO 80459
www.LatigoTrails.com
Latigo Ranch is just right for families, couples and singles looking for a conventional ranching retreat with a family-oriented, kid-friendly ambiance, accommodating riders of all levels.
Situated about 130 miles northwest of Denver, equidistant from Steamboat Springs, Winter Park and Vail, Latigo Ranch is set at over 9,000 feet above sea level, among pine and spruce forests with aspen-filled meadows and gurgling streams. It utilizes more than 50,000 acres of land for its riding, including parts of the Routt Medicine Bow National Forest, with all-encompassing views of the Continental Divide.
Modern log structures form duplex cabins, tucked into the trees around the ranch. Each features fully carpeted floors, fireplaces or wood-burning stoves, small refrigerators and porches with chairs. (Ah, and endless homemade caramel corn in every room!)
Meals at the ranch are held in the comfortable, homey lodge, except for the chuck wagon dinner, breakfast and sunset rides. The foodie-friendly ranch touts its 'nouveau ranch cuisine,' and serves up meals such as yellow fin tuna with teriyaki sauce, brown basmati rice, and steamed asparagus. Picky kids will be happy with their special fare like mac'n'cheese and hot dogs.
Square and western dancing night, overnight pack trips to a campsite area on property, team penning activities, covered wagon rides, heated swimming pool and hot tub
The room rates include gratuities for wranglers and other staff AND taxes, highly unusual among ranches. Another unusual offering is the possibility of partial week stays (at least three nights,) depending upon availability. Summer rates range from $2775 – $3150 per adult, per 7-day, 6-night week, while the winter rate (last day March 19) is $195 per day, per adult.
The week of June 4 – 10 is the women's-only Cowgirls & Working Women of the West week. The week of September 9 – 16 is reserved for adults only. There will be no children 13 or younger at the ranch as guests. The week of September 17 – 23 is the week that guests help local ranchers gather and work with their cattle herds. You need to have prior horse experience to participate in this program.
Children's supervised activity program includes Wild West 'activities' such as learn-to-brand, learn-to-lasso, etc.
The ranch offers five levels of rides, ranging from walk-only to walk and lope, with both arena and trail instruction. Latigo's goal is that all guests will be able to lope by the end of their week.
Capacity is 35 guests.
Rates for adults 14 and older $2,400, children 6 to 13 $1725, children 3 to 5 $1,250; Sunday-to-Wednesday and Wednesday-to-Saturday stays are available during the first two weeks of June and throughout September.
Continued on next page