The Southeastern Coast of the United States has always been the perfect escape each spring break from the snow and deep-freezing temperatures in the Midwest and Northern parts of the U.S.
There are many top beach destinations to choose from, but some offer a great combination of beaches, excellent places to dine and family-friendly activities.
Where Are the Best Beaches for Spring Break?
Here's a roundup of the best beaches in the Southeast to soak up the sun, warm your toes in the sands and enjoy a cocktail while watching family frolic in the surf.
Move over Florida beaches. One of the best-kept secrets in the Southeast would be Alabama's pristine coast of beaches situated along the Gulf Coast. Alabama is a must-visit beach destination in the US.
We're talking eight miles of surgery crystals of sand that squeak beneath your feet as you find your place to stake your claim near the water's shores. But there's more to explore in Alabama, including plenty of history, shopping and family-centric activities.
Best Tips & Tools to Plan Your Trip

You don't have to dive deep to find paradise and lots of beautiful shells in Florida. Sarasota's Siesta Key boasts some of the best beaches and shelling in the world at Florida's Sanibel and Captiva.
Miami's beaches are known for an exciting and eclectic crowd. Just across from those beaches are 10 blocks of the best people-watching in Miami. Take in the neon lights and characters as colorful as Miami's art deco architecture. There is no shortage of shopping, nightlife and all the energy you can handle.
Myrtle Beach's Grand Strand boasts over 60 miles of beaches, a mile-long boardwalk, and endless family-centric activities and water sports. If the public beaches in Myrtle Beach are not your scene, there are a plethora of private ones located at The Dunes—a stretch of resorts and condos.
If you get tired of the sun and surf, enjoy the rides, dining and nightly activities at Broadway at the Beach.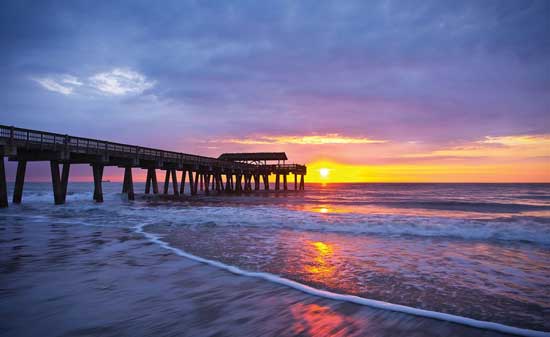 Tybee Island, a tiny island in Georgia, is a favorite beach spot for tourists and Georgians alike. Tybee Island is a mere 18 miles from Georgia's historic and charming town of Savannah. Stroll its six miles of beautiful beaches or get up close and personal with dolphins and other sea life on one of the many cruises.
Voted one of the top beaches in the United States, Clearwater Beach, Florida offers spectacular sunsets, white-powder sands and as its name indicates, crystal-clear waters. Wondering where to stay in Clearwater Beach? Choose from the most luxurious resorts to family-friendly hotels, and make sure your beach vacation is one to remember.
It's hard to think of Key West without picturing spectacular sunsets, big game fishing and of course, Hemingway. And in Key West, you can live as Hemingway did, enjoying the ocean with water sports, offshore fishing, snorkeling and vibrant nightlife along Key West's famous Duval Street.
Florida's Anna Maria Island has golden warm sands and endless outdoor activities, from hunting horseshoe crabs to kayaking through Anna Maria Island's red mangroves.
Dine at one of the many top restaurants on Anna Maria Island, where the freshest seafood is served, while taking in magnificent views of the Gulf of Mexico.
Sarasota's Siesta Key has been described as one of the most beautiful beaches in the world and for good reason. Walk the marble-white sands of this stretch of beach in Sarasota or stroll through the quaint downtown area with casual and upscale dining and shopping galore.
These top beach destinations are just the spot for a memorable spring break vacation. What's your favorite spring break destination? Let us know in the comments below.
Latest posts by Angela Cavallari
(see all)