The yellow sunlight peeks around the clouds that streak above the eastern mountains at Eleven Mile Reservoir. The only sound is the wind in the tall grass. Our neighbors in the Cross Creek Campgrounds are still asleep.
Soon the kids in the tent nearby will be clamoring for breakfast. This is a chance to enjoy some peace, quiet and a cup of instant coffee in our beautiful, but temporary, lakefront home.
The great thing about hitting Colorado's state parks, whether it's tent camping, car camping, RV camping, yurt or tricked out campers, is that you can travel almost anywhere in the state and if only for a few days, create your own vacation home getaway in Colorado's national forests. In fact, getting to these Colorado getaways from Denver is quite easy.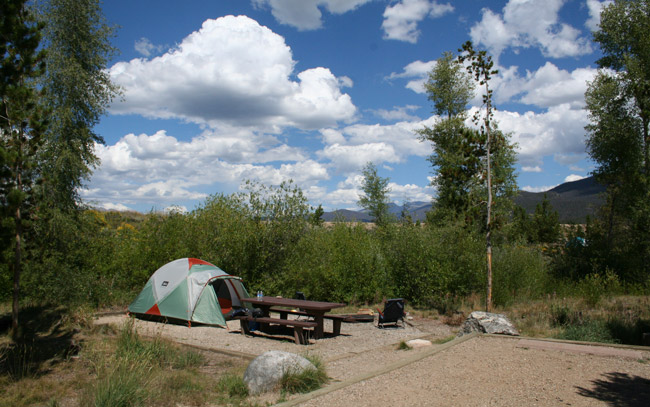 COLORADO CAMPING AND STATE PARK GETAWAYS
While most people consider camping in the summer, camping in Colorado is available year-round. Spring and fall weather puts campers in the middle of the changing seasons. Birds are on their annual migrations and spring brings bright flowers while spectacular leaf colors come in the fall. Many campsites and campgrounds are open in the winter for the truly hardy. Just make sure to check your campsite in advance for winter accessibility.
CAMPING SPOTS IN COLORADO'S STATE PARKS
So where should you camp in Colorado? The possibilities are more than any article could mention and include easy access to a plethora of outdoor activities including biking, rafting, mountain biking, horseback riding, hiking trails, and kayaking. but here are some of the best camping spots in Colorado:
ELEVEN MILE STATE PARK
Located in the middle of Colorado, Eleven Mile State Park is a great place for a momentary lakeside home. Primarily known for fishing of rainbow, brown, and cutthroat trout, the winds here also make for fun sailing and windsurfing. At 7,662 acres, Eleven Mile State Park has eight drive-up campsites and one walk-in and all have water views. and hookups. About half are open year-round because the lake offers ice fishing, ice skating and something called iceboating in the winter.
LATHROP STATE PARK
Throughout Colorado are "hidden gems," smaller parks without the crowds. Set beneath the gaze of the Spanish Peaks in southern Colorado is Lathrop State Park near Walsenburg. The hiking trails that traverse the hills above the park have a variety of fall-blooming flowers. There are two lakes — Martin Lake allows motorboats while neighboring Horseshoe Lake is wakeless, making it perfect for canoeing and kayaking.
There are two campgrounds at Lathrop. Yucca has 21 back-in basic sites and Piñon has 82 with several pull-in sites for RV camping. While the campsites are not directly on the water, walking paths and hiking trails will lead anglers to Martin Lake. Martin Lake also has stunning rock features on the northern side that make for spectacular photos. Campers and visitors can walk and climb on the rocks, but they are more impressive to approach from the water on a kayak or paddleboard.
GREEN RIDGE CAMPGROUNDS AT SHADOW MOUNTAIN LAKE
The Grand Lake area in northern Colorado is popular for camping, especially since Rocky Mountain National Park is next door. A better option, though, is to seek out some of the other lakes nearby. Next to Grand Lake, Shadow Mountain Lake is available for motorized and non-motorized water activities such as kayaking. Part of the Arapahoe National Recreation Area, Shadow Mountain Lake has several small islands covered with trees that are home to the majestic osprey. During the fall, birds nest in the tallest trees and soar overhead searching the water for fish.
Green Ridge Campgrounds, located on the south side of Shadow Mountain Lake is worth seeking out. The campground sits behind the earthen dam so the lake is out of view, but a short walk puts you right on the water. The lake's dam is where the Colorado River turns westward. Campers can catch a glimpse of the occasional moose wandering through the surrounding forest and enjoy colorful sunsets by the campfire.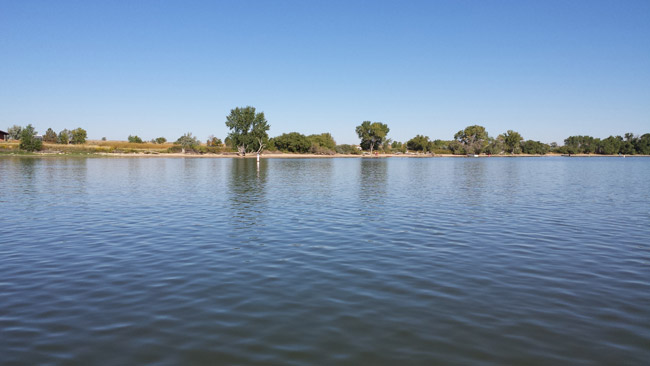 COLORADO'S JACKSON LAKE STATE PARK
Jackson Lake State Park on Colorado's eastern plains has a pleasant surprise for landlocked Colorado – the state's largest sand beach. Talcum powder-soft sand lines the length of the western shore and a designated swim area is in the middle. The 2,411-acre park has 260 campsites and the sites closest to the water have beach access on short paths. The shallow wakeless zone that follows the length of the beach makes it safe for kids to play. With access to waterfowl hunting in the fall, camping is allowed in three of the six campgrounds year around.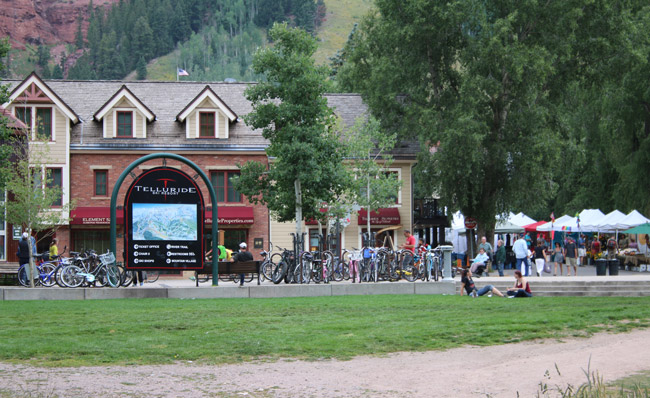 TELLURIDE CAMPGROUNDS
The town of Telluride provides a unique camping experience. This beautiful mountain town in the southwestern part of the state is surrounded by the peaks of the San Juan Mountains. Visually stunning with its gold rush era-buildings, Telluride is best known as a ski resort with a reputation as a playground for the rich and famous. What few people know is that the town has a fantastic campground next to the amphitheater with only 28 drive-up sites and a walk-in tent area with 18 spots.
Run by the town's Parks and Recreation office, Telluride Campgrounds and campsites are popular because Telluride is known for its music and art festivals almost every weekend.
CAMPING SPOTS AT TELLURIDE GO FAST
Normally, all of the campsites are accessed on a first-come, first-served basis, EXCEPT during festivals where camping passes can be purchased with festival tickets. For the casual weekend camper, getting a spot here is difficult. Unless you are attending a festival and purchase passes, the best way to snag a camping spot is to arrive mid-week before a non-festival weekend.
For those who get in, Telluride Campgrounds are charming. The San Miguel River runs behind the park and easy access where hikers will be treated to views of a nearby waterfall. There is also a walking/biking path that follows the river through town. The town's trolley has a station at the park's entrance for those covering longer distances.
It's a unique experience to be able to camp in the forested wilderness and then walk into town for dinner at a fine restaurant. Don't worry about looking ragged either because the campgrounds have shower facilities where guests can get spiffed up. One thing is lacking, however. Because of its proximity to town, no campfires are permitted even on tent sites. You'll have to roast those marshmallows over a propane grill on picnic tables.
TIPS FOR CAMPING IN COLORADO'S STATE PARKS
It's always best to reserve your camping spot in advance. Not only does that guarantee a spot, but it allows campers to reserve the best spots. Want lakefront or mountainside? Near other campers or as far away as possible? Campsite maps will help. Online reservations do incur an extra fee, usually $10, but worth it.
Colorado weather is famous for having all four seasons in one day. Remember whenever outdoors, the weather can change instantly and campers, no matter whether using a tent camping or cushy RV camping should be prepared. Especially at altitude, where temperatures can be warm during the day, but precariously cold at night. Items that should always be packed, even in summer, are a pair of wool socks and a hat or knit cap. Happy camping!
IF YOU GO CAMPING IN COLORADO
Eleven Mile: https://cpw.state.co.us/placestogo/Parks/ElevenMile
Green Ridge: https://www.recreation.gov/camping/green-ridge/r/campgroundDetails.do?contractCode=NRSO&parkId=70037
Lathrop: https://cpw.state.co.us/placestogo/parks/Lathrop/Pages/default.aspx
Telluride: https://www.telluride-co.gov/181/Campground
Author Bio: Carrie Dow is a freelance travel writer whose work has appeared in Islands, International Living and Interval World. She is currently the Local Editor of DrinkDenver, part of The Drink Nation. She is also the Founder of What's Pawsitive where she writes about animal-based travel and animal welfare issues around the world. An occasional football widow, she is mom to a Siberian husky and a Siamese cat.