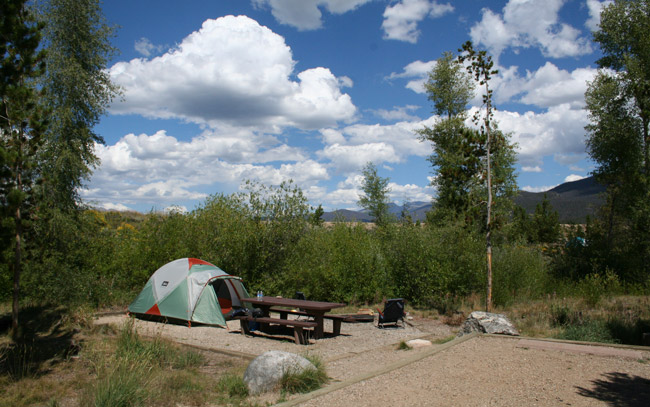 The yellow sunlight peeks around the clouds that streak above the eastern mountains at Eleven Mile Reservoir. The only sound is the wind in the tall grass. Our neighbors in the Cross Creek Campgrounds are still asleep. Soon the kids in the tent nearby will be clamoring for breakfast. This is a chance to enjoy some peace, quiet and a cup of instant coffee in our beautiful, but temporary, lakefront home.
The great thing about camping in Colorado, whether it's in a tent,  trailer or tricked out RV, is that you can travel almost anywhere in the state and, if only for a few days, create your own vacation home.
Camping in Colorado
While most people consider camping in the summer, when kids are out of school, Colorado is available for camping year around. Spring and fall weather puts campers in the middle of the changing seasons. Birds are on their annual migrations and spring brings bright flowers while spectacular leaf colors come in the fall. Many campgrounds are open in the winter for the truly hardy. Just make sure to check your campsite in advance for winter accessibility.
So where should you camp in Colorado? The possibilities are more than any one article could mention, but here are some of our favorite camping spots:
Eleven Mile State Park
Located in the middle of the state, Eleven Mile State Park is a great place for a momentary lakeside home. Primarily known for fishing of rainbow, brown, and cutthroat trout, the winds here also make for fun sailing and windsurfing. At 7,662 acres, Eleven Mile has eight drive-up campgrounds and one walk-in and all have water views. About half are open year-round because the lake offers ice fishing, ice skating and something called ice boating in the winter.
Lathrop State Park
Throughout Colorado are "hidden gems," smaller parks without the crowds. Set beneath the gaze of the Spanish Peaks in southern Colorado is Lathrop State Park near Walsenburg. The trails that traverse the hills above the park have a variety of fall-blooming flowers. There are two lakes — Martin Lake allows motor boats while neighboring Horseshoe Lake is wakeless, making it perfect for canoeing and kayaking.
There are two campgrounds at Lathrop. Yucca has 21 back-in basic sites and Piñon has 82 with several pull-in sites for RVs. While the campsites are not directly on the water, walking paths will lead anglers to Martin Lake. Martin Lake also has stunning rock features on the northern side that make for spectacular photos. Visitors can walk and climb on the rocks, but they are more impressive to approach from the water on a kayak or paddle board.
Continued on next page