Tuscany in Central Italy is known for Renaissance art and architecture, great food and wine, a beautiful landscape of serene countryside, picturesque vineyards, stretches of olive groves and the rugged Apennine Mountains. But, did you know there are amazing beaches in Tuscany along the Riviera coastline?
Imagine long stretches of white sand beside crystalline blue Mediterranean waters, fringed with pine forests and enhanced by the immense sky and unforgettable sunsets. Certainly, these are some of the most unforgettable experiences Tuscany coast has to offer.
Italy contains 5% of the worlds Blue Flag beaches and Tuscany boasts 19 of these special shores. The Blue Flag Award is given to beaches with an eco-friendly environment providing clean waters and safe swimming areas.
Discover 5 Beautiful Beaches in Tuscany
Versilia
Starting from the very northern coast of Tuscany in the north-western province of Lucca, Versilia is one of the best-known summer destinations in Italy. Tourists from all around the world flock to experience its seaside summer nightlife at this Tuscany beach destination.
With the spectacularly imposing backdrop of the Apuan Alps, Versilia has a long stretch of wide, blue-flag beaches from Forte dei Marmi to Viareggio. Plus, a long promenade filled with upscale shops, bars and restaurants.
Prepare for your Tuscan getaway with some wine from the region. Get personalized picks from an expert based on what flavors you like and which locations you want to try. Check out the wines, guides and deals here. Join now and get six hand-selected bottles delivered from Wine.com.
Versilia offers all kinds of entertainment to visitors. Indulge in a luxury bathing experience with your family or groove at the beach parties with your friends. Meanwhile, in the evening, enjoy a stroll on the promenade with your partner and then a romantic sunset dinner overlooking the sea.
There's also plenty to please the kids. For example, the white sandy Versilia beaches are particularly suitable for children due to the shallow waters. Plus, ample playgrounds and green areas to amuse the little ones.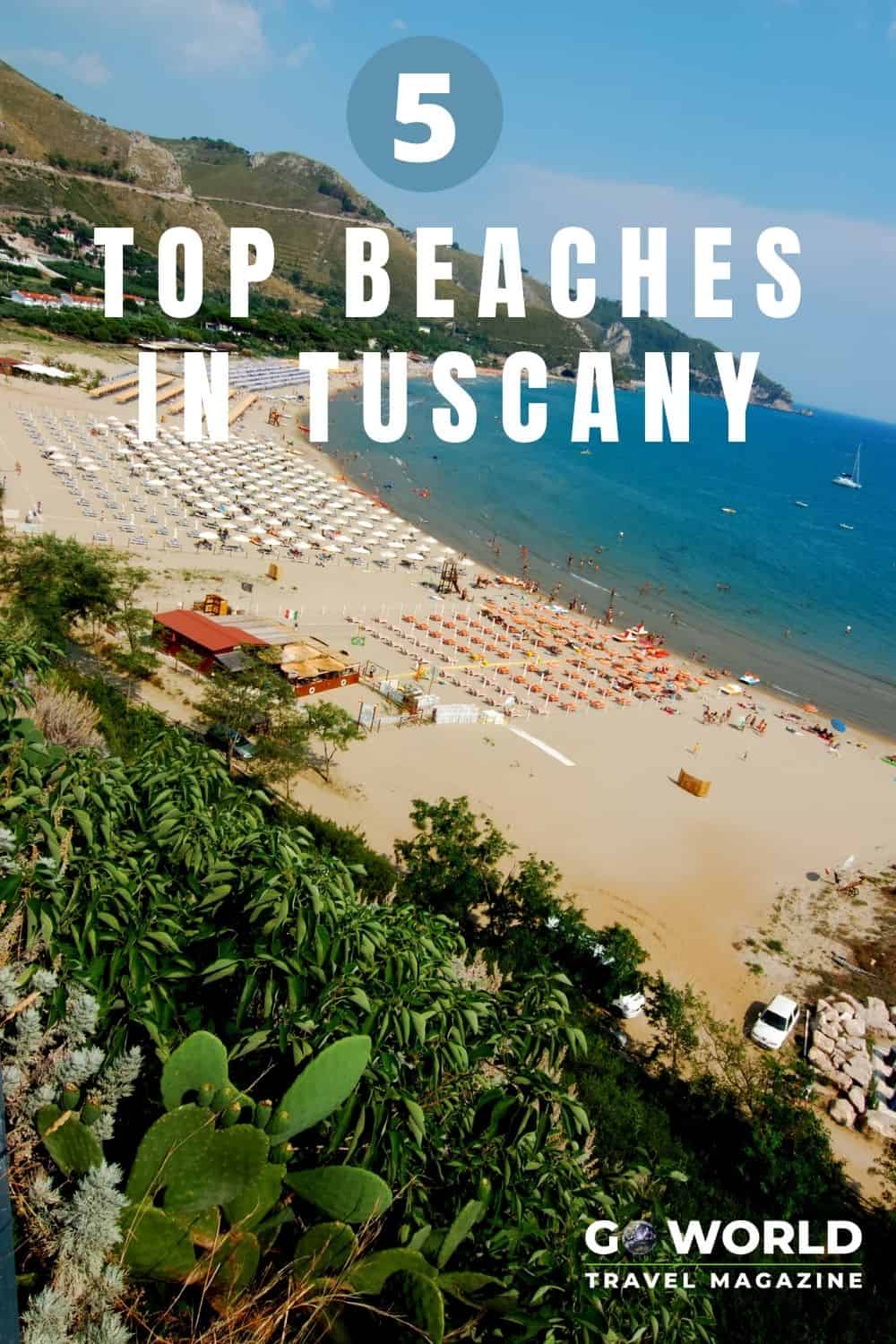 If you want a full sporty holiday there is a wide range of outdoor activities. Enjoy swimming, surfing, scuba diving, canoeing, beach volleyball, football, table tennis and even hiking.
Forte dei Marmi and Viareggio have been popular seaside getaways in Tuscany for centuries. Both towns feature beautiful fine sandy beaches, numerous upscale bathing establishments, grand resorts and some of the most chic clubs in Europe. Additionally, Viareggio also has a few spiaggia liberas or free beaches to enjoy at no cost.
In February and March each year, this town turns into the 'Capital of Carnival' in Tuscany. The streets fill with fantastic masked parades and the promenade gets decked with colourful, allegorical floats created by famous artists.
Versilia is definitely a place to catch sun rays and to be seen. From grooving party animals to sporty youngsters, romantic newlyweds to fun families, Versilia will not disappoint.
See more of Tuscany after the beach parties on the Best of Tuscany tour. Over four days you can experience Florence, Cinque Terre, and the Tuscan countryside with a team of expert guides and free time to explore solo. Book this 4-day adventure and browse others here.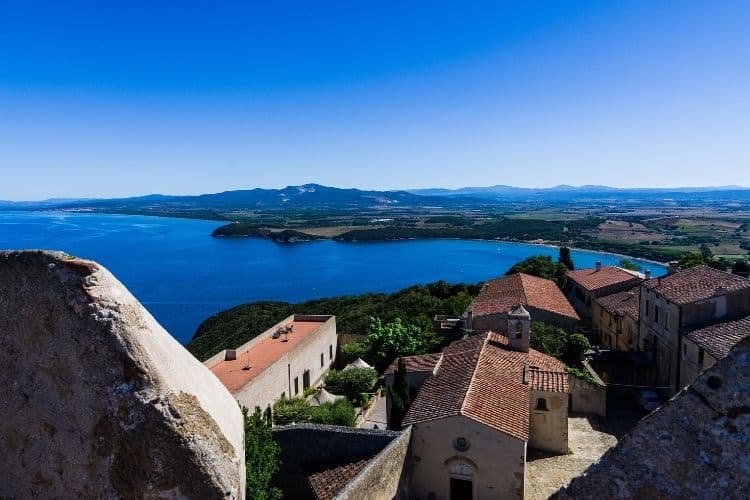 Golfo di Baratti
Further south of the Livorno province, near the city of Piombino at the northern side of Maremma, you will find the scenic Golfo Di Baratti. It's a magnificent, quiet gulf framed by pine-covered dunes with a beautiful crescent-shaped beach immersed in typical Mediterranean scrub.
A fine strip of sand separates a crystalline sea with shallow bottom and a lush green cape overlooking the beach. In addition, the sand has a reddish hue, due to the presence of iron minerals in the soil.
This pet-friendly beach is a perfect destination to spend a relaxing sunny holiday with friends and family amidst breath-taking panoramas. Check out 'Castello Leopoldo' for one of the best holiday rentals in Maremma.
But, Baratti has more to offer than a beautiful beach. Right behind the green promontory, you will discover a magical rocky bay called 'Buca delle Fate'. It can only be reached by foot along a pebbly trail.
Also, Baratti is home to one of the most important Etruscan necropolises in Tuscany, dating back to the period from the ninth to the third century B.C. So, don't forget to visit to 'Populonia's Center' to see the unique archaeological remains of the Etruscan Age.
Before heading further south from Baratti, take a short and worthy detour to the Island of Elba. Being part of the Tuscan Archipelago National Park, the extraordinary richness of its scapes, both land and marine, turns this island into a unique and exotic destination in Tuscany.
The beaches of Elba offer varied sceneries throughout the region with unspoiled natural wonders. In addition, Elba is the perfect place for outdoor sports and activities like diving and snorkeling, thanks to its rich seabed housing lots of different species of fish.
Read next: Traveling in Umbria, Italy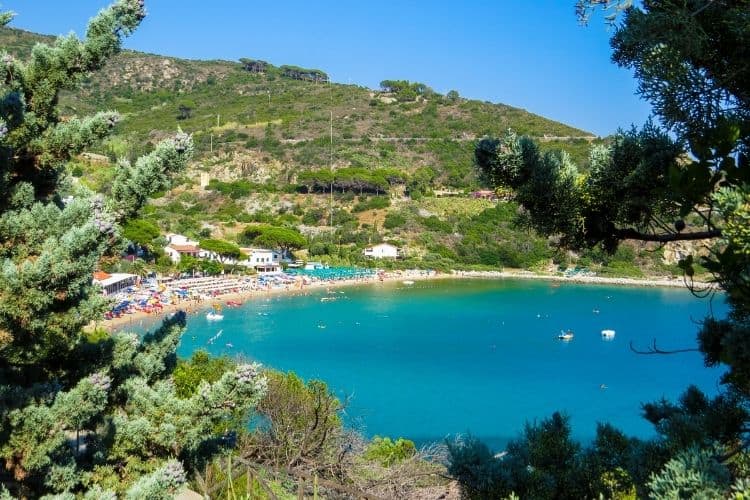 Cavoli Beach
One of the most popular beaches in Elba is Cavoli. This well-known beach lies on the southern coast of the island about 4.5 km from Marina di Campo.
The transparent water and amazingly soft meters-long stretch of white sand has made this beach a worthy contender of top beaches in Tuscany. It even rivals those of the Caribbean. Cavoli beach also can compete in capturing Caribbean vibes, as it's considered the 'coolest' beach of Italy.
This lively and fun beach is fringed by numerous hotels and bars, which becomes crowded by party-loving youngsters in the summer season. The sheltered bay is perfect for swimming, while nearby you can find some spectacular grottos and caves with waters shimmering in shades of blue and green.
Visit this beach to be 'cool' on a sunny day and dance your heart-out till sundown in the beach parties.
Sansone Beach
Sansone Beach, another of the most spectacular beaches in Tuscany, is also on Elba Island. It's located on the north side of the island in Portoferraio, on one of the most beautiful stretches of coastline. The beach is named for the mythical ancient character, 'Samson'.
The northern side of Elba is known for its towering cliffs. Sansone Beach sits beneath some of the most dramatic rocky cliffs on the island. A long stretch of dazzling white sand runs for kilometres in the shadow of these beautiful, white rocks overlooking the crystalline sea.

On the right side, you can cliff dive into a natural swimming pool, while on the left there is a sea stack to kayak or canoe to. Moreover, this paradisiac beach is also inhabited by hundreds of coloured fish making it a great place to snorkel or scuba dive.
There is a restaurant and many equipped lidos for the visitors. Head to 'Villa Le Palme' for a nice and cosy holiday stay in Elba.
Sansone is undoubtedly one of the most wonderful destinations to spend your holiday. Think sunbathing, diving, snorkelling, kayaking and exploring undiscovered coves.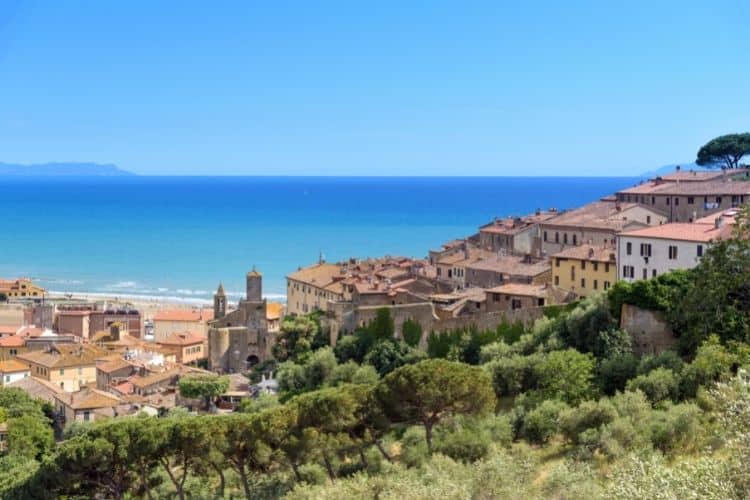 Castiglione della Pescaia
Still in Maremma, continue past Punta Ala in the province of Grosseto, and you will arrive at scenic Castiglione della Pescaia. Certainly, this is one of the prettiest little coastal towns in Tuscany.
This enchanting town is popular for its lovely relaxing beaches and pleasant warm southern climate. There is a medieval fortress dominating the skyline of the town, with historic houses clustered around the hilltop overlooking the sea and a small bustling harbour.
The nearby Rochette beach is magnificent with light, fine sand and coast with pebbles and reddish stones. The long and wide sandy beach is covered by the shade of a grove of huge maritime pine trees. Enjoy a walk with your loved ones or relax in the shadowy comfort of this verdant trail.
Thanks to clear waters and the quality of services, Castiglione della Pescaia is particularly great for families with children. In addition, this beach in Tuscany offers a wide range of amenities and activities to keep everyone happy.
Rent your dream sailboat to explore or arrange a fun water ride for your little ones on a leased pedalo. For an action-packed holiday, hit the waves surfing or go snorkelling, diving and swimming.
The beach resort called 'Le Rocchette' on the Rocchette beach is a top choice for staying. But, if you don't mind being a bit further from the sea, check out cheaper and less busy accommodation in the nearby countryside.
Book This Trip
Start planning your beach escape to the coast of Tuscany now. Find everything you need to plan like the best nearby shops, favorited local restaurants, VRBO or hotel options along the beaches in Tuscany and more through TripAdvisor and Travelocity.
When you are ready to pick your travel dates, check out CheapOAir for the ultimate flight deals and coupons. Be sure you have your trip covered in case of flight time changes, lost luggage or any other unforeseen circumstances with TravelGuard. Find their one-time coverage and long-term plan deals here.
Author Bio: Manali Saha is a researcher and writer by profession, and an enthusiastic traveller by passion who loves exploring and writing about places, people and culture.