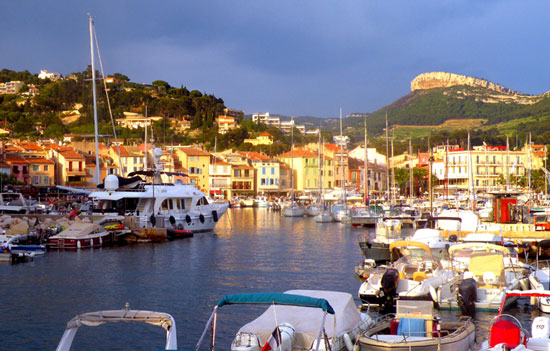 Outside an ancient stone house in the quaint medieval quarter of Antibes, on the French Riviera, a sign in antiquated French reads: "Napoleon never slept here." Just then, a man approaches to enter. He tells my wife Annie and me that some of the women in Napoleon's family actually did stay there while the future Emperor was briefly imprisoned at Antibes during the French Revolution.
In fact, Napoleon's mother did her son's laundry at an open-air public wash-house, just around the corner on the adjacent winding street. We head off for a look, and there it is, carefully restored as a historic site—a large stone tub, full of water, under a red tile roof. In France, even the laundry of the country's most famous historic figure is worthy of note. which makes poking around the back alleyways of old Antibes so rewarding.
We find that for charm and personal encounters, nothing matches the smaller Riviera towns. The glitzy places like Cannes, Nice and Monaco are dominated by big tourist hotels and throngs of up-scale shoppers. The low-key and lesser known centers offer genuine local life, pleasant surprises, and rich history.
One highlight of Antibes is a wonderful little Picasso museum set in a renovated old villa where the artist worked very productively in 1946, while living there with his mistress. For anyone who has struggled with the crowds in larger museums to see his work, the visit is refreshing.
The building is small and simple. There are no long lines. Annie and I are able to stroll through at our leisure, get right up close and personal with the works, and enjoy them without feeling pressed to move on. There is also a pleasant outdoor cafe with a view of the Cap d'Antibes.
An alternative for coffee, a full meal, or a drink of stronger stuff, is the historic Cafe Absinthe, from the 1850s. As much a museum as a place to imbibe that distillation of former ill repute, its 19th century patrons included the poets Baudelaire and Verlaine. The quirky decor includes old water fountains, pianos, and antique bottles of wine.
Farther west along the Mediterranean is an enchanting compact port and beach town, Cassis. Laid back, safe and friendly, it curves around a bustling harbor packed with yachts and sport-fishing boats. A commercial fleet sells its daily catch right along the main embankment. An old castle, high on a bluff, overlooks the beachfront.
A short boat ride around a headland takes us into the region's most notable natural feature, the calanques. This network of fjords, a wonderland of water and towering walls of stone, could be mistaken for Norway.
Ramparts of rock soar straight up; we crane our necks to see the top. Scattered across the vertical faces, nearly 1000 feet high, stunted windswept junipers cling bravely to the odd crevice. The layering and subtle colors turn the cliffs into abstract canvases painted by a giant. A couple of bright red kayaks paddle by, where the sea laps at the limestone. They are so dwarfed by the vast geological dream scape that they look like toys.
There is a lot to see and do here. A stroll along the beach promenade reveals some typically French scenes. At an ornate carousel, tots prance up and down on horses and whirl like dervishes in tiny cars. Men play boules in a dusty square fringed by outdoor cafes. A perfume and soap factory sells subtle fragrances, such as pink grapefruit. A dark wine bar dripping with atmosphere serves up glasses of unique local vintages grown right on the nearby slopes.
We take a bottle back to our hotel room, where the tiny balcony, with wrought iron railings, looks out on a narrow cobblestone street. Steps from the waterfront shops and restaurants, it is clean, cheerful, and charges $100 a night.
Mealtimes bring difficult choices. At one lunch, Annie has a salad with tartare of fresh tuna, while I opt for the giant prawns, smoked salmon and minced crab. At dinner, she has grilled dorado with fennel. I am tempted by the oysters, but choose the exquisite sea bass with a herb crust. And always, there is the wine, the cheeses and the espresso.
Our stay in Cassis is brief, but blessed by the warm weather of late May. We hang out in shorts and t-shirts and swim in the Med from a beach lined with palms. The last evening, a rainbow appears in the sky.
Travelers should not overlook the Italian Riviera, full of authentic small-town life and character. One well-kept secret is Finale Ligure, a lovely stretch of coastal villages just east of Monaco with a rich and diverse history. The 15-year-old Margaret Theresa of Spain stopped briefly in 1666 while on her way to Vienna to marry Leopold I, the Holy Roman Emperor.
A triumphal arch commemorating the event dominates the central piazza, which is lined with cafes and restaurants and full of kids on bikes or kicking around soccer balls. A few miles away is the village of Varigotti with its distinctive seaside Moorish houses. These were built in the ninth and tenth centuries by the Muslim Saracens, who ruled the region for nearly a century.
We stay at a captivating boutique hotel, Punta Est, consisting of several elegant villas, nestled in palms and pines and perched on a cliff high above a perfect beach. Deep beneath is a natural limestone cave with a large wooden hot tub, dim lighting and comfortable furniture.
The dining is exceptional, including seafood specialties and local Ligurian wines. When the double-doors of our room are left open, we are lulled by the song of birds and the roar of surf far below. It is a place of magic and romance.
If You Go:
A great way to visit these Riviera ports is on a small but deluxe cruise ship.
See www.seadream.com
Antibes Tourism
www.antibes-juanlespins.co.uk
Cassis Tourism
www.ot.cassis.com/en/
Hotel Punta Est, Finale Ligure
www.puntaest.com/peen80.htm