"If you swallow a bug while sightseeing in Chianti, is it considered Italian cuisine?" I pondered as I felt yet another small insect meet its end on the front of my blouse. No matter: It was impossible to stop grinning — even laughing out loud — as I sped along on my ripe-tomato red Vespa scooter, twisting and curving through the grapevine-studded hills of central Tuscany.
Touring Italy by Vespa
In celebration of our 20th wedding anniversary, my husband and I had splurged on a unique luxury tour called Italy by Vespa. Since the seven-day tour combined several of our own passions — enjoying the history, culture and cuisine of Italy while riding on speedy, state-of-the-art Vespas — we happily signed up and were soon on our way to Florence.
At the airport, we were greeted by our driver, Michele, a charming young man who confided to us that "in their hearts, all Italians believe they are Mario Andretti," as we raced out of town to Hotel Vignale, located just outside the charming medieval village of Radda, about 30 miles (48 km) from Florence, in the Chianti region of Tuscany.
The elegant Hotel Vignale, a carefully restored manor house of a large wine estate, was our beautiful home base for the action-packed week. Each morning, our group of 15 — which included Vespa enthusiasts from around the United States plus our suave Italian guide, Antonio — enjoyed a hearty breakfast in the hotel, then gathered at our long line of shiny scooters to depart on the day's adventure.
We caused quite a stir throughout our stay in Chianti due to the fact that Piaggio (the manufacturer of Vespa scooters) had never before produced a red Vespa in Italy. Our scooters on this tour were a colorful first, and the heads of Italians and tourists alike turned as our daily "scootercade" passed by.
The tour itself requires basic scooter-riding skills, as well as courtesy and concentration, especially on the more winding and highly trafficked roads. Our group quickly developed its own hand and horn codes to indicate that a turn signal was accidentally left blinking or some impatient Italian drivers wanted to pass.
The Vespas themselves — with four-stroke, 125cc engines, electric start and automatic transmission—are capable of about 65 miles per hour (105 km/h), although we typically stayed closer to a 35 to 45 mph (56 to 72 km/h) pace. Helmets, provided on the tour, are required by Italian law.
As we soon discovered, Italy by Vespa offers much more than just a fabulously fun way to traverse the Chianti countryside (although sailing along on our scooters past fields of swaying crimson poppies, silvery-green olive groves and tiny hill towns was alone worth the price of admission).
In fact, thanks to tour owner Stanley Gallery (a longtime lover of scooters and all things Italian) and his worldwide connections, we were privy to several remarkable events arranged especially for these groups.
On our first full riding day, we cruised from Radda to Siena, where a police escort led us in full Vespisti(Vespa riders') splendor through the streets of the walled city, culminating in a slow and stately procession through the Piazza del Campo, site of the famous bareback horse race known as the Palio di Siena.
Another memorable journey found us zipping to the world's only Prada outlet store in Montevarchi, where after a shopping spree that left some of us light on euros, we continued on to the estate of Salvatore Ferragamo.
The renowned Italian shoe designer permitted our group to visit the grounds of his magnificent compound, where we rode in awestruck silence up a seemingly endless drive lined with cypress trees and horses grazing peacefully on either side.
After strolling among the jasmine-swathed buildings that comprise Ferragamo's conference center and offices, we proceeded to the nearby village of Il Borro.
This medieval hamlet has been painstakingly restored by the Ferragamo family and now features small villas for rent and L'Osteria del Borro, a lovely restaurant where we dined alfresco.
In addition, the Ferragamos have invited a variety of traditional Tuscan artisans to live in the village on the hillside, where they practice their crafts and sell their wares. A fascinating diorama called the Presepio, or Nativity, lies hidden away in Il Borro's sole church and is also not to be missed.
Created from plaster, nutshells and terra cotta by the 93-year-old resident priest, the intricate display is fueled by more than 200 motors that animate an amazing array of Lilliputian figures.

Each day of Italy by Vespa boasts its own special theme. On Wine Day, we savored the robust Chianti, rinascimento and broccato of Dievole Winery on a cellar tour of the historic wine estate, saving room for an evening wine tasting complemented by homemade mortadella (smoked Italian pork sausage) and pecorino (made from sheep's milk) cheese at a small enoteca (wine store) in Radda.
Nature Day included a visit to Italy's only cashmere goat farm, operated by American veterinarian Nora Kravis, whose just-born baby goats — along with her luxurious cashmere scarves and goats milk beauty products — elicited oohs and aahs from our group.
That afternoon, we took a forest walk with Stefano Bacci, an expert boar hunter and local celebrity who led us on a more sedate porcini mushroom — finding expedition. History Day brought us to Castello di Meleto near Gaiole, a 13th-century fortress where we visited the castle and its enchanting 18th-century theater, then sampled spicy extra-virgin olive oil manufactured on the Meleto Estate.
Throughout the tour, we were fed like the royalty who once inhabited the hundreds of castles dotting the Chianti region.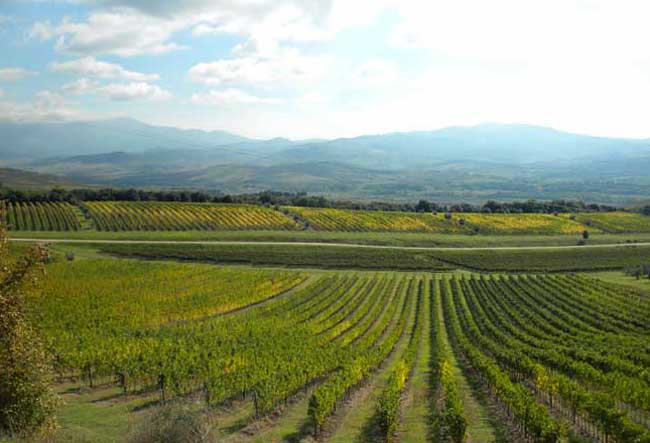 Each day brought the kind of dazzling five-and six-course feasts that have made Tuscany famous, both at long, leisurely lunches and late-night dinners, which typically started at 8 p.m. and found us still lingering around the table sipping small glasses of Vin Santo three hours later.
Most meals began with plates of artistically arrayed antipasti, including bruschetta (grilled bread) topped by fresh tomatoes and basil or creamy goat cheese, deep-fried sage leaves and zucchini flowers, liver pâté and crusty breads. The primo piatto (first course) followed, perhaps a savory porcini risotto or ravioli the size of doorknobs stuffed with ricotta cheese and spinach, then smothered in a rich white-truffle cream sauce with bits of pear.
Next came the meat course, often featuring the Tuscan classic cinghiale (wild boar) or platters overflowing with grilled chicken, lambchops, roasted duck or pork leg marinated in balsamic vinegar.
As vegetarians, my husband and I never went hungry, since we were always courteously accommodated with enormous dishes mounded with petite pickled onions, endive, broiled tomatoes, potatoes roasted with rosemary, sweet red peppers, grilled eggplant and more.
As though we still had room for another bite, along came a colorful green salad before the final course and dessert, which might be a sinfully rich tiramisu or cool lemon sorbet. Black-as-night espresso, fiery grappa or tongue-tingling limoncello (lemon liqueur) topped off each evening of culinary nirvana.
When our final ride had ended and the rest of our group was dismounting from their Vespas for the last time, my husband and I talked our guide into taking us on one more short scoot to the magical village of Vertina.
It was our way of prolonging, for just a few more precious miles and minutes, a very special celebration of la dolce vita and our two decades of amore.
If You Go
Italy by Vespa
866-297-7725 (toll-free within the U.S.) or 720-209-2017
e-mail: [email protected]
www.italybyvespa.com
Italy by Vespa offers weeklong luxury tours of Tuscany, a northwestern region of Italy during the spring and fall, as well as five-night packages and custom tours, upon request.
Prices include accommodations, use of a red Vespa, gourmet meals, fees for all activities and more. Pre-and post-trip excursions and private guided tours in Florence, Rome, and Amalfi are happily arranged.
Tuscany Travel Tips
Spring and fall are ideal seasons for touring Tuscany, when the weather and scenery are at their peak of perfection.
When traveling by scooter or any other open vehicle, it is best to layer your clothing so you can peel off layers as the weather warms during the day. A light-to medium-weight weatherproof, windproof jacket and lightweight insulated gloves are also recommended.
An overseas trip can require a change of as many as a dozen time zones in as many hours, which leads to jet lag. When suffering from jet lag, your reflexes are slower, both mentally and physically.
For this reason, it is a good idea to not drive a car or scooter for a day or two after flying overseas if possible, especially if you are going to or coming from a country where they drive on the "other" side of the road.
When visiting Florence — voted the Best Travel City in Europe by Condé Nast Travel magazine — consider a stop at one of the city's least-known but most fascinating museums: Museo Zoological "La Specola," which displays 18th-century anatomical wax models that are still considered to be among the most accurate in the world.
Use the power of ATMs when traveling in Italy. They are abundant, even in small towns, and will give you the best exchange rate with little or no fee involved.
While in Tuscany, seek out aceto balsamico, the world's finest balsamic vinegar. Unlike ordinary wine vinegar, aceto balsamico is made from crushed white Trebbiano grapes, which age for at least 12 years. Measure for measure, prices of the best balsamic can match those of a top Bordeaux or pinot noir wine. Savor a few drops on ice cream and strawberries, and you'll discover why it is such a prized commodity.
Editor's Note: This article was provided in partnership with Italy by Vespa