The Planning of the Trip
My first thought in planning a trip to Belgium as a French speaker was how easy it would be. My first thought getting off the train from Brussels to Ghent, Belgium, and stepping out onto the very crowded platform: "Hey, I guess I was wrong."
Signs in Dutch. People speaking Dutch. Bicycles everywhere. Suddenly the "h" in Ghent, the English spelling, had mysteriously disappeared from the word Gent. Where the hell was I?
Planning a last-minute trip to Belgium?
Top Experiences and Tours in Belgium:
Where to stay in Belgium:
Find accommodation with Booking.com
Get a rail pass through Rail Europe
Find Bus, Train, and Flight tickets with one search through Omio
Brussels, where the people speak French and are slightly more assimilated with South-Western (read: French) European culture is one thing, but in Gent is decidedly…Northern.
Travel in Ghent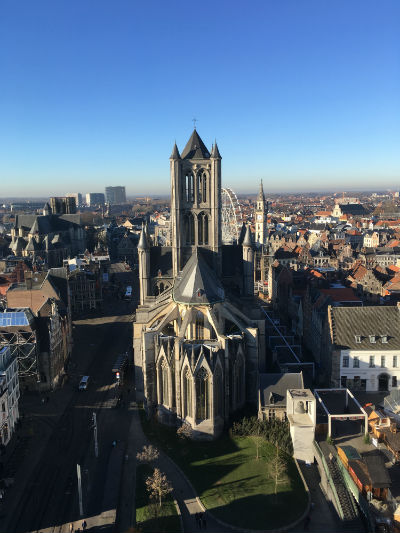 Ghent – or Gent, depending on your language – is in the Flemish part of Belgium.
To a lot of people, is more closely related to the Dutch language and Belgian's northern neighbors, The Netherlands, than it is to the French Capital of Brussels.
It surprises many people to learn that there are in fact three distinct parts of Belgium: the Flemish (Dutch speaking) province in the North, the French in the Center, and a small German province in the East.
Language and Culture
Despite language and cultural differences, Belgians pride themselves on their open, cooperative natures, a trait woven through the fabric of the country on a governmental level (you try conducting governmental business in three languages!) and a personal one.
This means, of course, that the people there were some of the friendliest I've met.
I wound my way from the Brussels Zuid station to St. Peters Station in Ghent for only 7 euros, and made my way to a delightful hostel in the Turkish part of town known as Rabot.
It was evening when I toured the city, and I was awed by what I saw. Everywhere I went, there was a permeating sense of serenity. And with a light smattering of tourists basking with me in the glow of the numerous canals lit by lamplight, I don't think I was alone.
Best Tips & Tools to Plan Your Trip
Case in point: I stumbled into a small crowded mooning over the Gravensteen, an impressive Medieval Castle modeled after one made in Syria in the 12th century.
Locals in Ghent, Belgium
People in Ghent are incredibly friendly, and speak an absurd amount of English. Where in other places one might feel a bit out of place waltzing up to a counter with a shy "do you speak English?"
Ghentians were more than okay with a jovial "hello!" and often offer it up themselves.
I got the distinct feeling that it's a place that has not yet been overrun with tourists, despite the often ostentatiously beautiful canals and gothic style architecture colluding to make it an incredibly attractive tourist destination.
I ended up spending the majority of my time strolling up and along the harbor, admiring the old buildings, visiting old refurbished meat and fish markets, as well as climbing the 390 stairs of the Belfry to look at the beautiful old St. Niklaas cathedral.
I snacked on regional raspberry candy called Cuberdons (Nozen, or "noses" in Dutch), and ate some good vegetarian food (Ghent boasts the most vegetarians per capita in Europe!).
I wandered into an old market turned upscale shopping center called De Post, lunched on artisan hipster Pizza at Ottomat, and repeatedly gawked at Wasbar, a brunch place where you can actually do your laundry while you eat.
I spent my last evening at the Hot Club, a bar popular amongst all ages and known for live music on the weekend, sipping a hot cider and admiring the eclectic mix around me: of people, of languages, of smiling faces peering behind drinks in all colors.
And as far as Western Europe goes, I can say that there's been no better surprise to me than the low-key magic of Ghent, (whichever way you spell it).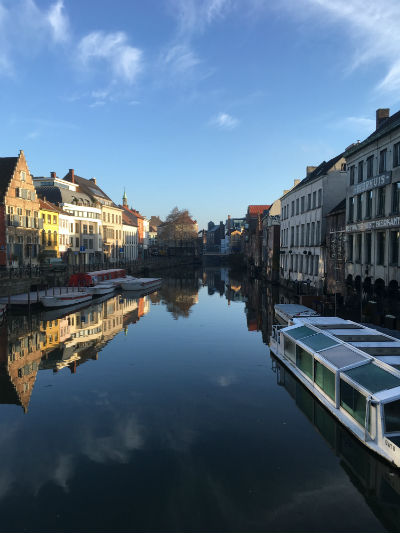 If You Go to Ghent:
The best seasons to visit Ghent (Gent) are early summer to early fall, as temperatures can get quite cold in the wintertime and it can be rainy in the spring.
If coming from Brussels, train tickets can be purchased from Brussels, same day at Brussels South station for only 7 euros.
The trip lasts approximately one hour and a half.
General information about visiting Ghent can be found here: https://visit.gent.be/en/home
I particularly recommend visiting St. Nikolaas' church (https://visit.gent.be/en/st-nicholas-church), checking out Ghent's fish market (https://visit.gent.be/en/old-fish-market) and snacking on some local Cuberdons.
Inspire your next adventure with our articles below:
Author Bio: Nicole Horowitz is a travel writer originally from Orange County, California. After graduating from New York University, and spending some time in Los Angeles, Nicole got on the road to pursue her dream of traveling the world and writing about it along the way. She has been published in Forth Magazine, The Penny Hoarder and NYU's Baedeker Magazine. Her favorite things to write about are budget travel and city living. She currently lives in Madrid, Spain.