To say that Italy is a spectacular place to visit is a little like saying "ice is cold."  The wonders of the bel paese, the beautiful country, have been well-documented, and for good reason.
The idea of a "bucket list" was practically made for experiences like touring Rome's Colosseum or admiring Michaelangelo's David in Florence. Taking in Italy's must-sees is unforgettable.
However, when planning our most recent trip to Italy, my husband Mark and I were craving something different. We wanted to spend time in a less celebrated area, one that would really let us get to the heart of this country we'd come to love.
For this reason, it seemed apropos that we chose to visit Umbria, which is also known as il cuore verde or "the green heart of Italy."
Travel in Umbria
Umbria is the smallest region in Italy, nestled in the center of the country between Tuscany to the east, Lazio to the south, and Le Marche to the west. Few cities there have international name recognition except Assisi of St. Francis' fame, and perhaps Orvieto, which is a common day-trip for tourists from Rome.
None of our friends or family had ever visited Umbria; some hadn't even heard of it! While travelers have long been bewitched by neighboring Tuscany, Umbria has remained largely unsung…which is exactly what we wanted. We booked our flights, planned our itinerary, and took a leap of faith.
How to Get to Umbria
It didn't take long to learn to realize that we'd made right choice. After flying into Florence and escaping the madness of the airport, we rented a car and headed southeast. Traffic dwindled. As soon as we crossed from Tuscany into Umbria, we noticed a difference in the landscape.
Although both regions are staggeringly beautiful, Umbria is more wild, gritty, and untamed. It is made up of rolling hills and lush, unspoiled forests, punctuated by small medieval hill towns.  Vast, wooded Lake Trasimeno stretched beside us, breaking up the undulating valley.
The lake was encircled by campgrounds and casual cafes, making the vacation spot both unpretentious, peaceful, and inviting.
A Visit to Montefalco
We had decided to stay a week in the hilltop hamlet of Montefalco, dubbed "the balcony of Umbria" because of its position on the Colli Martani overlooking the verdant valley below.
Still surrounded by its 12th walls, the village sounded quaint and interesting. GPS made finding Montefalco easy; however, driving our rented Fiat through the narrow alleyways to the top of the town was another story. As we neared the main square, we noticed that it was quite crowded.
I felt nervous—instead of finding a true Italian oasis, had we stupidly picked yet another touristy hot spot?
Mark parked our car and we walked uncertainly toward the small Piazza del Comune, which was alive with activity. We had been instructed to meet the owner of our hotel in a restaurant in the center of town. Soon the owner's daughter Christina appeared with a key to lead us to the building where we'd be staying.
"Sorry it is so busy right now," she commented, gesturing to the clusters of people and cars. "Today we are holding our "grandparents' festival."
I paused to really appreciate the sight, which charmed me now that I understood it for what it was. People of all ages joined together to play games, share snacks, and socialize. The families barely noticed Mark and me, milling around awkwardly with our luggage.
Travel in Montefalco
Montefalco was a living, breathing Italian town whose residents went about their own business, unaware or unconcerned that there were even tourists in their midst. Perfetto!
We spent the next day exploring the town. As I chatted with locals, I quickly realized that English wasn't readily spoken here. In larger Italian cities, whenever I engaged with people using my very poor Italian, they would quickly assure me that they spoke English. In Montefalco, communication became a beautiful dance.
I used my limited Italian and the people there used their limited English and together we created understanding. We found the people eager to help and make us feel welcome.
When my husband and I walked into a small market to ask where we might find a laundromat, no fewer than six other customers gathered around us to give directions. It seemed that we American tourists were as interesting to the townspeople as they were to us.
Wine in Montefalco
Of course, Italy wouldn't be Italy without wine and olive oil, and Montefalco offers both. Wine has been produced in Montefalco and the surrounding hills since pre-Roman times. Today this is the only area that grows Sagrantino grapes, from which the deep and fruity Sagrantino di Montefalco is made.
Montioni Frantoio and Cantina
Mark is the wine connoisseur in our family, so he was eager to sample this. I was more interested in tasting Umbrian olive oil, arguably the best in the world. We decided to visit Montioni Frantoio and Cantina, a small olive mill and winery run by the same family for decades.
Our guide, Elisa, drove us to the family's vineyards, where we were invited to taste the explosively sweet Sagrantino grapes right off the vine. Later she led us up a picturesque hillside to a grove of fantoio and moraiolo olive trees.
She pointed out a large, gnarled tree, deferentially explaining, "That one there is the oldest. It's been here about 135 years."
It seemed as though she were introducing us to a beloved family member. After touring the grounds, equipment, and cellars, Elisa treated us to a wine tasting along with a banquet of breads, cheeses, cured meats, and fruit, followed by pastries that, we were told, had been freshly baked by Nonna.  For a brief moment, I felt like I belonged to the big Italian family I'd always wanted.
Montefalco proved to be an ideal home base of us. While there we could have happily stayed within the fortress walls for the entirety of our stay, we had the option of visiting other cities in Umbria.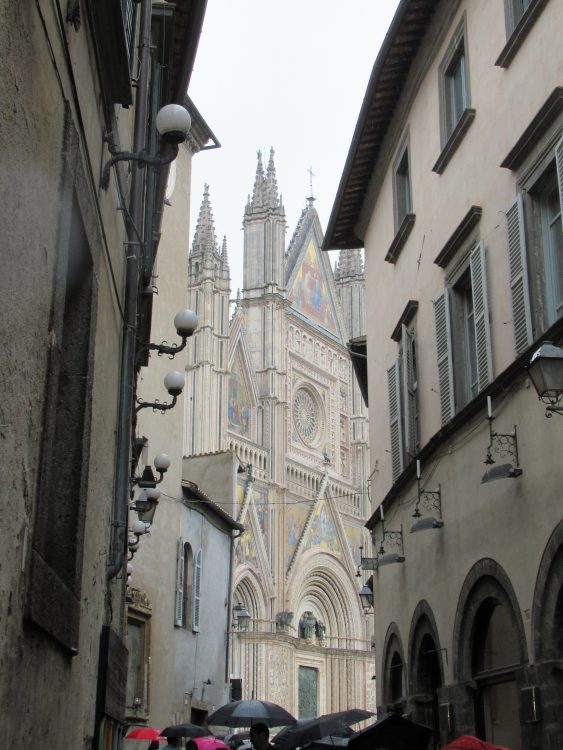 Day Trip to Orvieto
We planned day trips to several and discovered that these towns also provided enlightening "slice-of-life" moments. In Orvieto, our tour guide Magdalena, born and raised there, proudly pointed out the house—in fact, the window of the room– in which she was born. Her father had built the small home years ago, and her sister still lived there.
She delighted in sharing her town with us, eagerly leading us down an alleyway to show us her favorite view of Orvieto's stunning Duomo and later taking us to the bustling market where she did her shopping.
A storekeeper in Gubbio, while wrapping my purchase, took time to explain that his family had lived and worked there for generations.
He pointed to the name of the store and tapped his chest importantly, exclaiming "See? That is my name!"
Each town felt alive with history, family, and the stuff of real Italian life. This is not to say that Umbria offers little else beyond enjoyable interactions with friendly people. Every town has its own claim to fame; visitors can pick and choose what appeals to them.
Orvieto is known for a history of ceramics and its Orvieto Classico, a lovely white wine made from the Trebbiano and Grechetto grapes. Perugia, the capital of the region, boasts a rich chocolate-making tradition.
Visiting Assisi
Assisi has been a spiritual destination for pilgrims for hundreds of years. Gubbio offers the intrepid traveler an opportunity to take an open funicular up a steep hillside, providing a commanding view.
Cathedrals and churches throughout Umbria showcase many important works of art– pieces which greatly influenced Renaissance masters. Ruins and archeological sites also abound, reflecting the lives of the Etruscan, Umbrii, Roman, and medieval people of Umbria's past. In short, Umbria embodies all that travelers have come to expect from Italy. These wonders are just delivered a little more subtly, in an environment that feels authentic, not like a theme park.
UNESCO World Heritage Sites
By the end of our stay, Umbria and her people had captured my heart.  Mark and I reflected that we had found what we had come for— a taste of real Italy, apart from all its museums and UNESCO World Heritage Sites.
It's true that exploring the region required a little more work than a quick tour of Rome or Venice. We had to struggle to speak a little Italian, do some homework to find what specifically interested us, and travel a bit off the beaten path.
But our efforts were rewarded with ordinary experiences that seemed extraordinary. Seeking out these smaller, unforgettable moments and learning to appreciate their impact have added an entirely new dimension to what I now seek in travel. My "bucket list" will never be the same.
If You Go:
After flying into Florence, it is an easy 3-hour drive southeast to Montefalco. Lake Trasimeno, just beyond the Tuscan border in Umbria, offers a nice spot for a picnic or quick lunch.
Overview of Montefalco:  https://www.tuttomontefalco.it/eng
Montioni Olive Mill and Winery contact information: https://www.gabrielemontioni.it
From Montefalco, it is about a 30-minute drive to Assisi, a 60-minute drive to Gubbio, and about a 90 minute drive to Orvieto.
General Umbria information: www.umbria-italy.org/index.htm
Author Bio: Heidi K. Davis is a former elementary school teacher and mother-of-three. She lives in Highlands Ranch, Colorado, and is eagerly anticipating her next trip.