At the mention of the French Riviera (aka Cote d'Azur), many people think of fashionable resorts, marinas with yachts, luxury villas, top restaurants and celebrities. But, that's not all.
Although some beaches are secluded and tucked away, you can also find stunning public French Riviera beaches with fine sand and turquoise waters next to boulevards or train stops.
Beautiful Beaches on the French Riviera
The French Riviera offers a wide range of diverse beaches and you never know what beautiful view is waiting for you behind the corner. There are beaches great for those who want to enjoy sunbathing while lounging on the sandy beach, as well as for the people who spend their time at the beach actively enjoying water sports.
Definitely, the south of France is home to some of the best beaches in Europe.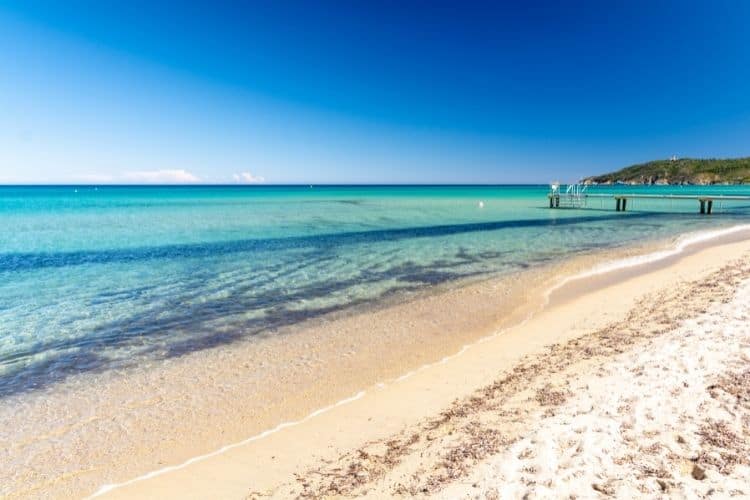 1. Enjoy Plage Pampelonne (Ramatuelle) Surrounded by Luxury Villas
Pampelonne Beach is just a 10-minute drive from St. Tropez. It is almost 5 kilometers (3.1 miles) long, surrounded by luxury villas and pine forests. It has a beautiful white sand beach, with dozens of restaurants and clubs.
A small part of the beach is occupied by private beach bars, and you can use the rest of the beach for free. Kayaking and jet skiing are popular here.
2. Relax at the Plage de la Salis (Antibes) for Free
Don't worry, you can place your beach umbrella wherever you want because Plage de la Salis is one of the few beaches on the French Riviera that is completely free to use.
Salis Beach has soft white sand, beach volleyball courts, public toilets and showers. It is a terrific spot for sailing, windsurfing and kayaking. If you get hungry or thirsty, there are kiosks along the beach where you can buy food and drinks at affordable prices.
From Salis Beach, you can admire the view of the mesmerizing "Les Alpes" in the distance. We also recommend a visit to La Garoupe beach and the neighboring Ponteil beach.
Antibes is one of the largest towns on the Cote d'Azur, with a huge yacht marina. You will love the narrow streets of the Old Town. You can also visit the Picasso Museum in Grimaldi Castle.
Stroll along the coastal path between Antibes and Juan-les-Pins and enjoy the beautiful scenery of the Cap d'Antibes, dotted with lovely gardens and luxurious villas.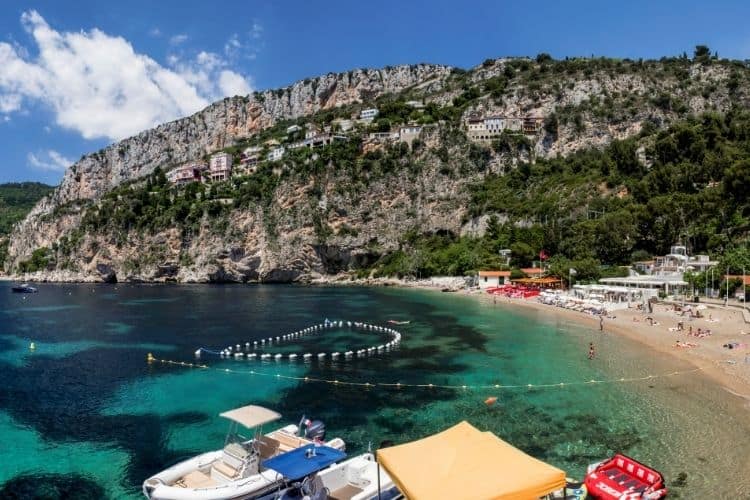 3. Visit Monaco's Plage Mala (Cap d'Ail)
Due to the difficult access, Plage Mala is not suitable for families with small kids, as well as for people with disabilities. However, this is one of the most beautiful Cap d'Ail beaches, and it's often visited by residents of Monaco and Nice. You can reach Monaco via a 4-kilometer-long (2.5-mile) walking path that stretches by the sea.
Mala Beach is located in the bay, between Cap Mala and the cliffs, which gradually rise and make an ideal spot for cliff jumping. Interestingly, there is a net placed in the sea, to protect swimmers from jellyfish. The beach is partly pebbled, while some parts feature white sand. You can buy food and drinks in two restaurants on the beach.
4. Admire the Untouched Beauty at the Calanque D'en Vau (Cassis)
Calanques is a bay along the Mediterranean coast, surrounded by steep limestone cliffs. Calanque D'en Vau is one of the most beautiful such bays between Marseille and Cassis, featuring a small-pebble beach, with crystal clear water.
You can reach it in two ways. You can get there by land from Cassis, after a two-hour hike through the Calanques National Park while enjoying great views of the sea, or by renting a boat in Cassis or Marseille and reaching it by water.
The calm water in the bay is perfect for kayaking. Please note that there are no facilities on the beach, so you must bring with you all the food and drinks you'll need.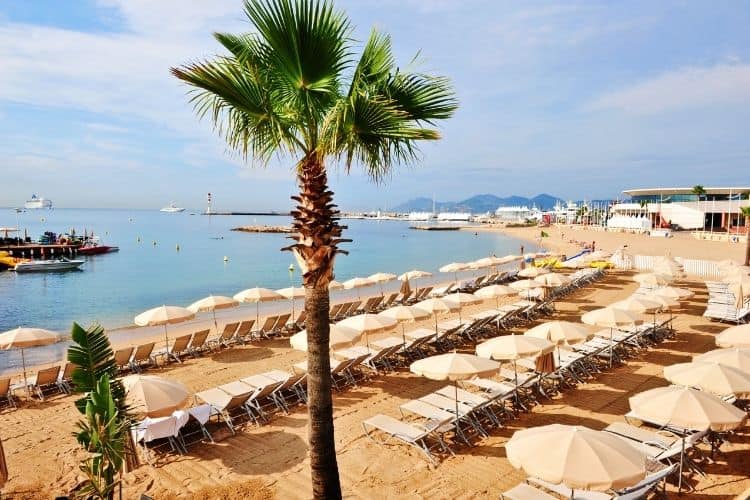 5. Relax at the Beautiful City Beach at Plage de la Bocca (Cannes)
Bocca Beach is a long and narrow beach with golden sand. It is located in the western part of Cannes, next to the boulevard. You can buy food and drinks at several kiosks or in restaurants on the beach.
Plage de la Bocca has showers and lifeguards, so it is popular with young families who come there with children. The beach is easily accessible as it is close to La Bocca train station.
Cannes has several other incredible beaches, including Corniche Esterel Beach and Croisette Beach.
6. La Plage D'eze (Nice) Is Ideal for Sailing and Scuba Diving
Plage D'eze or Eze Beach is a long narrow beach located in the medieval village of Eze. If you want to enjoy a wonderful view of the mountain landscapes in the distance, this is a perfect place for you.
If you get hungry, you can eat seafood, pasta and salads in two beach restaurants. Public showers and toilets are also at your disposal. The beach is pebbly and partly rocky. However, Eze Beach is perfect for swimming, sailing, scuba diving and kayaking.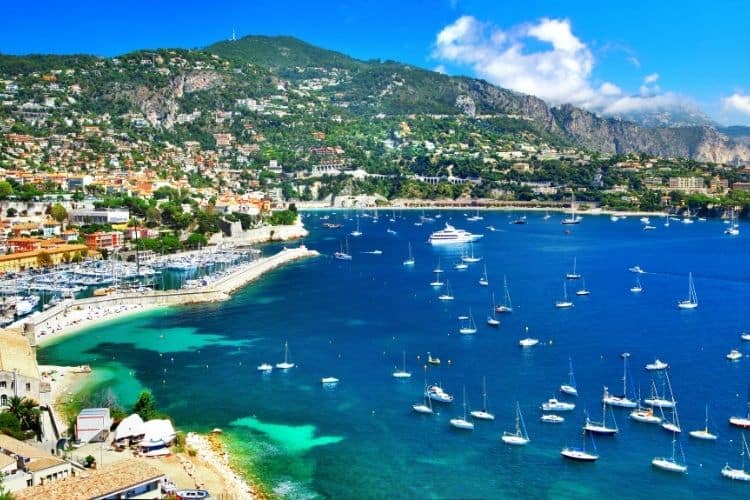 7. Explore Stunning Villefranche-sur-Mer and Plage des Marinières
Plage des Marinières is located in Villefranche-sur-Mer, just 4 km (2.5 miles) from Nice. This small town is considered one of the most beautiful on the French Riviera.
The 1-kilometer-long (.62 of a mile) beach can be reached by train or by car. The train station is right behind the beach, and if you are coming by car, know that there are enough parking places. There are several snack bars where you can satisfy your hunger or have a drink or two.
Marinières Beach, the main beach in the area, also features showers, toilets and lifeguards during the summer season. Due to the gradual increase in depth, this French Riviera beach is great for families with small kids.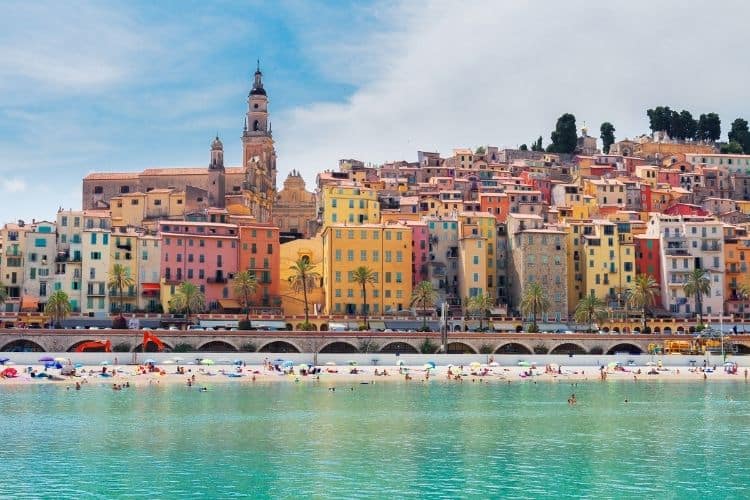 8. Experience the Italian Influence in Menton and Plage des Sablettes
Menton is located near the Italian border. While you can often hear the Italian language, the influence of Italy is also visible in the restaurant menus, so pasta and fish are very popular here.
While relaxing on the beach, you can see the Italian mountains in the distance. Sablettes French Riviera beach is ideal for families with children, thanks to the shallows. During the summer season, lifeguards take care of the safety of swimmers, and a beach volleyball court is available for fun.
At the end of the day, take a stroll along the nearby promenade, which features many shops and bars.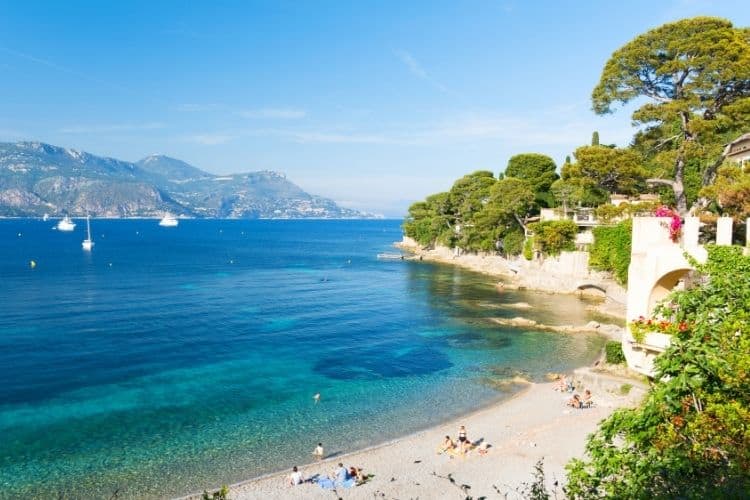 9. Plage Paloma (Saint-Jean-Cap-Ferrat) Is Often Visited by Celebrities
Paloma Beach was built in the middle of the last century and is one of the most famous French Riviera beaches. It became famous for being frequented by celebrities such as Sean Connery, Roger Moore, Elton John and many others.
The beach is located in a beautiful setting next to the cliffs and features a fantastic view of the Cap d'Ail. It is just a few hundred meters from the port of Saint-Jean-Cap-Ferrat.
On the private part of the beach, there is a Paloma beach restaurant where you can eat grilled fish and other seafood specialties. You can also rent water sports equipment and enjoy paddle boarding, water skiing or sailing.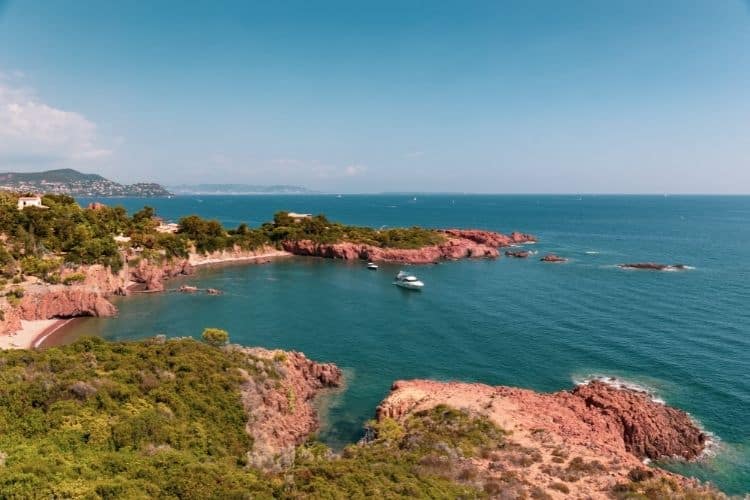 10. Enjoy a Unique Ambiance at Calanque des Anglais (Saint-Raphael)
Saint-Raphael has about 30 km (18.6 miles) of coastline with many beautiful beaches and coves. Among them, the Calanque des Anglais stands out with its unique ambiance. It is surrounded by cliffs and rocks, so it gives off a very intimate atmosphere. Access to the beach is steep and possible only on foot.
Calanque des Anglais is a good starting point for a day trip to Esterel Massif, a nature reserve located between Provence and the Mediterranean Sea. This mountain of volcanic origin is a real paradise for hiking, mountain biking and horse riding.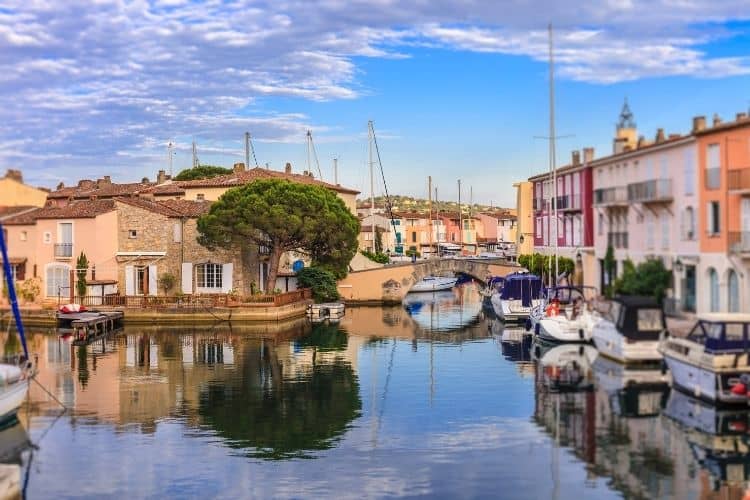 11. Explore "Venice of Provence" and Port Grimaud Beach (St. Tropez)
About 7 km (4.3 miles) west of St. Tropez is Port Grimaud. During the 1960s,  architect Francois Spoerry started the construction of a coastal town with planned streets, around 3,000 houses, about 2,000 yachts moorings and numerous canals. Because of that network of canals, this place is often called "Venice of Provence."                        
Nearby you can visit the remains of a medieval castle and a church from the 11th century. There are also golf courses, excellent sandy Grimaud Beach, and the possibility to rent equipment for various water sports.
Book This Trip
Check out our France Travel Guide for more information on what to see and do on a trip to France.
Visit Omio Travel Partner for flights deals, train tickets and other ground transportation options to get around France.
Get the most in on your vacation along the French Riviera by planning tours and activities through GetYourGuide. Find more information and reservations here.
Author Bio: Based in Serbia in Europe, Marija Stojanovic Petkovski worked as a journalist but realized writing about the most beautiful places in the world is something that inspires her. She is sure that a pint of good craft beer perfectly accompanies a tasty home-made lasagne. In her spare time, she enjoys playing with her children and spending time outdoors with her family.