EDITOR'S NOTE: We only share places, products and activities we recommend. If you make a purchase using a link on our site, we may earn a commission.
The Caribbean boasts some of the world's best beaches, and visiting the islands to dip into their cool invigorating seawater is a dream come true for most travel enthusiasts.
With lush pristine sands capturing your imagination and inviting ocean water luring you and the entire family to frolic in, the islands have all the attraction necessary to capture your heart. These island paradises are what make Caribbean beaches so exciting and fun to visit.
Where are the best Caribbean beaches?
Pink Sands Beach (Bahamas)
Pink Sands Beach carries a tantalizing flavor to it because of its color-changing sands. When the setting sun reaches a certain temperature, the sands on the beach turn to a beautiful salmon color.
Its magical beauty makes it an outstanding masterpiece of Caribbean beaches to visit, and many travelers consider it the most stunning beach in the world today. After taking a dip, you can end the day with a bit of snorkeling.
Varadero Beach (Cuba)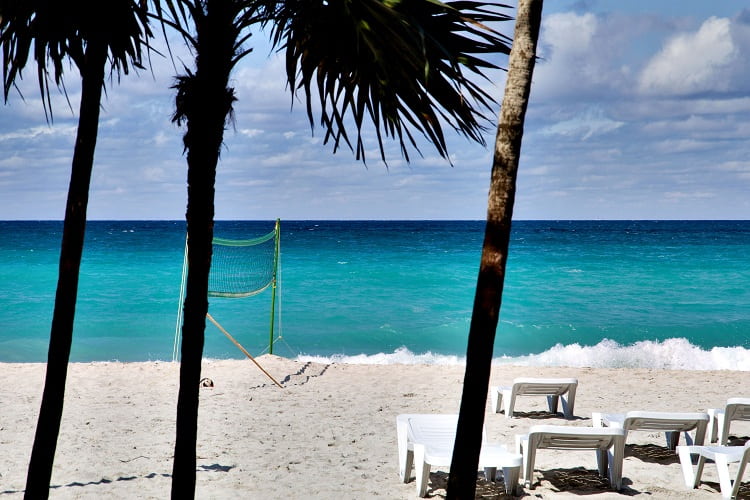 Varadero Beach is popular for its pristine white sands and elaborate surroundings. Tourists flock to this location for the fun and excitement it brings. The many resorts at the beach add an inviting twist to its charm. The mouthwatering buffet-style meals will make you want to come back for more.
In addition, the sparkling wine that is always free-flowing at Varadero will help soothe your appetite after a hearty meal. This beach is a well-known real estate attraction for locals and tourists alike and is ranked as one of the top five most gorgeous beaches in the world.
Here's a helpful guide to Varadero.
Grand Anse Beach (Grenada)
The Grand Anse Beach in Grenada is a welcome sight for families vacationing in the Caribbean islands. Its lush surroundings consisting of palm and sea grape trees is a dream paradise for the savvy traveler who is looking to get away from the hustle and bustle of city life.
Apart from the striking beach to enjoy, you can take advantage of the tasty restaurants, watersport facilities and the goodies that the many beach vendors are selling. Grand Anse is a great way to spend the holiday with your family in the Caribbean sunshine.
Find a hotel in Grand Anse Beach.
Seven-Mile Beach is the ideal spot to spend your vacation time away from home. It packs a picturesque scene of cascading coral white sands and attractive surroundings that will leave you breathless. Nestled safely in the midst of various hotels and luxury resorts, this beach is a much sought after location for beach lovers the world over.
The sight of its gorgeous clear water will make you want to take a dip right away. Go swimming with some of the ocean's friendly stingrays while you are at it. On the compound, you can find beach bars such as the Royal Palm and others that will help keep you in a lively mood.
Find a hotel in the Grand Cayman area.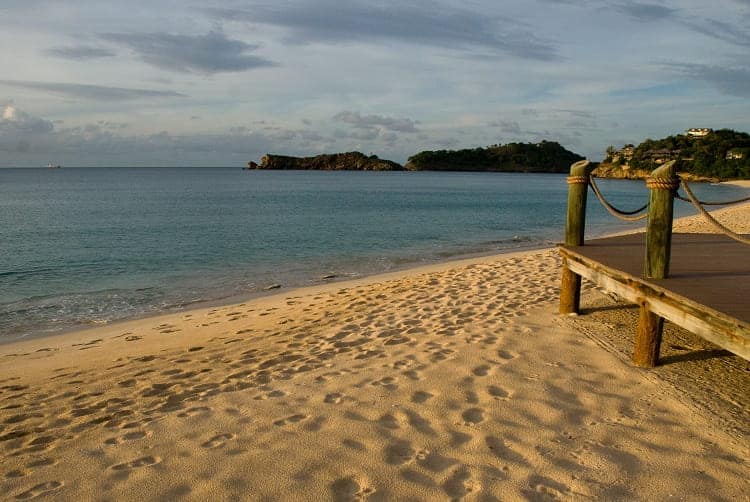 Galley Bay Beach in Antigua is the most well-kept and attractive looking seashore in the entire country. It has sumptuous looking blond sands that will capture your gaze for a long while. It is in the midst of various palm surroundings that help bring out its beauty. It has spacious rooms, ostentatious dining quarters and watersports as well as spa facilities.
Galley Bay Beach is not another normal getaway spot for people who are just looking for a place to go, but rather it is a one-in-a-million dream vacation hotspot where you will feel comfortable at home away from home.
Find a hotel in Antigua.
Trunk Bay Beach (St. John, U.S. Virgin Islands)
Trunk Bay Beach is a famous getaway for tourists and locals alike who want to enjoy plenty of sunshine in a happy atmosphere. The quarter-mile-long beach of breathtaking white sands is just waiting to explore.
If you love being in the water, you can take advantage of the underwater snorkeling trail designed to keep you guessing, or learn about the sea life and coral formations while you are swimming.
On-location facilities at Trunk Bay Beach are souvenir shops, showers, snack bar and grill as well as public telephones to help you stay in touch with the world. Lifeguards are present to help you stay safe in the water.
Find a hotel in St. John.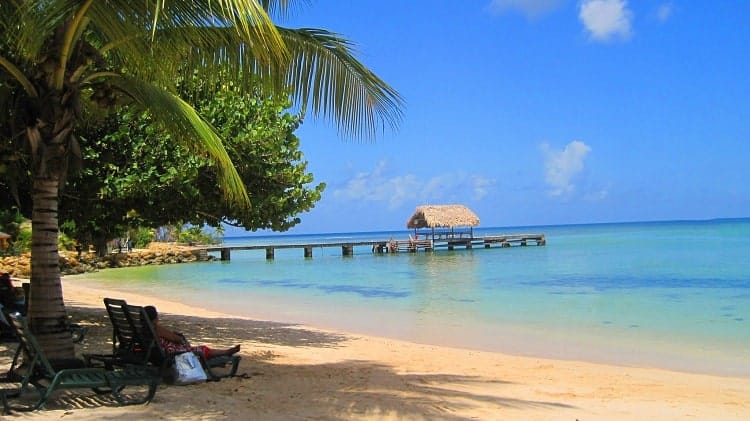 Whether you are a local or a tourist looking for an experience at the seaside, Pigeon Point Beach is the place to be. This beach boasts an atmosphere of calm waters and a breezy environment. It is a popular place for tourists who love kiteboarding and windsurfing. The lovely white sands remain spotless due to careful care of the facility.
There is enough beer for all to go around and you can enjoy scrumptious meals at well-placed food stalls on the compound. You, your family members and friends will enjoy the awesome feeling of spending a day away from home at Pigeon Point Beach in Tobago.
Find a hotel in Tobago.
Among some of the most famous beaches in the world sits Eagle Beach in Aruba. It has an array of divi divi trees known in Aruba for its lush look and air cleaning capability. Resorts erected at ideal spots on the property, where you can buy snacks and drinks, help keep you in the mood for a friendly chitchat.
If you are an animal lover, you can sit and watch turtles roving or nesting on the beach. Nearby low-rise hotels provide lounges and cabanas where you can rest comfortably away from the activities on the beach if need be. This is a laid-back beach where you can be sure to get some rest and relaxation in the sun.
Crane Beach (Barbados)
Another pink sand beach is the famous Crane Beach in Barbados. Access the swimming area via a lovely staircase that leads right down to the beach or tour the luxuriant coconut grove found on the premises.
Beach services offered to savvy travelers are umbrellas, replacement towels, sun loungers, light meals, beverages, public police patrols and lifeguard assistance. Crane Beach proves to be a great adventure getaway for families and friends who want to enjoy the simple things in life.
Find a hotel in Crane.
Shoal Bay Beach (Anguilla)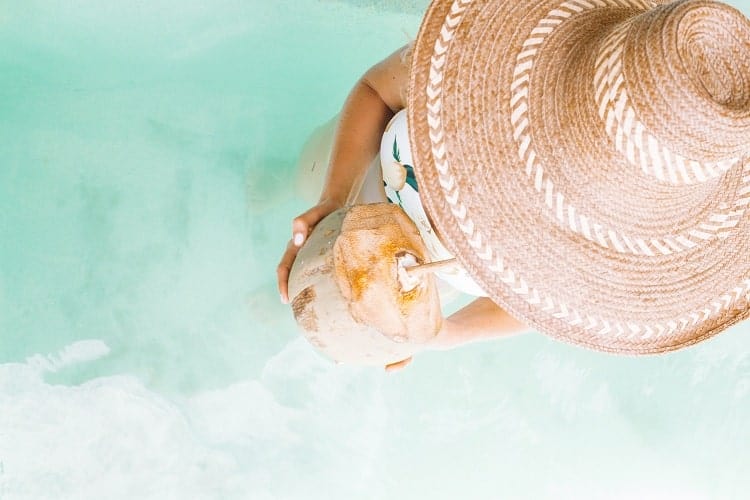 One of the leading beaches in Anguilla is Shoal Bay Beach. The water at this beach facility is clear and shallow with an inviting tease that will make you want to take a dip in it right away. An outside beer garden helps you quench your thirst if necessary.
Dotted with fine-looking restaurants and beach bars coupled with luxury beach resorts, Shoal Bay Beach is the place for you to let your hair down. What's more, if you travel with dogs, you can let them run, swim and let off some steam on the grounds on the beach.
Find a hotel in Shoal Bay Village.
Pinney's Beach (Nevis)
Pinney's Beach in Nevis is the home of turquoise blue water, palm trees and golden sand where you can stretch your legs while touring the grounds and taking in the splendor of the magnificent surroundings. Sharing the pro is a beach bar that serves the best rum punch in Nevis and a luxury beach resort hotel where you can put your feet up and relax in privacy.
Dotting the shoreline are scenic hillsides where you can find luxury resorts, delectable restaurants and charming beverage stands awaiting your arrival. Spend a day at the lovely Pinney's Beach and watch an array of sea life roaming in the water.
Find a hotel in Nevis.
The Caribbean is home to some of the best beaches found in the world. You can travel the islands as a single individual, family or choose any one of them to be your next romantic destination. You will not be disappointed and you will come away with plenty of memories to share with those at home.
Make sure to let your hair down and enjoy the sand, sea and sunshine that the Caribbean has to offer.
Planning a vacation for family, adventure or romance? Then check out these articles:
THE SEYCHELLES: MORE THAN JUST A HONEYMOON PARADISE
FAMILY HOLIDAY DESTINATION IN CARIBBEAN
Author Bio: Lancelot Tucker is a book author and freelance writer living in Jamaica.